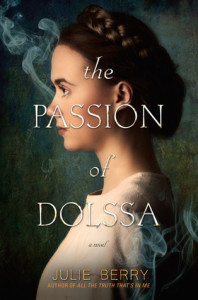 I described Julie Berry's newest, The Passion of Dolssa, as "a slow burn of a book" on Goodreads. I wasn't fully engaged initially, but by the end, I was totally immersed, and I can't put my finger on exactly when that happened – it just happened slowly, over the course of this multilayered, character-driven, wholly unique novel.
It's 1241 in Provensa (now called Provence, an area in France), and the people are still reeling from the Albigensian Crusade, one of those crusades ordered by the Pope where people killed their own countrymen in the name of God. It was a way to not only cleanse the area of heretics, but also to seize land and grow wealth (which Berry and her characters point out was often the true goal). The Albigensian Crusade ended in 1229, but "heretics" are still burned and the people still live in fear.
Into this fraught environment comes Dolssa, a gentlewoman and mystic who has a personal, almost romantic relationship with Jesus, whom she called her beloved. She's a teenager who speaks frequently of her beloved to those around her. She's revered by those who receive her message, and she's believed to have worked miracles. She eventually catches the attention of church leadership, who aren't about to allow a woman to hold such religious power. Dolssa is labeled a heretic and sentenced to death, along with her mother. Her mother dies, but Dolssa escapes (thanks to what she believes is the assistance of her beloved) to the town of Bajas in Provensa, where she's taken in and protected by Botille and her two sisters, who run a pub.
Most of the story is told from Botille's perspective, though we also get large sections from Dolssa and the obsessed friar pursuing her. There are also occasional snippets from people the friar interviews along the way. The whole book is a frame story, bookended by another friar who is reading about the incident (the story is meant to be the testimony of Botille and the other characters) and feels uneasy about it. Tacked on to the end is a note from the "author," a modern-day scholar who claims to have found these papers and assembled them; she adds an epilogue that is haunting and will give you chills.
When I read about a book that people describe as "character-driven," I often find that it's code for "plotless" and therefore boring. Not so in this case. These people are fascinating and funny and I would love to be friends with so many of them. Botille's voice is a treat. I listened to the audio version, so I mean that in two ways (Jayne Entwhistle reads Botille's sections). She's snarky and hands out as much shit as she's given (and as a young woman in 13th century France, she's given a lot). She's a loyal friend and sister, always does what she thinks is right, and works hard. She's an entrepreneur too – a lot of the humor in the story is derived from her matchmaking, which she makes a good amount of money from. And she's good at it! She has a knack for knowing whose personalities will match in the long run, despite her tender years. She loves without judgment, too, most notably her drunk stepfather (her mother died some time ago) who can't take care of himself or any of the girls but is seen as no less of a person worthy of care. His speech near the end of the book is one of the most moving – you might cry. In fact, there's remarkably little judgment on the part of most of the characters in Bajas, who are fiercely religious and rally to protect Dolssa when it becomes clear that she does miraculous things and is being hunted because of it.
At times, the book has a magical realism feel, but I wouldn't categorize it as such, nor would I call it religious fiction. The miracles that Dolssa performs are viewed in the context of the characters, who completely believe that she can do wondrous things – and Dolssa herself believes she can as well, working through her beloved, and that she has an obligation to do so. Berry writes about these miracles in such a way that the reader is free to decide if Jesus intervened or did not – and ultimately, it doesn't matter what the reader decides. What matters is that the characters believe it, and that's what propels the story.
Berry sprinkles her novel with lots of Old Provencal, the language spoken by her characters. It's a little jarring to hear at first. To me it sounded like the audiobook narrator was badly butchering French words. But that's not the case at all, and the meanings of the words are obvious in context (and probably faster to pick up in print). It's just another way that Berry adds a feeling of authenticity to her story, making the reader feel as if she's fallen into another time and place entirely.
Often when I read historical fiction, I find that books fall into one of two camps: the language and behavior of the characters has been modernized so much that they no longer feel historical; or the language and behavior feel so alien that it's impossible to really understand the characters and their motivations. There's a fine line that must be walked, and Berry is a master of it here. The beliefs of the people in Provensa, and Dolssa's beliefs in particular, are not modern. Yet Berry does such a good job of getting us inside their heads that we understand these beliefs and how they lead to actions that we would never take ourselves in our 21st century context. These characters feel like inhabitants of another world, but they also feel immediate and real.
Berry's author's note at the end is a must-read, but it won't completely quench your thirst for more. This is one of those novels where I immediately went to the internet to read more about this time and place, and I'm still curious and thinking about it weeks later. I feel as if my knowledge of real people who lived then has been expanded, and that my understanding of humankind in general has been enhanced as well.
I always yearned for more medieval-era historical fiction when I was a teen, in the vein of Catherine Called Birdy but for older readers. Not that this is a readalike (the tone and subject matter are very different), but teens who want to read more about the Middle Ages after having their interest piqued by Birdy and others should definitely seek this out. It's also a great pick for historical fiction fans tired of the same eras being written about over and over again (World War II, the Renaissance), and for any thoughtful teen who wants to fall completely into another time, place, and way of life.