It's been a while since I've flexed ye old cover change talk muscles, but after writing a lengthy newsletter for Book Riot about cover trends in YA, I wanted to keep going. Let's take a look at a few recent and upcoming YA books getting repackaged in their paperback editions. Some of these are winning makeovers and some of them might be less-so.
The original hardcover looks are all on the left, and their paperback redesigns are on the right. As always, feel free to weigh in with which you like best, which you think may serve the books or their readers best, and I'd love to know of other redesigns you've seen lately (I am currently obsessed with the paperback redesign of Fiona Wood's Wildlife, which you can't seem to find anywhere except in images from NOVL, so click to see it here).
Bonus for this round of makeovers: two of them are getting title changes in their paperback incarnations, too. Good luck any and all collection development and readers advisory librarians because I'm sure that won't be slightly frustrating.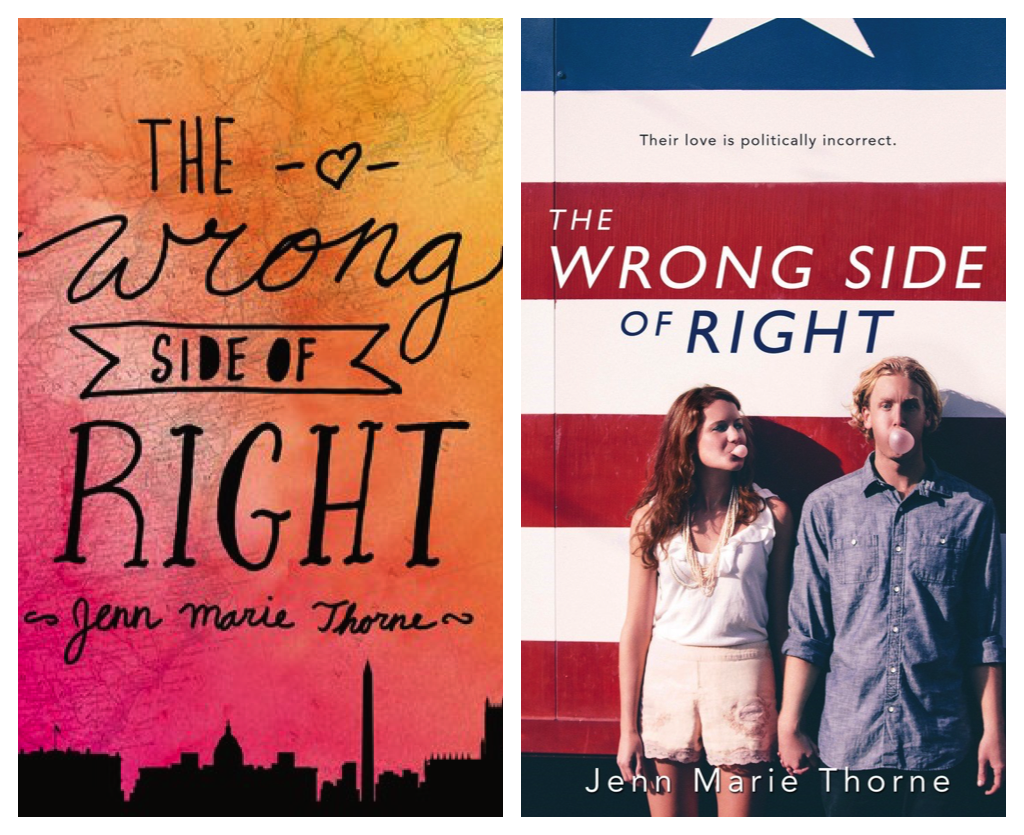 Jenn Marie Thorne's debut novel The Wrong Side of Right is going from a technicolor look with the simplistic image of a city skyline — DC, of course — and a collection of different handwritten fonts for the title to a cover which features a really uninteresting — and definitely not teenage looking — couple blowing bubbles in front of a painted American flag. The font on the paperback is really a downgrade from the original, as is the entire package. The tagline, "Their love is politically incorrect" makes me wonder what could possibly be politically charged about two white kids holding hands?
I think I've gone on the record a few times talking about how people on book covers don't do it much for me unless it's a person of color or someone who has something remarkable about them. In this instance, I think the paperback is a huge downgrade. It looks really generic and feels like it has an expiration date to it with the couple's style.
The Wrong Side of Right will hit shelves in paperback on August 2.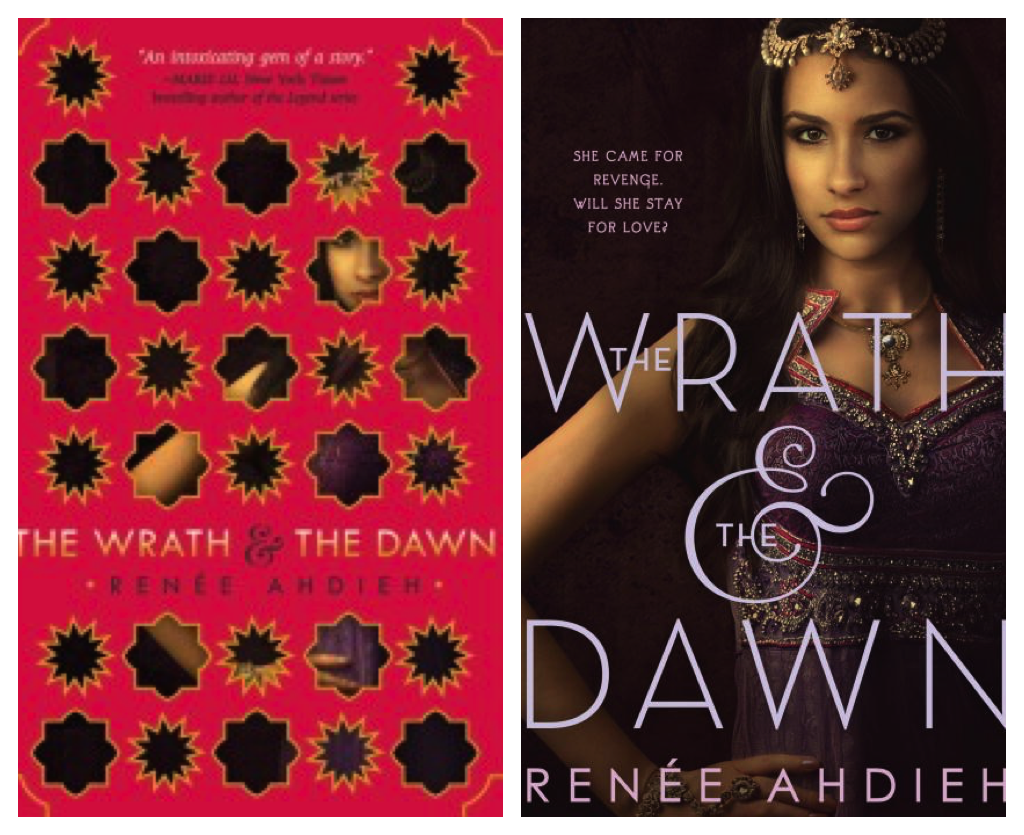 When I first looked at the cover for the paperback of Renée Ahdieh's The Wrath and the Dawn, I was underwhelmed (see: people on covers of books). It was nice to see a brown girl, of course, so I gave it bonus points for that.
But then I realized that it's actually a genius cover: it's the same as the hardback, but with the red designed layer removed. There's been a tagline added and the title has been made bigger, but it's the same girl, holding the same pose, and without being hidden.
What gives it an even bigger thumbs up is that the book's sequel follows the same design as the original hardcover: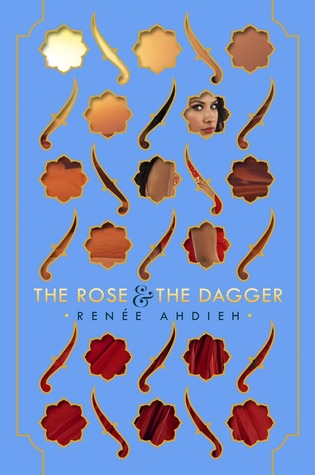 Those who like keeping their designs the same in a series don't have to worry about the redesign of the paperback of the first book impacting the hardcover of the second. It's the same style; I will bet anything that the paperback of The Rose & The Dagger will remove the blue overlay and we'll see the fierce brown girl as the starring image on the paperback next year. This entire package is smart, savvy, and unique from what so many other redesigns of series have done.
The Wrath and the Dawn is available in paperback now.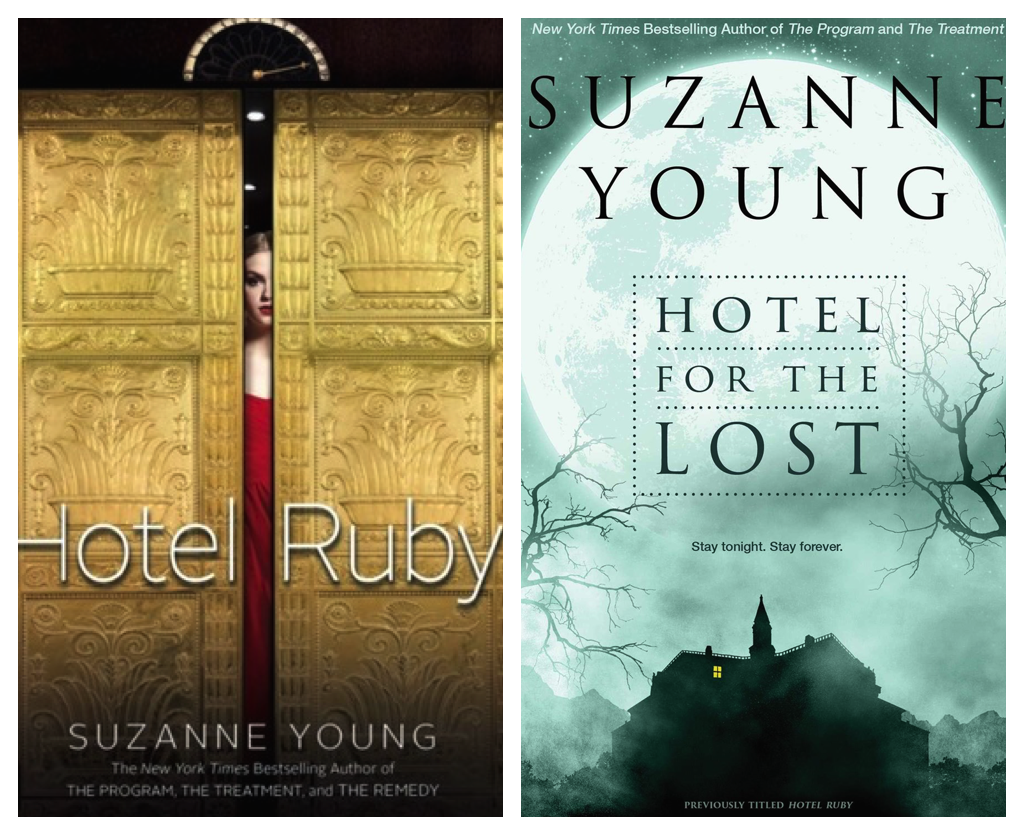 Hotel Ruby, the second book Suzanne Young released last year from Simon & Schuster, sort of fell under the radar, despite the fact Young is a well-loved author (and we like her work here at STACKED since it's so teen friendly). But this year, it's getting a redesign in paperback, along with a new title. Rather than staying Hotel Ruby — which I'll say is a little confusing because what does "Ruby" refer to here, the hotel or the girl in the image? — it will become Hotel for the Lost. Rather than sport an image of a girl behind golden doors of an elevator, it's getting a spooky, chilling, eerie, and super atmospheric redesign. I love the gothic feel, the new title, and feel like it has such a bigger appeal to its package than the original.
The new tagline is really great: "Stay tonight. Stay forever." I don't need to guess what this book is about in the same way I do with the original cover and title. I really want to know why there is just one light on in that hotel, too.
My only criticism for the new look is that it's not especially memorable; I've seen it before and will see it again. However, that sort of familiarity might work in favor for a novel like this, since readers will immediately know whether it is or isn't a book for them.
Hotel for the Lost will be available October 4.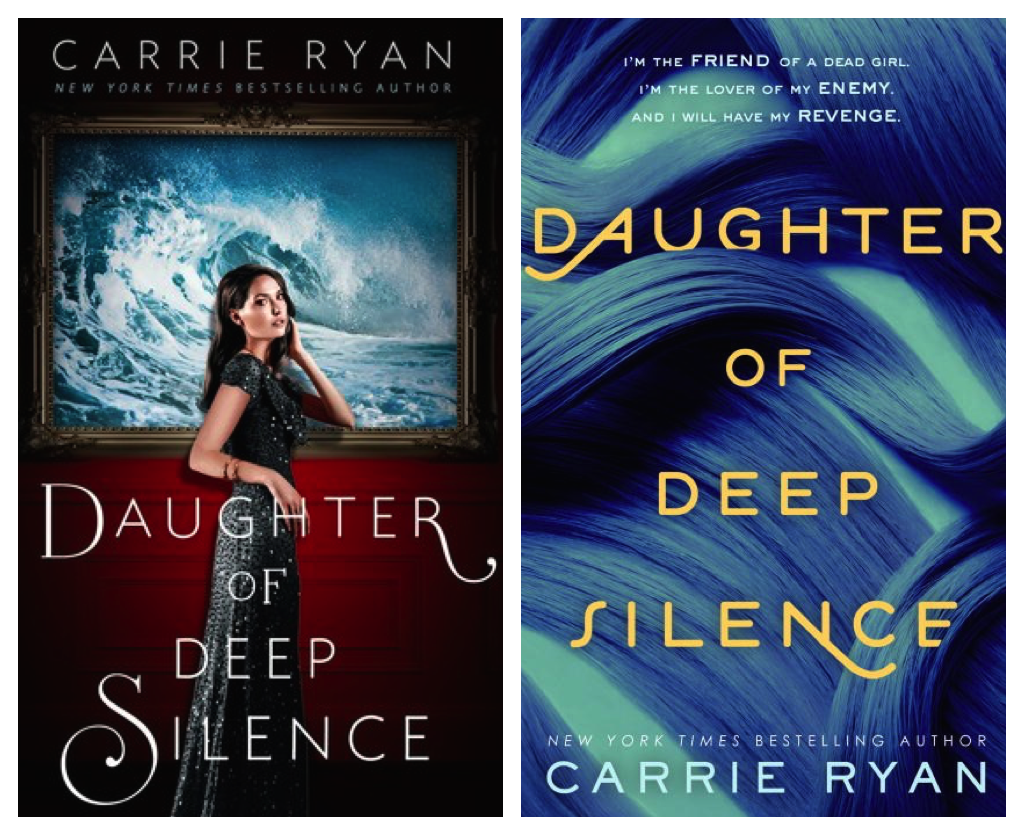 Carrie Ryan's Daughter of Deep Silence had a big reveal, and I remember people being really excited by the cover. It's not bad, despite being a pretty unremarkable white girl on the cover. The image of the ocean art behind her is memorable, and the deep ruby hue in the bottom half of the cover really makes the title and font choice stand out. At the same time, it sort of resembles an Ally Carter "Heist" series novel; they aren't even in the same realm of books, but without thinking hard, I connect the two and wouldn't be surprised if that was a challenge for readers hoping for one thing and getting another.
But that paperback redesign does the book even fewer favors. The weirdly hued blue against the weirdly hued yellow font that seems like a relic of the 1970s is completely forgettable, even off putting. I don't think I even understand the tagline, either, nor what it has to do with the book's title. Taglines should compel the reader to pick up the book, but this one, in conjunction with the title, lends itself to confusion, rather than curiosity.
It also looks like an adult novel, rather than a YA novel. If that's the market that it's geared toward, it might do better than in the teen section.
Daughter of Deep Silence will be available in paperback July 12.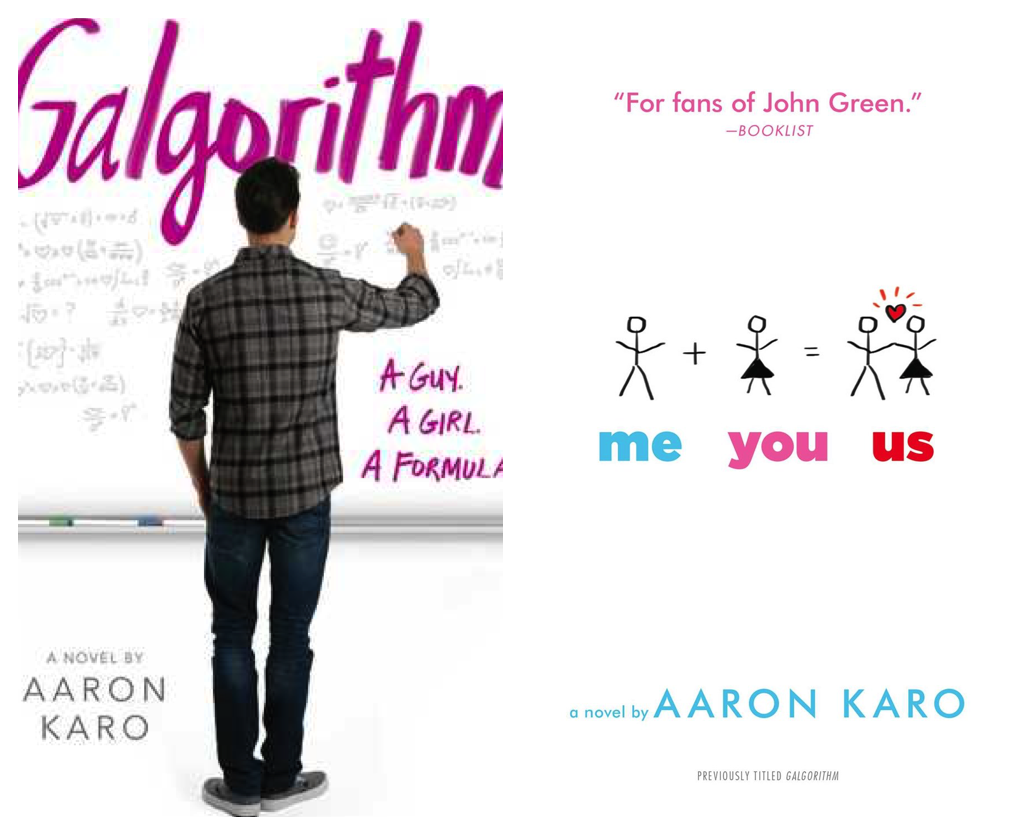 For better or for worse, there's this redesign worth thinking and talking about. Galgorithm suffers from a pretty forgettable cover on the left, but a title that's really obnoxious. I'm familiar enough to know this is a book about a boy who wants to get with a girl and is going to figure out a way to do it. But that title is just bad. I can't see teens, especially teen boys, picking this one up based on the title alone. I try to avoid gender essentialism, but because it will never go away in the library world, it's a thing that does merit being brought up in cases like this. Beyond the title, though, the cover is unremarkable. It's the back of a guy who looks like any white guy, any high school, USA. Which isn't a criticism but what it is.
The paperback redesign also comes with a title change. So now instead of Galgorithm, it's either Me You Use or Me + You = Us. I actually have no idea.* How would this be looked up in a catalog or on a website to buy? It's even more obnoxious needing to guess those combinations than it is to have to type in Galgorithm. At least the former is one word.
But the killer for me on the paperback is that John Green's name is almost as big as the author's, and it has a much more prominent and obvious placement. My eye drifts up to the pink "John Green" much more quickly than it does down to the lighter blue of "a novel by Aaron Karo," despite the all-caps use.
Maybe a solution to this would be calling the book Me + You = Us, with the tagline from the original Galgorithm title. I'd be okay with generic high school white boy as the model, too.
(I'm not over that pull quote from Booklist on the paperback, honestly.)
Me You Us and/or Me + You = Us will be available June 21.
*When I went into Edelweiss, I was informed it's Me You Us. So that formula on the cover image only makes me more irritated now. Good thing I knew the author's name and could search that way, but I feel for anyone who doesn't and will be fighting this battle in the future.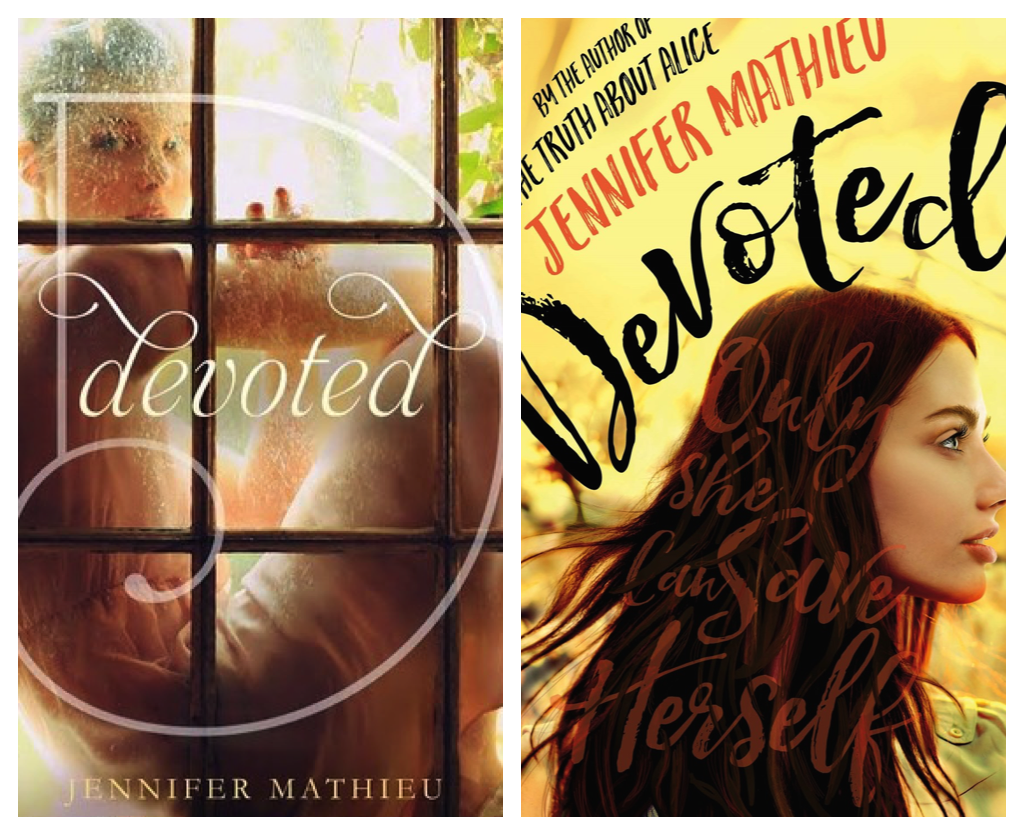 Jennifer Mathieu's Devoted is getting a makeover, going from a cover that's wonderful and nicely explanative of the book itself — about a girl in a Duggar-like family who is eager to break free from it — to a painfully generic, way-too-bright, and overly-designed look. The girl on the left looks like the kind of girl Rachel in the story is; the girl on the right looks like the kind of girl Rachel in the story is influenced by.
The paperback has added a tagline and overlaid it on top of the girl's hair, making it nearly impossible to read, in part because of the color choice and more because of the font choice. Sure, the book is about how Rachel can save herself, but, I kind of get that from the original cover, too. With a much better font. And no need for her hair to take on more work than necessary.
I keep thinking that that tagline is also the title, in part because of where it's situated on the design and in part because the font for it is almost as big as the title. The title being shoved in a corner doesn't help.
I'm a big fan of the color yellow, but it doesn't fit the tone or feel of this book at all. It looks like it might be a nice, light, summer-y read, but it's not. The color and structure of the hardcover are much more true to the book and will lead readers to a better expectation of what's inside than the new cover.
Devoted will be available in paperback on September 20.