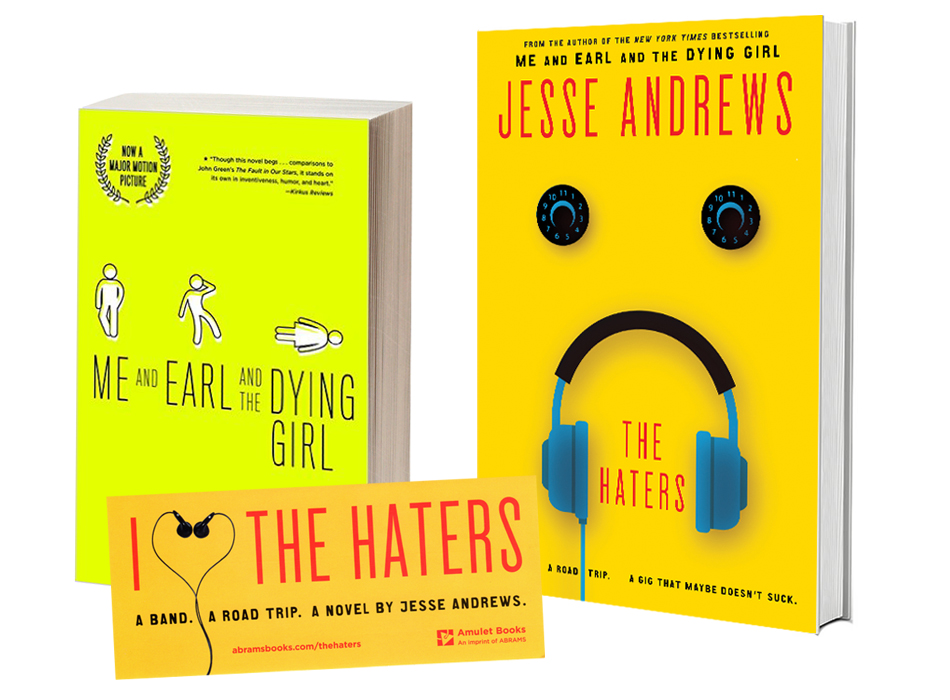 The only downside of choosing to read only books by women is that books by favorite male authors that I've been looking forward to aren't priority right now. That doesn't mean I won't read them in the future or that I won't talk about them. Rather, I'll be waiting a bit longer to pick them up.
One of the books in that category of "excited but not reading yet" is Jesse Andrews's The Haters. I loved his first book when it came out, and I loved the film adaptation of it, too. I've been eager to dig into his sophomore effort, but since I won't be reading it immediately, I thought it'd be worth taking the opportunity presented by Abrams Books to give away a copy of Andrews's new book, as well as a bumper sticker for the book, and a copy of his debut, Me and Earl and The Dying Girl. It's a pretty sweet prize pack for one US winner. So while I don't have much I can say about The Haters myself, I think Andrews does killer dialog and captures teen boys really well — I suspect this book won't be different.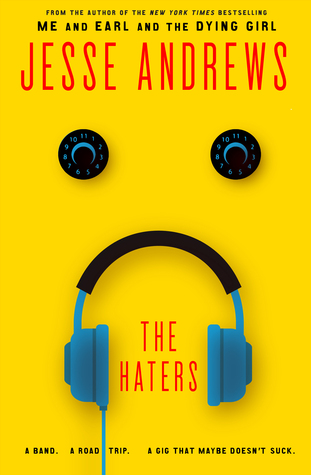 Here's the official description for The Haters:
From Jesse Andrews, author of the New York Times bestselling Me and Earl and the Dying Girl and screenwriter of the Sundance award–winning motion picture of the same name, comes a groundbreaking young adult novel about music, love, friendship, and freedom as three young musicians follow a quest to escape the law long enough to play the amazing show they hope (but also doubt) they have in them.
Inspired by the years he spent playing bass in a band himself, The Hatersis Jesse Andrews's road trip adventure about a trio of jazz-camp escapees who, against every realistic expectation, become a band.
For Wes and his best friend, Corey, jazz camp turns out to be lame. It's pretty much all dudes talking in Jazz Voice. But then they jam with Ash, a charismatic girl with an unusual sound, and the three just click. It's three and a half hours of pure musical magic, and Ash makes a decision: They need to hit the road. Because the road, not summer camp, is where bands get good. Before Wes and Corey know it, they're in Ash's SUV heading south, and The Haters Summer of Hate Tour has begun.
In his second novel, Andrews again brings his brilliant and distinctive voice to YA, in the perfect book for music lovers, fans of The Commitments and High Fidelity, or anyone who has ever loved—and hated—a song or a band. This witty, funny coming-of-age novel is contemporary fiction at its best.
You can find out more about The Haters, including a teaser trailer, by clicking here.
Entries for this giveaway are limited to US residents, and one winner will be picked on or around April 30. Good luck!