I haven't talked a whole lot about trends in YA this year. I talked about the dream trend last fall, which is still holding strong this year thanks to books like the upcoming Dreamology by Lucy Keating and Places No One Knows by Brenna Yovanoff. I've also talked about how one of this year's cover trends is teenagers falling, which has seen more books added to the collection since I wrote the post.
But there's been a big trend this year that's been impossible not to notice: fandom.
We're talking books where the feels are unashamed, where the fandom lingo is loud and proud, and where fangirls get to be unabashedly fannish. I thought I'd do a round-up of the recent and forthcoming YA fandom titles. I've only read one of these so far, so I cannot vouch for how well they do many things in them, but for readers who want to indulge in fandom and fan culture, these are books to keep an eye out for, for sure.
Know others hitting shelves in 2016? Leave the title in the comments, since I'd love to make this a nice, big trend resource. All descriptions are from Goodreads, as some of these titles didn't yet have WorldCat entries.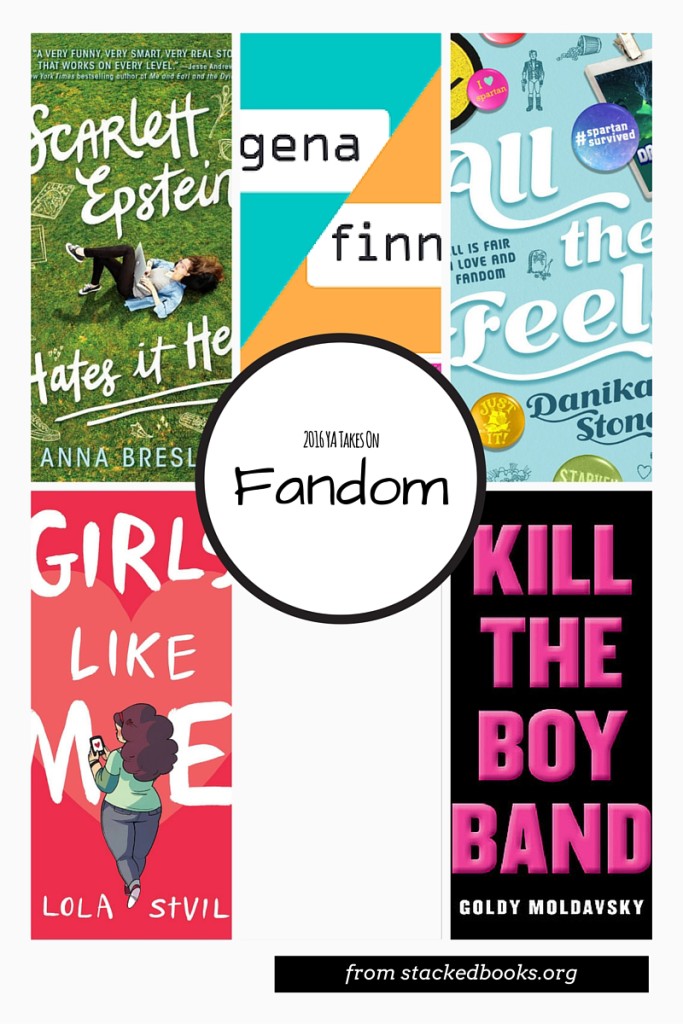 Kill The Boy Band by Goldy Moldavsky (Point, available now)
Okay, so just know from the start that it wasn't supposed to go like this. All we wanted was to get near The Ruperts, our favorite boy band.
We didn't mean to kidnap one of the guys. It kind of, sort of happened that way. But now he's tied up in our hotel room. And the worst part of all, it's Rupert P. All four members of The Ruperts might have the same first name, but they couldn't be more different. And Rupert P. is the biggest flop out of the whole group.
We didn't mean to hold hostage a member of The Ruperts, I swear. At least, I didn't. We are fans. Okay, superfans who spend all of our free time tweeting about the boys and updating our fan tumblrs. But so what, that's what you do when you love a group so much it hurts.
How did it get this far? Who knows. I mean midterms are coming up. I really do not have time to go to hell.
Scarlett Epstein Hates It Here by Anna Breslaw (Razorbill, April 19)
Meet Scarlett Epstein, BNF (Big Name Fan) in her online community of fanfiction writers, world-class nobody at Melville High. Her best (read: only) IRL friends are Avery, a painfully shy and annoyingly attractive bookworm, and Ruth, her pot-smoking, possibly insane seventy-three-year-old neighbor.
When Scarlett's beloved TV show is canceled and her longtime crush, Gideon, is sucked out of her orbit and into the dark and distant world of Populars, Scarlett turns to the fanfic message boards for comfort. This time, though, her subjects aren't the swoon-worthy stars of her fave series—they're the real-life kids from her high school. Scarlett never considers what might happen if they were to find out what she truly thinks about them…until a dramatic series of events exposes a very different reality than Scarlett's stories, forever transforming her approach to relationships—both online and off.
Gena/Finn by Hannah Moskowitz and Kat Helgeson (Chronicle, May 17)
Gena (short for Genevieve) and Finn (short for Stephanie) have little in common. Book-smart Gena is preparing to leave her posh boarding school for college; down-to-earth Finn is a twenty-something struggling to make ends meet in the big city. Gena's romantic life is a series of reluctant one-night-stands; Finn is making a go of it with long-term boyfriend Charlie. But they share a passion for Up Below, a buddy cop TV show with a cult fan following. Gena is a darling of the fangirl scene, keeping a popular blog and writing fan fiction. Finn's online life is a secret, even from Charlie. The pair spark an unlikely online friendship that deepens quickly (so quickly it scares them both), and as their individual "real" lives begin to fall apart, they increasingly seek shelter online, and with each other.
All The Feels by Danika Stone (Swoon Reads, June 7)
College freshman Liv is more than just a fangirl: The Starveil movies are her life… So, when her favorite character, Captain Matt Spartan, is killed off at the end of the last movie, Liv Just. Can't. Deal.
Tired of sitting in her room sobbing, Liv decides to launch an online campaign to bring her beloved hero back to life. With the help of her best friend, Xander, actor and steampunk cosplayer extraordinaire, she creates #SpartanSurvived, a campaign to ignite the fandom. But as her online life succeeds beyond her wildest dreams, Liv is forced to balance that with the pressures of school, her mother's disapproval, and her (mostly nonexistent and entirely traumatic) romantic life. A trip to DragonCon with Xander might be exactly what she needs to figure out what she really wants.
Girls Like Me by Lola St.Vil (HMH Books, October 4 — there's a fat girl on this cover!)
Fifteen-year-old Shay Summers is trying to cope with the death of her father, being overweight, and threats from a girl bully in schooll.  When she falls in love with Blake, a mysterious boy online, insecure Shay doesn't want to tell him who she is.   But with the help of her two best friends, as well as an assist by Kermit and Miss Piggy, ultimately Shay and Blake's love prevails.