I'm so excited to share this guest post today from Tanita S. Davis, author of several books, including Mare's War, Happy Families, and Peas and Carrots (out tomorrow, February 9). After I read Peas and Carrots, I couldn't stop thinking about the interesting elements about body representation brought up in the story and I asked if Tanita would talk to that. This post will rerun over on the Size Acceptance in YA Tumblr, as well, because it is so good. 
**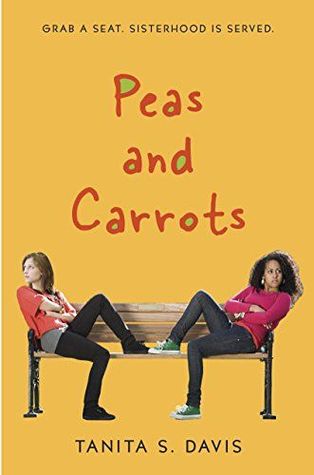 My first teaching job out of college took me to a group home where I worked one-on-one with students ages 12-18. As part of their extended classroom, I often accompanied the female students to after-hours community sponsored outings intended to give them wider life experiences. One day I accompanied them to a yoga studio in a tony winery town. Enthusiastic about the trip, I initially urged the girls to try and take the yogic instruction seriously, to appreciate the opportunity to get in touch with their bodies in a new and different way. All of us were strangers to yoga practice, but I read them a few explanations and descriptions of it, and thought we were prepared. However, I found that when we got to the studio I, and the twelve young women with me, seemed vastly, wildly out of place. The instructors and volunteers for that night were in dedicated yoga clothing, young, sylph-bodied and white. I became hyperaware of my own heavy belly and ponderous breasts camouflaged in my 4x T-shirt, of the round butts and full thighs of the girls with me displayed in tank tops and cut-off sweats. The majority of my girls were full-bodied and curvy, and of African American ancestry. And despite yoga's claims of inclusiveness and openness and the instructor's I-salute-the-oneness-of-whatever-goddess-within-you, it was clear that we weren't part of the oneness, the whiteness, of everyone else who was there.
Aware my girls were watching, I shelved my discomfort and …yogaed. Or, tried. It was, by some standards, a pretty thorough disaster. The instructor seemed unable to simply describe the poses we were meant to take, but kept on calling them by name – as if we knew what a cow or a cobra was supposed to be. Her distress at our perceived lack of fitness was evident, as she continued to repeat, "Our bodies are made to move, but don't force them, girls, don't force them." There were thuds and snorts as one after the other, the girls attempted poses, fell out of them, and lay on the floor in cheerful defeat. "Okay, this is wack," someone announced, and our quiet snickers turned to guffaws as we got up and tried again. The instructor tried to enable us to find our composure, periodically chiming a calming bell, but we couldn't get our stuff together to save our lives. We laughed, fell, got up, laughed, and laughed again. "Don't hurt yourself," the instructor murmured to me as I struggled to continue to model "mature adult" behavior and hold the required poses. At my disbelieving huff – surely I wasn't that bad – one of my students comforted me, "That's okay. Black people don't really do yoga anyway."
"We're black, though, and we're doing yoga," I pointed out.
"Yeah, but we're just playing," she assured me. "This doesn't count."
Huh.
Suddenly I stopped laughing.
This does count, I wanted to insist. We can do this, too.
But… I didn't quite believe it.
"I didn't think black people really did yoga."
Foster Lady inhales slowly and then breathes out. "Black people are just people, Dess. People of all kinds do whatever they feel like doing." She exhales and smiles, bringing her arms and legs down again, standing still. "I feel like doing yoga." – PEAS AND CARROTS, by Tanita S. Davis, Knopf Books for Young Readers, 2016
In PEAS AND CARROTS Dess encounters her foster mother's size the moment they meet, but it is seeing her big legs holding that large body in strong stillness on a yoga mat that creates, for Dess, an instant of shocking, anomalous behavior that demands explanation. Dess is full of  vaguely authoritarian beliefs on the capabilities of black bodies, the limits of behavior for black people, and those beliefs don't extend to swimming or yoga, or working with weights, or even eating vegetables for breakfast, despite what she discovers in her new foster family. She finds the Carters beyond belief, and their unswerving dedication to being just who they are, regardless of expectation, is nothing she's ever experienced before. There is power in being who you are, and owning it – a power and a comfort I wish I could bequeath to every young reader.
A lot of first-person voices in young adult lit voice character assumptions and beliefs but writers don't always find ways to comprehensively deconstruct those beliefs in a way that feels organic to the narrative. I wanted to be thorough with all of the opinions that Dess expressed. I wanted to give the reader space to turn over each and examine it  – through observation, but also more directly through conversations Dess had with Foster Lady, I wanted to make sure that the reader could come away saying, specifically, yes, black bodies, every body, CAN.
It was, in some ways, an incomplete accomplishment. Writers control little but their words in the publishing process, and I gave what input I could on the cover, which went through many iterations before arriving at the brightly engaging hardcover image, depicting two relatively slim-bodied girls. I'm happy with it on a number of levels, even as I hope someday that acceptance of black female bodies, even in a work intended for young readers, will better illustrate the normalized inclusion of big bodies, and black bodies as part of the whole – as different as peas and carrots, but taken as a normal part of the diverse whole that makes up who we are.
***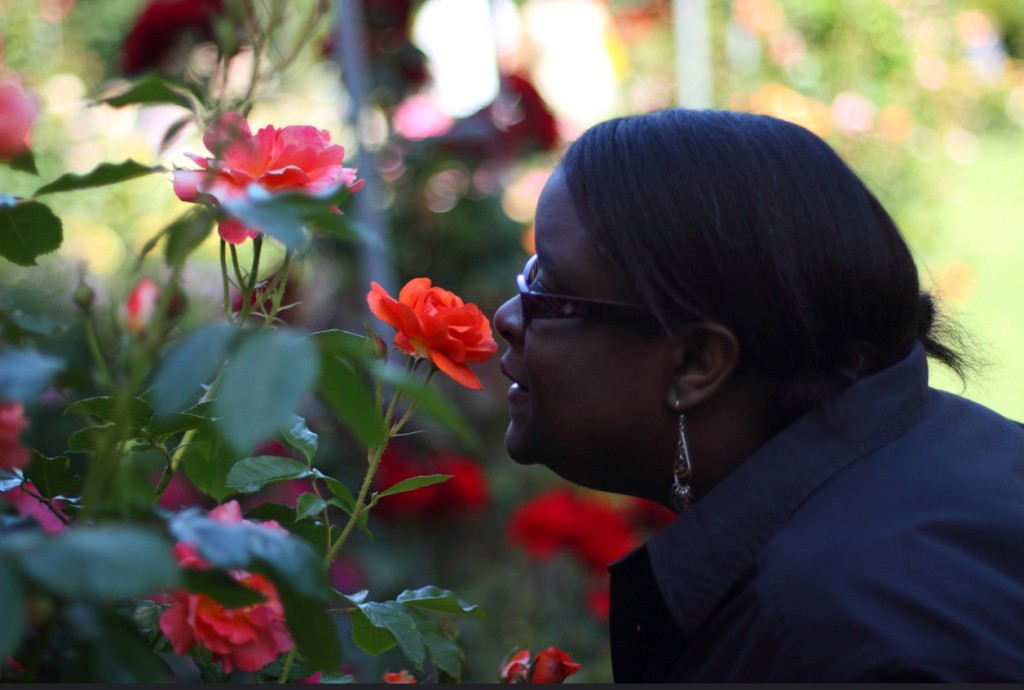 Tanita grew up with foster siblings, worked at a summer camp, and taught at a group home school and an elementary classroom, so she's frequently hung around a mob of kids and teens. A bookworm, introvert, and a tea addict, you can usually find her hiding behind a mug as big as her head. She was nominated for an NAACP Image Award for Mare's War, which was a Coretta Scott King Honor Book. Her most recent novel, Peas and Carrots, is out from Knopf this month. Tanita lives in Northern California with her Tech Boy and feels rather queenly referring to herself in the third person.