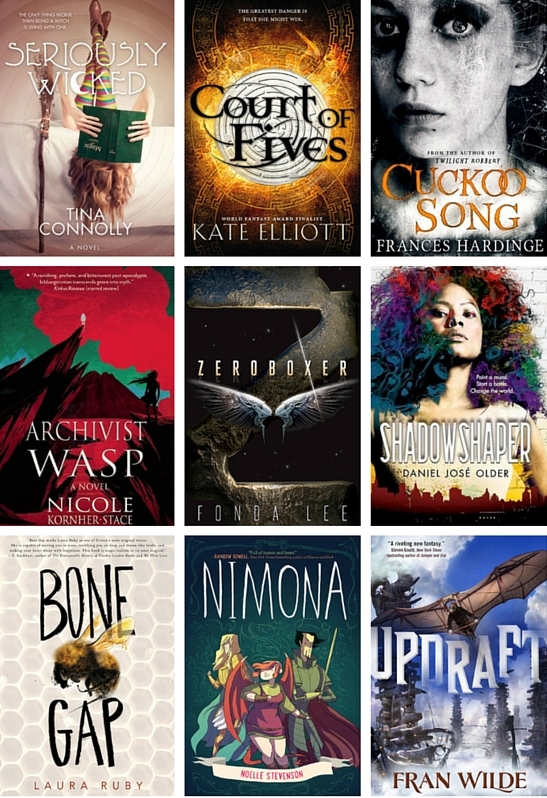 The nominees for the 2015 Nebula Awards were announced this past weekend, and I'm always excited to see which books were chosen to be honored by the Science Fiction and Fantasy Writers of America (SFWA). This is an award given to writers by their peers, since members of SFWA (who can vote for the awards) must be paid writers. They have a YA category, named in honor of Andre Norton. This year, I've read a few of the books, in part thanks to Cybils, and have heard of most of them. Here are the nominees:
Seriously Wicked by Tina Connolly
I've heard of this one, but not read it. It's a contemporary fantasy about a girl whose adoptive mother is a witch – a "seriously wicked" one. The synopsis on Goodreads makes it out to be fun and funny, which is nice in a genre that is often dark and depressing.
Court of Fives by Kate Elliott
Elliott, a mainstay in adult fantasy, turns her skills to YA in this book, which I have read and enjoyed a great deal. It's set in a pseudo-Roman fantasy world where the main character, Jessamy, has been practicing to run "the fives," an athletic competition that brings honor to the winner – usually. Jessamy shouldn't be running it, though, because her unique social and political position – she's the daughter of a noble man and a woman from a race considered "lesser," – would actually bring shame to her father. She has three sisters and this is very much a story about family; a large portion of the plot involves Jessamy needing to rescue her sisters and mother from a truly horrible fate. The story is a take on Little Women, at least in the sisters' names, and it's fun picking out some of the parallels between the personalities of the March sisters and the ones here. I was impressed by the world-building, which seemed realistic and vibrant, in part thanks to the way Elliott portrays the two races/ethnicities and the way Jessamy is caught between them.
Cuckoo Song by Frances Hardinge
This is another I've heard of but haven't read. From the Goodreads synopsis, it sounds like it would be a good pick for horror fans. Hardinge's novels are usually critically well-received.
Archivist Wasp by Nicole Kornher-Stace
The only reason I had heard of this book was because of the Cybils (it was a nominee this past year in YA SFF). It's from a small press, Big Mouth House an imprint of Small Beer Press, and has a rather unfortunate cover. It's about a ghost hunter named Wasp, and it's variously described as odd, strange, unexpected, beautiful, and weird by its reviewers.
Zeroboxer by Fonda Lee
Another Cybils nominee, this one has been on my to-read list since it was published last April. It centers around a sport called zeroboxing, which is basically regular boxing, but weightless – as in, boxing in zero gravity. The concept is cool and the story widens to involve intergalactic derring-do, which I always enjoy.
Shadowshaper by Daniel Jose Older
This one made our Cybils shortlist, and it certainly deserves its place on the Andre Norton nominee list as well. Read more of my thoughts on it here.
Bone Gap by Laura Ruby
I'm not surprised at all this made the list, considering it also won the Printz and was a finalist for the National Book Award. I didn't love it, but I certainly see why so many people do.
Nimona by Noelle Stevenson
How have I not read this yet? I don't know. It's the only graphic novel to make the list this year and I really, really just need to read it already.
Updraft by Fran Wilde
This might be the most interesting pick for me, and I hadn't even heard of it until it was announced as a nominee. It's also a nominee for the Nebula for Best Novel (for adults), and it's published by Tor, not its teen imprint. I suspect it has strong crossover appeal, though, since many of the Goodreads reviewers have it shelved on a YA shelf. If it were a Cybil nominee in YA SFF, it would have been rejected, but the SFWA's rules are more flexible.
Which books have you read? Are you surprised by any of the picks?