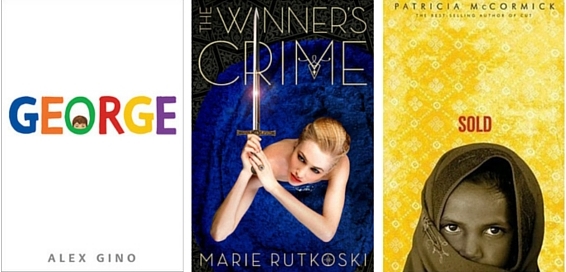 George by Alex Gino
Jamie Clayton narrates Alex Gino's debut children's book about a girl who everyone thinks is a boy. George – or Melissa, as she'd prefer to be called – really wants to play the part of Charlotte in her school's production of Charlotte's Web, but she doesn't know how her teacher or the other students would react. Luckily, her best friend is supportive (though not initially understanding that Melissa is trans), and there is a happy ending for Melissa. This is a gentle story about a trans child that also doesn't shy away from some of the unpleasantness associated with being trans – Melissa experiences gendered insults, bullying, an insensitive teacher, and a mother who is open to a lot of things but not that thing (at least at first). This book single-handedly attempts to fill a giant hole in kidlit – books for elementary age kids about trans kids – and it does so wonderfully. Told in third person through the perspective of Melissa, George provides both both a mirror for trans kids like her and a window for cis children. Clayton, herself a trans actress most recently known for her work in the Netflix series Sensate, does a fantastic job narrating with sensitivity and bringing Melissa to life. I was crying at the end and you probably will be, too.
The Winner's Crime by Marie Rutkoski
Justine Eyre narrates one of my favorite audiobooks of all time (Never Judge a Lady By Her Cover by Sarah MacLean), so when I saw she did this production of The Winner's Crime, I knew I had to read it on audio. The Winner's Curse was pretty much my number one book of 2013 and it took me way too long to get around to its sequel. I knew it would tear my heart into a million pieces – and that is just what it did. Arin and Kestrel are separated for much of this book, both not saying what they really should say to each other either because they want to keep the other safe or because someone is always listening, always watching. Kestrel is being paraded about as the soon-to-be consort to the next emperor, and Arin is kept occupied as governor of Herran. Both know that the treaty Kestrel arranged by her betrothal is tenuous at best, and there's a lot going on behind the scenes. Misunderstandings are rife and romantic tension is so thick you could cut it with a knife. Eyre evokes real fear during some really tense scenes, particularly with Kestrel, and the cliffhanger ending made me salivate for the next book. This is no second book in a trilogy slump. Eyre's narration is good, but she invented an accent for the Valorians that seems inconsistent and grating; it sounds invented, which the best fake accents shouldn't do. The rest of the narration is top-notch.
Sold by Patricia McCormick
Justine Eyre also narrates Patricia McCormick's National Book award finalist about a 13 year old Nepalese girl named Lakshmi sold into sex slavery in India. Normally I don't read books like this. Much of my reading as an adult focuses on pleasanter topics with happy endings, but I saw that Eyre narrated it, and it was short, and it was a National Book Award finalist. It's a hard, extremely well-written novel written in first person free verse vignettes from Lakshmi's perspective. What happens to Lakshmi is made explicit, though McCormick doesn't linger on details. It's a heartbreaking book made more wrenching by Lakshmi's extreme naivete; she didn't even know prostitution or sex slavery existed until they were forced upon her. Once she discovers that she'll need to make enough money by sleeping with enough men to buy herself out of the brothel-owner's debt, she starts keeping careful tally of what she earns. It's only when she presents these figures to this woman many months down the road that she learns there really is no way out. Her debt will only grow, no matter how much she earns. Still, the book does end on a note of hope. I love Eyre's narration in general, and she does a good accent to my ear (I haven't heard a lot of Nepalese people speak), but I do wonder that a Nepalese narrator wasn't chosen.