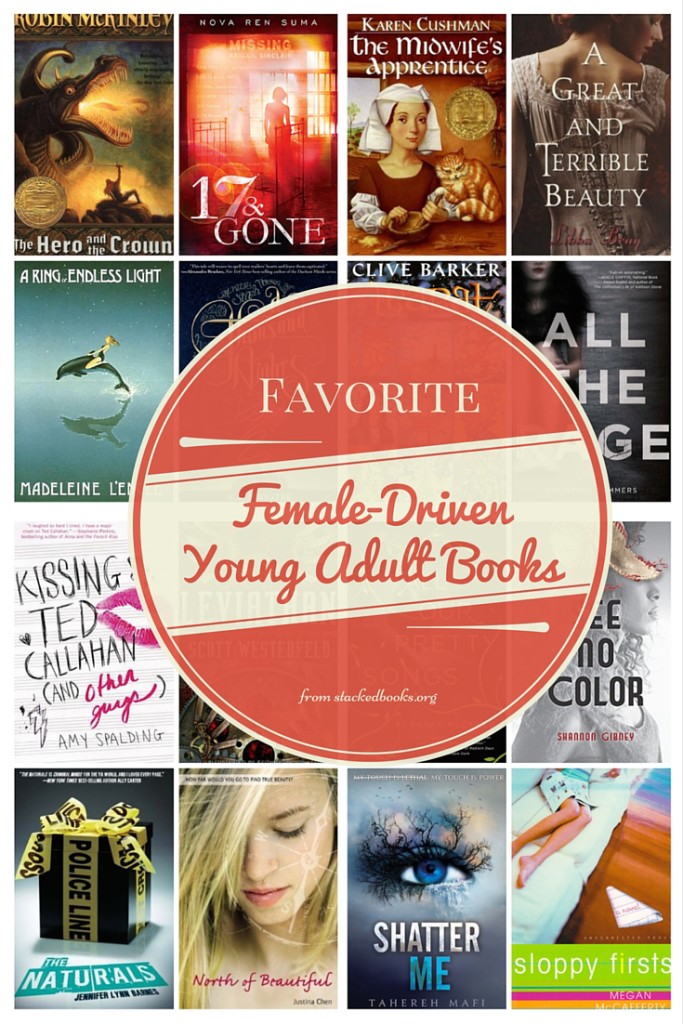 Back in November, I asked readers to share what their favorite female-driven YA novels were. Because the response was tremendous (hundreds and hundreds!!) it took me a while to round them up into a useful post. But now it's here!
These span all genres and formats, and they're written by a wide array of voices and talents. Some are new books, and some of them are deep into backlist territory. Because of the huge number of responses, I know I missed some, and I'm aware there are books that are parts of a series — consider those representative of the entire series.
There were some great adult titles offered, but I didn't include those in this round-up, for the sake of space and time. I wanted to keep this scope more narrow. There's no rhyme or reason to the order these are in, either: what began as a good intention to put them in alphabetical order became surprisingly overwhelming with the number of titles.
All descriptions, as always, come from WorldCat. And I would absolutely welcome more of your favorite female-driven YA in the comments. I'm not looking at gender of author; this is strictly awesome YA books driven by a female narrator.
In other words, Strong Female Characters. Girls' Stories.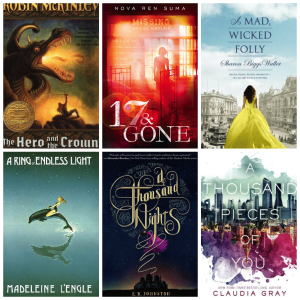 The Hero and the Crown by Robin McKinley: Aerin, with the guidance of the wizard Luthe and the help of the Blue Sword, wins the birthright due her as the daughter of the Damarian king and a witchwoman of the mysterious, demon-haunted North.
17 & Gone by Nova Ren Suma: Seventeen-year-old Lauren has visions of girls her own age who are gone without a trace, but while she tries to understand why they are speaking to her and whether she is next, Lauren has a brush with death and a shocking truth emerges, changing everything.
A Mad, Wicked Folly by Sharon Biggs Waller: In 1909 London, as the world of debutante balls and high society obligations closes in around her, seventeen-year-old Victoria must figure out just how much is she willing to sacrifice to pursue her dream of becoming an artist.
A Ring of Endless Light by Madeleine L;Engle: During the summer her grandfather is dying of leukemia and death seems all around, 15-year-old Vicky finds comfort with the pod of dolphins with which she has been doing research.
A Thousand Pieces of You by Claudia Gray: When eighteen-year-old Marguerite Caine's father is killed, she must leap into different dimensions and versions of herself to catch her father's killer and avenge his murder.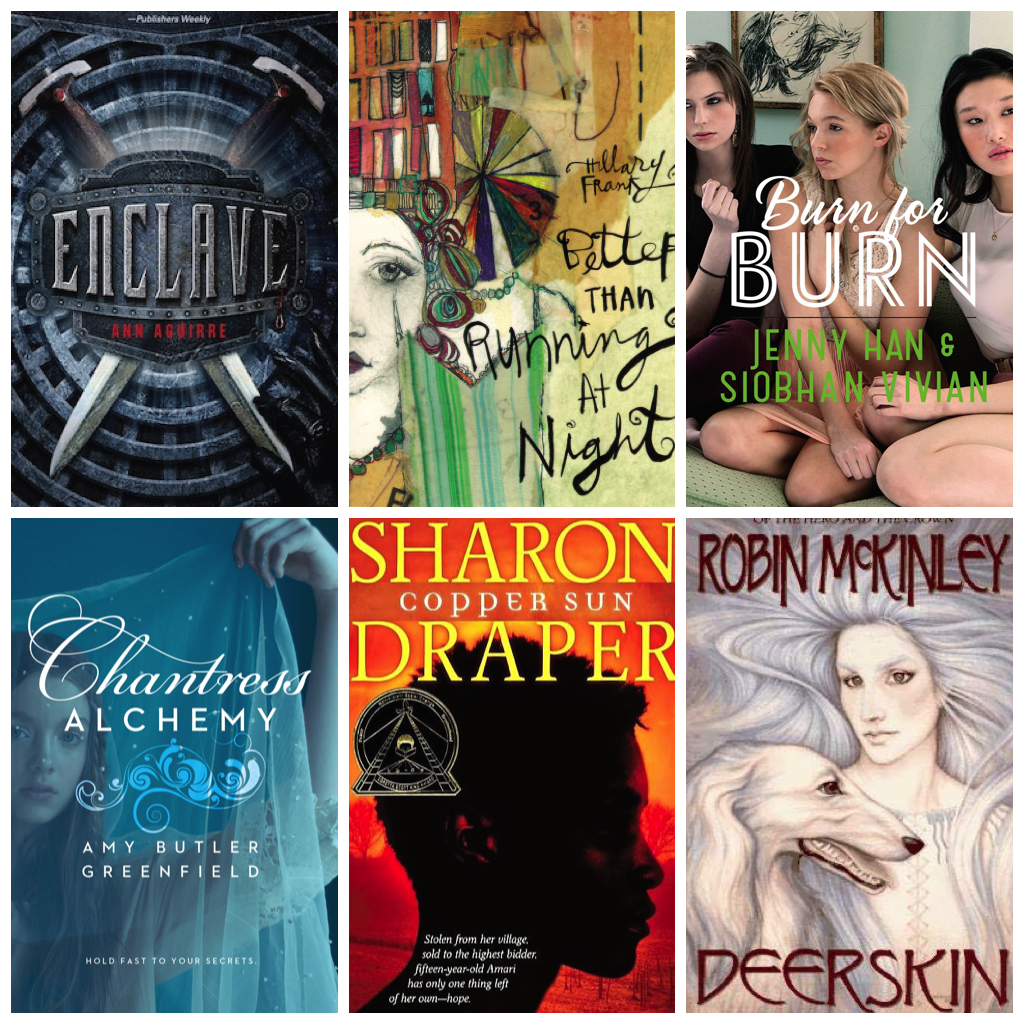 Enclave by Ann Aguirre: In a post-apocalyptic future, fifteen-year-old Deuce, a loyal Huntress, brings back meat while avoiding the Freaks outside her enclave, but when she is partnered with the mysterious outsider, Fade, she begins to see that the strict ways of the elders may be wrong–and dangerous.
Better Than Running at Night by Hillary Frank: A freshman art student from Manhattan spends her first year away from home in New England.
Burn for Burn by Jenny Han and Siobhan Vivian: Three teenaged girls living on Jar Island band together to enact revenge on the people that have hurt them
Chantress Alchemy by Amy Butler Greenfield: Lucy, , a chantress who works magic by singing, is called to court to find a lost instrument of Alchemy. But her magic isn't working properly.
Copper Sun by Sharon Draper: Two fifteen-year-old girls–one a slave and the other an indentured servant–escape their Carolina plantation and try to make their way to Fort Moses, Florida, a Spanish colony that gives sanctuary to slaves.
Deerskin by Robin McKinley: A princess trapped in a terrifying nightmare. A king beloved by his people–and feared by his own daughter.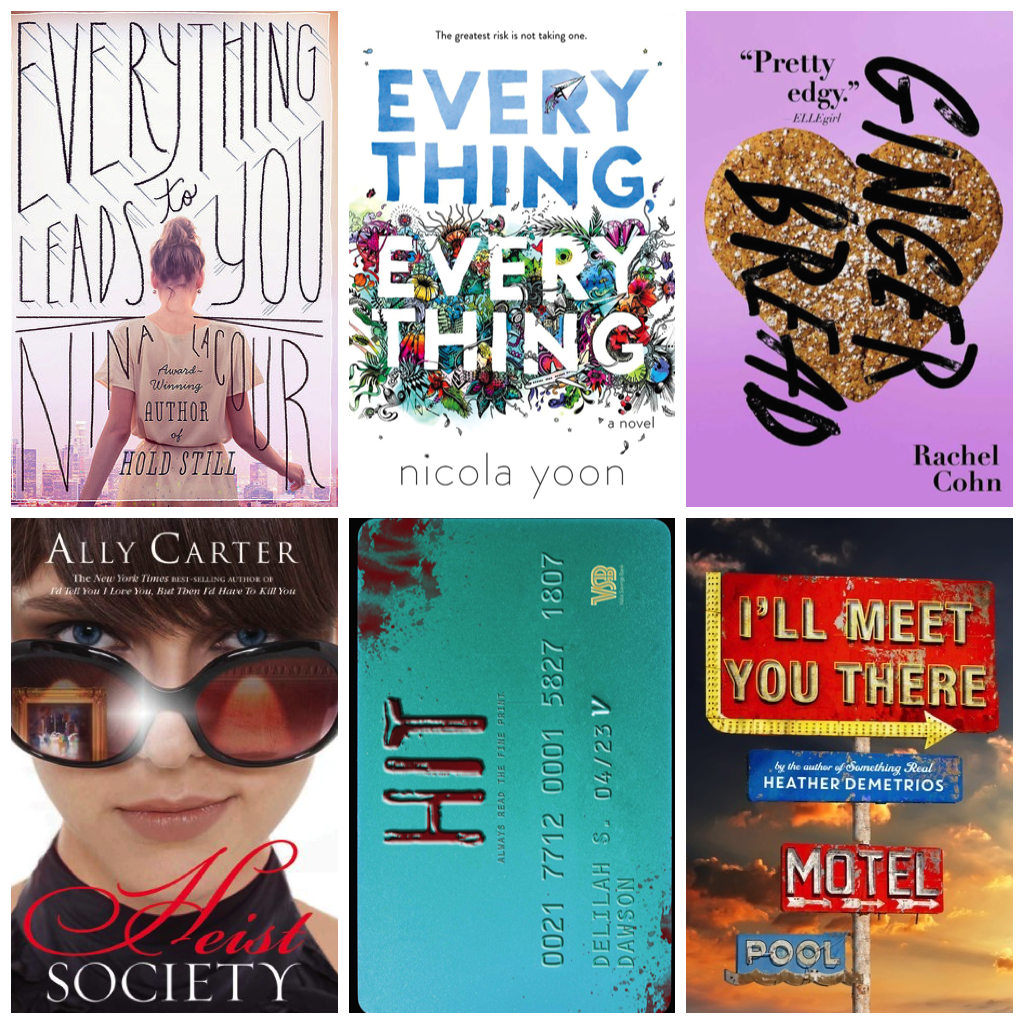 Everything Leads to You by Nina LaCour: While working as a film production designer in Los Angeles, Emi finds a mysterious letter from a silver screen legend which leads Emi to Ava who is about to expand Emi's understanding of family, acceptance, and true romance.
Everything Everything by Nicola Yoon: My disease is as rare as it is famous. Basically, I'm allergic to the world. I don't leave my house, have not left my house in seventeen years. The only people I ever see are my mom and my nurse, Carla. But then one day, a moving truck arrives next door. I look out my window, and I see him. He's tall, lean and wearing all black — black T-shirt, black jeans, black sneakers, and a black knit cap that covers his haircompletely. He catches me looking and stares at me. I stare right back. His name is Olly. Maybe we can't predict the future, but we can predict some things. For example, I am certainly going to fall in love with Olly. It's almost certainly going to be a disaster.
Gingerbread by Rachel Cohn: After being expelled from a fancy boarding school, Cyd Charisse's problems with her mother escalate after Cyd falls in love with a sensitive surfer and is subsequently sent from San Francisco to New York City to spend time with her biological father.
Heist Society by Ally Carter: A group of teenagers uses their combined talents to re-steal several priceless paintings and save fifteen-year-old Kat Bishop's father, himself an international art thief, from a vengeful collector.
Hit by Delilah Dawson: Near future thriller about a teen forced to become an indentured assassin who has only five days to complete her hit list–with the added complication of her sole ally's brother being the final assignment.
I'll Meet You There by Heather Demetrios: Skylar Evans, seventeen, yearns to escape Creek View by attending art school, but after her mother's job loss puts her dream at risk, a rekindled friendship with Josh, who joined the Marines to get away then lost a leg in Afghanistan, and her job at the Paradise motel lead her to appreciate her home town.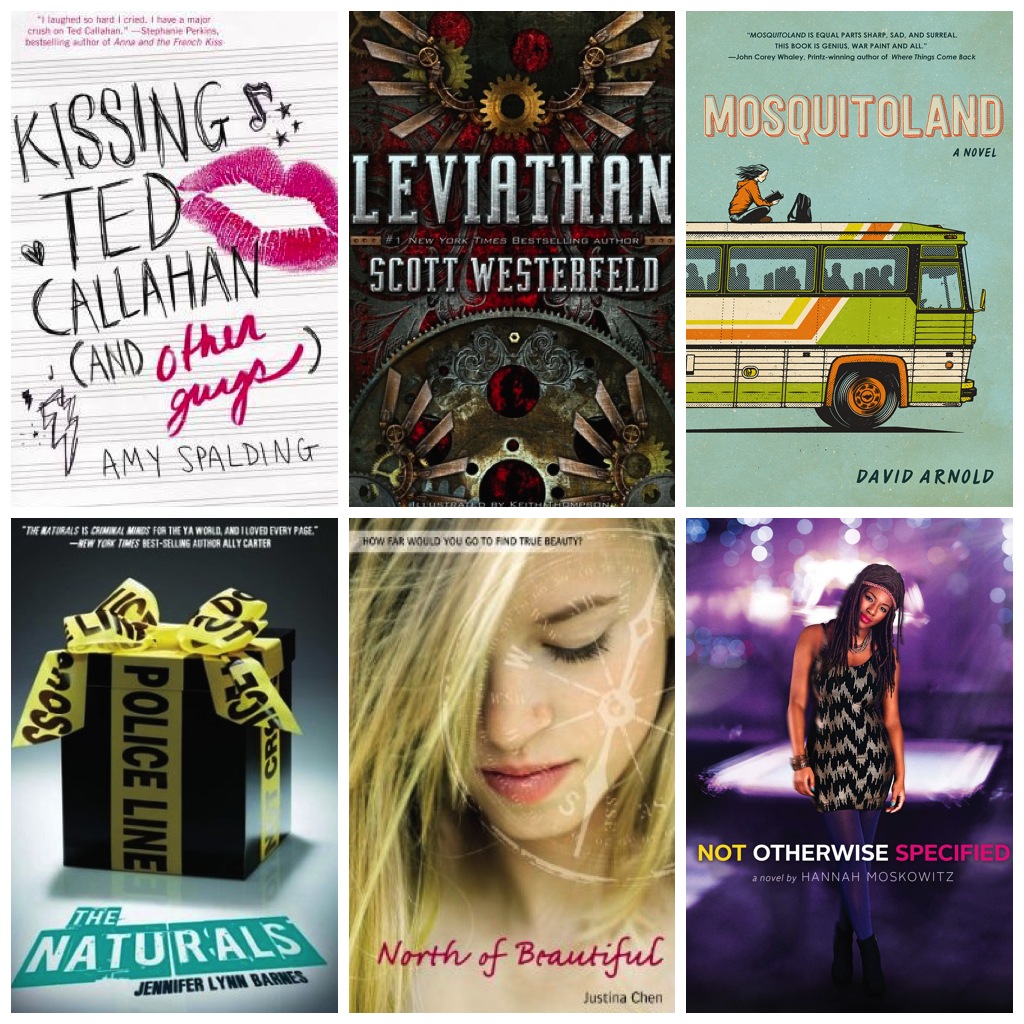 Kissing Ted Callahan (And Other Guys) by Amy Spalding: Sixteen-year-olds Riley and Reid make a pact to pursue their respective crushes and document the experiences in a shared notebook they call "The Passenger Manifest."
Leviathan by Scott Westerfeld: Inan alternate 1914 Europe, fifteen-year-old Austrian Prince Alek, on the run from the Clanker Powers who are attempting to take over the globe using mechanical machinery, forms an uneasy alliance with Deryn who, disguised as a boy to join the British Air Service, is learning to fly genetically-engineered beasts.
Mosquitoland by David Arnold: When she learns that her mother is sick in Ohio, Mim confronts her demons on a thousand-mile odyssey from Mississippi that redefines her notions of love, loyalty, and what it means to be sane.
The Naturals by Jennifer Lynn Barnes: Seventeen-year-old Cassie, who has a natural ability to read people, joins an elite group of criminal profilers at the FBI in order to help solve cold cases.
North of Beautiful by Justina Chen: Rerra, a sensitive, artistic high school senior born with a facial port-wine stain, struggles with issues of inner and outer beauty with the help of her Goth classmate Jacob.
Not Otherwise Specified by Hannah Moskowitz: Auditioning for a New York City performing arts high school could help Etta escape from her Nebraska all-girl school, where she is not gay enough for her former friends, not sick enough for her eating disorders group, and not thin enough for ballet, but it may also mean real friendships.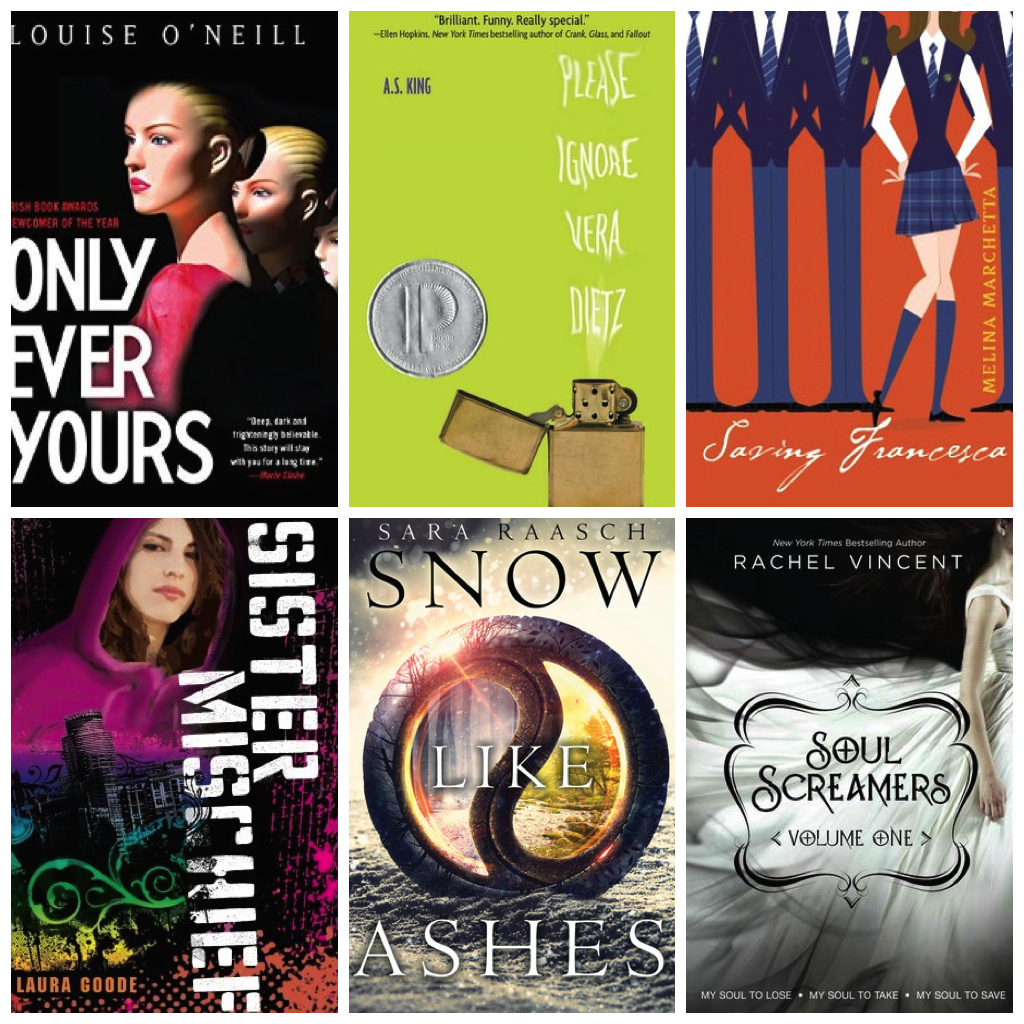 Only Ever Yours by Louise O'Neill: In a world in which baby girls are no longer born naturally, women are bred in schools, trained in the arts of pleasing men until they are ready for the outside world. At graduation, the most highly rated girls become "companions," permitted to live with their husbands and breed sons until they are no longer useful. For the girls left behind, the future — as a concubine or a teacher — is grim. Best friends Freida and Isabel are sure they'll be chosen as companions — they are among the most highly rated girls in their year. But as the intensity of final year takes hold, Isabel does the unthinkable and starts to put on weight. And then, into this sealed female environment, the boys arrive, eager to choose a bride. Freida must fight for her future — even if it means betraying the only friend, the only love, she has ever known.
Please Ignore Vera Dietz by AS King: When her best friend, whom she secretly loves, betrays her and then dies under mysterious circumstances, high school senior Vera Dietz struggles with secrets that could help clear his name.
Saving Francesca by Melina Marchetta: Sixteen-year-old Francesca could use her outspoken mother's help with the problems of being one of a handful of girls at a parochial school that has just turned co-ed, but her mother has suddenly become severely depressed.
Sister Mischief by Laura Goode: Esme Rockett, also known as MC Ferocious, rocks her suburban Minnesota Christian high school with more than the hip-hop music she makes with best friends Marcy (DJ SheStorm) and Tess (The ConTessa) when she develops feelings for her co-MC, Rowie (MC Rohini).
Snow Like Ashes by Sara Raasch: Sixteen years ago the Kingdom of Winter was conquered and its citizens enslaved, leaving them without magic or a monarch. The Winterians' only hope for freedom is the eight survivors who managed to escape–and who have been searching for the opportunity to steal back Winter's magic and rebuild their kingdom ever since. Orphaned as an infant during Winter's defeat, Meira has lived her whole life as a refugee. Training to be a warrior–and desperately in love with her best friend, Winter's future king–she would do anything to help Winter rise to power again. So when scouts discover the location of half of the ancient locket that can restore their magic, Meira decides to go after it herself–only to find herself thrust into a world of evil magic and dangerous politics … and to realize that her destiny is not, never has been, her own.
Soul Screamers by Rachel Vincent: When Kaylee Cavanaugh finds herself with an ability to know when people near her are about to die, she turns to hot senior Nash for help, and together they investigate when several of their classmates die for no apparent reason.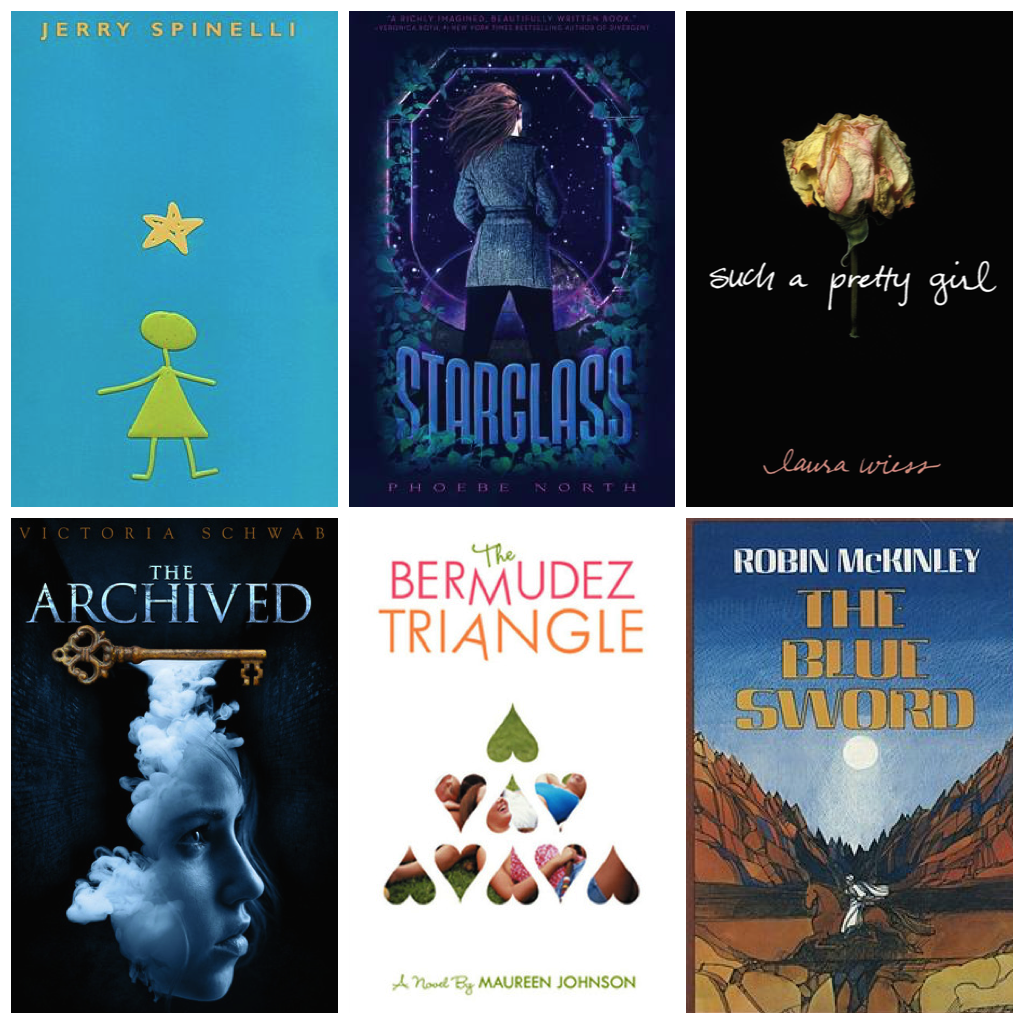 Stargirl by Jerry Spinelli: In this story about the perils of popularity, the courage of nonconformity, and the thrill of first love, an eccentric student named Stargirl changes Mica High School forever.
Starglass by Phoebe North: For all of her sixteen years, Terra has lived on a city within a spaceship that left Earth five hundred years ago seeking refuge, but as they finally approach the chosen planet, she is drawn into a secret rebellion that could change the fate of her people.
Such A Pretty Girl by Laura Wiess: Haunted by flashbacks, fifteen-year-old Meredith learns that three years in prison has not changed the abusive father who molested her.
The Archived by Victoria Schwab: When an otherworldly library called the Archive is compromised from within, sixteen-year-old Mackenzie Bishop must prevent violent, ghost-like Histories from escaping into our world.
The Bermudez Triangle by Maureen Johnson: The friendship of three high school girls and their relationships with their friends and families are tested when two of them fall in love with each other.
The Blue Sword by Robin McKinley: Harry, bored with her sheltered life in the remote orange-growing colony of Daria, discovers magic in herself when she is kidnapped by a native king with mysterious powers.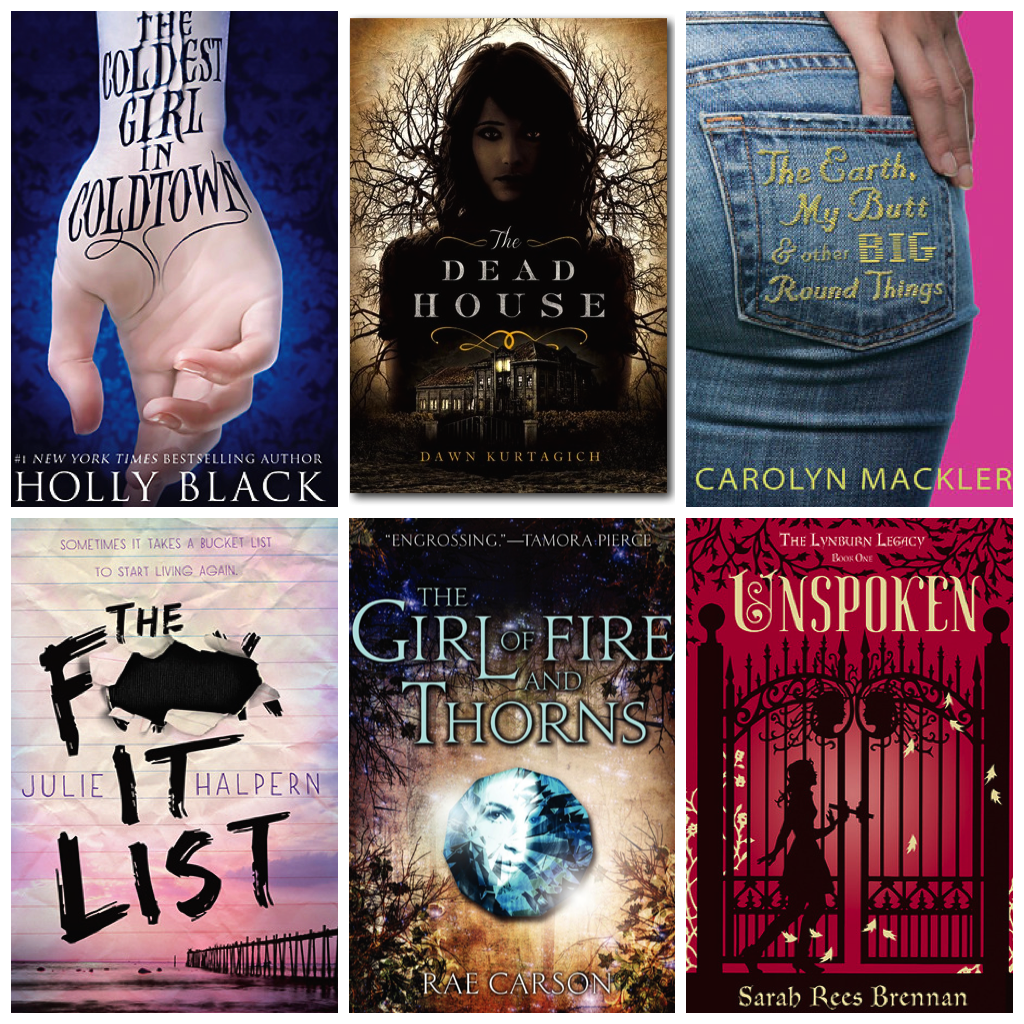 The Coldest Girl in Coldtown by Holly Black: When seventeen-year-old Tana wakes up following a party in the aftermath of a violent vampire attack, she travels to Coldtown, a quarantined Massachusetts city full of vampires, with her ex-boyfriend and a mysterious vampire boy in tow.
The Dead House by Dawn Kurtagich: Told through journal entries, a psychotherapist's notes, court records, and more, relates the tale of Carly, a teen who was institutionalized after her parents' death but released to Elmbrige High School, where she is believed to have a second personality or soul named Kaitlyn, and/or be possessed by a demon.
The Earth, My Butt, and Other Big Round Things by Carolyn Mackler: Feeling like she does not fit in with the other members of her family, who are all thin, brilliant, and good-looking, fifteen-year-old Virginia tries to deal with her self-image, her first physical relationship, and her disillusionment with some of the people closest to her.
The F-It List by Julie Halpern: When Becca does something nearly unforgivable at Alex's dad's funeral, Alex cuts ties with her and focuses on her grieving family. Time passes, and Alex learns Becca has cancer. It also turns out Becca has a bucket list, one she doesn't know she'll be able to finish now. That's where Alex comes in, along with a mysterious and guarded boy who just may help Alex check a few items off her own bucket list.
The Girl of Fire and Thorns by Rae Carson: A fearful sixteen-year-old princess discovers her heroic destiny after being married off to the king of a neighboring country in turmoil and pursued by enemies seething with dark magic.
Unspoken by Sarah Rees Brennan: Kami Glass is in love with someone she's never met–a boy she's talked to in her head since she was born. This has made her an outsider in the sleepy English town of Sorry-in-the-Vale, but she has learned ways to turn that to her advantage. Her life seems to be in order, until disturbing events begin to occur. There has been screaming in the woods and the manor overlooking the town has lit up for the first time in 10 years. The Lynburn family, who ruled the town a generation ago and who all left without warning, have returned. Now Kami can see that the town she has known and loved all her life is hiding a multitude of secrets–and a murderer. The key to it all just might be the boy in her head. The boy she thought was imaginary is real, and definitely and deliciously dangerous. 
The Mockingbirds by Daisy Whitney: When Alex, a junior at an elite preparatory school, realizes that she may have been the victim of date rape, she confides in her roommates and sister who convince her to seek help from a secret society, the Mockingbirds.
The President's Daughter by Ellen Emerson White: Sixteen-year-old Meghan Powers' happy life in Massachusetts changes drastically when her mother, one of the most prestigious senators in the country, becomes the front-runner in the race for United States President.
The Sacred Lies of Minnow Bly by Stephanie Oakes: A handless teen escapes from a cult, only to find herself in juvenile detention and suspected of knowing who murdered her cult leader.
The Truth About Forever by Sarah Dessen: The summer following her father's death, Macy plans to work at the library and wait for her brainy boyfriend to return from camp, but instead she goes to work at a catering business where she makes new friends and finally faces her grief.
Uprising by Margaret Peterson Haddix: In 1927, at the urging of twenty-one-year-old Harriet, Mrs. Livingston reluctantly recalls her experiences at the Triangle Shirtwaist factory, including miserable working conditions that led to a strike, then the fire that took the lives of her two best friends, when Harriet, the boss's daughter, was only five years old. Includes historical notes.
Vanishing Girls by Lauren Oliver: Two sisters inexorably altered by a terrible accident, a missing nine-year-old girl, and the shocking connection between them.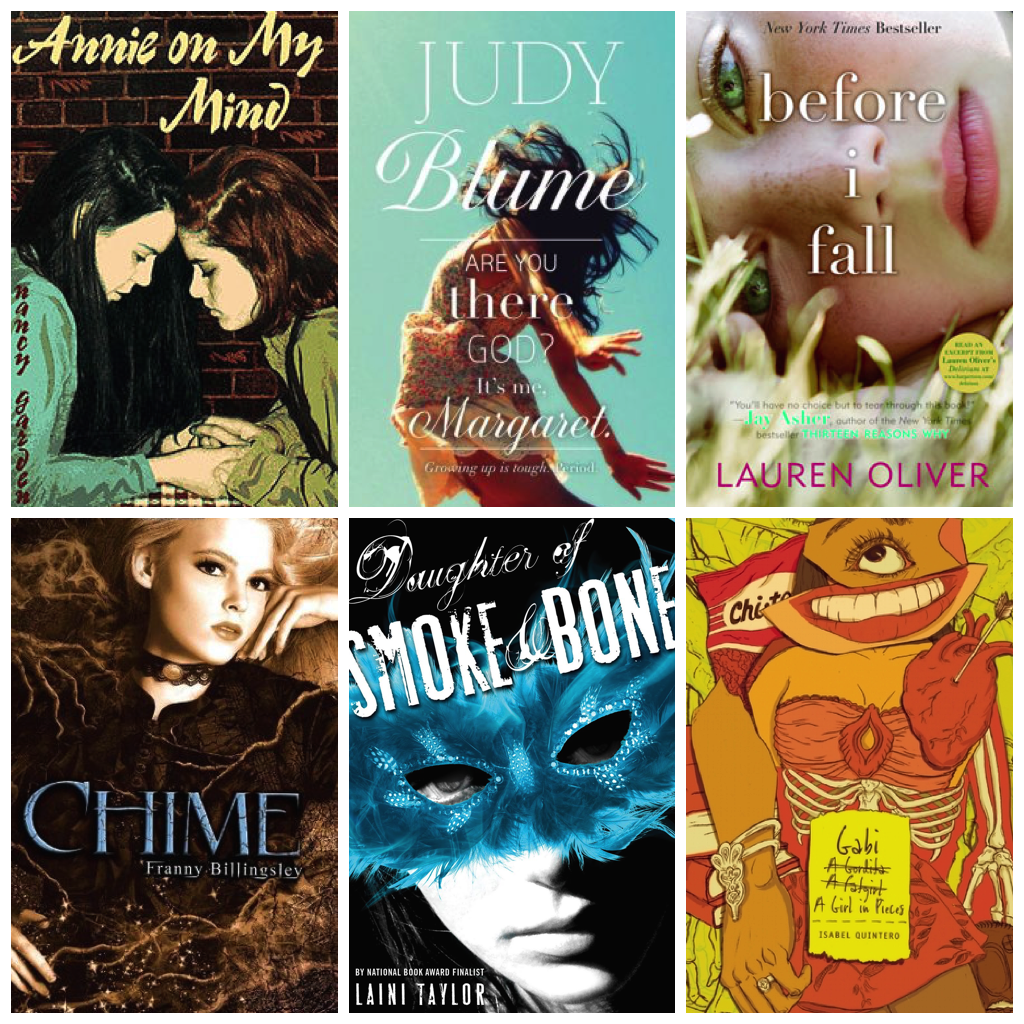 Annie on My Mind by Nancy Garden: Liza puts aside her feelings for Annie after the disaster at school, but eventually she allows love to triumph over the ignorance of people.
Are You There God? It's Me, Margaret. by Judy Blume: Faced with the difficulties of growing up and choosing a religion, a twelve-year-old girl talks over her problems with her own private God.
Before I Fall by Lauren Oliver: After she dies in a car crash, teenaged Samantha relives the day of her death over and over again until, on the seventh day, she finally discovers a way to save herself.
Chime by Franny Billingsley: In the early twentieth century in Swampsea, seventeen-year-old Briony, who can see the spirits that haunt the marshes around their town, feels responsible for her twin sister's horrible injury until a young man enters their lives and exposes secrets that even Briony does not know about.
Daughter of Smoke and Bone by Laini Taylor: Seventeen-year-old Karou, a lovely, enigmatic art student in a Prague boarding school, carries a sketchbook of hideous, frightening monsters–the chimaerae who form the only family she has ever known.
Gabi, A Girl in Pieces by Isabel Quintero: Sixteen-year-old Gabi Hernandez chronicles her senior year in high school as she copes with her friend Cindy's pregnancy, friend Sebastian's coming out, her father's meth habit, her own cravings for food and cute boys, and especially, the poetry that helps forge her identity.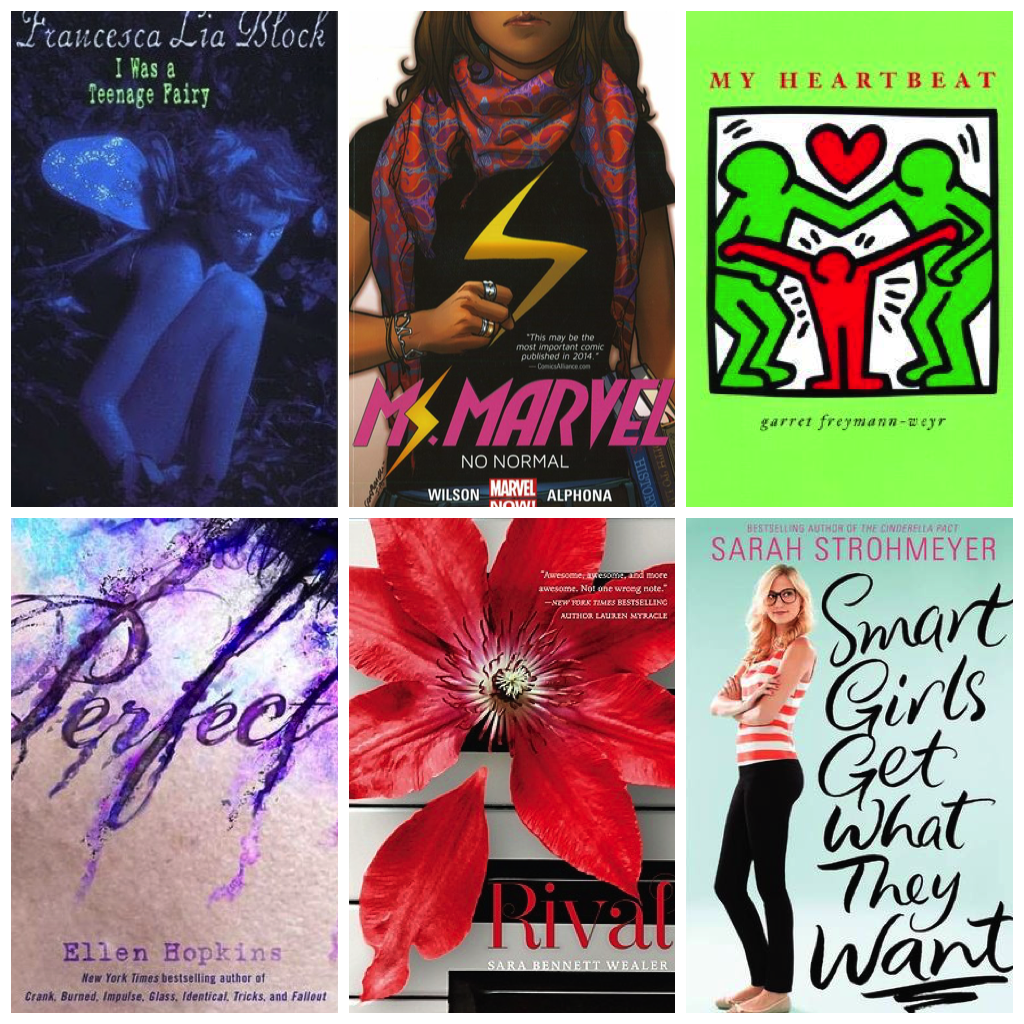 I Was a Teenage Fairy by Francesca Lia Block: A feisty, sexy fairy helps a young girl heal traumas of her past.
Ms, Marvel by Wilson and Alphona: Kamala Khan is an ordinary girl from Jersey City — until she's suddenly empowered with extraordinary gifts. But who truly is the new Ms. Marvel? Teenager? Muslim? Inhuman? Find out as she takes the Marvel Universe by storm! When Kamala discovers the dangers of her newfound powers, she unlocks a secret behind them, as well. Is Kamala ready to wield these immense new gifts? Or will the weight of the legacy before her be too much to bear? Kamala has no idea, either. But she's comin' for you, New York!
My Heartbeat by Garret Freymann-Weyr: A thoughtful approach to the many confusing signals that accompany awakening sexuality.
Perfect by Ellen Hopkins: Northern Nevada teenagers Cara, Kendra, Sean, and Andre, tell in their own voices of their very different paths toward perfection and how their goals change when tragedy strikes.
Rival by Sara Bennett-Wealer: Two high school rivals compete in a prestigious singing competition while reflecting on the events that turned them from close friends to enemies the year before.
Smart Girls Get What They Want by Sarah Strohmeyer: Three sophomore best friends use their brains–and their wits–to find happiness in high school.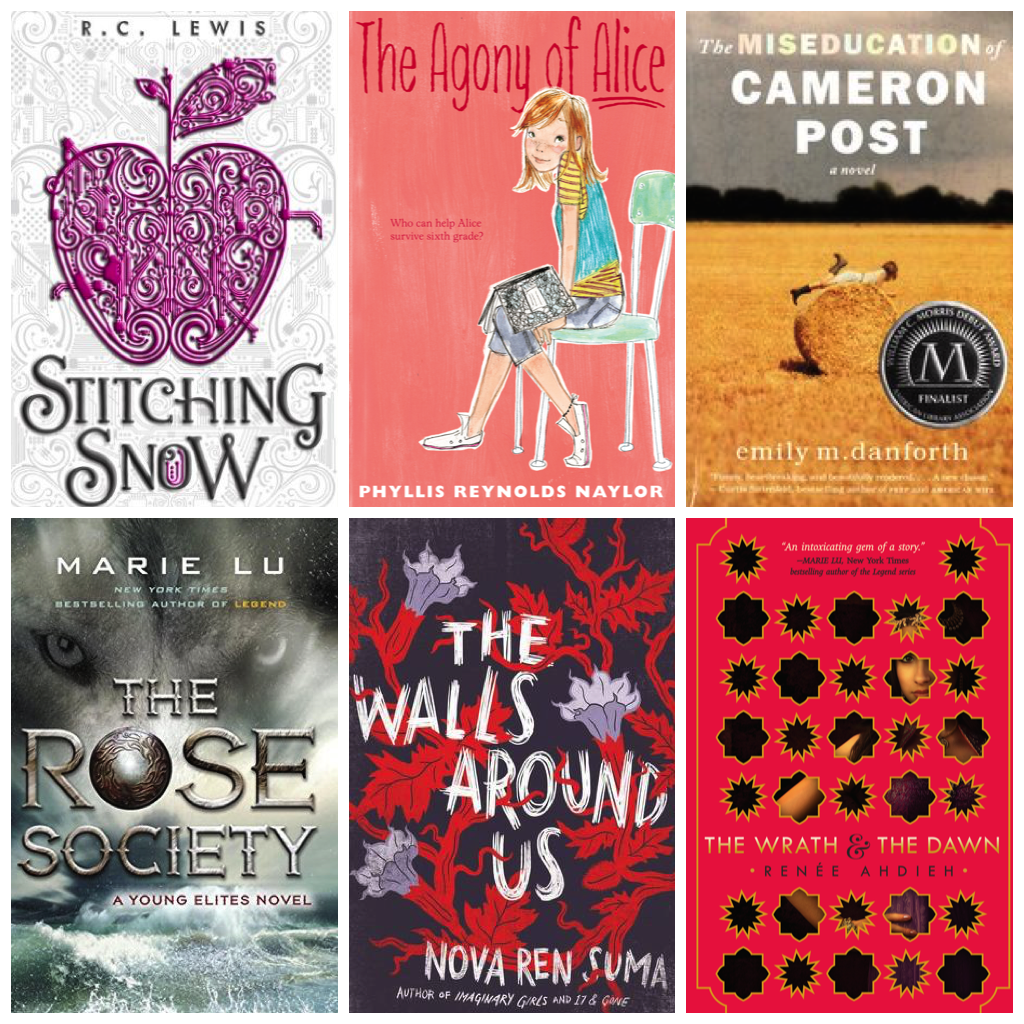 Stitching Snow by RC Lewis: Auturistic retelling of Snow White in which seventeen-year-old Essie, a master at repairing robots and drones on the frozen mining planet Thanda, is pulled into a war by handsome and mysterious Dane after his shuttle crash-lands near her home.
The Agony of Alice by Phyllis Reynolds Naylor: Eleven-year-old, motherless Alice decides she needs a gorgeous role model who does everything right; and when placed in homely Mrs. Plotkins's class she is greatly disappointed until she discovers it is what people are inside that counts.
The Miseducation of Cameron Post by Emily M. Danforth: In the early 1990s, when gay teenager Cameron Post rebels against her conservative Montana ranch town and her family decides she needs to change her ways, she is sent to a gay conversion therapy center.
The Rose Society by Marie Lu: Adelina Amouteru's heart has suffered at the hands of both family and friends, turning her down the bitter path of revenge. Now known and feared as the White Wolf, she and her sister flee Kenettra to find other Young Elites in the hopes of building her own army of allies. Her goal: to strike down the Inquisition Axis, the white-cloaked soldiers who nearly killed her. But Adelina is no heroine. Her powers, fed only by fear and hate, have started to grow beyond her control. She does not trust her newfound Elite friends. Teren Santoro, leader of the Inquisition, wants her dead. And her former friends, Raffaele and the Dagger Society, want to stop her thirst for vengeance. Adelina struggles to cling to the good within her. But how can someone be good, when her very existence depends on darkness?
The Walls Around Us by Nova Ren Suma: Orianna and Violet are ballet dancers and best friends, but when the ballerinas who have been harassing Violet are murdered, Orianna is accused of the crime and sent to a juvenile detention center where she meets Amber and they experience supernatural events linking the girls together.
The Wrath and the Dawn by Renee Ahdieh: In this reimagining of The Arabian Nights, Shahrzad plans to avenge the death of her dearest friend by volunteering to marry the murderous boy-king of Khorasan but discovers not all is as it seems within the palace.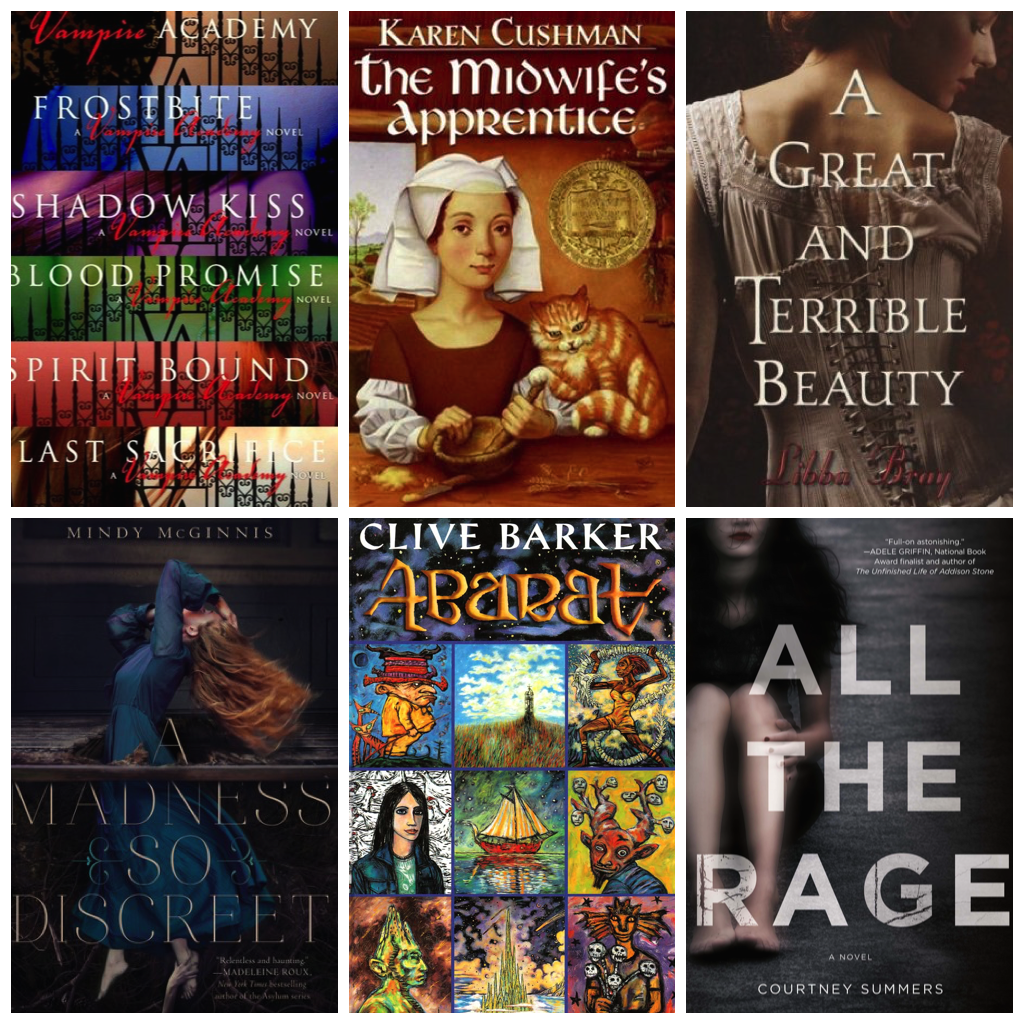 Vampire Academy by Richelle Mead: Two years after a horrible incident made them run away, vampire princess Lissa and her guardian-in-training Rose are found and returned to St. Vladimir's Academy, where one focuses on mastering magic, the other on physical training, while both try to avoid the perils of gossip, cliques, gruesome pranks, and sinister plots.
The Midwife's Apprentice by Karen Cushman: In medieval England, a nameless, homeless girl is taken in by a sharp-tempered midwife, and in spite of obstacles and hardship, eventually gains the three things she most wants: a full belly, a contented heart, and a place in this world.
A Great and Terrible Beauty by Libba Bray: After the suspicious death of her mother in 1895, sixteen-year-old Gemma returns to England, after many years in India, to attend a finishing school where she becomes aware of her magical powers and ability to see into the spirit world.
A Madness So Discreet by Mindy McGinnis: Boston, 1890. Grace Mae knows madness. She keeps it locked away, along with her voice, trapped deep inside a brilliant mind that cannot forget horrific family secrets. Those secrets, along with the bulge in her belly, land her in a Boston insane asylum. When her voice returns in a burst of violence, Grace is banished to the dark cellars, where her mind is discovered by a visiting doctor who dabbles in the new study of criminal psychology. With her keen eyes and sharp memory, Grace will make the perfect assistant at crime scenes. Escaping from Boston to the safety of an ethical Ohio asylum, Grace finds friendship and hope, hints of a life she should have had. But gruesome nights bring Grace and the doctor into the circle of a killer who stalks young women. Grace, continuing to operate under the cloak of madness, must hunt a murderer while she confronts the demons in her own past.
Abarat by Clive Barker: Candy Quackenbush of Chickentown, Minnesota, one day finds herself on the edge of a foreign world that is populated by strange creatures, and her life is forever changed.
All the Rage by Courtney Summers: After being assaulted by the sheriff's son, Kellan Turner, Romy Grey was branded a liar and bullied by former friends, finding refuge only in the diner where she works outside of town, but when a girl with ties to both Romy and Kellan goes missing and news of him assulting another girl gets out, Romy must decide whether to speak out again or risk having more girls hurt.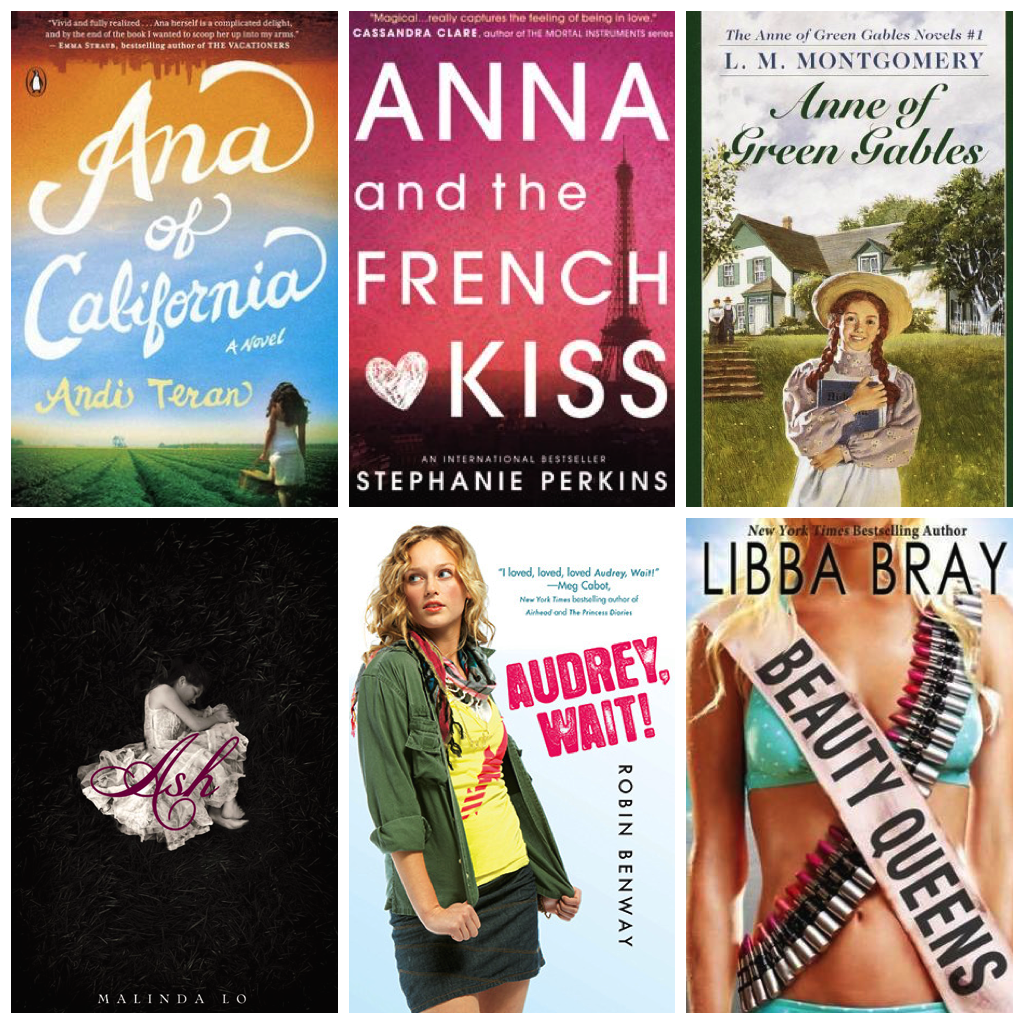 Ana of California by Andi Teran: A modern take on the classic coming-of-age novel, inspired by Anne of Green Gables In the grand tradition of Anne of Green Gables, Bridget Jones's Diary, and The Three Weissmanns of Westport, Andi Teran's captivating debut novel offers a contemporary twist on a beloved classic. Fifteen-year-old orphan Ana Cortez has just blown her last chance with a foster family. It's a group home next-unless she agrees to leave East Los Angeles for a farm trainee program in Northern California. When she first arrives, Ana can't tell a tomato plant from a blackberry bush, and Emmett Garber is skeptical that this slight city girl can be any help on his farm. His sister Abbie, however, thinks Ana might be just what they need. Ana comes to love Garber Farm, and even Emmett has to admit that her hard work is an asset. But when she inadvertently stirs up trouble in town, Ana is afraid she might have ruined her last chance at finding a place to belong. 
Anna and the French Kiss by Stephanie Perkins: Anna is happy in Atlanta. She has a loyal best friend and a crush on her coworker at the movie theater who is just starting to return her affection. So she's less than thrilled when her father decides to send her to a boarding school in Paris for her senior year. But despite not speaking a word of French and feeling like an outcast, Anna meets some interesting new people and begins to be charmed by Paris, including the handsome Étienne St. Clair, who quickly becomes her best friend, even if she might want more. Unfortunately he's taken — and Anna might be, too. Will a year of romantic near misses end with the French kiss she's been waiting for?
Anne of Green Gables by LM Montgomery: Anne, an eleven-year-old orphan, is sent by mistake to live with a lonely, middle-aged brother and sister on a Prince Edward Island farm and proceeds to make an indelible impression on everyone around her.
Ash by Malinda Lo: In this variation on the Cinderella story, Ash grows up believing in the fairy realm that the king and his philosophers have sought to suppress, until one day she must choose between a handsome fairy cursed to love her and the King's Huntress whom she loves.
Audrey, Wait! by Robin Benway: While trying to score a date with her cute co-worker at the Scooper Dooper, sixteen-year-old Audrey gains unwanted fame and celebrity status when her ex-boyfriend, a rock musician, records a breakup song about her that soars to the top of the Billboard charts.
Beauty Queens by Libba Bray: When a plane crash strands thirteen teen beauty contestants on a mysterious island, they struggle to survive, to get along with one another, to combat the island's other diabolical occupants, and to learn their dance numbers in case they are rescued in time for the competition.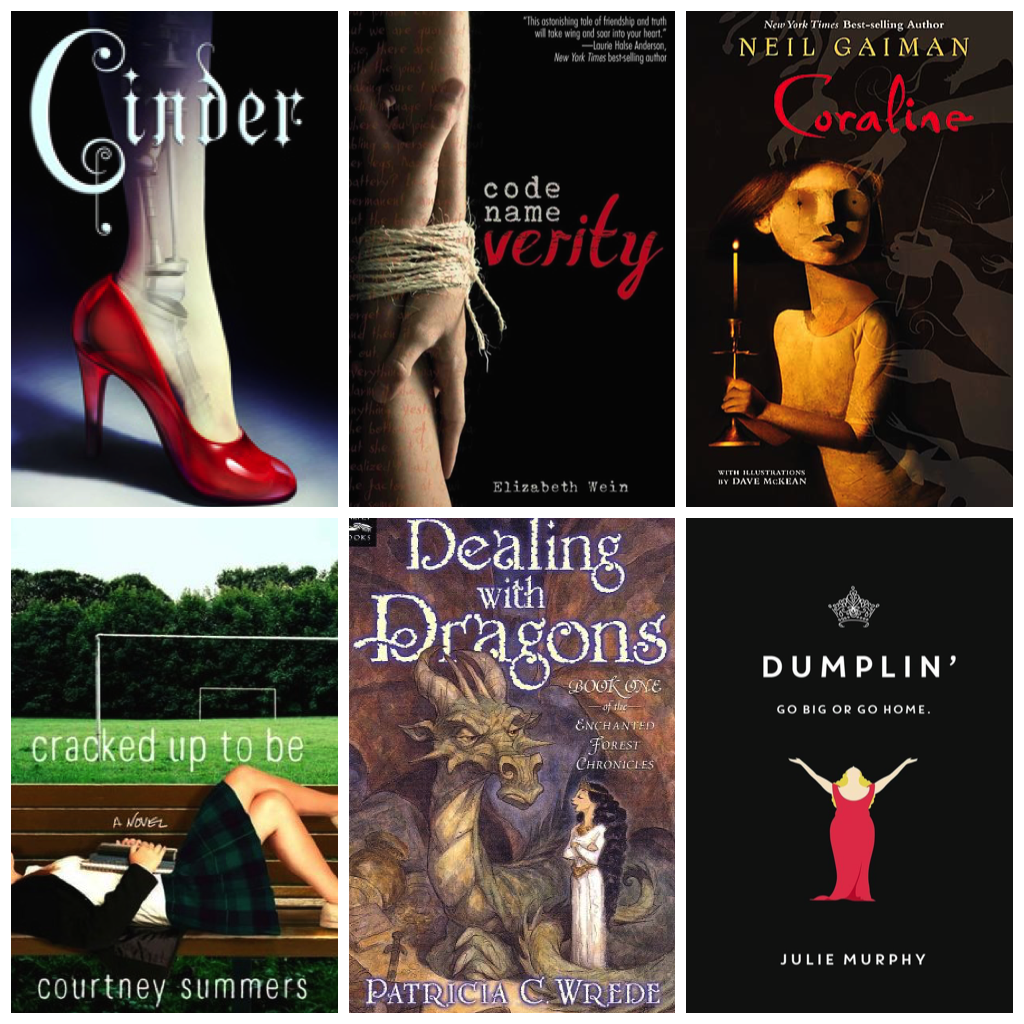 Cinder by Marissa Meyer: As plague ravages the overcrowded Earth, observed by a ruthless lunar people, Cinder, a gifted mechanic and cyborg, becomes involved with handsome Prince Kai and must uncover secrets about her past in order to protect the world in this futuristic take on the Cinderella story.
Code Name Verity by Elizabeth Wein: In 1943, a British fighter plane crashes in Nazi-occupied France and the survivor tells a tale of friendship, war, espionage, and great courage as she relates what she must to survive while keeping secret all that she can.
Coraline by Neil Gaiman: Looking for excitement, Coraline ventures through a mysterious door into a world that is similar, yet disturbingly different from her own, where she must challenge a gruesome entity in order to save herself, her parents, and the souls of three others.
Cracked Up to Be by Courtney Summers: High school senior Parker Fadley has quit the cheerleading squad, broken up with her popular boyfriend, and is in danger of not graduating with her class, but she refuses to tell anyone what has precipitated this sudden change in her attitude and behavior, insisting that she only wants to be left alone.
Dealing With Dragons by Patricia C. Wrede: Bored with traditional palace life, a princess goes off to live with a group of dragons and soon becomes involved with fighting against some disreputable wizards who want to steal away the dragons' kingdom.
Dumplin' by Julie Murphy: Self-proclaimed fat girl Willowdean Dickson (dubbed "Dumplin'" by her former beauty queen mom) has always been at home in her own skin. Her thoughts on having the ultimate bikini body? Put a bikini on your body. With her all-American beauty best friend, Ellen, by her side, things have always worked… until Will takes a job at Harpy's, the local fast-food joint. There she meets Private School Bo, a hot former jock. Will isn't surprised to find herself attracted to Bo. But she is surprised when he seems to like her back. Instead of finding new heights of self-assurance in her relationship with Bo, Will starts to doubt herself. So she sets out to take back her confidence by doing the most horrifying thing she can imagine: entering the Miss Clover City beauty pageant — along with several other unlikely candidates — to show the world that she deserves to be up there as much as any twiggy girl does. Along the way, she'll shock the hell out of Clover City — and maybe herself most of all.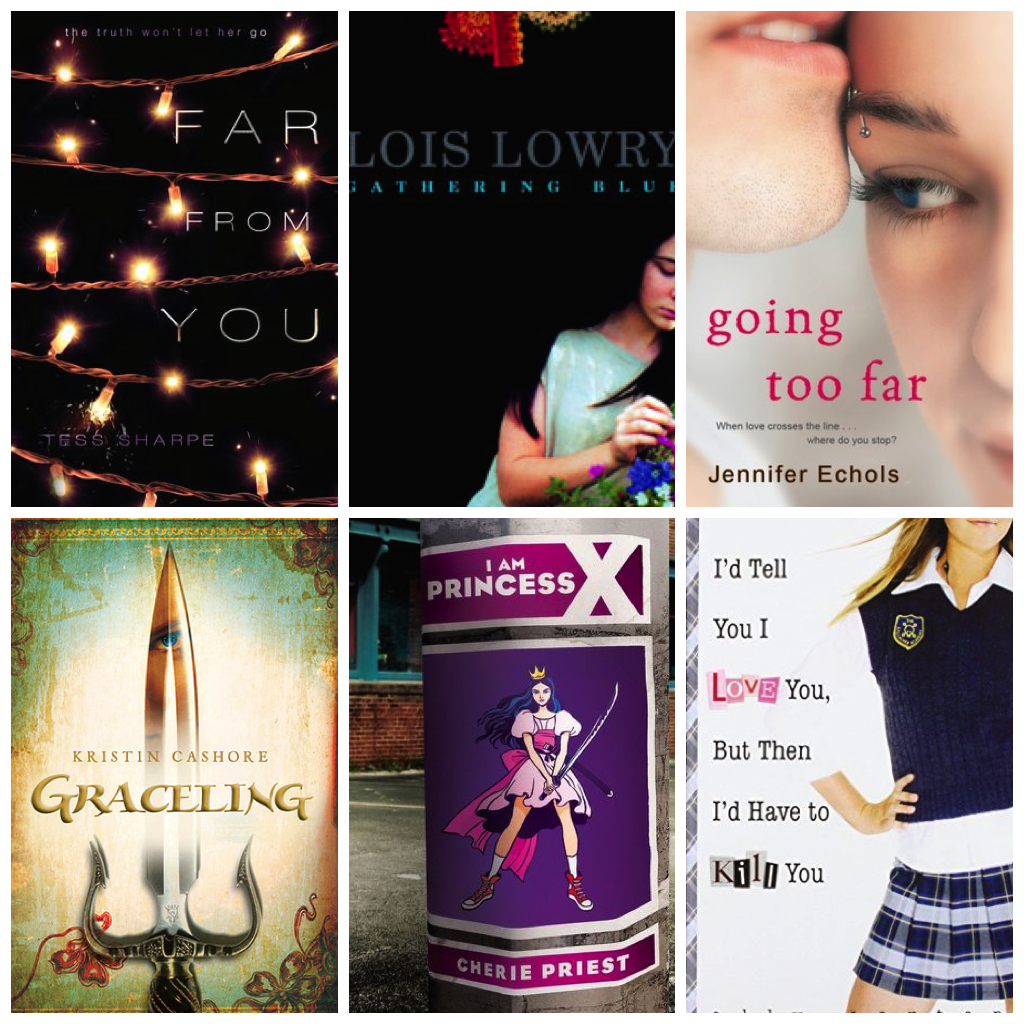 Far From You by Tess Sharpe: Sophie Winters nearly died, twice. The first time, she's fourteen, and escapes a near-fatal car accident with scars, a bum leg, and an addiction to Oxy that'll take years to kick. The second time, she's seventeen, and it's no accident. Sophie and her best friend Mina are confronted by a masked man in the woods. Sophie survives, but Mina is not so lucky. When the cops deem Mina's murder a drug deal gone wrong, casting partial blame on Sophie, no one will believe the truth: Sophie has been clean for months, and it was Mina who led her into the woods that night for a meeting shrouded in mystery. After a forced stint in rehab, Sophie returns home to a chilly new reality. Mina's brother won't speak to her, her parents fear she'll relapse, old friends have become enemies, and Sophie has to learn how to live without her other half. To make matters worse, no one is looking in the right places and Sophie must search for Mina's murderer on her own. But with every step, Sophie comes closer to revealing all: about herself, about Mina and about the secret they shared.
Gathering Blue by Lois Lowry: Lame and suddenly orphaned, Kira is mysteriously removed from her squalid village to live in the palatial Council Edifice, where she is expected to use her gifts as a weaver to do the bidding of the all-powerful Guardians.
Going Too Far by Jennifer Echols: Forced to spend spring break in a Birmingham, Alabama, suburb riding along with an attractive rookie police officer on the night shift, rebellious seventeen-year-old Meg finds herself falling unexpectedly in love.
Graceling by Kristin Cashore: In a world where some people are born with extreme and often-feared skills called Graces, Katsa struggles for redemption from her own horrifying Grace, the Grace of killing, and teams up with another young fighter to save their land from a corrupt king.
I Am Princess X by Cherie Priest: Best friends Libby Deaton and May Harper invented Princess X when they were in fifth grade, but when the car Libby is in goes off a bridge, she is presumed dead, and the story came to an end–except now, three years later, Princess X is suddenly everywhere, with a whole underground culture focused on a webcomic, and May believes her friend must be alive.
I'd Tell You I Love You But Then I'd Have To Kill You by Ally Carter: As a sophomore at a secret spy school and the daughter of a former CIA operative, Cammie is sheltered from "normal teenage life" until she meets a local boy while on a class surveillance mission.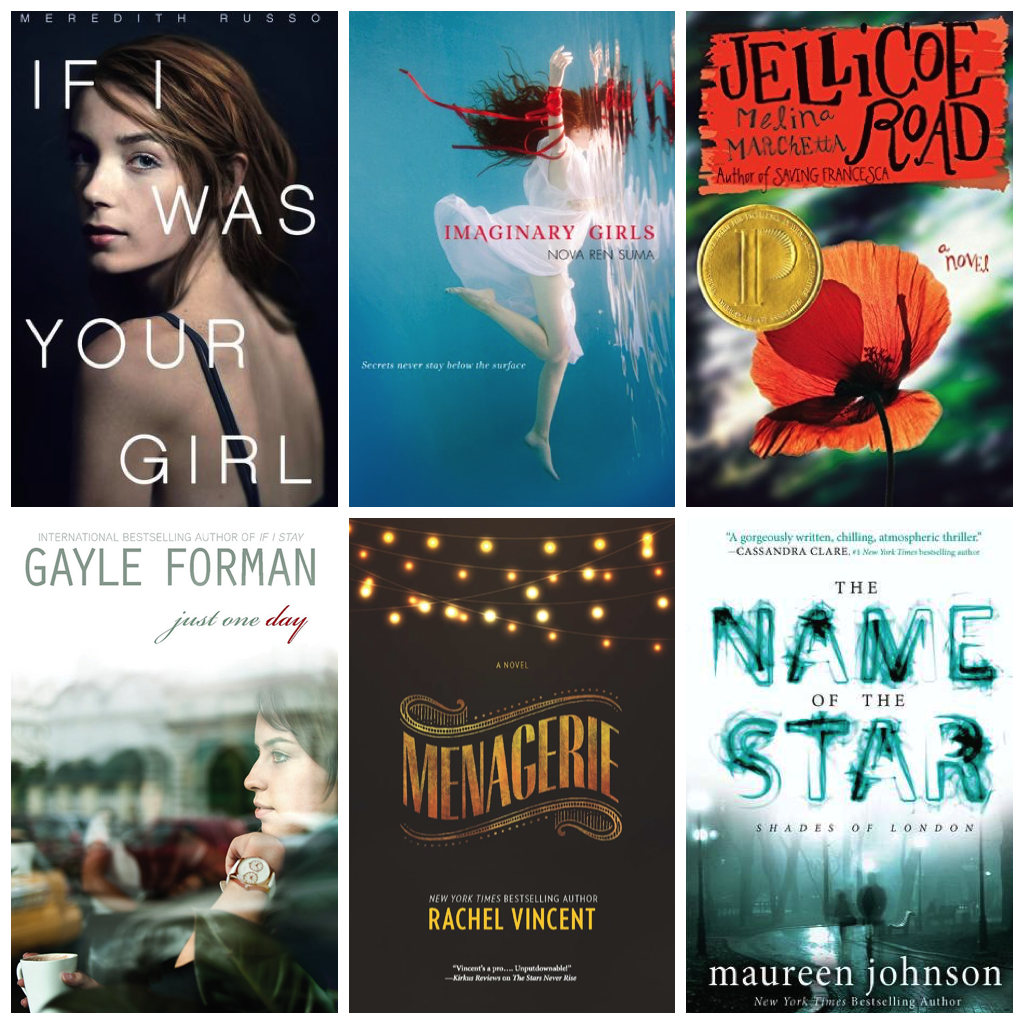 If I Was Your Girl by Meredith Russo (May): Amanda Hardy is the new girl in school. Like anyone else, all she wants is to make friends and fit in. But Amanda is keeping a secret. She's determined not to get too close to anyone. But when she meets sweet, easygoing Grant, Amanda can't help but start to let him in. As they spend more time together, she realizes just how much she is losing by guarding her heart. She finds herself yearning to share with Grant everything about herself–including her past. But Amanda's terrified that once she tells him the truth, he won't be able to see past it. Because the secret that Amanda's been keeping? It's that she used to be Andrew. Will the truth cost Amanda her new life–and her new love?
Imaginary Girls by Nova Ren Suma: Two years after sixteen-year-old Chloe discovered classmate London's dead body floating in a Hudson Valley reservoir, she returns home to be with her devoted older sister Ruby, a town favorite, and finds that London is alive and well, and that Ruby may somehow have brought her back to life and persuaded everyone that nothing is amiss.
Jellicoe Road by Melina Marchetta: Abandoned by her drug-addicted mother at the age of eleven, high school student Taylor Markham struggles with her identity and family history at a boarding school in Australia.
Just One Day by Gayle Forman: Sparks fly when American good girl Allyson encounters laid-back Dutch actor Willem, so she follows him on a whirlwind trip to Paris, upending her life in just one day and prompting a year of self-discovery and the search for true love.
Menagerie by Rachel Vincent: When Delilah Marlow visits a famous traveling carnival, Metzger's Menagerie, she discovers a fierce, sharp-clawed creature lurking just beneath her human veneer. Captured and put on exhibition, Delilah in her black swan burlesque costume "performs" in town after town. Despite the breathtaking beauty behind the seamy and grotesque reality of the carnival and despite the kindness of the cryptic handler Gallagher, she and her fellow menagerie of mermaids, minotaurs, gryphons and kelpies struggle for their freedom.
The Name of the Star by Maureen Johnson: Rory, of Bénouville, Louisiana, is spending a year at a London boarding school when she witnesses a murder by a Jack the Ripper copycat and becomes involved with the very unusual investigation.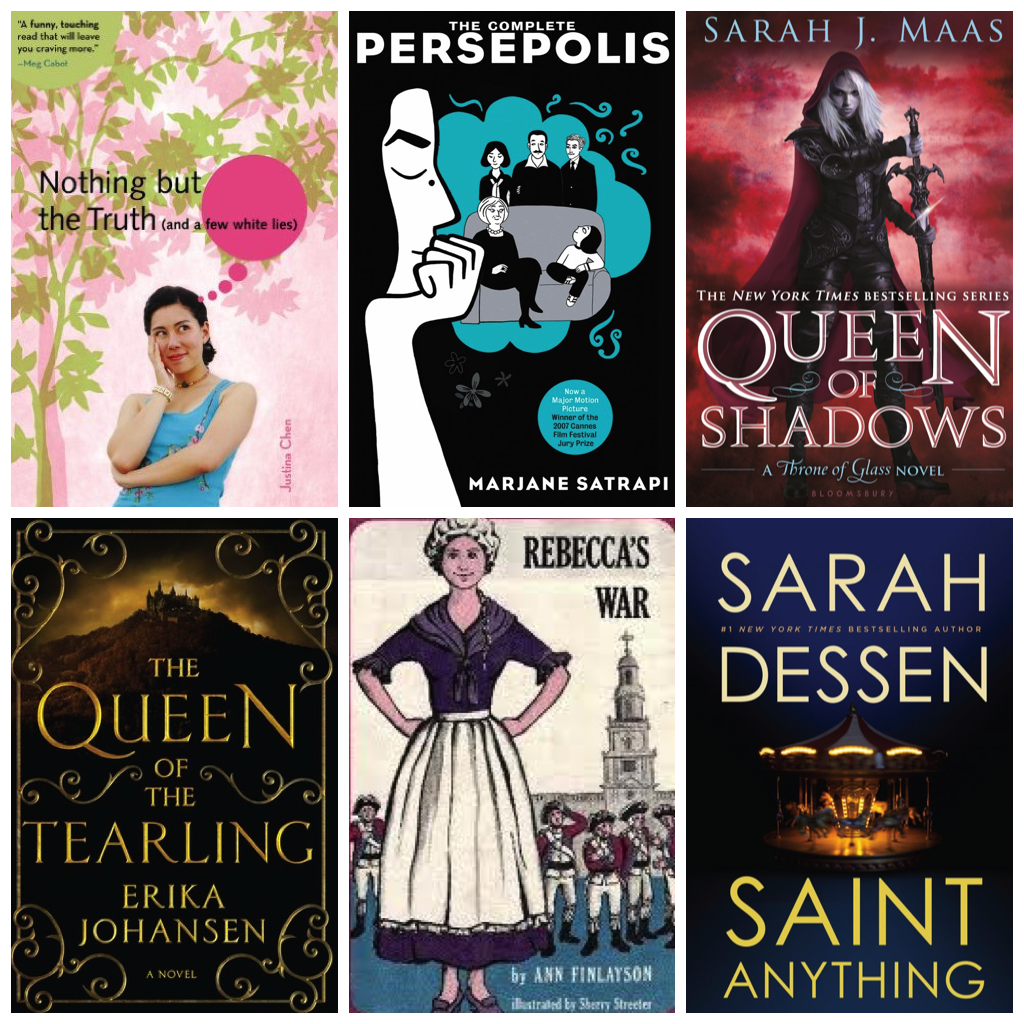 Nothing But the Truth…and a Few White Lies by Justina Chen: Fifteen-year-old Patty Ho, half Taiwanese and half white, feels she never fits in, but when her overly-strict mother ships her off to math camp at Stanford, instead being miserable, Patty starts to become comfortable with her true self.
Persepolis by Marjane Satrapi: Persepolis is Marjane Satrapi's wise, funny, and heartbreaking memoir of growing up in Iran during the Islamic Revolution. In powerful black-and-white comic strip images, Satrapi tells the story of her life in Tehran from ages six to fourteen, years that saw the overthrow of the Shah's regime, the triumph of the Islamic Revolution, and the devastating effects of war with Iraq. The intelligent and outspoken only child of committed Marxists and the great-granddaughter of one of Iran's last emperors, Marjane bears witness to a childhood uniquely entwined with the history of her country. Persepolis paints an unforgettable portrait of daily life in Iran: of the bewildering contradictions between home life and public life and of the enormous toll repressive regimes exact on the individual spirit. Marjane's child's-eye-view of dethroned emperors, state-sanctioned whippings, and heroes of the revolution allows us to learn as she does the history of this fascinating country and of her own extraordinary family. Intensely personal, profoundly political, and wholly original, Persepolis is at once a story of growing up and a stunning reminder of the human cost of war and political repression. It shows how we carry on, through laughter and tears, in the face of absurdity. And, finally, it introduces us to an irresistible little girl with whom we cannot help but fall in love.
Queen of Shadows by Sarah J. Maas: Everyone Celaena Sardothien loves has been taken from her. But she's at last returned to the empire — for vengeance, to rescue her once-glorious kingdom, and to confront the shadows of her past. She has embraced her identity as Aelin Galathynius, Queen of Terrasen. But before she can reclaim her throne, she must fight. She will fight for her cousin, a warrior prepared to die just to see her again. She will fight for her friend, a young man trapped in an unspeakable prison. And she will fight for her people, enslaved to a brutal king and awaiting their lost queen's triumphant return.
Queen of the Tearling by Erika Johansen: On her nineteenth birthday, Princess Kelsea Raleigh Glynn, raised in exile, sets out on a perilous journey back to the castle of her birth to ascend her rightful throne. Plain and serious, a girl who loves books and learning, Kelsea bears little resemblance to her mother, the vain and frivolous Queen Elyssa. But though she may be inexperienced and sheltered, Kelsea is not defenseless: Around her neck hangs the Tearling sapphire, a jewel of immense magical power; and accompanying her is the Queen's Guard, a cadre of brave knights led by the enigmatic and dedicated Lazarus. Kelsea will need them all to survive a cabal of enemies who will use every weapon–from crimson-caped assassins to the darkest blood magic–to prevent her from wearing the crown.
Rebecca's War by Ann Finlayson: Left in charge of her brother and sister in occupied Philadelphia in 1777, fourteen-year-old Rebecca's life is complicated further when two British soldiers are billeted in her house.
Saint Anything by Sarah Dessen: Peyton, Sydney's charismatic older brother, has always been the star of the family, receiving the lion's share of their parents' attention and — lately — concern. When Peyton's increasingly reckless behavior culminates in an accident, a drunk driving conviction, and a jail sentence, Sydney is cast adrift, searching for her place in the family and the world. When everyone else is so worried about Peyton, is she theonly one concerned about the victim of the accident? Enter the Chathams, a warm, chaotic family who run a pizza parlor, play bluegrass on weekends, and pitch in to care for their mother, who has multiple sclerosis. Here Sydney experiences unquestioning acceptance. And here she meets Mac, gentle, watchful, and protective, who makes Sydney feel seen, really seen, for the first time.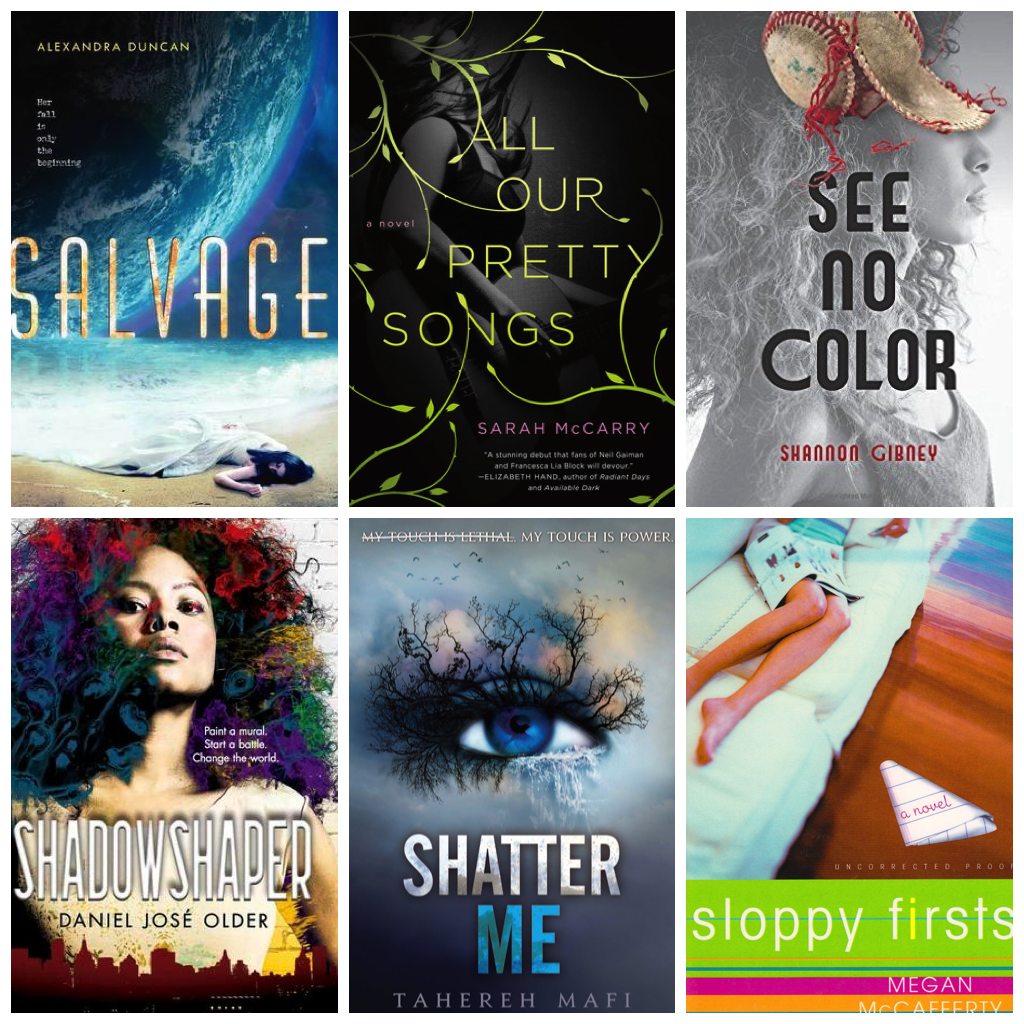 Salvage by Alexandra Duncan: Ava, a teenage girl living aboard the male-dominated, conservative deep space merchant ship Parastrata, faces betrayal, banishment, and death. Taking her fate into her own hands, she flees to the Gyre, a floating continent of garbage and scrap in the Pacific Ocean. How will she build a future on an Earth ravaged by climate change?
All Our Pretty Songs by Sarah McCarry: In the Pacific Northwest, the bond between two best friends is challenged when a mysterious and gifted musician comes between them and awakens an ancient evil.
See No Color by Shannon Gibney: Alex has always identified herself as a baseball player, the daughter of a winning coach, but when she realizes that is not enough she begins to come to terms with her adoption and her race.
Shadowshaper by Daniel José Older: When the murals painted on the walls of her Brooklyn neighborhood start to change and fade in front of her, Sierra Santiago realizes that something strange is going on. Then she discovers that her Puerto Rican family are shadowshapers, and she finds herself in a battle with an evil anthropologist for the lives of her family and friends.
Shatter Me by Tahereh Mafi: Ostracized or incarcerated her whole life, seventeen-year-old Juliette is freed on the condition that she use her horrific abilities in support of The Reestablishment, a postapocalyptic dictatorship, but Adam, the only person ever to show her affection, offers hope of a better future.
Sloppy Firsts by Megan McCafferty: When her best friend moves away, sixteen-year-old Jessica is devastated and finds it difficult to deal with the girls at school, her obsessive parents, and her lack of a love life.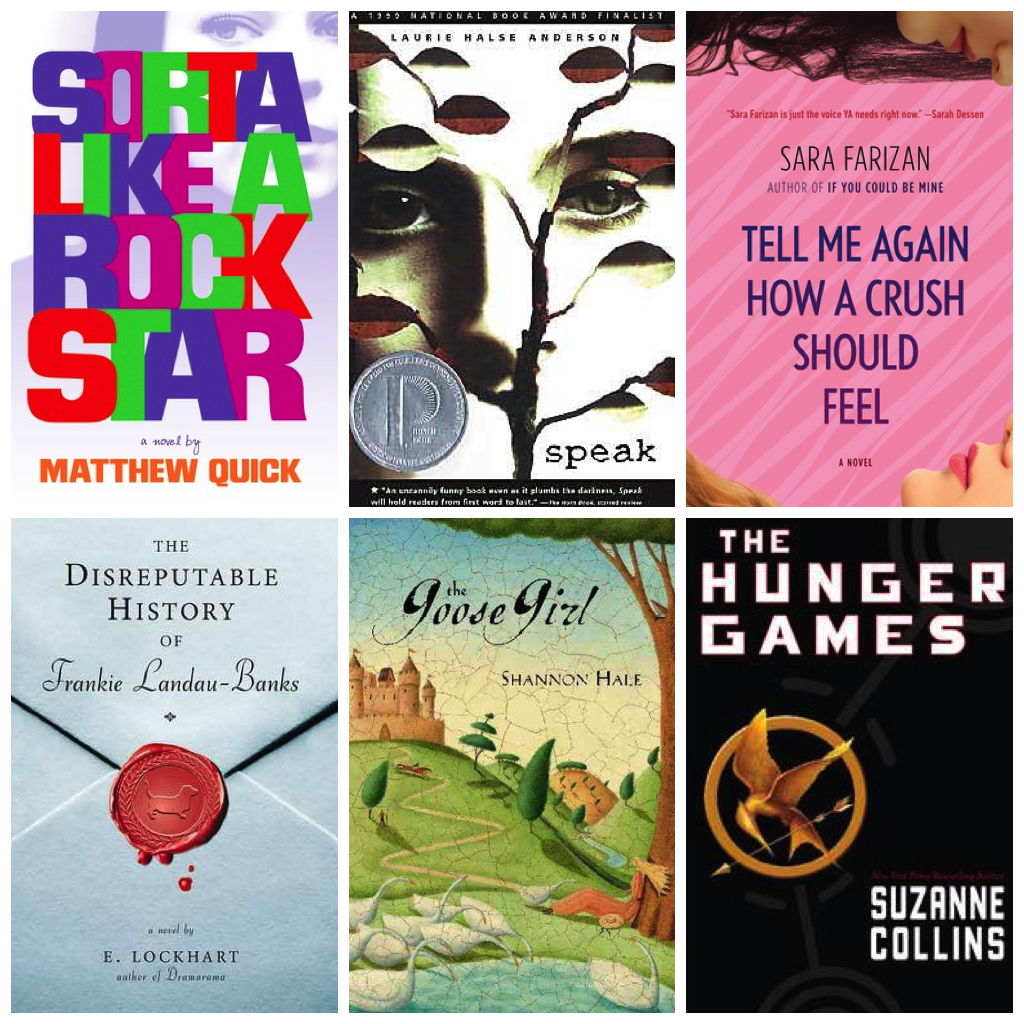 Sorta Like A Rock Star by Matthew Quick: Although seventeen-year-old Amber Appleton is homeless, living in a school bus with her unfit mother, she is a relentless optimist who visits the elderly at a nursing home, teaches English to Korean Catholic women with the use of rhythm and blues music, and befriends a solitary Vietnam veteran and his dog, but eventually she experiences one burden more than she can bear and slips into a deep depression.
Speak by Laurie Halse Anderson: Atraumatic event near the end of the summer has a devastating effect on Melinda's freshman year in high school.
Tell Me Again How A Crush Should Feel by Sara Farizan: High school junior Leila's Persian heritage already makes her different from her classmates at Armstead Academy, and if word got out that she liked girls life would be twice as hard, but when a new girl, Saskia, shows up, Leila starts to take risks she never thought she would, especially when it looks as if the attraction between them is mutual, so she struggles to sort out her growing feelings by confiding in her old friends.
The Disreputable History of Frankie Landau-Banks by E. Lockhart: Sophomore Frankie starts dating senior Matthew Livingston, but when he refuses to talk about the all-male secret society that he and his friends belong to, Frankie infiltrates the society in order to enliven their mediocre pranks.
The Goose Girl by Shannon Hale: On her way to marry a prince she's never met, Princess Anidori is betrayed by her guards and her lady-in-waiting and must become a goose girl to survive until she can reveal her true identity and reclaim the crown that is rightfully hers.
The Hunger Games by Suzanne Collins: In a future North America, where the rulers of Panem maintain control through an annual televised survival competition pitting young people from each of the twelve districts against one another, sixteen-year-old Katniss's skills are put to the test when she voluntarily takes her younger sister's place.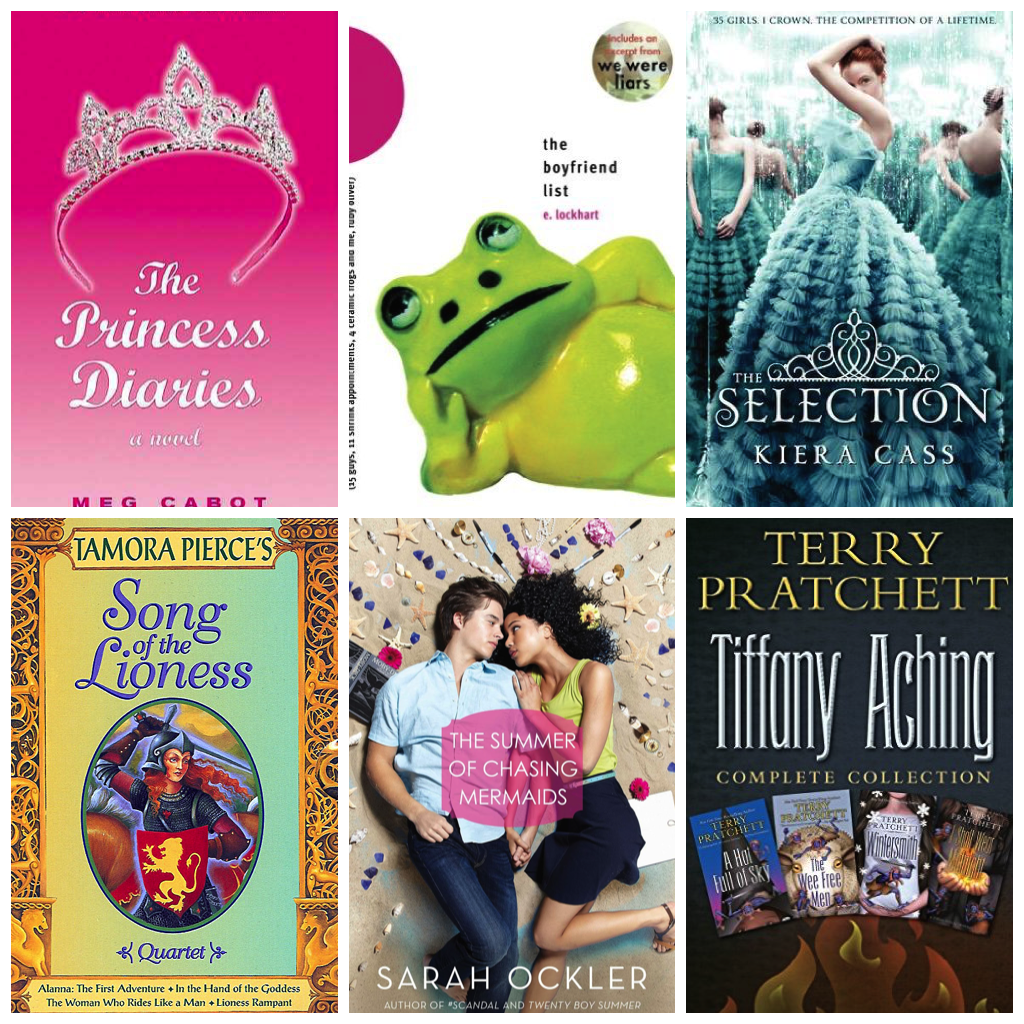 The Princess Diaries by Meg Cabot: Fourteen-year-old Mia, who is trying to lead a normal life as a teenage girl in New York City, is shocked to learn that her father is the Prince of Genovia, a small European principality, and that she is a princess and the heir to the throne.
The Boyfriend List by E. Lockhart: A Seattle fifteen-year-old explains some of the reasons for her recent panic attacks, including breaking up with her boyfriend, losing all her girlfriends, tensions between her performance-artist mother and her father, and more.
The Selection by Kiara Cass: For thirty-five girls, the Selection is the chance of a lifetime. The opportunity to escape the life laid out for them since birth. To be swept up in a world of glittering gowns and priceless jewels. To live in a palace and compete for the heart of gorgeous Prince Maxon. But for America Singer, being Selected is a nightmare. It means turning her back on her secret love with Aspen, who is a caste below her. Leaving her home to enter a fierce competition for a crown she doesn't want. Living in a palace that is constantly threatened by violent rebel attacks. Then America meets Prince Maxon. Gradually, she starts to question all the plans she's made for herself — and realizes that the life she's always dreamed of may not compare to a future she never imagined.
Song of the Lioness by Tamora Pierce: Alanna of Trebond dreams of being a knight while her father insists that she enter a convent. She trades places with her brother, who is to be trained as a knight and wants to become a sorceror instead. Her experiences along the path to knighthood involve many hard lessons as well as dangerous adventures.
The Summer of Chasing Mermaids by Sarah Ockler: After a boating accident takes her beautiful singing and speaking voice from her, Elyse d'Abreau, the youngest of six sisters, leaves her home in Tobago to stay in an Oregon seaside town where Christian Kane, a notorious playboy, challenges her to express herself and to overcome her fear of the sea.
Tiffany Aching by Terry Pratchett: The Wee Free Men: Armed with only a frying pan and her common sense, young witch-to-be Tiffany Aching must defend her home against the monsters of Fairyland. Luckily she has some very unusual help: the local Nac Mac Feegle'aka the Wee Free Men'a clan of fierce, sheep-stealing, sword-wielding, six-inch-high blue men. Together they must face headless horsemen, ferocious grimhounds, terrifying dreams come true, and ultimately the sinister Queen of the Elves herself. . . . A Hat Full of Sky: Tiffany Aching is ready to begin her apprenticeship in magic. She expects spells and magic'not chores and ill-tempered nanny goats! Surely there must be more to witchcraft than this! What Tiffany doesn't know is that an insidious, disembodied creature is pursuing her. In the end, it will take all of Tiffany's inner strength to save herself … if it can be done at all. Wintersmith: When the Spirit of Winter takes a fancy to Tiffany Aching, he wants her to stay in his gleaming, frozen world. Forever. It will take the young witch's skill and cunning, as well as help from the legendary Granny Weatherwax and the irrepressible Wee Free Men, to survive until Spring. Because if Tiffany doesn't make it to Spring'Spring won't come. I Shall Wear Midnight: As the witch of the Chalk, Tiffany Aching performs the distinctly unglamorous work of caring for the needy. But someone'or something'is inciting fear, generating dark thoughts and angry murmurs against witches. Tiffany must find the source of unrest and defeat the evil at its root. Aided by the tiny-but-tough Wee Free Men, Tiffany faces a dire challenge, for if she falls, the whole Chalk falls with her.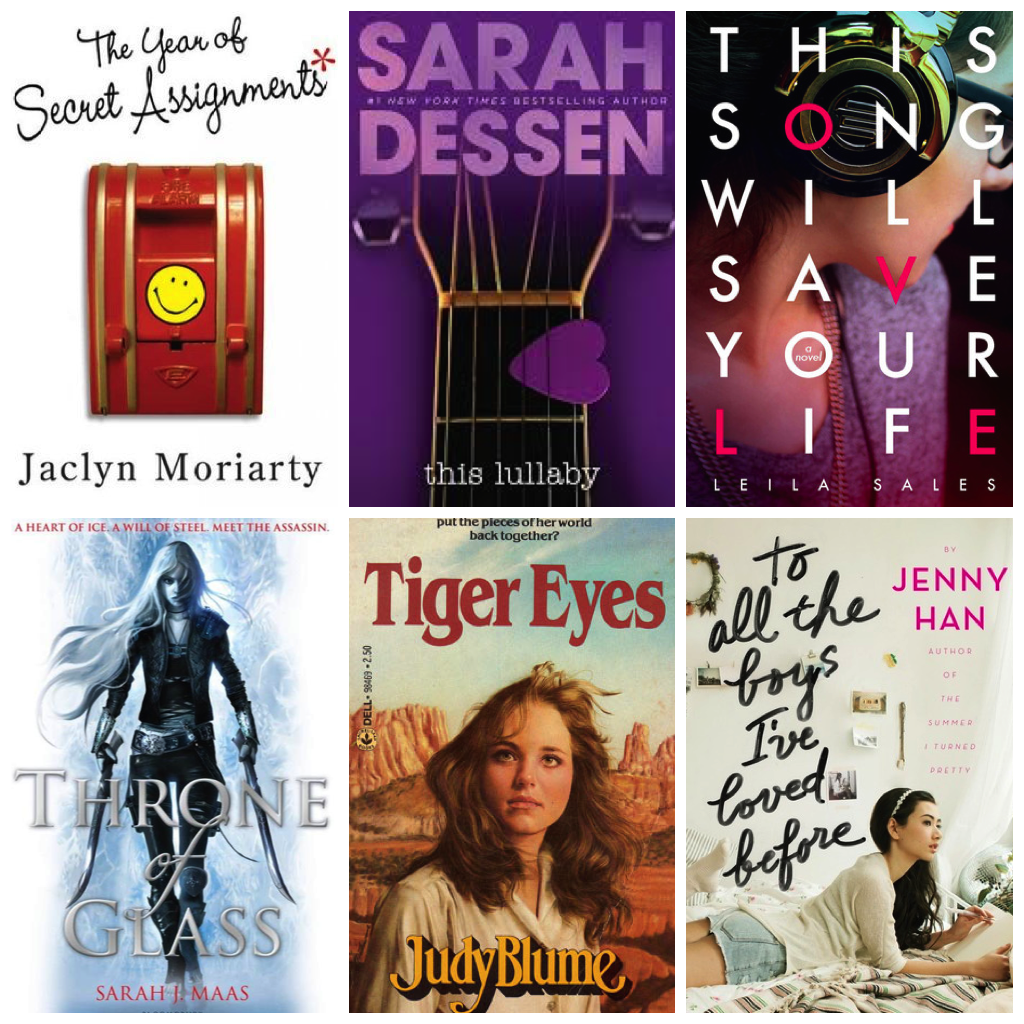 The Year of Secret Assignments by Jaclyn Moriarty: Three female students from Ashbury High write to three male students from rival Brookfield High as part of a pen pal program, leading to romance, humiliation, revenge plots, and war between the schools.
This Lullaby by Sarah Dessen: Raised by a mother who has had five husbands, eighteen-year-old Remy believes in short-term, no-commitment relationships until she meets Dexter, a rock band musician.
This Song Will Save Your Life by Leila Sales: Nearly a year after a failed suicide attempt, sixteen-year-old Elise discovers that she has the passion, and the talent, to be a disc jockey.
Throne of Glass by Sarah J. Maas: After she has served a year of hard labor in the salt mines of Endovier for her crimes, Crown Prince Dorian offers eighteen-year-old assassin Celaena Sardothien her freedom on the condition that she act as his champion in a competition to find a new royal assassin.
Tiger Eyes by Judy Blume: Resettled in the "Bomb City" with her mother and brother, Davey Wexler recovers from the shock of her father's death during a holdup of his 7-Eleven store in Atlantic City.
To All The Boys I've Loved Before by Jenny Han: Lara Jean writes love letters to all the boys she has loved and then hides them in a hatbox until one day those letters are accidentally sent.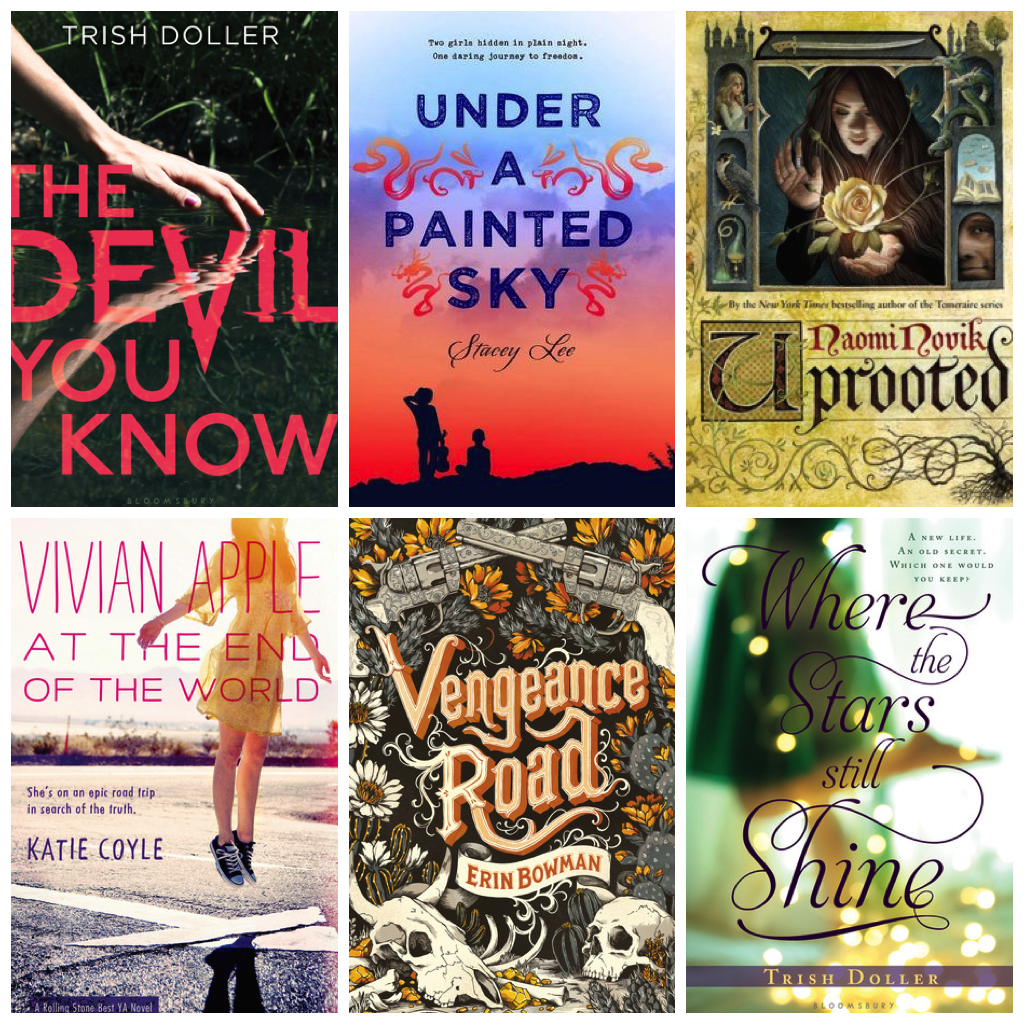 The Devil You Know by Trish Doller: Exhausted and rebellious after three years of working for her father and mothering her brother, eighteen-year-old Arcadia "Cadie" Wells joins two cousins who are camping their way through Florida, soon learning that one is a murderer.
Under a Painted Sky by Stacey Lee: In 1845, Sammy, a Chinese American girl, and Annamae, an African American slave girl, disguise themselves as boys and travel on the Oregon Trail to California from Missouri.
Uprooted by Naomi Novik: Agnieszka loves her valley home, her quiet village, the forests and the bright shining river. But the corrupted Wood stands on the border, full of malevolent power, and its shadow lies over her life. Her people rely on the cold, driven wizard known only as the Dragon to keep its powers at bay. But he demands a terrible price for his help: one young woman handed over to serve him for ten years, a fate almost as terrible as falling to the Wood. The next choosing is fast approaching, and Agnieszka is afraid. She knows–everyone knows–that the Dragon will take Kasia: beautiful, graceful, brave Kasia, all the things Agnieszka isn't, and her dearest friend in the world. And there is no way to save her. But Agnieszka fears the wrong things. For when the Dragon comes, it is not Kasia he will choose.
Vivian Apple At The End of the World by Katie Coyle: Sixteen-year-old Vivian Apple returns home after the alleged 'Rapture' to find her devout parents gone and two mysterious holes in the roof. Vivian never believed in the Rapture, or the uber powerful Church of America. Now that she has been left behind, Vivan's quest for the truth begins.
Vengeance Road by Erin Bowman: When her father is killed by the notorious Rose Riders for a mysterious journal that reveals the secret location of a gold mine, eighteen-year-old Kate Thompson disguises herself as a boy and takes to the gritty plains looking for answers–and justice.
Where The Stars Still Shine by Trish Doller: Abducted at age five, Callie, now seventeen, has spent her life on the run but when her mother is finally arrested and she is returned to her father in small-town Florida, Callie must find a way to leave her past behind, become part of a family again, and learn that love is more than just a possibility.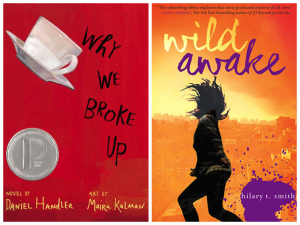 Why We Broke Up by Daniel Handler and Maira Kalman: Sixteen-year-old Min Green writes a letter to Ed Slaterton in which she breaks up with him, documenting their relationship and how items in the accompanying box, from bottle caps to a cookbook, foretell the end.
Wild Awake by Hilary T. Smith: The discovery of a startling family secret leads seventeen-year-old Kiri Byrd from a protected and naive life into a summer of mental illness, first love, and profound self-discovery