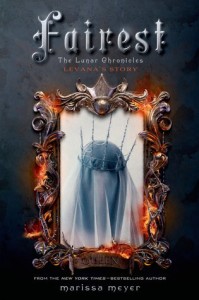 Rebecca Soler is my new favorite audiobook narrator, but only for stories with a certain kind of character – the defiant, no regrets girl who slowly moves from shades-of-gray to all bad (or nearly so). She reads Marissa Meyer's story about Levana, the evil queen in the Lunar Chronicles series, and she does such a fantastic job that I listened to the ending twice, which gave me chills both times. She also narrated Violet in Nova Ren Suma's The Walls Around Us, which I highly recommend on audio, in large part thanks to Soler's narration.
I was surprised by how much I liked Fairest, mainly because I'm not a big fan of short stories or novellas and I didn't find Levana all that compelling in the series proper. But she is quite compelling here. Meyer gives her character depth that's largely missing from the previous three novels, but not in a way that necessarily garners overwhelming sympathy. She just becomes interesting in her badness. I was able to see both how Levana became the person she is, as well as how she was, in many ways, already that person. She's not a good person and doesn't much care about being a good person in the first place. She's wholly concerned with her own happiness and slowly cares less and less about how the pursuit of that happiness affects others – in part because no one else ever cared about how their actions affected her.
Soler's narration perfectly captures this. Levana is hesitant at first, desperately wishing for love and affection, from one man in particular. It develops from a young girl's crush into something much more sinister, moving beyond a need for love to a need for control above all, and Soler's tone grows darker to match this change, until she reads the final line that ends Levana's final terrible act, the aforementioned ending that gave me chills.
I was concerned that Meyer would milk Levana's sad background to develop sympathy, but that's not the tack she takes, for which I'm grateful. There's definitely some sympathy there, but not so much that we can't still root against her in Winter, or claim that she's merely misunderstood, or isn't responsible for her own actions. We can, she's not, and she is. This is a fascinating read for Lunar Chronicles fans, as well as a great example of how to write an interesting villain – I hope Levana continues to be just as interesting in Winter.