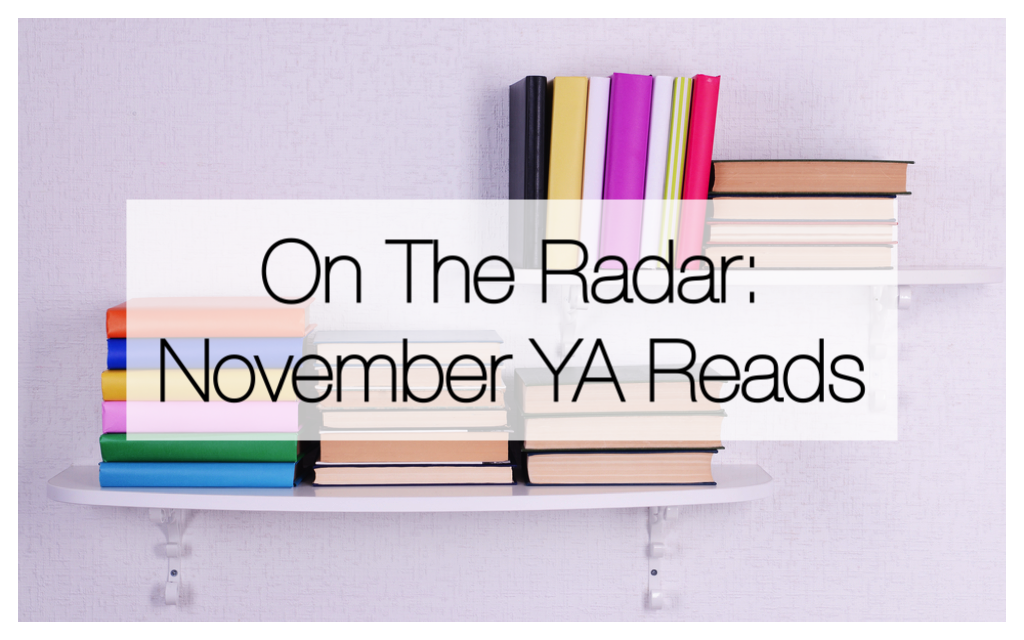 One of the most popular posts I do over at Book Riot is the round-up of upcoming YA fiction titles, and one of the most popular questions I seem to get on Twitter and in my inboxes is "what should I be looking out for in YA?" For a lot of readers, especially those who work with teens either in classrooms or in libraries, knowing what's coming out ahead of time is valuable to get those books into readers' hands before they even ask.Each month, I'll call out between 8 and 12 books coming out that should be on your radar. These include books by high-demand, well-known authors, as well as some up-and-coming and debut authors. They'll be across a variety of genres, including diverse titles and writers. Not all of the books will be ones that Kimberly or I have read, nor will all of them be titles that we're going to read and review. Rather, these are books that readers will be looking for and that have popped up regularly on social media, in advertising, in book mail, and so forth. It's part science and part arbitrary and a way to keep the answer to "what should I know about for this month?" quick, easy, and under $300 (doable for smaller library budgets especially).
For November, here are 9 titles to have on your radar. All descriptions are from WorldCat, and I've noted why it should be included. Most of those reasons this time, it turns out, are "because of the author."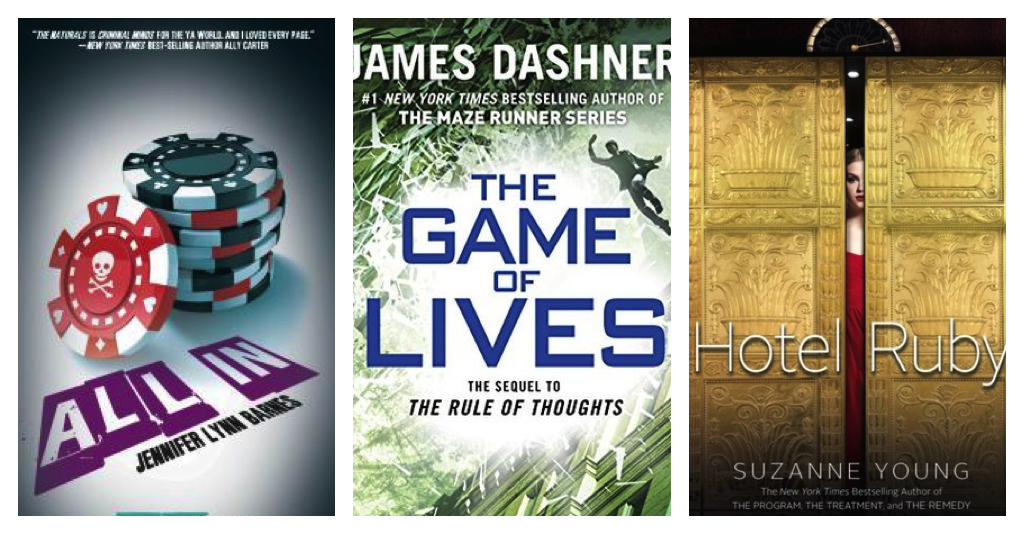 All In by Jennifer Lynn Barnes: Cassie and the other members of the Naturals program of the FBI are drawn into a murder investigation in Vegas
Why: This is the third in Barnes's "Naturals" mystery/thriller series.
Game of Lives by James Dashner: The VirtNet has become a world of deadly consequences, and Kaine grows stronger by the day. If Kaine succeeds, it will mean worldwide cyber domination. And it looks like Michael and his friends are the only ones who can put the monster back in the box–if Michael can figure out who his friends really are.
Why: This is the sequel to Dashner's The Rule of Thoughts.
Hotel Ruby by Suzanne Young: On the way to spend a summer with her grandmother after the sudden death of her mother, seventeen-year-old Audrey, her older brother Daniel, and their father happen upon the Hotel Ruby, a luxurious place filled with unusual guests and little chance of ever leaving.
Why: Young's writing is so teen friendly, with great, authentic dialog. This is a stand alone, too.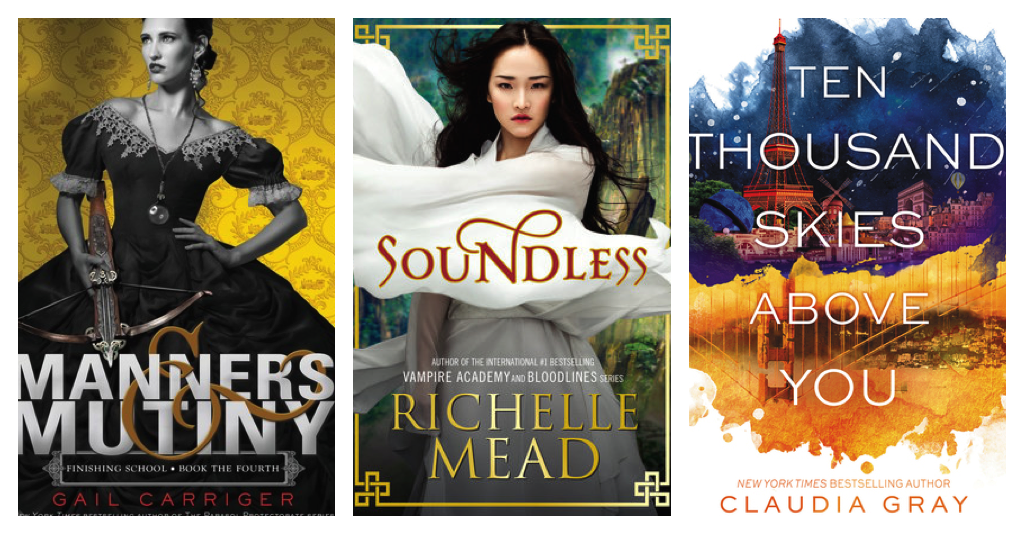 Manners & Mutiny by Gail Carriger: In an alternate England of 1851, Sophronia Temminnick is the only hope for her friends, her school, and all of London when she must put her espionage training to the test to thwart an evil Picklemen plot.
Why: This is the fourth book in Carriger's steampunk series.
Soundless by Richelle Mead: A fantasy adventure steeped in Chinese folklore about a teenage girl named Fei. When her village is suddenly in danger, Fei finds herself on a journey from the peak of her jagged mountain village to the valley of Beiguo, where a startling truth and an unlikely romance will change her life foreve
Why: Richelle Mead, of Vampire Academy is the author of this stand-alone fantasy.
Ten Thousand Skies Above You by Claudia Gray: As eighteen-year-old Marguerite struggles to get to the heart of the corrupt company that almost killed her father, she tries to save the boy she loves, whose soul is scattered in various dimensions.
Why: This is the second book in this space/time/fantasy adventure from Claudia Gray. I don't think it's exaggerating to say that this particular series has gotten one of the best cover treatments in memory.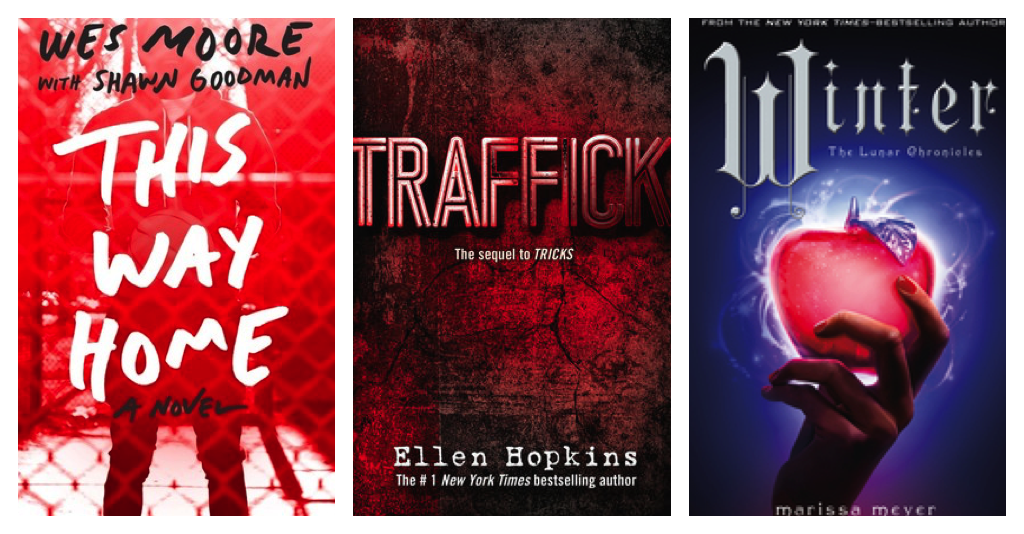 This Way Home by Wes Moore with Shawn Goodman: Elijah, seventeen, has always been sure of just one thing–basketball–and believes it will be his way out of West Baltimore, but when gang violence knocks him down, helping a veteran repair his rickety home helps Elijah see what really matters.
Why: Wes Moore, who wrote the memoir The Other Wes Moore, has his first novel coming out. The memoir was one we named to the Outstanding Books for the College Bound, and I believe there's also a young reader's edition.
Traffick by Ellen Hopkins: Five teenagers struggle to find their way out of prostitution.
Why: WorldCat keeps it to the point with their description, but besides this being an Ellen Hopkins book, it's the sequel to Tricks.
Winter by Marissa Meyer: Princess Winter, admired by the Lunar people for her grace and kindness, teams up with the cyborg mechanic, Cinder, and her allies, to defeat Queen Levana and find their happily ever afters.
Why: It's the fourth and final installment in the wildly popular "Cinder" series. I believe this might be one of the most anticipated books of the year . . . as well as one of the longest. It weighs in at 800+ pages.