A couple of years ago, Leila, Liz, and I ran a week long blog and read along for Robert Cormier's The Chocolate War. We've talked about doing something like that again for many months — we may have even had more than one in-person talk about it at ALA in January.
All of us have been feeling really burned out on social media lately. While there's value in social justice or talking about racism, sexism, and other really important issues, feeling the need to be constantly "on" can get draining and take away one of the reasons we all decided to be involved in social media in the first place: for fun.
We decided now was the perfect time to do another read and blog along.
Like last time, we wanted to pick an older title so that talking about it honestly, looking at its merits, and talking about its potential influence in the YA world could generate good dialog.  Leila suggested a horror novel since it's October, and Liz threw out an older novel.
We think it's perfect.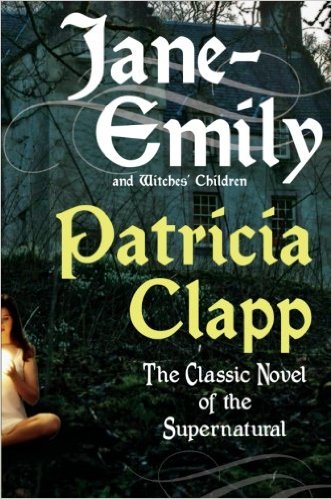 Patricia Clapp's Jane-Emily will be the read along title. We invite anyone who wants to participate to pick up a copy of the book this month and read it. You can participate as much or as little as you want to.
The only rules are there are no rules. We just want to talk about the book.
The three of us will blog about the book the last week of October, and I know we'd be happy to host any guest posts and do a big round-up of other blog posts that are written that week about the book. So feel free to let us know you want to do those things or share links with us, and we'll share them. If you don't want to blog, we invite you to hop into the comments, onto Tumblr, onto Twitter, or whatever forum you want, to talk about reading the book and what you thought about it.
Here's the book's description, and Liz notes that it is, indeed, a YA/teen-driven novel:
Emily was a selfish, willful, hateful child who died before her thirteenth birthday. But that was a long time ago.
Jane is nine years old and an orphan when she and her young Aunt Louisa come to spend the summer at Jane's grandmother's house, a large, mysterious mansion in Massachusetts. Then one day . . . Jane stares into a reflecting ball in the garden—and the face that looks back at her is not her own.
Many years earlier, a child of rage and malevolence lived in this place. And she never left. Now Emily has dark plans for little Jane—a blood-chilling purpose that Louisa, just a girl herself, must battle with all her heart, soul, and spirit . . . or she will lose her innocent, helpless niece forever.
This book originally published in 1971, but it is available now, as it was reprinted in 2007. Snag a copy online or pick one up from the library.
We hope you can join us, and if not, we have plans for a second read and blog along before the year is out, so keep your eyes peeled for that.