I touched on this sort of cover design a few years ago, and I always enjoy seeing it pop up again. Often, the finished hardback book will have portions of the dust jacket actually cut away, revealing the characters or the action or a cityscape or some other hint at the plot underneath. It adds a lot of interest to the cover, often making two distinct covers for the reader to discover (one on the dust jacket, the other on the hardback underneath). Textured covers always helped sell books to me when I was a teen – and let's be honest, they help sell books to me as an adult, too. What do you think of this design choice? I don't think it's used enough to be overdone yet, but I have seen it more frequently within the past year or so; almost all of the titles below have 2014 or later publication dates.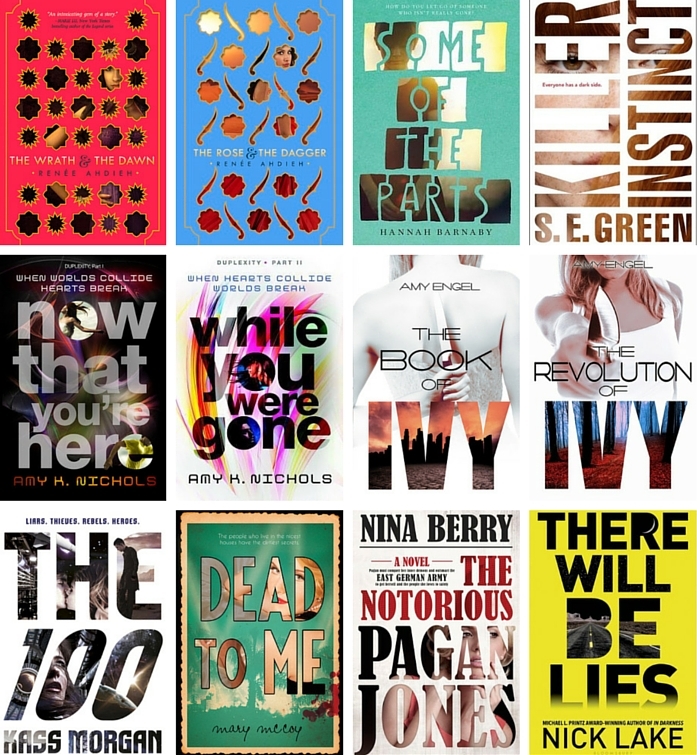 The Wrath and the Dawn by Renee Ahdieh (2015)
In this reimagining of The Arabian Nights, Shahrzad plans to avenge the death of her dearest friend by volunteering to marry the murderous boy-king of Khorasan but discovers not all is as it seems within the palace. [description via WorldCat]
The Rose and the Dagger by Renee Ahdieh (2016)
In a land on the brink of war, Shahrzad has been torn from the love of her husband Khalid, the Caliph of Khorasan. She once believed him a monster, but his secrets revealed a man tormented by guilt and a powerful curse—one that might keep them apart forever. Reunited with her family, who have taken refuge with enemies of Khalid, and Tariq, her childhood sweetheart, she should be happy. But Tariq now commands forces set on destroying Khalid's empire. Shahrzad is almost a prisoner caught between loyalties to people she loves. But she refuses to be a pawn and devises a plan. [description via Goodreads]
Some of the Parts by Hannah Barnaby (2016)
A devastated teenaged girl sets out on a quest to track down transplant recipients after she discovers that her older brother was an organ donor. [description via WorldCat]
Killer Instinct by S. E. Green (2014)
When seventeen-year-old Lane becomes involved in the search for a serial killer active in the Washington, D.C. area, she worries that her life-long fascination with such murderers has a very real and terrible cause.
Now That You're Here by Amy K. Nichols (2014)
When street smart graffiti artist Danny is jolted into a parallel world, only Eevee, an alluring science geek, has the know-how to get him home, but as he falls for her, his motives grow foggy. [description via WorldCat]
While You Were Gone by Amy K. Nichols (2015)
Eevee, an aspiring artist and daughter of Arizona's governor, and Danny, a reformed troublemaker who lives in foster care in his own world, join forces to correct a breach between parallel universes. [description via WorldCat]
The Book of Ivy by Amy Engel (2014)
In an apocalyptic future where girls from the losing faction are forcibly married to boys of the winning faction, sixteen-year-old Ivy is tasked to kill her fiancé Bishop, although when she finally meets him, he is not the monster she has been led to believe. [description via WorldCat]
The Revolution of Ivy by Amy Engel (2015)
Ivy Westfall is beyond the fence and she is alone. Abandoned by her family and separated from Bishop Lattimer, Ivy must find a way to survive on her own in a land filled with countless dangers, both human and natural. She has traded a more civilized type of cruelty-forced marriages and murder plots-for the bare-knuckled brutality required to survive outside Westfall's borders. But there is hope beyond the fence, as well. And when Bishop reappears in Ivy's life, she must decide if returning to Westfall to take a final stand for what she believes is right is worth losing everything she's fought for. [description via WorldCat]
The 100 by Kass Morgan (2013)
When 100 juvenile delinquents are sent on a mission to recolonize Earth, they get a second chance at freedom, friendship, and love, as they fight to survive in a dangerous new world. [description via WorldCat]
Dead to Me by Mary McCoy (2015)
In 1948 Hollywood, a treacherous world of tough-talking private eyes, psychopathic movie stars, and troubled starlets, sixteen-year-old Alice tries to find a young runaway who is the sole witness to a beating that put her sister, Annie, in a coma. [description via WorldCat]
The Notorious Pagan Jones by Nina Berry (2015)
Pagan Jones went from America's sweetheart to fallen angel in one fateful night in 1960: the night a car accident killed her whole family. Pagan was behind the wheel and driving drunk. Nine months later, she's stuck in the Lighthouse Reformatory for Wayward Girls and tortured by her guilt–not to mention the sadistic Miss Edwards, who takes special delight in humiliating the once-great Pagan Jones. But all of that is about to change. Pagan's old agent shows up with a mysterious studio executive, Devin Black, and an offer. [description via WorldCat]
There Will Be Lies by Nick Lake (2015)
Shelby Cooper, nearly eighteen, has been overprotected by her single mother all her life but after a car accident, Shelby's life is transformed not only by the discovery of secrets about herself, but also by trips into "The Dreaming," where she is sent on a heroic quest wrapped in Native American mythology. [description via WorldCat]