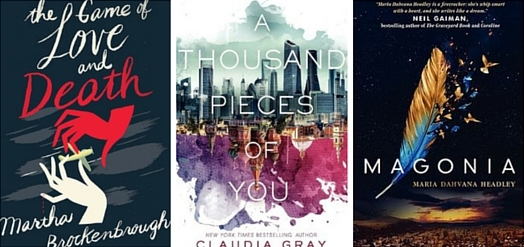 The Game of Love and Death by Martha Brockenbrough
It's 1930s America, and Love and Death are playing a game. They each have chosen a player: Love has Henry, a white boy whose parents have died, leaving him in the care of a family who considers him not-quite-a-son; Death has Flora, a black girl who dreams of flying her own airplane across the ocean and sings jazz in a nightclub she partly owns. The rules of the game aren't quite clear initially, but as readers we do know that these two teenagers will fall in love, and the implication is that their love will be rocky and affect Love and Death – and perhaps the world – in uncertain ways. This is a slow-moving and contemplative story, one that takes a considerable investment of time to appreciate. At first I found it difficult to connect with the story and its characters, which I think is deliberate. The narration is third-person omniscient (mainly), which can often lead to that kind of feel. Some portions are told from the perspective of Love and Death, and they're both inscrutable entities, though they become a bit clearer as the story goes on. This kind of narration brings inevitable comparisons to The Book Thief, though the two didn't seem very similar to me. By the time I got over halfway through, though, I felt like I knew the characters on a really deep level – and I felt like I knew Love and Death, too, despite their strangeness. This is a unique sort of book that should appeal to fans of historical fiction and those seeking something different.
A Thousand Pieces of You by Claudia Gray
This is a story about parallel worlds, which is one of my plot kryptonites. Marguerite's parents are scientists who have been researching the possibility of travel to parallel worlds, and just as it seemed they had finally figured it out, one of their research assistants – Paul – kills Marguerite's father and steals all of his research, running away to one of these parallel worlds. Marguerite teams up with another research assistant, Theo, and they go after him. Of course, all is not as it seems, and Marguerite begins to suspect that Paul was framed – but by whom, and for what reason? Fleshing out this mystery is a really fun series of adventures. Marguerite and Theo first travel to a world where technology has advanced at a much faster rate, so we get to see what a potential future would be like. Then they find themselves in Russia in a world where neither the Russian Revolution nor the Industrial Revolution happened – though both might be on the cusp of happening, putting Marguerite in exceptional danger. It's tons of fun to see all of these possibilities play out, like the best combination of a parallel worlds and alternate history story. There's a love triangle that adds a lot of appeal, and the question of who really killed Marguerite's father and why propels the story forward. Exciting and well-written.
Magonia by Maria Dahvana Headley
Aza Ray Boyle has always been sickly. Since she was a small child, she's had trouble breathing, and it's sent her to the hospital many times. She wasn't expected to live to see her 16th birthday, which is right around the corner. She's been hearing something calling her name lately, and then something crazy happens with a bird, and Aza dies – maybe. She actually wakes up on a ship in the sky, surrounded by strange bird-people, though her body is being buried on the earth below. It turns out Aza is actually one of these bird-people, kidnapped at a young age, and her mother – a bird person as well – has finally found her and brought her "home." This is one of the weirder books I've read. You've really got to buy into the concept of a race of bird-people living up in the sky unbeknownst to all the humans below, plus believe the explanation for how Aza's body was buried but she isn't really dead. The narration (I listened to this one on audio) is excellent, infused with all the panic and disbelief that Aza feels when she finds herself in a sky ship. Aza's voice overall is pretty good, actually, and starts the book off really strong – she's snarky about her illness and how people treat her because of it, and there's a lot of dark humor in the early parts. Personally, I never fully connected with the bird-people living in the sky plotline, but I'm sure it's just the right kind of weird for another reader.