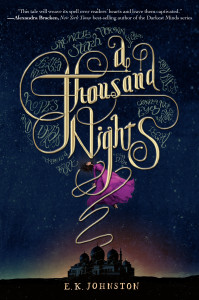 Lo-Melkhiin has killed three hundred wives, and when he visits our unnamed protagonist's town next, she knows that her sister will be his next pick. Her sister is the loveliest, after all, but she won't let Lo-Melkhiin take her and put out her fire. So she dresses in her sister's finest clothing, and Lo-Melkhiin chooses her instead. She expects to die that first night, but she tells Lo-Melkhiin a little of her sister's fire, and she lives to see the next day. And the next.
As the days pass, she explores the palace and learns more of Lo-Melkhiin from her surroundings as well as the other women who live there. She also begins to develop magic, colors that drift from her fingertips when she's around him. Her magic grows, and back home, her sister works her own magic. It becomes clear that Lo-Melkhiin was not always a monster, and with the magic that springs from her stories, she may be able to save herself as well as countless other girls who would have been condemned after her.
The beginning of the book reminded me a little of Cruel Beauty: a girl sacrifices herself to save her sister, marrying a monster of a man in hopes of eventually killing him. There's a strong focus on setting in both, too, with the details of each location – the palaces and courts – playing important roles. The dynamics of the relationship between the sisters are different, and the ultimate plots are different as well, but there's definitely a similar feel, brought on in part by Johnston's writing, which is beautiful and slightly unearthly in the same way I feel Rosamund Hodge's is. It's writing that creates a mood, and it's easy to get lost in it.
A Thousand Nights also reminded me a bit of A Creature of Moonlight by Rebecca Hahn stylistically, as much of the book consists of building the characters and the world they inhabit, with action taking a decided backseat. As I was reading, I found myself thinking on the fact that I felt like I was discovering the story rather than being told the story. Johnston – and her protagonist – deliberately leave the reader in the dark for much of the book, but it's not done in a manipulative way. This method of storytelling provides its own sort of impetus to turn the next page, though it's certainly a slower book than most. Sprinkled throughout are interstitial chapters that shed light on the mythology behind the monstrous Lo-Melkhiin, tantalizing little hints that made me eager to keep reading despite the slower pace.
If your teens are fans of fairy tales and other folklore retold, this is definitely one to check out (and it's a great readalike for Cruel Beauty, too). It should be especially interesting read back-to-back with The Wrath and the Dawn, the other prominent Arabian Nights retelling published earlier this year. It's not for impatient readers; hand it to someone who enjoys taking her time unpacking lovely sentences and getting drawn into a beautiful, dangerous world.
We're giving away a prize pack provided by Disney-Hyperion which includes a finished copy of the book plus a nail polish set and tea bag dispenser. To enter, fill out the form below. The giveaway is open to US addressees only and closes in one week on September 30. Learn more about the book here.