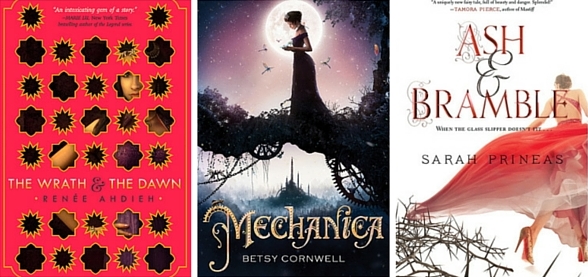 The Wrath and the Dawn by Renee Ahdieh
I started reading this one before I dove into A Thousand Nights by E. K. Johnston (there's still time to enter to win a prize pack at that link, by the way), and they're interesting read in conjunction with each other. They're actually quite different in tone – Johnston goes for the ethereal and Ahdieh's story feels much more grounded. The explanations behind the monstrous rulers' terrible actions – killing each wife before the sun rises – are different as well, with Johnston's rooted much more in myth and Ahdieh's focused on a curse. The Wrath and the Dawn also features a romance, though how it plays out I am not yet far enough in to determine. I like it so far and think it stands perfectly well on its own; neither it nor A Thousand Nights suffers in comparison with the other. I have to admit, though, that I'm a bit predisposed to like Ahdieh's writing since we share an alma mater.
Mechanica by Betsy Cornwell
Cinderella seems to be the most-often retold fairy tale, and it's certainly my favorite. Comparisons to Marissa Meyer's Cinder are inevitable with this one, since both feature mechanically-inclined protagonists, but Cornwell actually sold her book before Meyer did and so far they're quite different to me. Mechanica has more of a steampunk feel, and the scope is much smaller – no interplanetary conspiracies. Nicolette – called Mechanica by her stepsisters – is a gifted inventor and does so in secret in the basement, hoping to eventually sell her inventions and make enough money to escape her awful situation. I've just begun reading, but I've heard this is one of the most feminist retellings of Cinderella yet, so it was a given I'd read it sooner rather than later.
Ash and Bramble by Sarah Prineas
This is another Cinderella retelling, but it also incorporates many aspects of other fairy tales. Pin is locked in a fortress by a fairy Godmother, and she doesn't know how she got there – or really who she is. She spends her time sewing dresses and eventually escapes with the assistance of a boy, whom we know only as Shoemaker, or Shoe (at least so far). I've always really enjoyed re-tellings that mix together different fairy tales or myths into a single storyline (like Fables for adults, or Elissa Sussman's Stray), and the mythology behind this one – featuring a Story with a capital S controlled in some way by the Godmother – is unique. The issue with re-telling a perennial favorite like Cinderella, a story so old and steeped in western culture, is making it fresh for the reader. This is easier to do with teens, who haven't been exposed to as much as adult readers, but even so, Prineas' take feels original – for both teen readers and for oldsters like me. Prineas has written middle grade before; this is her first crack at young adult. The writing is complex and it seems like she's setting up an equally complex world.