I've taken this month off of blogging to relax in my reading. I've spent a lot of time laying on my couch, zoning out and listening to old audiobook favorites. In fact, I've been doing a lot of re-reading in general, in audio and in print. While organizing my bookshelves at my new home, I couldn't help but page through some of the books that now sit on what I call my "books that changed my life" shelf. (Every time I pass by a copy of The Book Thief, whether my own or at a bookstore, I have to pick it up and read the last few pages.)
Now that my house is in order (more or less) and things seem to have settled down a bit more in my personal life, though, I'm really excited to dive back into new stuff, especially children's and YA. I'm especially excited because I'm transitioning into a new job within my organization, one that is allowing me to return to youth materials collection management. So my post for today is a nice, healthy mix of the old and the new.
For starters, I've been working my way through the Amelia Peabody series by Elizabeth Peters. I first read a few of these as a teenager, then made a concerted effort to listen to them all on audio while I was in library school in 2009. I decided to re-listen to them all again after being reminded how great Barbara Rosenblat is, and the decision has been a good one. I'm currently on book number 8, The Hippopotamus Pool, and the entire series has been great fun. It's been so good to reconnect with characters I have such fond memories of from both my childhood and my early adulthood. I love looking forward to a character being introduced or a particular event happening, and I love knowing that everything will work itself out happily – mostly – in the end (though it may take a few books to get there, and some endings are more bitter than sweet). Each time I re-read these books, I pick up more on Amelia's character (she's actually not a great sleuth, nor is her husband, and she's quite a bit snobbier than I initially realized, though I still love her). Re-reading favorites is a great pleasure.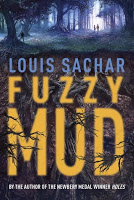 I'm pretty picky about the middle grade books I read, but Louis Sachar's books are usually a good bet (Holes remains one of the best books for children I've ever read). He's also local, which makes me more inclined to to read his stuff. Inevitably, anything Sachar publishes will be compared to Holes, which is probably unfair. In reading his latest, Fuzzy Mud, which will hit shelves in August, I tried to also evaluate it independently. The book is recognizably Sachar – a bit wry, a bit dark, with a plot that seems kind of goofy but is also quite serious. Sachar's kid characters are brave and scared at the same time, and he never writes down to his readers. The plotting doesn't match the mastery of Holes and the humor isn't as overt as the Wayside School books, but it's quite a good story regardless, with a few uniquely creative touches that I really appreciated. I'll review this one more in-depth closer to its publication date.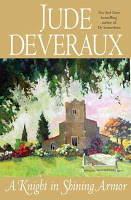 I don't remember where I got the recommendation for Jude Deveraux's A Knight in Shining Armor (possibly a list of must-read canonical romance novels somewhere). I don't know that I've ever read any Deveraux before, and this one had a few strikes against it already: it was written in the 80s (I have an unreasonable prejudice for any media created in that decade), it doesn't have a typical happily ever after, the audiobook is narrated by a man (so awkward during certain scenes), and the heroine's name is Dougless. Thankfully, this last strike has an explanation within the novel, though it takes a while to get to it. Overall, I'm enjoying it. It's a little campy, but in a fun way. Once I got past the setup describing how awful Dougless' situation was with her terrible boyfriend (a bit too pathetic and something I probably would have skimmed in a print book) and the literal knight in shining armor showed up from the 17th century, things got a lot more interesting. Right now, Dougless and her knight are stumbling around in the 1980s as he tries to convince her he actually has traveled from the past. Later, I know they'll travel back to the 17th century, and that should be extra fun. It feels kind of like Outlander lite – there's a hunky man from the past, but a lot less violence and mortal peril.