I'm still super into the romance novels lately. I've been reading a lot of Sarah MacLean, working my way through the Smythe-Smith Julia Quinns, and bemoaning the fact that my library doesn't have more Sherry Thomas on audio. For this installment, I'm going to stick to MacLean's oeuvre, which I have strong feelings about.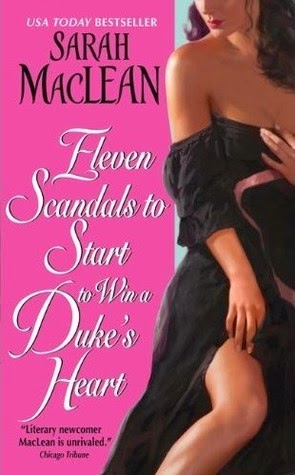 Let's start with the good stuff. With one notable exception, I've liked everything I've read by MacLean. Her first series is called Love By Numbers, and just to confuse everyone, it starts with number nine. Alas, there are not eight previous novels in the series. Too bad. I liked the first two, but the third is hands-down my favorite of the series. It's called Eleven Scandals to Start to Win a Duke's Heart. Say that three times fast. Anyway, awkward title aside, this is a pretty great book. The heroine is an Italian woman named Juliana Fiori. She has the unfortunate luck to be the daughter of a woman who abandoned her proper English husband and went to live with an Italian man…and then abandoned him, too. Now Juliana's father is dead and she's moved to London to stay with her half-brothers. Through no fault of her own, London society considers her a walking scandal, which is exactly what the Duke of Leighton (our hero) wants to avoid.
Leighton appears in the previous books and he does not make a good impression. He's called the Duke of Disdain. He's so utterly focused on propriety and reputation, and he's incredibly arrogant and looks down on women like Juliana. When Juliana flees a party and hides in his carriage, he thinks she's there to trick him into marriage. I was doubtful that MacLean could make him sympathetic, but she does it. It helps that I like my romance heroes a bit on the arrogant side – you know, as long as there's evidence for the arrogance. He also has a backstory that explains how he developed in such a way. He and Juliana are really well matched. She helps him to learn some compassion and not care so much what others think, and he in turn helps her learn how to accept who she is. It's funny, too. Juliana gives the duke a good dressing-down multiple times. There's really good chemistry, it feels natural and unforced. It's also especially satisfying to see the difference in Leighton between the first two books and the end of this one. There's a character arc for him through the whole series, which is unusual in romances.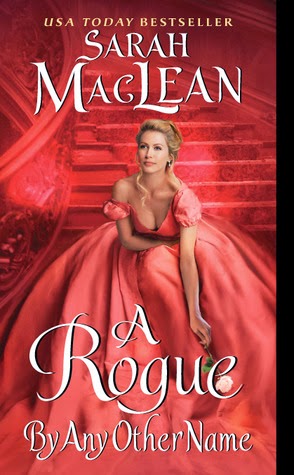 In contrast, the first book of MacLean's next series, A Rogue By Any Other Name (the series is called The Rules of Scoundrels), introduces us to a romance hero whom I could not sympathize with. Oh how I loathed Bourne. It begins with Bourne kidnapping the heroine (Penelope, the woman who was previously engaged to Leighton) in order to make it seem like he's ruined her and therefore she must marry him. Wait, let me back up. It actually begins with Bourne losing all of his land gambling and then that land eventually becoming a part of Penelope's dowry. Hence why he wants to marry her. Who cares what she wants? I have zero sympathy for rich men who lose it all gambling. Strike one. And then the kidnapping? Strikes two and three.
This is not unusual in historical romances, actually. There are way too many kidnappings. I try to avoid them. But I kept reading this one in hopes MacLean would convince me that he's actually not such a bad sort. But he is. He is a terrible, terrible person. He uses her and has no sympathy when Penelope tells him over and over again that her whole life has consisted of men using her for their own ends and she's tired of it. He just keeps using her. I wanted Penelope to push him in front of a cart. Alas, she never did. She fell in love with him. Unbelievable, since she is a good sort of person and he treats her terribly. Now if she were just as bad as him, I'd believe it a bit more. Alas. (At least his characterization is consistent; he's an asshole in the next books, too.)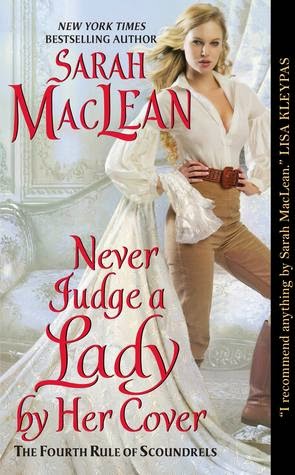 The next two books are good, not great. The heroes are scoundrels, but not without merit, at least. But the last book. The last book. Be still, my heart. It might be my favorite romance novel ever. It just might. It's called Never Judge a Lady By Her Cover and I am in love with it. Since this information is revealed in the synopsis on the back of the book, I feel comfortable sharing it here. It features Georgiana, the younger sister of Leighton who became pregnant at 16 and was shunned from polite society from then on. She eventually grew tired of everyone treating her like crap and decided to get revenge on them all. She opened up the Fallen Angel, the club at which all the previous heroes in the series work. She masquerades as a man – the elusive Chase whom no one ever sees and only speaks through his emissary, the prostitute Anna (who is also Georgiana!). The first three books carefully avoided pronouns when referring to Chase so this came as a surprise to long-term readers.
Ugh, this book is so good. So many of my stories as a teenager and an early 20-something were basically thinly-veiled revenge stories wherein I wreaked vengeance on anyone who was ever cruel to me. And Georgiana does exactly that here! Membership in her club requires that the men share secrets (theirs, or their family's, or their friends'), and she uses those secrets to hurt the ones who have hurt her, all terrible people. I LOVE THIS. She busts pre-Victorian stereotypes about women and finds a way to be powerful in this restrictive time period.
Her hero, Duncan West, is a good match for her – he's the owner of a number of newspapers, successful but untitled. Georgiana has decided that for the sake of her daughter, she will try to repair her public reputation. She intends to find a titled husband who will be able to shield her daughter from her scandal. West agrees to help her by publishing puff pieces about her in the scandal sheet of his paper. And they fall in love. He learns early on that Georgiana is Anna, but he's clueless about Chase until nearly the end. It's cute seeing him try to convince Georgiana to "leave" Chase when they are one and the same. He's dislikes her relationship with Chase because he thinks Chase mistreats her, not because she sleeps with Chase for money. And when he does find out that she is Chase, he accepts it so easily. Of course she is. She's brilliant and devious and he loves those things about her.
If you love romance, do yourself a favor and read this book. It is spectacular. It breaks the mold of historical romance in the best way possible. Plus it's wonderfully written, completely sigh-worthy, and has a perfect ending that is completely true to Georgiana's character. It's fantastic and I've read it twice already.
I am super excited for MacLean's next series, Scandal and Scoundrel, which kicks off with The Rogue Not Taken (see what she did there?) later this year. Let's hope the hero is less Bourne and more West. And that the heroine is even half as awesome as Georgiana.