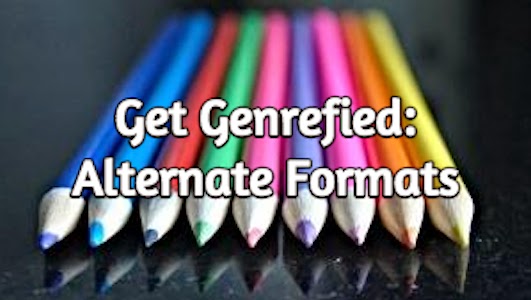 Every month, Kimberly and I talk about genres and formats in YA in our "Get Genrefied" series. We've tackled everything from high fantasy to thrillers, contemporary/realistic to the graphic novel format. Each month, we love talking back and forth about what topic we want to approach, and we've built a nice list of what we haven't talked about yet.
But this month, I thought I would go back and talk more about a format that I have talked about before. Not because we're out of ideas, but instead, because it's a format that got a lot of talk at ALA Midwinter in January from various publishers as being something they're acquiring and publishing more and more of. That is the alternative format — books that aren't a traditional narrative structure. Because this isn't a traditional genre in the same way that urban fantasy or cyberpunk may be, this guide will be a little bit less traditional as well. Alternate format novels take on every genre, and there's not necessarily an easy, straightforward way to define them. You know what it is when you see it.
Definition
There's not a singular, solid definition of what a novel in an alternate — or alternative — format is. It's hard to even say which is the right terminology, alternate or alternative, so for the purposes of this guide, the terms are used interchangeably but mean the same thing.
We're used to a traditional narrative format when it comes to novels. That doesn't mean that we expect the same structure with each book, but we expect the story to be composed of lines and paragraphs which flow into chapters of some sort. There's a linear structure keeping the story together. Alternative formats do away with this linear format we're used to and instead, they use different methods of story telling. This could be through letters, which make them epistolary novels, through diary entries, through e-mails or instant messages, through Twitter or other social media, through lists, or through mixed media, including novels that are partially traditional narrative and partially graphic novels.
It could be easily argued that verse novels and novels told through multiple points of view fall under the alternate format umbrella. For me, I don't know anymore if I agree with that argument. Not because they're not different, but because there's a specific term for verse novels (and it's acknowledged as a format in and of itself) and because the use of multiple points of view isn't that surprising or different anymore. Multiple points of view still tend to follow the traditional narrative structure, unless they are themselves in an alternate format (say one of the characters tells his or her side of the story through lists or illustrations). This is splitting hairs, of course, and considering either or both as alternate is perfectly reasonable.
Another kink in defining alternate formats is that it can be tricky to figure out what an end point to the category is. Would alternate format novels also include the sorts of books that feature a digital component to them? Do
transmedia works
count as alternative formats? It would make sense to say yes to this, though for the purposes of defining alternate formats, as well as keeping this guide tight, I think it's fair to leave those sorts of books out of the definition because many transmedia works or novels which feature digital components are not entirely
dependent
on those pieces to tell the story. Often, though not always, that's bonus content for readers who want to continue digging deeper into the worlds they're reading.
So what's an alternate format then? It's a book in which non-traditional methods are used to tell the story and those methods are crucial to the understanding of that story.
Resources
Because alternative formats aren't a genre in and of themselves, these books are eligible for awards in their appropriate categories. Fiction titles — including graphic hybrids — are as eligible for the Printz, as well as the Morris awards through YALSA, and they're eligible for the National Book Award in Young People's Literature. Books in alternate formats are eligible for other respective awards and selection lists through YALSA, including the Best Fiction for Young Adults list and the Excellence in Non-Fiction Award, if the work in question is non-fiction (an example of an alternate format in non-fiction may include something like a graphic hybrid memoir). Depending on the genre of the book in an alternate formate, it may also be eligible for various awards, including the Edgar, the Norton Award, and so forth.
Of course, because these books are eligible across awards and honor lists, it's not always easy to pull out which titles are written in alternative formats. This is where reading annotations, as well as writing strong annotations, becomes useful. Making note of books featuring something different in structure makes finding them much easier.
We've put together lists and resources in the past:
As part of the 2012 Contemporary YA week, we put together a list of contemporary/realistic YA in alternate formats. This included novels in verse, as well as books told through multiple points of view. As proof of how much we grow as readers and thinkers, I'm not entirely sure I agree anymore that novels told through verse or in multiple points of view are necessarily alternate formats; however, I think they do offer something different, so they're worth noting here.
Around the book world, a few more resources worth having on hand to make finding alternate format YA novels easier:
Reading List
Because this could be lengthy, this reading list is limited to books published in the last 4 to 5 years. It's especially heavy on upcoming titles, as this is a format that's going to be growing in the next year. Links above will lead you to many excellent backlist titles that fit the alternate format category in YA. I've also included forthcoming titles I'm aware of, but if there are any missing, lay them on me in the comments. Likewise, this is a contemporary/realistic heavy list, so genre novels fitting the alternate format definition are ones I'd love to know more about as well.
These books range from being told as graphic hybrids to play scripts, from art class assignments in narrative non-fiction format (fictionalized) to more traditional diary/epistolary formats. As usual, all descriptions are from WorldCat unless otherwise noted.
Me Being Me Is Exactly As Insane As You Being You by Todd Hasak-Lowy (March 24): Through a series of lists, a narrator reveals how fifteen-year old Darren's world was rocked by his parents' divorce just as his brother, Nate, was leaving for college, and a year later when his father comes out as gay, then how he begins to deal with it all after a stolen weekend with Nate and his crush, Zoey.
The Truth Commission by Susan Juby (April 14): As a project for her "creative non-fiction module" at a school for the arts, Normandy Pale chronicles the work of the Truth Commission, through which she and her two best friends ask classmates and faculty about various open secrets, while Norm's famous sister reveals some very unsettling truths of her own.
The Five Stages of Andrew Brawley by Shaun David Hutchinson: Convinced he should have died in the accident that killed his parents and sister, sixteen-year-old Drew lives in a hospital, hiding from employees and his past, until Rusty, set on fire for being gay, turns his life around. Includes excerpts from the superhero comic Drew creates.


Hold Me Closer: The Tiny Cooper Story by David Levithan (March 17): Larger-than-life Tiny Cooper finally gets to tell his story, from his fabulous birth and childhood to his quest for true love and his infamous parade of ex-boyfriends, in the form of a musical he wrote.
The Bunker Diary by Kevin Brooks: I can't believe I fell for it. It was still dark when I woke up this morning. As soon as my eyes opened I knew where I was. A low-ceilinged rectangular building made entirely of whitewashed concrete. There are six little rooms along the main corridor. There are no windows. No doors. The lift is the only way in or out. What's he going to do to me?
Gabi, A Girl in Pieces by Isabel Quintero: Sixteen-year-old Gabi Hernandez chronicles her senior year in high school as she copes with her friend Cindy's pregnancy, friend Sebastian's coming out, her father's meth habit, her own cravings for food and cute boys, and especially, the poetry that helps forge her identity.
Why We Broke Up by Daniel Handler and Maira Kalman: Sixteen-year-old Min Green writes a letter to Ed Slaterton in which she breaks up with him, documenting their relationship and how items in the accompanying box, from bottle caps to a cookbook, foretell the end.
Roomies by Tara Altebrando and Sara Zarr: While living very different lives on opposite coasts, seventeen-year-old Elizabeth and eighteen-year-old Lauren become acquainted by email the summer before they begin rooming together as freshmen at UC-Berkeley.
Me and Earl and the Dying Girl by Jesse Andrews: Seventeen-year-old Greg has managed to become part of every social group at his Pittsburgh high school without having any friends, but his life changes when his mother forces him to befriend Rachel, a girl he once knew in Hebrew school who has leukemia.
Love Letters to the Dead by Ava Dellaria: When Laurel starts writing letters to dead people for a school assignment, she begins to spill about her sister's mysterious death, her mother's departure from the family, her new friends, and her first love.
Forgive Me, Leonard Peacock by Matthew Quick: A day in the life of a suicidal teen boy saying good-bye to the four people who matter most to him.
Miss Peregrine's Home for Peculiar Children by Ransom Riggs (series): A horrific family tragedy sets sixteen-year-old Jacob journeying to a remote island off the coast of Wales, where he discovers the crumbling ruins of Miss Peregrine's Home for Peculiar Children. As Jacob explores its abandoned bedrooms and hallways, it becomes clear that the children who once lived here were more than just peculiar.
Asylum by Madeleine Roux (series): Three teens at a summer program for gifted students uncover shocking secrets in the sanatorium-turned-dorm where they're staying–secrets that link them all to the asylum's dark past.
Chasing Shadows by Swati Avasthi, illustrated by Craig Phillips: Chasing Shadows is a searing look at the impact of one random act of violence. Before: Corey, Holly, and Savitri are one unit– fast, strong, inseparable. Together they turn Chicago concrete and asphalt into a freerunner's jungle gym, ricocheting off walls, scaling buildings, leaping from rooftop to rooftop. But acting like a superhero doesn't make you bulletproof. After: Holly and Savitri are coming unglued. Holly says she's chasing Corey's killer, chasing revenge. Savitri fears Holly's just running wild– and leaving her behind. Friends should stand by each other in times of crisis. But can you hold on too tight? Too long? In this intense novel, told in two voices, and incorporating comic-style art sections, Swati Avasthi creates a gripping portrait of two girls teetering on the edge of grief and insanity. Two girls who will find out just how many ways there are to lose a friend– and how many ways to be lost.
Because You'll Never Meet Me by Leah Thomas (July 2): Ollie, who has seizures when near electricity, lives in a backwoods cabin with his mother and rarely sees other people, and Moritz, born with no eyes and a heart defect that requires a pacemaker, is bullied at his high school, but when a physician who knows both suggests they begin corresponding, they form a strong bond that may get them through dark times.
Bright Lights, Dark Nights by Stephen Emond (August 11): Walter Wilcox's first love, Naomi, happens to be African American, so when Walter's policeman father is caught in a racial profiling scandal, the teens' bond and mutual love of the Foo Fighters may not be enough to keep them together through the pressures they face at school, at home, and online.
Everything, Everything by Nicola Yoon (September 1): My disease is as rare as it is famous. Basically, I'm allergic to the world.I don't leave my house, have not left my house in seventeen years. The only people I ever see are my mom and my nurse, Carla.

But then one day, a moving truck arrives next door. I look out my window, and I see him. He's tall, lean and wearing all black–black T-shirt, black jeans, black sneakers, and a black knit cap that covers his hair completely. He catches me looking and stares at me. I stare right back. His name is Olly.

Maybe we can't predict the future, but we can predict some things. For example, I am certainly going to fall in love with Olly. It's almost certainly going to be a disaster. (Description via Goodreads).
Chopsticks by Jessica Anthony and Rodrigo Corral: In a love story told in photographs and drawings, Glory, a brilliant piano prodigy, is drawn to Frank, an artistic new boy, and the farther she falls, the deeper she spirals into madness until the only song she is able to play is "Chopsticks."