I just got back home from the great blizzard of 2015 that may more commonly be known as ALA Midwinter. I've lived in the midwest most of my life, and I have to say, Sunday's blizzard was something else entirely. That was fun on a whole new level.
That said, rather than write a lengthy update about Midwinter — most of my time was spent talking with people and not behind meeting room doors — I thought I'd talk about the books I picked up on the show floor, as well as the publisher events I went to.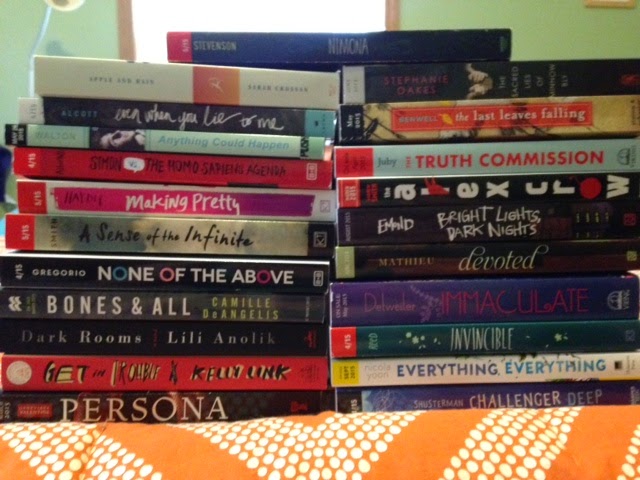 I didn't get to the exhibits on opening night, like I have in the past. In fact, I spent very little time wandering the exhibits this year, and in a lot of ways, that was really nice. Though, I think the general consensus was that the floors were much more empty this year than in previous years, and that was something I did notice. I had no problems talking with people, I never felt like I was smashed in crowds, and it was nice to talk with the publisher reps and get their recommendations for favorite titles this season.
Here's everything I picked up, with links to Goodreads for further descriptions:
Persona by Genevieve Valentine (March 10): This is an adult book, but with YA crossover appeal.
Get In Trouble by Kelly Link (February 10): Adult title, but so much buzz around it. I've never read Link before and am excited to try this collection of short stories.
Dark Rooms by Lili Anolik (March 3): This adult title is pitched as Gillian Flynn meets Twin Peaks, so…
Bones & All by Camille DeAngelis (March 10): Horror + cannibalism. This one keeps popping up as a YA title, but I think it's adult with YA appeal to it.
None of the Above by I. W. Gregorio (April 7)
A Sense of the Infinite by Hilary T. Smith (May 19)
Making Pretty by Corey Ann Haydu (May 12)
Simon vs. The Homo Sapiens Agenda by Becky Albertalli (April 7)
Anything Could Happen by Will Walton (May 26)
Even When You Lie to Me by Jessica Alcott (June 9): These books always squick me out and yet I can't stop with them, either.
Apple and Rain by Sarah Crossan (May 12)
Nimona by Noelle Stevenson (May 19)
The Sacred Lies of Minnow Bly by Stephanie Oakes (June 9)
The Last Leaves Falling by Sarah Benwell (May 5)
The Truth Commission by Susan Juby (April 14): This book was talked up to me in Toronto last November and I'm so excited to have my hands on it!
The Alex Crow by Andrew Smith (March 3)
Bright Lights, Dark Nights by Stephen Emond (August 11)
Devoted by Jennifer Mathieu (June 2)
Immaculate by Katelyn Detweiler (May 26)
Invincible by Amy Reed (April 28)
Everything, Everything by Nicola Yoon (September 1)
Challenger Deep by Neal Shusterman (April 21): I started this one on the train home, and I've already marked so many incredible passages. I'm excited to finish it, even though it's not an easy read at all.
While at ALA, I attended two publisher meals, including a breakfast with Little, Brown Books for Young Readers, as well as a lunch with Simon and Schuster. I ended up not taking the books either publisher offered at their previews because I'd already had them in my piles or at home (or had access to them on Edelweiss). But what I love about these previews is seeing what sorts of trends are popping up.
This year's big one? Alternate formats.
I suspect if you spend any time clicking through the links above, you'll see exactly what I mean. There are a LOT of books that are not in traditional narrative. They're done in lists, in a hybrid graphic/prose style, in verse, and in myriad other formats. It's interesting to see this emerge as a trend because it happens to be one I like a lot. I love seeing the creativity in how a story is told and how that format raises the stakes in the story itself.
Kimberly did a good job talking about the Youth Media Awards earlier this week, and all I really have to add to her commentary is that I was so glad to see Gabi, A Girl in Pieces win the Morris, and I was thrilled to see Carnival at Bray pick up a Printz honor.
There's not a whole lot more to say except that I'm planning on spending my next few days devouring books because everything sounds so good, so appealing, and so perfect to be reading right this second.