I'm really excited to share this guest post from debut author Bryan Bliss today. Bliss is the author of No Parking at the End Times, which I wrote about earlier this week. When I finished the book, I couldn't stop thinking about the portrayal of the parents in this story, and I asked if he'd be interested in talking a bit more about parents in YA fiction. It's a topic that comes up in terms of parents being bad pretty frequently, but rarely do we look at parental intentions in YA fiction — what if parents aren't bad but don't always come off in the best light, despite doing what they think is right?
Enjoy this thoughtful post and at the end, you have the chance to win a copy of Bliss's novel.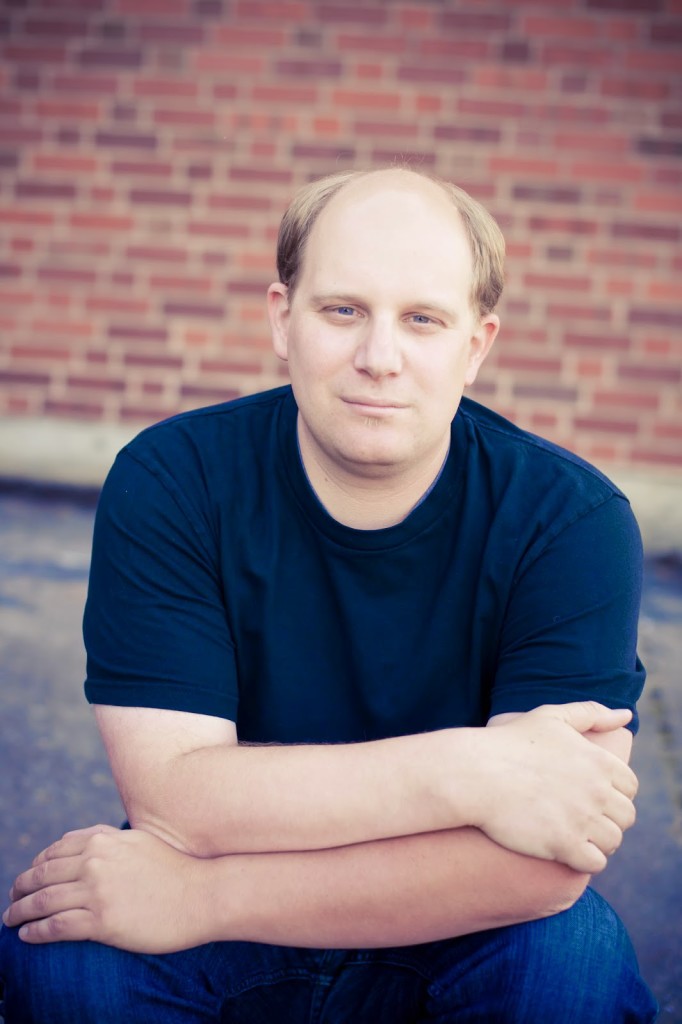 Bryan Bliss is the author of No Parking at the End Times. He has worked with teenagers for more than ten years and holds an MFA from Seattle Pacific University. This is his first novel. You can find him on Twitter @brainbliss.
When people read my debut novel, No Parking at the End Times, the first thing I hear is some combination of: Those awful parents! and Somebody call Child Protective Services! As they make mistake after mistake (most of which would be unforgivable on their own), and continue risking everything because of the misguided prophecy of a radio preacher… let's just say that readers don't exactly empathize with them.
And I get it, I really do. Facebook alone gives me enough reason to seek out blood pressure medication. Stories about parents who take their daughters – and its always the daughters – to purity balls are guaranteed to get my blood going. Yet, whenever somebody gets in a huff about the parents in my novel, I pause and immediately think: Yeah, but…
From the very beginning, I wanted No Parking to be a story about a girl losing faith in her parents. Granted, it would happen on a bigger scale than most of us will ever face. But that rush of understanding – when and how a teenager transitions to the reality that her parents are not perfect – is so real, so painful, it fueled every moment of the book. But it left me with a challenging quandary: what do you do with parents who – arguably – have ruined the lives of their children? How do you write about the people you'd usually mock on Facebook?
The problem, of course, is that many parents in young adult fiction are not flawed. Sure, they have cute issues – you know the type. Oh Dad, you're so goofy! Mom! Stop trying to buy me all these clothes… I don't want to wear a dress! These central-casting problems can easily be spun as authentic in the pages of a novel. They become subplots, little moments that challenge the main character in-between bigger plot points.
And that's fine. I'm not going to talk badly about these characters.
But I want more. A lot more.
I want to see the perfect mom lose her shit at the school assembly. I want to see the dad who's struggling to make rent accidentally – and regrettably – snap at his kids. I want parents who, in the pages of our novels, make real mistakes that actively and deeply affect the lives of their children. If we're going to claim that young adult literature has depth – which it certainly does – we need to give our parents scars. We need real representations of the adults in most teenagers' lives. We need them to be fallible. And we need to understand why they are that way.
A case could be made that there are already plenty of flawed parents in young adult literature. Richie, from Rainbow Rowell's Eleanor and Park immediately comes to mind. Is there a more despised character in YA? For me, no. But is Richie flawed or is he a villain? For some, the line between the two is blurred – and not to our benefit. I struggle to find the moment when Richie is ever supportive, when he shows me that he is a loving adult for the children and teenagers in that story.
And that's why the vitriol for the parents in No Parking is so confounding. In their own confused way, they are trying to do the right thing for their kids. Their belief system tells them that – if they sell everything, if they really believe – they will be rewarded. So when the End doesn't come – when a desperate family has its only answer taken away – what do they do?
They stay. Of course they stay. This is their answer. What happens if they leave and then the Rapture happens? What then? No matter what anybody says, I will argue this point until I am out of breath. They stay.
Because they are good parents. They are confused parents. They are flawed parents. In my mind, these three things are inextricable and necessary. To use the parents in my novel simply as a way to mock their belief – without realizing how much pain they're in, how worried they really are – is not only a mistake for the story, but also for the readers.
If we're going to create believable adults in young adult literature, we need to be brave enough to not only write unlikable and flawed parents – but to write them with the same care and compassion we bring to Nuclear Mom and Dad. If we don't, we're in danger of teaching teenagers that adulthood means finally having all of our shit worked out.

But I'm still not there. Are you?
***
Want to win a copy of Bliss's No Parking at the End Times? I'll give away two finished copies sometime mid-March. As long as you can get books from the Book Depository, you can enter!