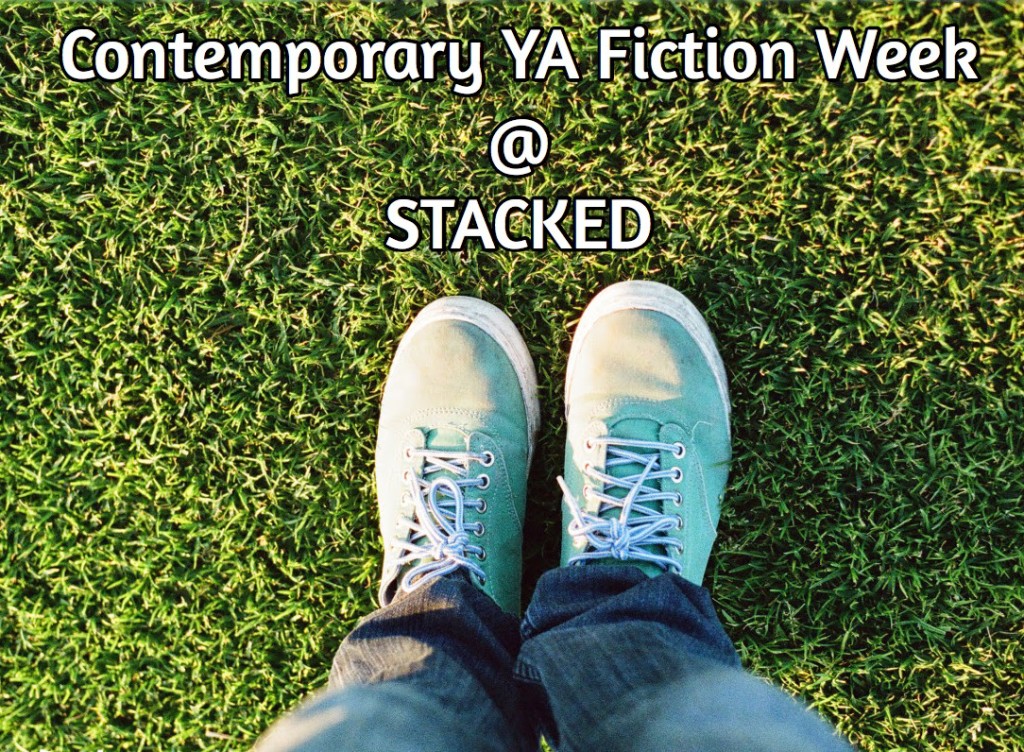 It's weird how often teens go on vacation, have summer rental homes, can afford cars (and car insurance!) or cell phones and other luxuries in YA fiction. It seems hardly representative of real life teens, many who work part-time jobs to pay for their own items or who work part-time to support their families. Faythe's post did an excellent job bringing up why the issues of social class matter when we read and think about contemporary realistic fiction. A few of the titles on this list are ones she's suggested.
Today, let's look at the contemporary YA books that feature main characters who don't have luxuries. These are the teens who aren't upper middle class — or even middle-middle class — and I've also included novels where teens are working part-time jobs and those part-time jobs are a significant part of who they are. All of these books have been published in the last 10 years and all descriptions come from WorldCat (unless otherwise noted).
Girls Like Us by Gail Giles: Graduating from their school's special education program, Quincy and Biddy are placed together in their first independent apartment and discover unexpected things they have in common in the face of past challenges and a harrowing trauma.
Love and Other Perishable Items by Laura Buzo: A fifteen-year-old Australian girl gets her first job and first crush on her unattainable university-aged co-worker, as both search for meaning in their lives.
Panic by Lauren Oliver: Panic began as so many things do in Carp, a dead-end town of 12,000 people in the middle of nowhere: because it was summer, and there was nothing else to do. Heather never thought she would compete in Panic, a legendary game played by graduating seniors, where the stakes are high and the payoff is even higher — $67,000. She'd never thought of herself as fearless, the kind of person who would fight to stand out. But when she finds something, and someone, to fight for, she will discover that she is braver than she ever thought… Dodge has never been afraid of Panic. His secret will fuel him, and get him all the way through the game, he's sure of it. But what he doesn't know is that he's not the only one with a secret. Everyone has something to play for. For Heather and Dodge, the game will bring new alliances, unexpected revelations, and the possibility of first love for each of them — and the knowledge that sometimes the very things we fear are those we need the most.
Black Helicopters by Blythe Woolston: In a day-after-tomorrow Montana, fifteen-year-old Valley (now Valkyrie) and her big brother leave their underground den to fight a government that will kill them like coyotes. (Note: All of Woolston's books feature rural impovershed characters).
Starting from Here by Lisa Jenn Bigelow: Sixteen-year-old Colby is barely hanging on with her mother dead, her long-haul trucker father often away, her almost-girlfriend dumping her for a boy, and her failing grades, when a stray dog appears and helps her find hope.
Shine by Lauren Myracle: When her best friend falls victim to a vicious hate crime, sixteen-year-old Cat sets out to discover the culprits in her small North Carolina town.
15 Days Without A Head by Dave Cousins: When his alcoholic mother disappears, fifteen-year-old Laurence is determined to find her, take care of his little brother, and keep their predicament a secret, all while trying to win a luxury vacation for his mom in a radio call-in contest.
The Sky Always Hears Me: And The Hills Don't Mind by Kristin Cronn-Mills: Sixteen-year-old Morgan struggles with her growing attraction to a co-worker, her unsatisfactory relationship with her boyfriend, and with her own sexual orientation after a girlfriend is rumored to be gay.
Yaqui Delgado Wants To Kick Your Ass by Meg Medina: One morning before school, some girl tells Piddy Sanchez that Yaqui Delgado hates her and wants to kick her ass. Piddy doesn't even know who Yaqui is, never mind what she's done to piss her off. Word is that Yaqui thinks Piddy is stuck-up, shakes her stuff when she walks, and isn't Latin enough with her white skin, good grades, and no accent. And Yaqui isn't kidding around, so Piddy better watch her back. At first Piddy is more concerned with trying to find out more about the father she's never met and how to balance honors courses with her weekend job at the neighborhood hair salon. But as the harassment escalates, avoiding Yaqui and her gang starts to take over Piddy's life. Is there any way for Piddy to survive without closing herself off or running away?
Gabi, A Girl in Pieces by Isabel Quintero: Sixteen-year-old Gabi Hernandez chronicles her senior year in high school as she copes with her friend Cindy's pregnancy, friend Sebastian's coming out, her father's meth habit, her own cravings for food and cute boys, and especially, the poetry that helps forge her identity.
Saint Iggy by K. L. Going: Iggy Corso, who lives in city public housing, is caught physically and spiritually between good and bad when he is kicked out of high school, goes searching for his missing mother, and causes his friend to get involved with the same dangerous drug dealer who deals to his parents.
The Not-So-Great Depression by Amy Goldman Koss: Jacki, a ninth-grader, does not understand when her teacher talks about unemployment and recession, until her mother loses her job and Jacki cannot buy the things she wants.
Brianna on the Brink by Nicole McInnes: A one-night stand has life-altering consequences for popular, sixteen-year-old Brianna, who must then accept help from the one person closest to her mistake.
Leap of Faith by Jamie Blair: Seventeen-year-old Faith shepherds her neglectful, drug-addicted mother through her pregnancy and then kidnaps the baby, taking on the responsibility of being her baby sister's parent while hiding from the authorities.
Sorta Like A Rock Star by Matthew Quick: Although seventeen-year-old Amber Appleton is homeless, living in a school bus with her unfit mother, she is a relentless optimist who visits the elderly at a nursing home, teaches English to Korean Catholic women with the use of rhythm and blues music, and befriends a solitary Vietnam veteran and his dog, but eventually she experiences one burden more than she can bear and slips into a deep depression.
The Lure by Lynne Ewing: Living in a violent, impoverished town outside Washington, D.C., 15-year-old Blaise joins an infamous gang against the advice and warnings of her best friends only to be required by her new leader to put herself in life-threatening situations.
Tyrell by Coe Booth: Fifteen-year-old Tyrell, who is living in a Bronx homeless shelter with his spaced-out mother and his younger brother, tries to avoid temptation so he does not end up in jail like his father.
When I Was The Greatest by Jason Reynolds: Ali lives in Bed-Stuy, a Brooklyn neighborhood known for guns and drugs, but he and his sister, Jazz, and their neighbors, Needles and Noodles, stay out of trouble until they go to the wrong party, where one gets badly hurt and another leaves with a target on his back.
Revenge of the Girl with the Great Personality by Elizabeth Eulberg: Sick of living in the shadow of her seven-year-old pageant queen sister who is praised for her looks, Lexi resolves to get a makeover when she determines her personality just isn't enough to garner the attentions of boys.
Take Me On by Katie McGarry: Abandoning kickboxing after a tragedy in the ring, champion fighter Haley is forced to train an attractive mixed martial arts student who secretly fights on Haley's behalf to redeem his troubled past.
The Distance Between Us by Kasie West: Seventeen-year-old Caymen Meyers knows better thant to trust a rich boy. But then she meets the richest guy of all, who proves money might not matter after all.
Cherry Money Baby by John M. Cusick: Cherry Kerrigan loves her simple life, her family's tiny trailer, even working at Burrito Barn. Forget college–she's marrying her sweetheart from next door. But here comes Ardelia Deen, a glamorous starlet who sweeps Cherry into a world of fast cars and penthouse parties. Now Cherry's small-town life just seems so small. When Ardelia drops a bomb of an offer, Cherry knows her life will change forever, no matter what she decides.
Kiss Kill Vanish by Jessica Martinez: A teenage girl flees her opulent life in Miami when she witnesses her boyfriend commit a murder that was ordered by her father.
Rules of Summer by Joanna Philbin: Spending the summer working as an errand girl for the Rule family in the Hamptons, seventeen-year-old Rory befriends the family's teenaged daughter and develops feelings for their older son, but she finds that societal rules can be hard to break.
The Secret Year by Jennifer R. Hubbard: Reading the journal of the high-society girl he was secretly involved with for a year helps high school senior Colt cope with her death and come closer to understanding why she needed him while continuing to be the girlfriend of a wealthy classmate.
Damaged by Amy Reed: Numb after the death of her best friend, Camille, Kinsey starts to shut down but Hunter, Camille's mysterious boyfriend, has other ideas and whisks Kinsey off on a multi-state road trip to forget the ghosts of their pasts and their own fears.
** Okay, this one is maybe not contemporary realistic YA, but that depends on your reading of the ghost here. More, the depiction of Kinsey's home financial situation and her job are noteworthy.