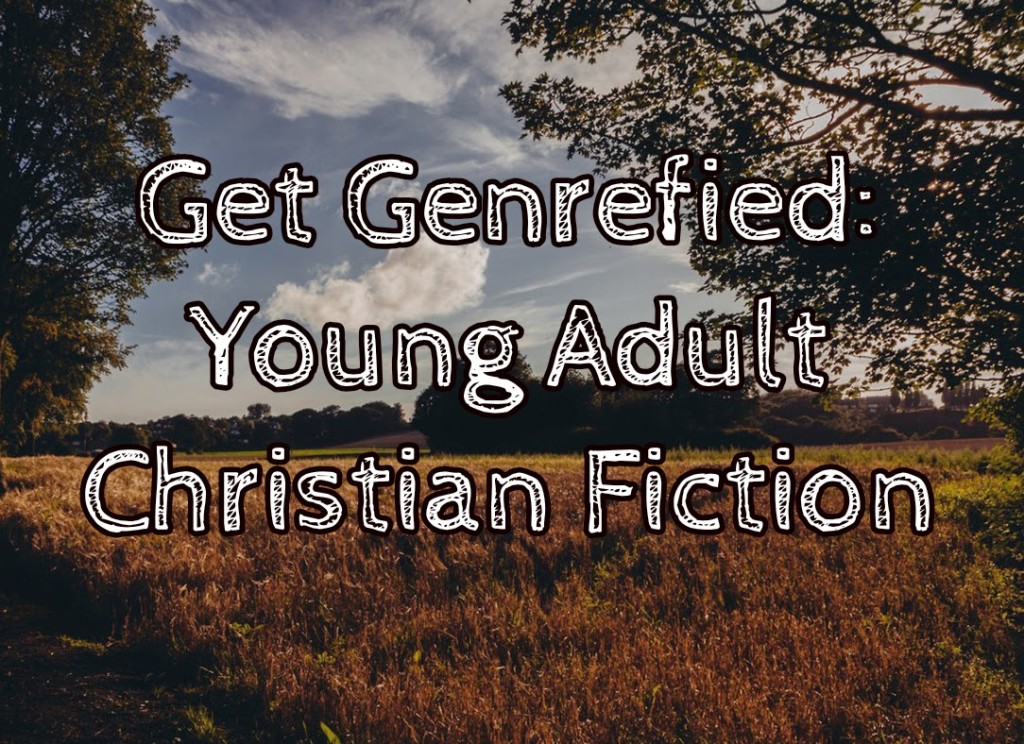 This month, we're tackling Christian fiction. For most of the genre guides, I've stuck to stuff I know really well, but I don't read much Christian fiction myself, so I'm branching out a bit for this one. It's an important genre to know about and helps fill a niche for many teen readers.
Introduction
In general, Christian fiction encompasses those stories that present a Christian worldview. This definition is really broad, but deliberately so. Often there will be explicit mention of God, Jesus, the Bible, sin and redemption, and so on, and the protagonist's journey will be overtly spiritual. But that's not always the case. Sometimes the focus is more allegorical (think Narnia) or the Christian ideology is subtler and conveyed more through character actions rather than deliberate mention of religious tenets. It can also be any genre under the sun: realistic, contemporary, historical, fantasy, science fiction, and so on. Because Christian fiction can be done with such a light touch, sometimes it's unclear whether a certain book should truly be called "Christian fiction." For example, there's a lot of debate over whether Tolkien's Lord of the Rings is Christian fiction. This also makes it really important to be able to recognize Christian fiction by its publishing house or author, since it's not always apparent from the book blurb.
Christian fiction is huge in the adult market. If you work in a public library, you've no doubt seen the hordes of Amish fiction that readers can't seem to get enough of (referred to as the "bonnet brigade" by one of my co-workers). It's not just Amish fiction though; it's also books like Left Behind or Karen Kingsbury's hugely popular novels. Christian fiction also encompasses some specific subgenres such as
Catholic or Mormon fiction, which can be hugely popular among their
intended audience. Christian adult fiction is sometimes referred to as "inspirational fiction," but I haven't seen that term used as much for teen novels. It does give a good idea of some of the appeal behind these books though: they're meant to uplift and inspire. Christian fiction in general also doesn't seem to be as widespread in the teen realm, but there's a definite readership for it.
In my experience, the teens who seek out Christian fiction are those who want to see their Christian values reflected in the books they read. Often, these values are quite conservative – socially, politically, and religiously – but not always. Christian fiction reads tend to be gentler reads, with less violence, sex, and foul language – but again, not always. Often the assumption is that the parents foist these books on their kids, but I find that teens also want them without any prompting from their parents. Christian teens whose religion is a big part of their lives are drawn to stories featuring protagonists whose religious beliefs mirror their own. I'm reminded of this piece written a few years ago about the seeming lack of religion or religious protagonists in YA. Christian fiction helps fill this gap.
Because Christian fiction ranges from very message-heavy to very subtly religious, it has the ability to attract a wide range of readers, and publishers are trying to capitalize on that. Blink, a new imprint of Zondervan launched in 2013, aims to publish YA Christian fiction "for anyone, regardless of faith." Their About page on their website doesn't even mention the word Christian anywhere. The YA bloggers at Redeemed Reader discussed a few of Blink's first titles (part one, part two), giving their opinions on the stories as Christian fiction and whether they thought the books would appeal to non-Christians. Those two posts are also a great way to get an idea of what Christian fiction means to teens who read it regularly.
Resources
As I mentioned above, recognizing Christian fiction from a book blurb isn't always easy. Look for specific publishers/imprints and authors to clue you in.
Publishers/Imprints:
Popular YA Christian Fiction Authors:
Ted Dekker
Melody Carlson
Donita K. Paul
Melanie Dickerson
G. P. Taylor
Andrew Klavan
Jenny B. Jones
Robin Jones Gunn
Stephanie Perry Moore
Adult author Beverly Lewis has also written some YA Christian fiction.
Of course, the above list is only a few of the authors writing YA Christian fiction today. Many of these authors have compiled much larger, more exhaustive lists, some of which I've linked to below.
On the Web:
Books
The books on the list below have all been published within the last five years or so and are generally regarded as Christian fiction. Descriptions are from WorldCat. A lot of YA publishing is very white and straight, but Christian fiction seems to be even more so. See this blog post on the topic. LGBT Christian fiction, in particular, is tough to find, and that is no doubt due – at least in part – to the more conservative type of Christian fiction that dominates the market. LGBT-friendly Christian fiction may be best found outside the genre – in books that may not explicitly state they're Christian, but still have a Christian feel. If you know of some titles that would help diversify this list, please let us know in the comments.
Remants: Season of Wonder by Lisa T. Bergren
The year is 2095. Gifted teens known as Remnants have been chosen and
trained to act as humanity's last hope to rectify the horrors that are
now part of everyday life. But the Sons of Sheol are determined to stop
them. | Sequel: Season of Fire
Halflings by Heather Burch
When Nikki is targeted by an evil intent on harming her, she finds
herself under the guardianship of three young men who call themselves
Halflings. | Sequels: Guardian, Avenger
Premiere by Melody Carlson (On the Runway series)
When two sisters get their own fashion-focused reality television show,
vivacious Paige is excited, but Erin, a Christian who is more interested
in being behind the camera than in front of it, has problems with some
of the things they are asked to do. | Sequels: Catwalk, Rendezvous, Spotlight, Glamour, Ciao
Back in fifth grade, Micah Knight got an Amish pen pal, and over the
years, they've exchanged many letters–and many secrets. At age
seventeen, Micah finally has the chance to meet her pen pal
face-to-face. The only problem is that because of confusion about her
name when the pen pals were assigned, her pen pal was a boy, Zach
Miller. And all this time, Micah's never told Zach that she's actually a
girl. While she
wants nothing more than to experience life on Zach's Amish farm, she's
afraid he'll hate her for deceiving him all these years. But she makes
up her mind to face the music–and that's where the fun really begins.
So Not Happening by Jenny B. Jones
Forced to move from Manhattan to an Oklahoma farm when her mother
remarries, sixteen-year-old Bella relies on her faith while
investigating a deadly, secret organization for the school newspaper, as
she slowly realizes how shallow and spoiled she has been. | Sequels: I'm So Sure, So Over My Head
Nightmare City by Andrew Klavan
Tom Harding only wants the truth. But the truth is becoming more
dangerous with every passing minute. As a reporter for his high school
newspaper, Tom Harding was tracking the best story of his life when,
suddenly, his life turned very, very weird. He woke up one morning to
find his house empty, his street empty, his whole town empty. Empty
except for an eerie, creeping fog; and whatever creatures were slowly moving toward him through the fog. Now Tom's once-ordinary world has become something out of a horror movie.
Doon by Carey Corp and Lorie Langdon
Embarking on a summer adventure in Scotland, best friends Veronica and
Mackenna find romance and danger when they are transported to the
kingdom of Doon, a hidden village that appears once every 100 years.
Inspired by the musical Brigadoon. | Sequel: Destined for Doon
The Healer's Apprentice by Melanie Dickerson
In this story loosely based on the Sleeping Beauty fairy tale,
seventeen-year-old Rose, a healer's apprentice, falls in love with the
betrothed Lord Hamlin, who is seeking the sorcerer who cursed his future
bride. | Sequels: The Fairest Beauty, The Merchant's Daughter, The Captive Maiden, The Princess Spy
Aquifer by Jonathan Friesen

In 2250, water is scarce and controlled by tyrants, but when
sixteen-year-old Luca descends to the domain of the Water Rats, he meets
one who captures his heart and leads him to secrets about a vast
conspiracy, and about himself.
A Girl Named Mister by Nikki Grimes
A pregnant teenager finds support and forgiveness from God through a
book of poetry presented from the Virgin Mary's perspective.
Hit by Lorie Ann Grover
High school senior Sarah takes a poetry class led by Mr. Haddings, a
student teacher from the nearby University of Washington, and finds
herself using her poetry journal to subtly declare her feelings for him,
but everything changes when she is hit by a car.
Black, White, Other by Joan Steinau Lester
Twenty miles from Oakland, California, where fires have led to racial
tension, multi-racial fifteen-year-old Nina faces the bigotry of
long-time friends, her parents' divorce, and her brother's misbehavior,
while learning of her great-great grandmother Sarah's escape from
slavery.
Finding Your Faith by Stephanie Perry Moore
Thirteen-year-old triplet Yasmin tries to find solace in prayer while
helping her family recover from her older brother's suicide, as well as
dealing with all of the drama of middle school and life in the projects. | Sequels: Believing in Hope, Experiencing the Joy, Learning to Love, Enjoying True Peace
Me, Just Different by Stephanie Morrill
An incident at a summer party and major family crises have high school
senior Skylar Hoyt rethinking her way of life, and with the help of a
new boy at school and a youth coach at church, she begins to find her
true self.
Like Moonlight at Low Tide by Nicole Quigley
When high school junior Melissa Keiser returns to her hometown of Anna
Maria Island, Florida, she has one goal, to hide from the bullies who
had convinced her she was the ugliest girl in school. But when she is
caught sneaking into a neighbor's pool at night, everything changes.
Running Lean by Diana Sharples
Told from their separate viewpoints, Calvin Greenlee copes with grief
over his brother's recent death by racing his vintage Yamaha on rural
North Carolina streets while his girlfriend, Stacey Youngblood, battles
anexoria, and their relationship may not survive the strain.
Simply Divine by Jacquelin Thomas
After a family catastrophe, glamorous Hollywood teenager Divine goes to
live with devout relatives in Georgia, where she learns the importance
of family and finds strength by turning to God. | Sequels: Divine Confidential, Divine Secrets, Divine Match-Up
Merlin's Blade by Robert Treskillard
When a meteorite crashes near a small village in fifth-century Britain,
it brings with it a mysterious black stone that bewitches anyone who
comes in contact with its glow—a power the druids hope to use to
destroy King Uthur's kingdom, as well as the new Christian faith. The
only person who seems immune is a young, shy, half-blind swordsmith's
son named Merlin. As his family, village, and even the young Arthur,
are placed in danger, Merlin must face his fears and his blindness to
take hold of the role God ordained for him. | Sequels: Merlin's Shadow,
Merlin's Nightmare
The Summer of Cotton Candy by Debbie Viguie
Forced by her father to get a summer job, seventeen-year-old Candace
makes the most of selling cotton candy in an amusement park, despite a
botched nametag, vindictive co-workers, lewd patrons, and growing
distant from her best friend. | Sequels: The Fall of Candy Corn, The Winter of Candy Canes, The Spring of Candy Apples
Captives by Jill Williamson
In a dystopian future, most of the population is infected with a plague.
The exceptions are those who live outside the Safe Land's city walls.
When a mutation in the plague sends city enforcers looking for the
uninfected, Levi's village is raided. While the attack leaves many dead,
Levi's fiancee is being held captive. Levi launches a war against the
city in an attempt to free her before it's too late. | Sequels: Outcasts, Rebels