There's not any possible way to boil down the last few days in Toronto for the INSPIRE: Toronto International Book Festival into a single post. Between the tour of bookstores, the festival itself, quality time with fellow book bloggers, and some of my own explorations, this was a really special and exciting experience. For the first time in a while, I walked away feeling refreshed and so excited to talk about books and reading.
Rather than try to cram everything I want to say or think about into one massive post, I'm going to spread it out over the next couple of weeks. I'll hit some of the sites I saw, the events and talks I attended, and wrap it all up with a big post on what INSPIRE did right and what could make it even better the next time around.
Today, though, I thought I'd do a quick run through of the highlights of my trip.
Wednesday


I've never flown internationally, so it got me a little nervous. I know going to Canada is no big deal, but I got to the airport early and everything worked out just great. Since I had gotten there so early, I stopped into the bookstore at Milwaukee Airport, Renaissance Books. The store is outside the security gates, so you can really only stop in if you plan ahead for it or don't go through security really early. Renaissance is different than most airport bookstores in that it's all used and rare books, rather than new or best seller-y titles. I took a picture of the Cherry Ames nurse novels for girls, which I've only ever heard about and never seen. You'd never find this in another type of bookstore in an airport:
My flight only had 21 people on it, meaning that there was plenty of room to stretch out and actually enjoy the one hour trip to Toronto. When I got to customs, I had my first book interaction — the customs agent asked what I was doing in town, and when I told her I was covering the book festival, she immediately asked me for book recommendations. I asked her what she liked reading and she pulled out Megan McCafferty's Perfect Fifths from her bag, and we bonded over our shared love of the Jessica Darling series.
My original flight into town was supposed to give me the entirety of Wednesday to myself, but the week before, it got changed. Rather than landing at 10 am, I wasn't getting in until almost 10 pm. I'd booked a room in Chinatown at the Super 8, thinking it would be an ideal spot for wandering, and it would have been, had the flight worked out. But when I got there, the hotel upgraded me to a huge suite. That, coupled with the free continental breakfast, made up for the loss of a day.
Thursday


Part of why I decided to stay in Chinatown was that it's not far from downtown. But the walk from the hotel to the Renaissance, which is attached to Rogers Stadium and next to the CN tower, would have been easier and smarter when it wasn't cold, snowy, and I had a 40 pound suitcase to drag with me. Alas, it was an excellent workout and reason to room service a second breakfast:
Thursday evening was when festivities began, and I got to find out all of the other bloggers who were invited to attend INSPIRE. It was a small and amazing group of women: Ana and Thea from The Book Smugglers, Jane from Dear Author, Liz from Strange Horizons and Tor, and mother-daughter team Mary Ann and Gabi from Chapter by Chapter. We got the chance to meet the founders of INSPIRE and hear why they created the event, as well as what their vision of it was.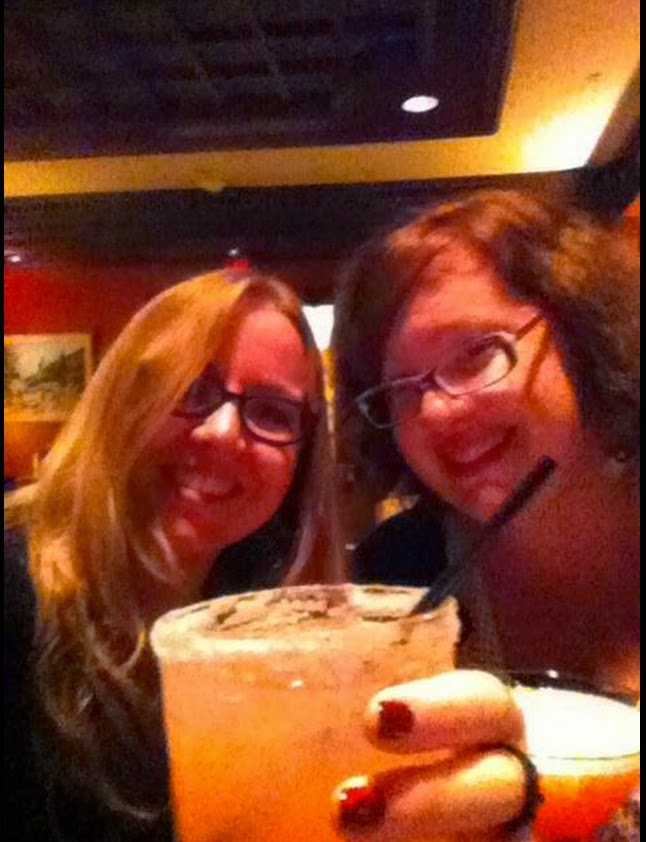 After we toasted to it, all of us bloggers were invited to explore the show floor before the event opened. We got to see the booths, as well as enjoy some finger foods. One downside, though, was that our night of exploration involved no complimentary drinks — free food, but no water or anything to wash it down. When Liz asked how much a cup of pop would be and we heard $6, Ana, Thea, Liz, Jane, and I decided we were going to go grab drinks and food at the Library Bar, just down the street. Interestingly, I read another blogger's take on opening night and discovered people got free drinks when they entered. That wasn't the case for us.
The Library Bar is what it sounds like: a library-themed bar. It was here I enjoyed a Douglas Coupland Pop Culture cocktail, as well as my first poutine. Despite having been to Ontario a few times, it was my first time trying the dish, and it was . . . okay. Maybe if were a bigger fan of gravy, I'd have felt differently, but I am glad I gave it a try.
Friday


It was an early morning on Friday, as we met with Dominique, our hotel representative, as well as Vanessa and Zena from Tourism Toronto, for a welcome breakfast. The breakfast was delicious and included eggs benedict, banana bread french toast, bacon, fruit, potatoes, and more. We got to hear about the restaurant itself, which overlooks Rogers Stadium and from which you could watch a Blue Jays game.
When breakfast ended, we loaded into a small bus for a tour of Toronto's bookstores. The tour guide was writer Michael Kaminer, who wrote about these stores in a piece for the Washington Post last year. I'll talk about this in more depth in a later post, but it was neat to see inside so many stores, though by store 4 or 5 of 8, I reached bookstore burnout.
We were dropped off at the Book Festival after the tour, wherein I went to one panel before deciding it was necessary to crash in my hotel room for a bit. As it turned out, the other bloggers did almost the exact same thing, so we hopped onto Twitter and made some more plans.
That night, Ana, Thea, and I were hitting up the CN tower, then meeting up with Liz and Jane for more drinks afterwards. The trip up the tower was great, and it was absolutely beautiful to see the city all light up on a clean night from that vantage point.
Going back for drinks was maybe one of my favorite parts of the night. I was so exhausted, but listening and talking about blogging, about books, and about what we are doing and thinking when it comes to those things was so nice in such a small group. There's been a lot of strange things going on in the blogging world, and having an opportunity to talk about it in a small setting with knowledgable, thoughtful people was great.
Saturday


I skipped out on the festival on Saturday to instead take the train to Kingston and see my friend. We had a wonderful day of bookstore shopping (it's hard to be burned out with good company), playing glow-in-the-dark mini golf (I am terrible at it), and enjoying some peanut butter cheese cake after dinner.
It's probably not fair to point to something as my favorite part of a trip, especially when it wasn't part of the trip's purpose, but this was my favorite part of the trip. It's always refreshing and energizing to spend time laughing with people you know well and who know you equally as well.
Sunday


My entire day, sans an hour or two when I went to the tea shop, were dedicated to the sessions and events at INSPIRE. I got to sit in on some really excellent panels and I bought a pile of books, all of which I'll talk about in more depth in the next couple of posts. Here's a peek at what I ended up buying:
After a full day of panels, I went back to my hotel, ordered room service, then fell into a deep sleep after writing down some of the things I walked away thinking about and wanting to think about some more.
My Monday morning, prior to my flight home, involved returning to the hotel restaurant for a full order of banana pancakes, then tracking down a cafe from which I could do some writing.
Interestingly, I did almost no reading while here. I decided before leaving home I would pack only two print titles, as well as my ereader. I knew I'd buy some books, and I didn't want the added weight. This ended up being a smart move, since I had no time or energy to read anyway. The walking, the dining, the conversations, and the event itself zapped me of leftover energy everyday, but in a really good way. The hotel was comfortable and I got solid sleep — something I tend to have a problem with when I travel.
This was an experience I really appreciated and cannot believe I had the chance to have. It was nice to put faces to names I knew and to do so in a way that allowed us to talk about INSPIRE as much as other book- and book blogger- related things.
Stay tuned next week for an in-depth look at INSPIRE, the bookstores of Toronto, and more.