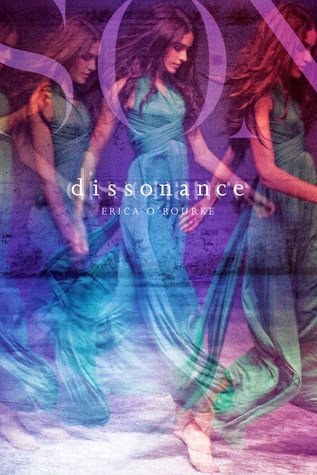 Dissonance by Erica O'Rourke
Del is a Walker, which means she was born with the ability to travel to parallel worlds, each one formed when a person made a choice. The choice they made belongs to the Key world – the main world. All other possible choices spiral off into infinite echo worlds. When these echoes become unstable, it's the job of the Walkers to cleave them. Unsurprisingly, the regimented world of the Walkers isn't as it seems, and Del becomes caught up in a conspiracy that could have ramifications throughout the entire multiverse.
Longtime readers of this blog may know I have a particular fascination with alternate/parallel worlds. Dissonance is a special treat for readers like me, since it focuses so much of the story on the specifics of the parallel worlds – how they're created, how they relate to the Key world, how Walkers can travel to them, how they can be destroyed. It's fascinating. Each chapter opens with an excerpt from what looks like a Walker-in-training textbook, and I wish I could read that textbook in its entirety. What's more, it all makes sense. If parallel worlds exist, they probably look like the ones from O'Rourke's imagination.
Sometimes in books where world-building is so comprehensive and so detailed, plot and characterization suffer, but that's not the case here. The plot is smart, complex, and hinges both on this huge concept as well as the unique characters O'Rourke has created – rule-breaker Del, her strict sister Addy, and their senile-but-maybe-not grandfather Monty. Good speculative fiction is still character-driven, no matter how high the concept, and Dissonance fulfills this requirement. While it wouldn't interest readers who need something fast-paced to stay engaged, I have no doubt it will more than satisfy those who can't stop thinking about what it would be like to visit an alternate world themselves.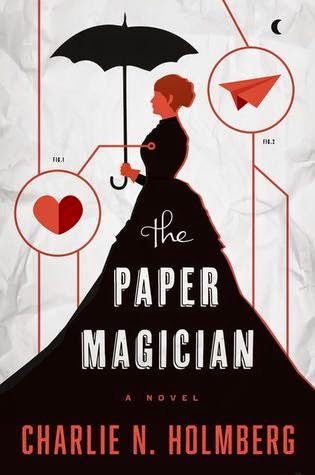 The Paper Magician by Charlie N. Holmberg
This is such an odd little book, one that doesn't feel much like YA. It's short and reads more like a novella, with sketchy world-building, a small cast of (rather thin) characters, and a single, focused storyline. Ceony Twill has just graduated at age 19 from the Tagis Praff school for the magically inclined. She wanted to be a Smelter, a magician who works with metal, but she's been forced into an apprenticeship as a Folder – a paper magician – under magician Emery Thane. One she's bonded to paper, she can't work magic with any other material. Ceony is heartbroken, but it's a career as a Folder or a career without any magic at all. She decides to make the best of a bad situation.
This one drew me in initially with its oddness. I enjoyed reading about the tricks paper magicians could do, such as making stories written on paper come to life for a time by reading them aloud, or animating folded shapes by commanding them to breathe. Thane is suitably strange, obviously hiding some secrets. It lost me about a third of the way through, when Thane is attacked by his ex-wife, who rips his heart out of his chest. Ceony replaces his heart with a paper version, which will sustain him for a time. All this intrigued me; it's when Ceony sets off to find his real heart and somehow gets caught inside it that made me scratch my head. From that point on, the book is a journey through the different parts of Thane's heart (metaphor!) and life. We see flashbacks to his time as a child, marrying his wife, becoming estranged from his wife. We see his hopes, his dreams, his doubts, his fears. I've never been one for flashbacks and dream sequences, much less prolonged ones that encompass almost an entire novel. Characters should be built from their actions, not their dreams. Give this one to readers who delight in the odd and don't share my aversion to flashbacks.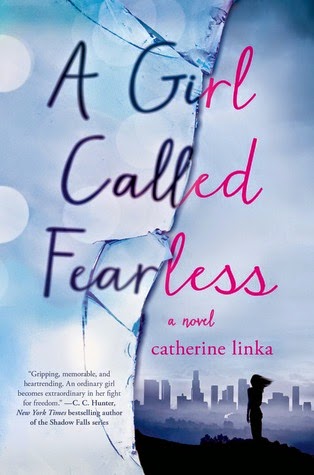 A Girl Called Fearless by Catherine Linka
Avie lives in an America where almost all women who consumed a deadly hormone in beef have died of cancer. Only the very old and the very young lived. It is now ten years later, and America has to come to terms with its decimated female population. The Paternalists have taken power, restricting women's and girls' freedoms in order to "protect" them. They can't go to college, and they're married off at a young age (such as sixteen) to much older men, told they must dedicate themselves to having a lot of children. Avie's father has always promised she could go to college – even if it has to be in Canada – but in order to save his struggling business, he sells her to a rising Paternalist star. This man is 35 years old and it quickly becomes clear that Avie will be his prisoner. She decides to run.
This is another dystopia by way of The Handmaid's Tale, albeit a well done one (though with much less nuance). It's fast-paced and focuses mainly on Avie's escape and its aftermath, plus a few scenes clearly meant to horrify (such as when Avie's intended "sticks his tongue down her throat," always a phrase guaranteed to elicit shudders). The plot crumbles a bit at the end, with the less-than-surprising revelation/twist that the Paternalists aren't actually trying to protect women and girls, but rather disenfranchise them. (Most readers will be shocked that the characters are shocked; preventing women from going to college and marrying them off to 35 year old men at age 16 was never about protection in the past.) This would be a good pick for readers who aren't yet burned out on this particular sub-sub-genre (dystopias where women are subjugated) or who perhaps haven't read much of it before. Readers who enjoyed Kristen Simmons' Article 5 would probably enjoy this one as well, as the two seem almost identical in execution.
Dissonance and A Girl Called Fearless borrowed from my library; Paper Magician provided by the publisher.