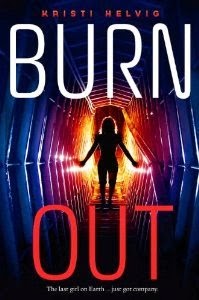 Burn Out by Kristi Helvig
Part of the reason I love SFF so much – and always have – is how fun it can be. Authors can really let their creativity fly and not worry so much about trivial things like "Could this actually happen?" Burn Out is probably the most fun Cybils nominee I've read so far. It's set 300 years in our future, after an asteroid that was heading for Earth was deflected and hit the sun instead, causing it to advance much more rapidly through its life cycle. It's now a red giant, all the oceans on the planet have dried up, it's too hot to go outside for more than a minute or two at a time, and most humans live underground or in protected pods, using a machine to drag the last bit of moisture out of the air in order to survive. (You could ask me if this could actually happen and I could honestly say I don't know, but my first guess would be "probably not.") Tora lives underground, alone, after her mother and sister were killed by the sun and her father was murdered by the people he worked for after he refused to hand over the powerful weapons he built for them.
Tora has resigned herself to probably ending her own life eventually. The air soon won't have enough water left in it and she figures it will be less painful to overdose on pain pills than die of dehydration. Then an old family "friend," Markus, comes knocking on her door. He says the Earth's leaders have found another planet where humanity can live. He can take her there. The price is her dad's weapons, left in Tora's safekeeping. Tora knows they were made to be used on other humans, which is why her father refused to give them up in the end. Tora says no. Markus leaves, but he returns, and he brings friends. Not the nice kind.
This is an action-packed story, told in Tora's funny, sarcastic voice that kept me flipping through the pages. The plot has a hole big enough to drive a truck through, but that didn't dampen my enjoyment. The setting is unique and the futuristic concepts are interesting, including a gun that can be keyed to a person's particular vibrations, allowing only that person to use it. Each of the characters have ulterior motives, and Helvig teases these out over the course of the story, providing the plot with plenty of twists and turns. Some questions are answered by the end, and some aren't, clearly leaving an opening for a sequel. You can bet I'll be reading it.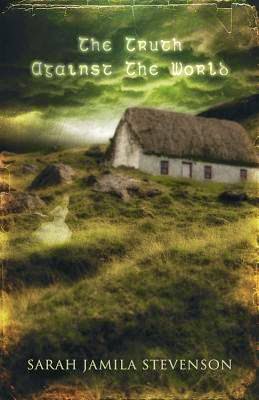 The Truth Against the World by Sarah Jamila Stevenson
Olwen Nia Evans, Wyn for short, is moving with her family for a few weeks to Wales, to a little town called Cwm Tawel. The trip is her great-grandmother's dying wish. She grew up in Cwm Tawel and wants to die there, among the peaceful scenery and familiar surroundings. Before the move, Wyn starts to have strange dreams of her great-gran and a little girl, which she blogs about. Another boy, an English boy with his own family ties to Cwm Tawel, stumbles across Wyn's blog after a recent visit to his great-grandfather in Wales, where he found a headstone bearing Olwen's name – and had his own run-in with a strange little girl. The two eventually meet up in Cwm Tawel and set about solving the mystery of the ghost Olwen Nia Evans, which involves digging up painful family history that some residents of the town would prefer stayed buried.
Stevenson's book is unique for its setting; Wales doesn't get a lot of love in the YA world, especially compared to its UK counterparts. I can easily see the descriptions of the country's natural beauty encouraging readers to seek out more information or dreaming about visiting themselves. This is a gentle story, perhaps too gentle, as the stakes never seem very high. The solution to ghost Olwen's mystery is too simple and will be easily deciphered by readers familiar with ghost stories. This would be a good pick for younger, patient readers who may not guess the connection between the ghost and Wyn's great-grandmother from the start. (A pronunciation guide would have also been helpful for the nerdy readers.)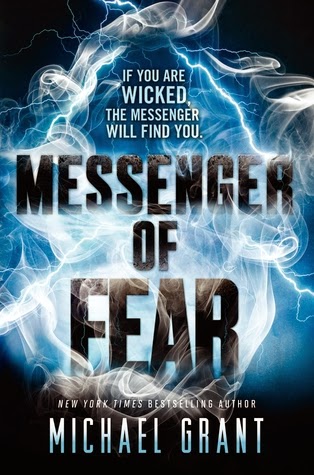 Messenger of Fear by Michael Grant
Grant's latest is a series opener, though it stands on its own easily. Mara wakes up without any knowledge of who she is, other than her name. (Yes, it's another amnesia book.) She's greeted by someone who tells her he is the Messenger of Fear, and that before she lost her memories, she agreed to be his apprentice. Their duty is to confront those who have done wrong and present them with a choice: play a game, win it, and go free; or refuse or lose the game and face their worst fear. Messenger starts by showing Mara a teenage girl's suicide, then rewinds time and shows her the events leading up to it. None of the events can be changed, but they must learn from what happened in order to present an appropriate game – and mete out the appropriate punishment if the wicked person loses.
This is not as much of a horror novel as the title or the cover would have you believe, despite a scene where a person is burned alive (described in detail). Fear is not really its goal. Instead, it's more of an exploration of guilt and atonement, of the choices we make and how – if – we can make reparations. The idea behind the Messenger is to restore balance to the universe. Those who have not been punished by a human court must suffer a visit from the Messenger of Fear, in hopes of preventing the wicked from committing the same actions in the future. The situations Mara and Messenger view are realistic and presented with shades of grey. More often than not, multiple people are at fault rather than a single individual. It is left up to the reader to determine if the wrongdoer's interactions with Mara and Messenger have set the balance right – if such punishment is justice or if it's merely cruelty.
There's a twist to the story that sharp readers will see coming, though the hints sprinkled throughout start light and grow heavier as the story progresses. It will take a truly eagle-eyed reader to spot the truth from the beginning, keeping tension high through most of the novel. Picking out the twist before the end isn't always a bad thing, provided it doesn't happen too soon (as I think it would in the book above). There's a certain satisfaction in putting the pieces together yourself over several chapters and then learning you were right in the end. At times gruesome, the book is also thought-provoking and smoothly written, easily absorbed in an afternoon.