For October's genre guide, we wanted to tackle something horror-related, and we settled on gothic fiction. This is one of those genres that I think everyone recognizes when they read it, but it's difficult to say just what it is that makes it gothic. It's tricky to define.
Goodreads says that gothic fiction "combines elements of both the uncanny and romance" and is a "parent genre" for horror and mystery. While I think the former is true (and it encompasses books that are gothic in feel but aren't necessarily horror), I don't quite agree with the latter. I doubt many readers would say that all horror novels are gothic, but the opposite is mostly true – most gothic novels are horror.
The good ol' dictionary (Random House 2014) gives us a better working definition, I think. Entry seven says that the word gothic means "noting or pertaining to a style of literature characterized by a gloomy setting, grotesque, mysterious, or violent events, and an atmosphere of degeneration and decay." Entry nine is similar but a bit more specific (and kind of amusing): "being of a genre of contemporary fiction typically relating the experiences of an often ingenuous heroine imperiled, as at an old mansion, where she typically becomes involved with a stern or mysterious but attractive man." The first definition is used more frequently with the 19th century classic novels, whereas the second one is reserved for more modern novels, but they certainly evoke the same feel.
And this is where I think the true definition lies – it's the feeling of the novel that makes it gothic. The word brings to mind old castles and churches (built in the Gothic style from which the term for this fiction derives), ghosts, atmospherically foggy nights, monsters (or humans appearing as monsters), tortured heroes and heroines, dangerous secrets, romance, strong emotion. The setting is paramount and is practically a character unto itself. All of these things are hallmarks of modern gothic fiction.
Classic examples of the genre include Frankenstein, Dracula, and of course my favorite, Jane Eyre. The three books are quite different from each other, the former two falling squarely in the horror genre and the latter being spooky at times but not really terrifying like we think horror should be. (Furthermore, Jane Eyre is strictly realistic while Frankenstein and Dracula are science fiction and fantasy, respectively). Gothic fiction of today runs the gamut from terrifying to almost benign, too, though the moody feel of the stories is something they all have in common.
Below are a few worthwhile resources to enhance your knowledge.
Below are several recent (within the last five years or so) books published that could be called gothic fiction. Descriptions are from Worldcat. Did we leave off any of your favorites?
Dark Companion by Marta Acosta
Brought back to life and orphaned at the age of six, Jane Williams grows
up in a series of foster homes and wins a scholarship to the exclusive
Birch Grove Academy, where dark secrets abound.
The Twin's Daughter by Lauren Baratz-Logsted
In Victorian London, thirteen-year-old Lucy's comfortable world with her
loving parents begins slowly to unravel the day that a bedraggled woman
who looks exactly like her mother appears at their door. | Kelly's review
Long Lankin by Lindsey Barraclough
When Cora and her younger sister, Mimi, are sent to stay with their
great Auntie Ida in an isolated village in 1958, they discover that they
are in danger from a centuries-old evil and, along with village boys
Roger and Peter, strive to uncover the horrifying truth before it is too
late. | Kelly's review
Servants of the Storm by Delilah S. Dawson
After her best friend dies in a hurricane, high schooler Dovey discovers
something even more devastating–demons in her hometown of Savannah.
Of Metal and Wishes by Sarah Fine
After a Noor humiliates her and a ghost grants an impulsive wish of hers
— brutally — sixteen-year-old Wen befriends the Noor, including the
outspoken leader, a young man named Melik, leading Wen to appease the
ghost, who is determined to protect her against any threat–real or
imagined.
Beautiful Creatures by Kami Garcia and Margaret Stohl
In a small South Carolina town, where it seems little has changed since
the Civil War, sixteen-year-old Ethan is powerfully drawn to Lena, a new
classmate with whom he shares a psychic connection and whose family
hides a dark secret that may be revealed on her sixteenth birthday. | Sequels: Beautiful Darkness, Beautiful Chaos, Beautiful Redemption
Blythewood by Carol Goodman
After a summer locked away in a mental institution, seventeen-year-old
orphan Ava Hall is sent to Blythewood, a finishing school for young
ladies that is anything but ordinary. | Sequel: Ravencliffe (December 2014)
Cuckoo Song by Frances Hardinge
When Triss wakes up
after an accident, she knows that something is very wrong. She is
insatiably hungry; her sister seems scared of her and her parents
whisper behind closed doors. She looks through her diary to try to
remember, but the pages have been ripped out. Soon Triss
discovers that what happened to her is more strange and terrible than
she could ever have imagined, and that she is quite literally not
herself. In a quest find the truth she must travel into the terrifying
Underbelly of the city to meet a twisted architect who has dark designs
on her family – before it's too late.
Darkness Becomes Her by Kelly Keaton
In post-apocalyptic New Orleans, now a sanctuary for supernatural
beings, a hardened teenager on the run searches for the truth about her
monstrous heritage and discovers a curse that could ignite the ancient
war between gods and monsters. | Sequels: A Beautiful Evil, The Wicked Within
The Beautiful and the Cursed by Page Morgan
Residing in a desolate abbey protected by gargoyles, two beautiful
teenaged sisters in turn-of-the-twentieth-century Paris discover deadly
and otherworldly truths as they search for their missing brother. | Sequels: The Lovely and the Lost, The Wondrous and the Wicked
Strands of Bronze and Gold by Jane Nickerson
After the death of her father in 1855, seventeen-year-old Sophia goes to
live with her wealthy and mysterious godfather at his gothic mansion,
Wyndriven Abbey, in Mississippi, where many secrets lie hidden. | Kimberly's review
Gothic! Ten Original Dark Tales edited by Deborah Noyes
Drawing on dark fantasy and the fairy tale as well as horror and wild
humor, ten acclaimed authors pay homage to the gothic tale in
wide-ranging stories of the supernatural and surreal.
This Dark Endeavor by Kenneth Oppel
When his twin brother falls ill in the family's chateau in the
independent republic of Geneva in the eighteenth century,
sixteen-year-old Victor Frankenstein embarks on a dangerous and
uncertain quest to create the forbidden Elixir of Life described in an
ancient text in the family's secret Biblioteka Obscura. | Sequel: Such Wicked Intent
Miss Peregrine's Home for Peculiar Children by Ransom Riggs
After a family tragedy, Jacob feels compelled to explore an abandoned
orphanage on an island off the coast of Wales, discovering disturbing
facts about the children who were kept there. | Sequel: Hollow City
Asylum by Madeleine Roux
Three teens at a summer program for gifted students uncover shocking
secets in the sanatorium-turned-dorm where they're staying–secrets that
link them all to the asylum's dark past
White Crow by Marcus Sedgwick
Sixteen-year-old Rebecca moves with her father from London to a small,
seaside village, where she befriends another motherless girl and they
spend the summer together exploring the village's sinister history.
The Madman's Daughter by Megan Shepherd
Dr. Moreau's daughter, Juliet, travels to her estranged father's island,
only to encounter murder, medical horrors, and a love triangle.
In the Shadow of Blackbirds by Cat Winters
In San Diego in 1918, as deadly influenza and World War I take their
toll, sixteen-year-old Mary Shelley Black watches desperate mourners
flock to séances and spirit photographers for comfort and, despite her
scientific leanings, must consider if ghosts are real when her first
love, killed in battle, returns. | Kimberly's review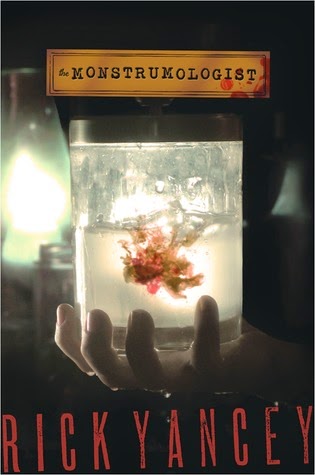 The Monstrumologist by Rick Yancey
In 1888, twelve-year-old Will Henry chronicles his apprenticeship
with Dr. Warthrop, a New Escientist who hunts and studies real-life
monsters, as they discover and attempt to destroy a pod of
Anthropophagi. | Sequels: The Curse of the Wendigo, The Isle of Blood, The Final Descent