These two books don't have a common thread to them, except that they both explore themes of friendship, of being the new kid at school, and they're both books that hit shelves this month. I highly recommend both, as they're strong, solid additions to the contemporary realistic YA shelves.
Fiona Wood's novel isn't her debut, but it's her first US publication — it's the second book in a very loose duology, and the first book, Six Impossible Things, will hit shelves next spring here. Rachel M. Wilson's Don't Touch is her debut novel.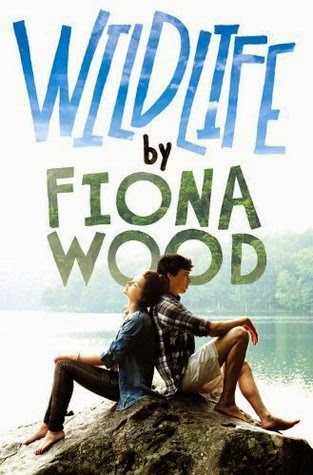 In Wildlife by Fiona Wood, Sib begins the wilderness term with her classmates, she's best friends still with Holly, and on the brink of a relationship with Ben, who she kissed at a party. Sib's gotten a lot of attention lately, thanks to her face being plastered on a billboard. It was a modeling gig she did for a little cash, on the suggestion of her aunt. This stint with "fame" changed how her classmates — and Holly — interact with her, even if it doesn't change Sib in the least.

Lou is the new girl, tossed into this wilderness term without any immersion with these peers prior. She's grieving, deeply grieving, and she's private about what she's going through. She's not ready to open up, and even when pushed to the brink, she won't.

Until she does with Michael.

It's through her relationship and opening up with Michael that Lou begins to forge a relationship with Sib and helps Sib realize that people like Holly are energy saps. . . not best friend material. That people like Holly are the reason that Sib may become hurtful herself.

Wildlife is an excellent book about friendships and peer relationships, as well as about sexuality. Wood uses the words to describe what goes on in sexual experiences, through the voices of Sib and Lou, and it never comes off clinical nor does it come off as being too technical for how a teen girl might think. Even though Sib may not be happy with the choices she makes, she empowers herself with the ability to make those choices. In particular, I was impressed with a scene wherein one of the characters says explicitly that sex did not hurt because she'd educated herself with how her body works and feels. This moment was refreshing to read because it's such a rarity in YA — usually, we have girls who are scared, worried, and fearful of what their bodies can and do do. This is the kind of scene that many teen girls need to read because it offers a refreshing and realistic alternative to the all-too-common narratives of fear and shame associated with sex, especially debut sexual encounters.
More, I loved the friendship aspects of Wildlife. Wood offers girls who see friendship in very different ways, and it's through these diverging perspectives that there's an opportunity for one girl to see how her "friend" was far from that toward her. The perspective of female friendship as toxic and female friendship as supportive, caring, and loving butting against one another offer up something we don't see enough of in YA. Because it's told through two points of view, we get to see these relationships from the inside and from the outside.

This is a story about coming into yourself and acting and reacting for yourself, rather than putting on a face or a performance for those around you. This is easily one of the best YA titles published this year in contemporary YA, and it'll appeal to fans of Sarah Dessen, Siobhan Vivian, and perhaps even more so to fans of Melina Marchetta and Sara Zarr. It's literary, with depth, heart, and tremendous respect for the complexities of being a teen girl dealing with teen girl challenges.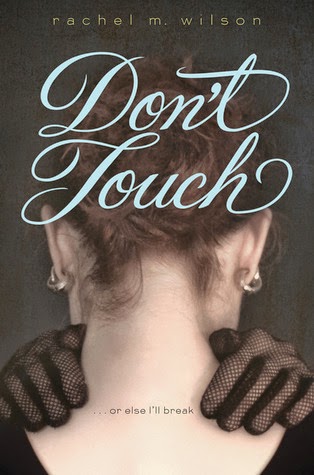 Rachel M. Wilson's debut Don't Touch may be one of the best explorations of OCD I've read in YA.
Caddie has always wanted to attend Birmingham's high school for artists, but she's never pursued it for a number of family-related reasons. But when her mom gives her the go-ahead and she is accepted, things around her begin to fall apart. Her dad and mom separate, and Caddie begins to think that her actions — in trying out and getting into the school, in touching or not touching other people — would change the situation. When those thoughts begin racing, her mind begins to make deals with herself as a means of coping with the stress and change in her situation. And her mind begins to deceive her, convincing her that were she to touch anyone skin-to-skin, things would just get worse.
On the first day at the academy, Caddie reunited with an old best friend, who convinces her to try out for the school play. They're doing Hamlet, and Caddie's always wanted to play Ophelia. Both girls try out for the part, and it's Caddie who scores it. The problem, of course, is that when she's paired opposite Peter, playing Hamlet, those scenes where the characters may have to touch send her into a state of panic. She can't touch him and she can't let herself touch him.
It becomes more complex when Peter and Caddie begin to fall for one another romantically.
Don't Touch renders a side of OCD that's realistic to the illness, rather than what we're shown too frequently in the media. This isn't about overt rituals, though those periodically emerge. This is about what happens internally and the anxiety that irrational thoughts can cause an individual and how that individual has to rationalize those irrational thoughts in a way that allows them to function. Caddie knows her "don't touch" mentality is wrong and that nothing bad will happen if she touches another person. The problem is, her brain doesn't know this and won't shut up unless she listens. Caddie is resistant to telling either Peter or her best friend Mandy about it. She's terrified that by sharing what's going on and naming the illness, she'll lose those connections; anxiety fuels further anxiety which fuels even further anxiety. So rather than tell them, she withdraws when the anxiety becomes overwhelming. That withdrawal concerns both of them, as they think it's a reaction to them or things they've said or done — and in Peter's case, touching her in a way that shows his sincere affections for her. It's a back-and-forth tug that leaves all parties uncomfortable in a way that's painful and honest.
There comes a turnaround point in the story, and that may have been where I found Wilson's writing a character with OCD to be the most solid. Caddie does not recover immediately, and in fact, she's not fully recovered in the end. But she learns methods of coping with her illness, and through those tools, she's better able to talk about what's going on with those who love and care about her. She has to face her fears and anxieties and know that doing so may not rid her of the anxiety, but it's a big part of better compartmentalizing it. Through this, she's able to really solidify those relationships that are good to her and good for her. That includes the sweet, budding relationship with Peter.
Don't Touch is the kind of YA novel you can hand to YA readers anywhere along the teen spectrum. This is a longer book, but it never reads long or feels overdone. This would work for those 12-13 year olds ready to wade in, and readers who love stories about theater and art kids will find much to enjoy here, as Wilson brings Shakespeare and acting alive. Readers who love Laurie Halse Anderson's Impossible Knife of Memory will want to pick up this book.
Both Wildlife and Don't Touch are available now. Wildlife was sent from a friend, and Don't Touch was sent for review from the publisher.