For this month's genre guide, we're tackling mythology, which actually crosses genres. Though it's most often associated with fantasy (the myths themselves are full of what modern readers would call magic), there are also some intriguing mythology-inspired stories that are strictly realistic, plus some historical fiction and science fiction too. Part of the appeal of mythology, much like with fairy tale re-tellings, is its ability to recall familiar stories while simultaneously making them new again.
In this guide, we use the word "mythology" to mean a collection of traditional or legendary stories, often involving gods and goddesses. Usually, myths are created to explain phenomena that can't be explained using natural or scientific means (how the earth and humanity came to be, for example). We focus mainly on ancient mythology here: the religious and spiritual beliefs of peoples long-dead that are generally considered untrue – therefore mythical – by modern humans. That said, it's certainly possible to call more modern religious or spiritual beliefs "mythical" – and some people do. I took a class in college where the professor stated the only difference between mythology and modern religion is that no one believes in the myths anymore. (Not all of you may agree with this, but it's interesting to think about.)
This is important to consider when choosing the right term for a particular book inspired by a traditional story – is the story a myth or a religious parable? The word "myth" is heavily loaded and implies untruth. This might be more of a challenge for Western librarians who come across non-Western stories featuring gods and goddesses about which they know very little. (All the more reason to become acquainted with the beliefs of all peoples across the world and know which beliefs are mythical and which remain a part of the living religion.)
Mythology is ripe for re-imaginings since it's already full of action, war, love, and betrayal – the stuff of any good story. It's a perennially popular topic for kids and teens and will often lead them to check out some nonfiction on their favorite gods, goddesses, or creatures. (Edith Hamilton's Mythology is the classic work, and younger kids at my library have loved the Mythlopedia books from Scholastic.) Greek mythology reigns; this was true even before Percy Jackson conquered the shelves. Still, the success of Rick Riordan's novels has given rise to mythology-inspired stories from many different pantheons, including Norse, Japanese, and Korean.
Before we get to the booklist, here are a few resources of interest:
A lot of mythology-inspired stories being published today are more middle grade than YA, probably due to Percy Jackson's influence (think of Loki's Wolves or The Savage Fortress). Riordan's stories have good crossover appeal to teens, though, and I wouldn't be surprised if other middle grade mythology stories do as well. That said, there are plenty of solidly teen stories about mythology out there, and we've compiled a list for you below. They're mainly broken down by pantheon, though those with only one or two books have been combined by region.
If you know of any others, particularly realistic or Asian or African-inspired, please let us know in the comments.
Greek & Roman
Starcrossed by Josephine Angelini
When shy sixteen-year-old Helen Hamilton starts having vivid dreams
about three ancient, hideous women and suddenly tries to kill a new
student at her Nantucket high school, she discovers that she is playing
out some version of an old tale involving Helen of Troy, the Three
Furies, and a mythic battle. Sequels: Dreamless, Goddess
Everneath by Brodi Ashton
Regretting her decision to forfeit her life on Earth to become an
immortal on Everneath, a world between Earth and Hell, teenaged Nikki is
given the chance to return to the Surface for six months, in this story
loosely based on the "Hades and Persephone" myth. Sequels: Everbound, Evertrue
Of Poseidon by Anna Banks
Galen, prince of the Syrena, is sent to land to find a girl he's heard
can communicate with fish. He finds Emma and after several encounters,
including a deadly one with a shark, Galen becomes convinced Emma holds
the key to his kingdom. Sequels: Of Triton, Of Neptune
Antigoddess by Kendare Blake
Athena and Hermes' search for the cause of their unexpected,
life-threatening illnesses leads them to Cassandra, a former prophetess,
who may be key to a war started by Hera and other Olympians who have
become corrupt anti-gods determined to destroy their rivals. Sequels: Mortal Gods (October), Ungodly (2015)
Love in the Time of Global Warming by Francesca Lia Block
After a devastating earthquake destroys the West Coast, causing
seventeen-year-old Penelope to lose her home, her parents, and her
ten-year-old brother, she navigates a dark world, holding hope and love
in her hands and refusing to be defeated. [Based on the Odyssey] Sequel: The Island of Excess Love
The Goddess Test by Aimee Carter
Eden, Michigan, high school student Kate Winters strikes a bargain with
Henry, Greek god of the underworld, if he'll cure her dying mother of
cancer. The bargain she strikes with him is a grim one, but the full
enormity of what she has undertaken–"live forever or die trying"–Is
not revealed until it's too late to recant. Sequels: Goddess Interrupted, The Goddess Inheritance
Oh. My. Gods. by Tera Lynn Childs
When her mother suddenly decides to marry a near-stranger, Phoebe, whose
passion is running, soon finds herself living on a remote Greek island,
completing her senior year at an ancient high school where the students
and teachers are all descended from gods or goddesses. Sequel: Goddess Boot Camp
Cruel Beauty by Rosamund Hodge
Betrothed to the demon who rules her country and trained all her life
to kill him, seventeen-year-old Nyx Triskelion must now fulfill her
destiny and move to the castle to be his wife. [There are elements of a number of myths here, including Hades/Persephone and Pandora's box.] Kimberly's review

Solstice by P. J. Hoover
Eighteen-year-old Piper lives with her controlling mother amid a Global
Heating Crisis, but when she gets her first taste of freedom she
discovers a universe of gods and monsters where her true identity, kept
secret from her birth, could make all the difference in the world.
Darkness Becomes Her by Kelly Keaton
In post-apocalyptic New Orleans, now a sanctuary for supernatural
beings, a hardened teenager on the run searches for the truth about her
monstrous heritage and discovers a curse that could ignite the ancient
war between gods and monsters. Sequels: A Beautiful Evil, The Wicked Within
All Our Pretty Songs by Sarah McCarry
In the Pacific Northwest, the bond between two best friends is
challenged when a mysterious and gifted musician comes between them and
awakens an ancient evil.
[Inspired by the Orpheus myth]
Sequel:
Dirty Wings
, inspired by the Persephone/Hades myth
Over You by Amy Reed
A novel about two girls on the run from their problems, their pasts, and
themselves. Max and Sadie are escaping to Nebraska, but they'll soon
learn they can't escape the truth. [Inspired by a number of Greek myths presented as chapter introductions] Kelly's review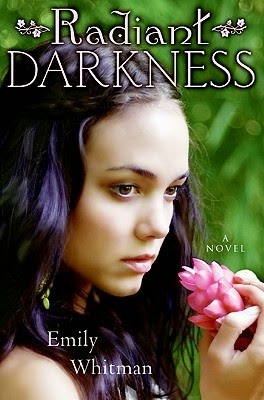 Radiant Darkness by Emily Whitman
Persephone runs off to the Underworld with Hades, with whom she has
fallen in love, but when her mother Demeter threatens to destroy the
earth to save her, Persephone finds a way to come back once a year,
bringing spring.
Egyptian
Sphinx's Princess by Esther Friesner
Although she is a dutiful daughter, Nefertiti's dancing abilities,
remarkable beauty, and intelligence garner attention near and far, so
much so that her family is summoned to the Egyptian royal court, where
Nefertiti becomes a pawn in the power play of her scheming aunt, Queen
Tiye. Sequel: Sphinx's Queen
Cleopatra Confesses by Carolyn Meyer
Princess Cleopatra, the third (and favorite) daughter of King Ptolemy
XII, comes of age in ancient Egypt, accumulating power and discovering
love.
Cleopatra's Moon by Vicky Alvear Shecter
Cleopatra Selene, the only surviving daughter of Cleopatra and Marc
Antony, recalls her life of pomp and splendor in Egypt and, after her
parents' deaths, captivity and treachery in Rome.
The Chaos of Stars by Kiersten White
Sixteen-year-old Isadora, the mortal daughter of Isis and Osiris, is
sick of being in the middle of family drama so she jumps at the chance
to leave Egypt and start a new life in San Diego with her brother.
Norse
Stork by Wendy Delsol
After her parents' divorce, Katla and her mother move from Los Angeles
to Norse Falls, Minnesota, where Kat immediately alienates two boys at
her high school and, improbably, discovers a kinship with a mysterious
group of elderly women–the Icelandic Stork Society–who "deliver
souls." Sequels: Frost, Flock
The Lost Sun by Tessa Gratton
In an alternate U.S.A. (the United States of Asgard), Soren Bearskin,
the son of an infamous beserker, and Astrid Glyn, daughter of a renowned
seer, embark on a road trip to find Baldur, the missing god whose
absence has caused panic throughout the country. Sequel: The Strange Maid
Starling by Lesley Livingston
Mason Starling, a champion fencer at Gosforth Academy, finds her school
overrun with terrifying creatures after a mysterious, ferocious storm
falls on Manhattan and the mysterious stranger who saves her life
becomes her only ally as they work together to discover his past and
learn of Mason's family's dark allegiance to ancient Norse gods. Sequels: Descendant, Transcendent
Valkyrie Rising by Ingrid Paulson
While visiting Norway, sixteen-year-old Ellie must step out of the
shadow of her popular older brother, join forces with his infuriating
best friend, and embrace her Valkyrie heritage to rescue teen boys
kidnapped to join the undead army of the ancient god, Odin.
Asian
Ink by Amanda Sun (Japanese)
Stuck with her aunt in Shizuoka,
Japan, Katie feels lost. When Katie meets
aloof but gorgeous Tomohiro, the star of the school's kendo team,
she is intrigued by him…and a little scared. His tough attitude seems
meant to keep her at a distance, and when they're near each other,
strange things happen. And unless
Katie is seeing things, drawings come to life. Somehow Tomo is connected
to the kami, powerful ancient beings who once ruled Japan–and as
feelings develop between Katie and Tomo, things begin to spiral out of
control. The wrong people are starting to ask questions, and if they
discover the truth, no one will be safe. Sequel: Rain
Stormdancer by Jay Kristoff (Japanese)
In this dystopian steampunk fantasy set against a backdrop of feudal
Japan, warrior Yukiko captures a supposedly extinct (but crippled)
griffin for the Shogun, then learns — after meeting secretive Kin and
the rebel Kage cabal — of the horrifying extent of the Shogun's crimes,
both against her country and her family. Returning to the city, Yukiko
is determined to make the Shogun pay — but what can one girl and a flightless griffin do against the might of an empire? Sequels: Kinslayer, Endsinger (November)
Prophecy by Ellen Oh (Korean)
A demon slayer, the only female warrior in the King's army, must battle
demon soldiers, an evil shaman, and the Demon Lord to find the lost ruby
of the Dragon King's prophecy and save her kingdom. Sequels: Warrior, King (2015) | Kimberly's review
Silver Phoenix by Cindy Pon (Chinese)
With her father long overdue from his journey and a lecherous merchant
blackmailing her into marriage, seventeen-year-old Ai Ling becomes aware
of a strange power within her as she goes in search of her parent. Sequel: Fury of the Phoenix
Other
The Woken Gods by Gwenda Bond (multi-pantheon)
This morning, seventeen-year-old Kyra Locke was late for school. But
that's not out of the ordinary in a transformed Washington, D.C.,
dominated by the embassies of divine pantheons and watched over by the
mysterious Society of the Sun that governs mankind's relations with the
gods. What is unusual is Kyra's encounter with two trickster gods on her
way home, one offering a threat, and the other a warning.
Guardian of the Dead by Karen Healey (Maori)
Eighteen-year-old New Zealand boarding school student Ellie Spencer must
use her rusty tae kwon do skills and new-found magic to try to stop a
fairy-like race of creatures from Maori myth and legend that is plotting
to kill millions of humans in order to regain their lost immortality.