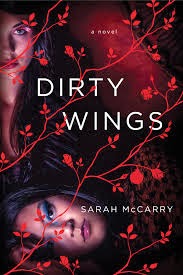 Maia and Cass's friendship happens by chance. Their worlds should have never collided, but they did, and now that they have, the girls are inseparable.
Maia's adopted, "lucky" to be living in a home where everything she ever needs is handed to her — as long as she's proper, behaves, doesn't get out of line, and pursues that talent she has playing piano. She's Vietnamese, and has no knowledge of her birth lineage or how she ended up in this home, with this strict, powerful mother and a father who is more absent, more hung over, than he is present.
Cass is a street girl. She lives in a squat house, wears the kinds of things you'd expect of a girl who doesn't have a home to go back to. It wasn't her choice, after the abusive step fathers and the mother who couldn't offer any most stability than she thought she could make for herself. Hers is a tough life, a brutal contrast to Maia's, but it's when their paths collide and when Cass gives Maia a taste of the wild freedom she has, that Maia can't get enough. That Maia wants to experience for and by herself.
Dirty Wings is the second book in Sarah McCarry's trilogy that begins with All Our Pretty Songs. It can be read alone, as a stand alone, since the events within the first book don't have any bearing on the events of the second. This is a book about the teen lives of the mothers of the girls in book one, and while it informs All Our Pretty Songs, you could read these books out of order (though I will say that one of the revelations that comes at the end of Dirty Wings was so powerful, it made me go back and reread the first book because I put together some of the pieces of mistruth betrayed by the unnamed narrator in that story).
In Dirty Wings, an intense, life-changing friendship unravels, but it's not a pretty, glossy kind of friendship. It's rough and it's dirty, and it's transformative for both girls.
The narrative in this story moves back and forth between the present "Now" and the past "Then." We begin in the now, as one girl stands on the edge of a cliff, ready to throw herself down and end her life. The other girl pulls her back. It is here we see the immediacy — the necessity — of their friendship. We flash back, then, to the moment they met, and then further back to the moments where they realized how much they needed one another even then. Maia needed Cass to help her come to her own, and Cass, despite later insistency that she never changed, needed Maia to help show her what a fulfilling, loving friendship could be.
Because what Maia and Cass have for one another is love. It's a phrase they'll open themselves up to saying. A phrase that, for neither of them, had been empty before they found one another. A phrase that didn't have the heart behind it. A phrase that comes with actual tender feelings that neither had allowed themselves to have.
It's about intimacy that's not physical and not romantic.
Not until near the end of the story do we understand how the "Then" and the "Now" intersect. Because in the now, Cass and Maia are on the road. They're in California, then Mexico, then heading toward Seattle. In the "Then," both girls are deeply in Seattle and in their respective lives — Cass in the squat home and Maia in her pristine home, her hours split between her piano teacher Oscar's home practicing and her own home practicing even more. Cass's future is never talked about because her future is the day-by-day. Maia's, on the other hand, is clear. She's going to an audition at a major, prestigious school in New York City and if she gets in (when she gets in), her life will be on the exact right path. Or will it be? Is this her path or the path her parents and Oscar so desperately want for her?
When Maia and Cass are out together in the "Then," talking about the future, about their lives, about how they do and don't have the capacity to mold it to their liking, they decide it's time to get on the road. Maia steals her father's car, and that's when they enter the "Now."
Before they get to that point, it becomes clear there's something going on in the "Now" that doesn't make Cass all that happy. His name is Jason, and he's the leader in a band the girls went to see on one of their stops. He's nothing special, according to Cass, but the moment Maia sees him she falls desperately, hopelessly In Love, and the girls decide to follow him down to Mexico. It's an all-or-nothing romance Maia flings herself into, and Jason does nothing to stop her from falling for him. He encourages it even because he, too, enjoys what attention Maia puts upon him. It is no time before the two announce their engagement, and Cass is left to feel lost and alone in a way she never felt before. In a way that made her question her own future, now that she's lost her best friend to a boy who won her with pretty songs and pretty promises of a rock and roll future.
There is so much to dig into here. This is a rich, layered story with characters who are so deeply flawed and yet incredibly fascinating and compelling because of these very flaws. Cass and Maia's love for one another is palpable, and because McCarry's story is written from a third person point of view, it's clear that even when Jason enters the picture, Maia's love for her best friend doesn't go away. It's influenced and strained because of Jason and because of the excitement there is in chasing something new, but the feelings she has for Cass don't change because she recognizes that it's with Cass she was best able to think about who she is. Even if how she pursues it — how she chases it — how she names it — is wrong. At the end of the book, there's a great line where Cass talks about how much she's seen Maia change and grow over the course of their friendship but that she herself will always be the kind of girl she is. This line, seemingly simple, tells us as readers just how much Cass herself has changed, too.
We do end the story knowing Maia's pregnant.
We end the story knowing Jason's not going to be around much.
And we also end the story knowing something happened between Cass and Jason that unlocks a million answers to All Our Pretty Songs. Or at least, perhaps it unlocks a million answers — Cass's reliability is always up for question.
Woven into the story is the fantastical element. Dirty Wings takes from the myth of Persephone, but in no way is it a retelling nor is knowledge of the myth necessary to appreciate the story. Readers who do know it will get it and those who do not will see those elements as wholly part of the story itself. Both Maia and Cass are haunted by images of a man in a dark robe, and both of the girls have their own interpretations and expectations of this vision, and how each of them chooses to interact with it not only illuminates who they are as individuals, but also gives depth to what their relationship becomes at the end. This is fantasy light: there's not a world being built, and even with the interweaving of the Persephone myth, the question remains up in the air of whether what happened "actually" happened in the story or whether both girls suffer from something more internal. For me, it was a little bit of both, especially because of how Cass chose to pursue and compartmentalize these visions. Perhaps, too, it was symbolic of what could come between two girls who are best friends.
Dirty Wings will appeal to readers who want a challenging, literary story about friendship that pulses with music and gorgeous prose. It's not for the faint of heart readers — drugs, alcohol, partying, and sex are all part of this world, but by virtue of the way the girls are written and characterized, it's clear none of what they do or engage in is glamorized. Their choices impact them greatly. This is the kind of book perfect for those who identify as goth or alternative or who believe they don't ever see themselves present in books. They are here in this book and in a way that's authentic, thoughtful, and full of depth.
If you want to know a bit more about Dirty Wings or Sarah McCarry's writing, as well as enter to win copies of her books, check out this great interview.
Dirty Wings will be available next Tuesday, July 15 from St. Martin's Press. Review copy received from the publisher. In full disclosure, Sarah and I both write for Book Riot.