I'm a huge fan of Edelweiss. I've talked it up at a couple of library conferences, telling attendees that it's a one-stop shop for learning all about the books coming out that they should have on their radars. I used it regularly not only for features here at Stacked, but it's where I acquire some of my digital review copies of forthcoming titles.
Something I regularly hear, though, is that Edelweiss is not easy to use and for those who haven't been playing with it for a while, it can be extremely difficult to navigate. It's not intuitive. So I thought because it's a tool I find so useful and valuable not only in blogging but in librarianship, I'd offer up a quick and dirty how-to to Edelweiss. This is geared toward US librarians, educators, and bloggers who aren't otherwise familiar with the site and its interface, and I know for sure I'll miss some key or valuable features. Things might vary depending on what country you're in, which is why I note it's geared toward those in the US (I think most things should be the same if you're in Canada, but I can't tell you for certain). This is meant to be a beginner's guide, and it's meant to help make some of those really frustrating elements of the site easier to work through.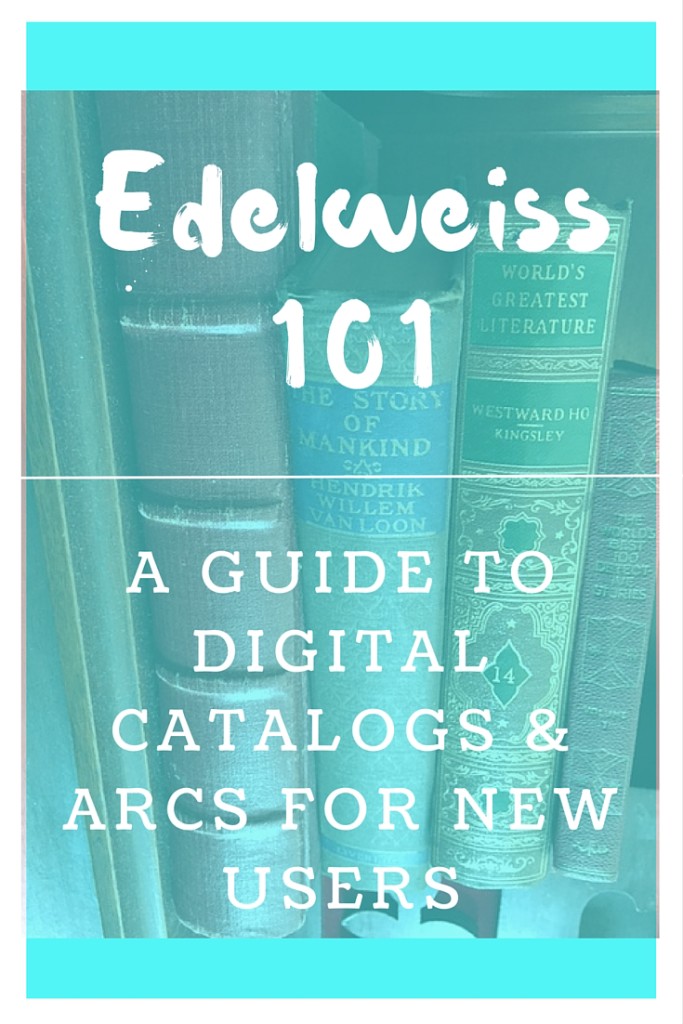 What IS Edelweiss?


First, if you haven't used it or have only heard of it in passing, you might not even know what Edelweiss is or where to find it.
Edelweiss is a one-stop shop for publishers to share their seasonal catalogs. It's not comprehensive, as it's opt-in by the publishers. But it offers the biggest place to peruse numerous catalogs; it saves you from having to track down each publisher's website then navigate their websites to find their most recent catalog. Many publishers not only have the current season up, but they have loads of former seasons still available and many of them will share specialty catalogs as well. Scholastic, for example, will offer not only the Fall 2014 catalog, but they'll also have a catalog of titles they spoke specifically about during one of their educator/librarian webinars, making it easy to see only the books that were talked about.
That's the front page of Edelweiss when you're not logged in with your own account. It's got the publishers listed on the left-hand sidebar, and down the center are the most recently added catalogs. Even if you're not logged in, you should be able to access many — if not all — of the catalogs when you click on a publisher's name. I'm logged out, and I clicked on the ABRAMS catalog:
All of their listings are along the left-hand sidebar, and down the center are the most recent catalogs they've added to Edelweiss.
Where looking at the entire catalog as a list gives you some basics about upcoming titles, clicking on the individual entries will give you far more in-depth information. This particular title doesn't have as much information in it as others do, but it gives you a summary, a biography of the author, and it lists the first book in the series as a comparable title. You can also see the reviews that the book's garnered, as well as blurbs that might have been given for the title.
The information presented varies depending upon the book and depending upon the publisher. Some offer far more information and some offer even less. Here's a title that gives a ton of great information about the book:
The comp titles for this entry are all Marr's previous titles. This isn't particularly useful when you know the author's other works, but it can be useful to know it's going to be fairly similar to her prior books and it can be useful to know in the event you've missed an older title.
There are some publishers which offer really great comp titles in their entries that can be extremely useful for figuring out what a book might be about or who that book might appeal to.
While you can pull a lot of information out of Edelweiss without an account, you're also limited in what you can do. For one thing, there's not a good search interface. You can't, from the front page, look up books well. Even within catalog, it's not easy to search through titles. So if you wanted to pull up information for a book, you'd have to dig around for it.
If you're not logged into Edelweiss, you also have no access to digital ARCs, either. You have no idea whether a title is available for request because the buttons just don't exist at all.
You don't have the capability of looking up buzzing titles. In fact, the way the home page of Edelweiss looks when you're logged in as opposed to using outside your account is substantially different. This is my homepage while logged in:
I'm able to pick up where I may have last been looking (the center column tells me the last catalogs I looked at), and I'm able to simple do and peruse a lot more.
It's easy to sign up for Edelweiss and have access to a lot more information. Signing up does not guarantee you anything — you might never be given access to digital ARCs, for example, which I'll get to in a minute — but you will be able to do more advanced searching and other things.
To sign up for an account, click on "Register" in the top right-hand corner. The form looks like this:
Fill this out as best you can, with as much information as possible. Include all relevant URLs and be as specific as possible about what your role within an organization is. If you're a blogger and a librarian, I'd put librarian down as your key role, followed by your blogging information under the "User Profile Information."
You'll get a confirmation email minutes after you agree to the terms, and then you can log in to the site. Now your screen looks different and you can see so much more.
Digital Review Copies


The biggest advantage for logging in at this point is probably digital ARC access. But just because you have access doesn't mean that publishers are going to grant you copies. There are limits in distribution and choices aren't always clear-cut. Sometimes, you'll find you have access without having to ask for a book, and other times, you'll see that there isn't even a button to request a digital ARC. Still other times, you'll request a title and wait for a couple of weeks before you find out whether your request was accepted or rejected.
When you're perusing a catalog and logged in, oftentimes, you'll see a button that there's a digital copy available right in the catalog itself.
I can request this particular digital ARC right from the catalog Fall 2014 Penguin Children's catalog. When I click on the "Request" button, this is the box that pops up:
There's no timeline for when requests are approved or denied. It can be hours, it can be days, it can be weeks. Those will come through the email you gave Edelweiss when you signed up. But if you happen to miss the communication, there is a way to check out it.
Discovering available digital ARCs isn't limited to catalog perusal. There's an entire tab on the Edelweiss website devoted to ARCs and to ARC organization. You're able to search it, narrow down your interests, and you're able to submit reviews or other information as you choose.
When you go back to the Edelweiss homepage, click on the  "Review Copies" tab and this is what you'll see:
Along the left-hand sidebar, you can narrow down your search through the available digital ARCs by age category, subject, publisher imprint, publication date, or publisher. When I pulled up this screen, I had 3,370 digital ARCs I could peruse, so narrowing down to exactly what interests me would be helpful. If there's a specific title I'm interested in, the search box right above the first available title is useful.
The next little tab to know about within the Review Copies tab is where those ARCs are held and where you can check the status of titles you've requested.
The second two titles you can see were both approved and had both been downloaded. If I had an issue with either of them, the little blue "Message" link beneath them would allow me to be in touch with someone about those issues.
There's a second tab beside the Request tab worth knowing about, too. Though it looks like it has the same information, the Downloads tab is where you'll input reviews of titles you've requested if you want to do that. Many people think you have to write or share a review for each title you request, and I think it's courtesy to do that, but I'm not very good at it. I think part of why is because I read a lot and review them in other venues — Stacked or on Goodreads — though it'd be just as easy for me to copy those reviews and put them into Edelweiss.
Here's a look at the titles I've requested and downloaded in the last 4 months (I can change the view to look at books within the last 2 days or up to the last year or more) and on the right-hand column, I can put in my review. As you can see, too, I do my requests/downloads in batches. I should probably get better about doing that with reviews. It's not the end of the world if you don't include a review, but it's probably a good idea to do that if you aren't reviewing in other places. Here's what the review screen looks like. Note that your profile from where you request review copies carries over into the review form, too:
You can leave a recommendation for the book with your level of enthusiasm, and you're also able to leave a text review. On the bottom right-hand side, you can see that you have options for who can see the review. The little blue "i" boxes will tell you what IndieNext and LibraryReads are, so if you're able to submit to either of those, feel free to do so. Edelweiss is a professional tool used by professionals, so if you're a librarian and the title fits the LibraryNext criteria, then go for it.
The entry notes that there is 1 featured peer review and that it has received "much love" from 11 peers. 11 people were enthusiastic enough to give this a "much love" rating in their review box, and one person wrote and submitted a text review that then the publisher allowed other users to read:
I think of those text reviews like Amazon or Barnes & Noble reviews. They're as useful as you allow them to be when you write them, and they're as useful to you as you allow them to be when you read them. They're going to be better since this is an industry tool, as opposed to a consumer tool, so if you like reading reviews, digging through these when you're looking at titles might not be a bad thing.
There is another way to read through reviews, too, but it's a little more involved. Edelweiss has ways for you to make the site social in a GoodReads sort of way. I don't use it this way, so I can't show a good example, but up on the main bar of tabs at the top of the screen, there's a tab for Reviews:
If you use the social aspects of Edelweiss and have friends on the site, you're able to see what reviews they've submitted within any give time frame. You can also filter it down by which friend reviews you want to look through. For me, this isn't particularly useful, but I can see it being an interesting thing to toy with if you're at a school or a library with multiple people reading and reviewing titles.
Another basic feature worth hitting in Edelweiss is the "Buzz" tab. You can find that up on the top bar, where you found the "Review Copies" tab. This digs through the catalogs and pulls out entries that fall within a variety of different awards.
Say you want to know what books were on the recent LibraryReads list but can't remember or you want to read through their descriptions. You can find them all here under this tab. The future pub titles are for the most recent list — the August LibraryReads list — and the recent pub titles are ones from the last four months. The backlist are from prior seasonal catalogs (and remember in the publishing world that backlist is 6 months old, so those would include titles that were published this year).
Though there's not a whole lot here for those interested in children's or YA titles, I still find it's useful to look through periodically because it tells me what books are being talked about in other arenas. I may not be reading them, but other people are, and knowing that is useful to me.
Interestingly, if you were to see the rest of this page of buzzed titles, you'd see that Texas's state awards titles are included, as are starred reviews from Publishers Weekly. I'm not sure I know how the lists got included here or what the criteria are for being included, but they're worth a look.
The final basic thing worth knowing about Edelweiss is their advanced search feature. It's imperfect and misses a lot of things I know I catch when I read the individual entries, but it is a great starting point when you have a question or want to try to remember something you thought you saw.
On the second row of tabs across the top of the main screen page, there's a tab for "Advanced Search." When you click on it, you're taken to a screen where you can search through a ton of different elements within the catalog entries. Again, since publishers include different information in different parts of their entries, this is going to be imperfect searching.
This is what that search looks like when you run it. Note that if you're looking for something big, the search can take a long time and can sometimes bring you tons of unnecessary results. This one is pretty straightforward and limited, though:
Indeed, there's at least one forthcoming book with that in the description.
While the interface is imperfect and there are things which aren't intuitive, Edelweiss is a great tool for professional readers or those who teach or work in libraries. It takes experimentation and everyone will find different aspects of it suit their needs and their interests. I've laid out the basics here, and from those starting points, I'm able to pull out the information I am looking for or thinking about. I use Edelweiss to put together previews and to talk about book covers and trends. Since these are the catalogs from the publishers, I trust them more than I trust pulling images from a retail site (those aren't always accurate, as the wrong cover may have been submitted).
If you know any other tips or tricks I should know about, I'd love to know those, too.