Yesterday, we had a review of Brandy Colbert's knockout debut Pointe. Today, we have a Twitterview with her, asking the tough questions about Pointe, her writing process, as well as the books and music that inspire her. This is our first Twitterview of the new year, and it's a good one.


In addition, we're giving away two finished copies of Pointe. Form is at the bottom of the interview, and the contest is open to US and Canadian residents only.


I'm so excited to share this conversation, so without further ado, here's Brandy.
Pitch Pointe in 140 characters.
A gifted dancer's life unravels when her childhood best friend returns after four years in captivity—and she has ties to the abduction.
What inspired Pointe?
A lifelong love of dance and an obsession with long-term kidnapping stories, especially the one portrayed in I Know My First Name Is Steven.
How would you describe Theo, your main character?
Determined. Foolhardy. Passionate.
Competitive.

Theo is a POC in a very white world (in setting and sport). Talk about that.
Theo is very aware that she sticks out in her world, but she refuses to let her race define her, in both her life and desired profession.
Do you have more to say about that?
I do! POINTE is the third book I've written about a teenage black girl, but it's the first in which her race was not the focal point or even a subplot of the story. As someone who grew up black in a predominantly white town in southwest Missouri, I wanted to write a character who dealt with some of the day-to-day issues and obstacles I'd experienced without that being the point of the book. I was very involved in academics and extracurricular activities as a child and teen, and although it was a little tough almost always being the only black person in the room, or being the first black person to, for instance, join my high school's dance team, I think those years were instrumental in shaping the person I am today. Overall, I had a great time in high school and tried to make the best of it. If people were going to notice me for being different anyway, I wanted them to especially notice me for my accomplishments. I believe Theo has a similar attitude.
There's romance in this book but it's the friendships that stand out to me. Tell me about Theo and Ruthie's friendship.
They're lifelong friends from ballet and are competitive, but also have a mutual respect and trust that extends to life beyond the studio.

And how about Theo and Donovan's friendship?
Complicated. They're essentially strangers now, but also bonded for life, because and in spite of what happened when they were thirteen.
Was there a particular scene in the book you most enjoyed writing?
Theo + Hosea in the gazebo. They don't really know each other and are both very private, but they open up to talk honestly about their art.


What about a scene that gave you the most trouble writing?
Scenes at the abandoned park and convenience store. Dance scenes can be tough; you want to show authority + beauty without getting jargon-y.

Who is your ideal reader for Pointe?
Truly, everyone. But I love the idea of young black girls who haven't seen themselves represented this way in YA fiction connecting to it.
Is there anything you want readers to walk away with?
Hmm. I'd be happy knowing people think about the story at all after they finish the book.
Pointe is your debut novel. What's been the most exciting part of your debut year so far?
That people who aren't related to me care about this little idea that lived in my head and on my computer for years. It's so very surreal.
What's been the most surprising part of your debut year?
Emotions, everywhere! About everything! Also, time management is pretty much nonexistent these days.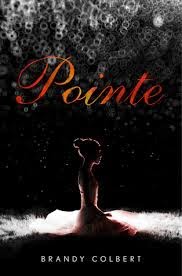 If you had to give your book a "____ meets _____" pitch, what two (or three! or four!) books/films/shows would Pointe be a meeting of?
My editor has described it as "Black Swan" meets "Speak." I'm terrible at mash-ups and it's super flattering, so I'll go with that.

Outside of writing, what do you do with your free time?
I joke about being a hermit and it's maybe 40% true. I read a lot. Obsess over TV. Hang with friends who trick me into things like hiking.

Who or what do you write for?
Myself, mostly. Writing is very therapeutic for me, and my work is at its best when I write the type of story I would love to read.
What was your most influential read as a teenager?
How Do You Lose Those Ninth-Grade Blues? It was already dated when I first read it, but DeClements' books really speak to me.
Who are your top three writing influences?
ZZ Packer, Courtney Summers, Barthe DeClements
Who do you believe is breaking ground in YA right now?
Stephanie Kuehn, Corey Ann Haydu, Carrie Mesrobian, Blythe Woolston, Steve Brezenoff
Can you share three of your all-time, would-recommend-to-anyone favorite books?
The Particular Sadness of Lemon Cake by Aimee Bender, A Little Princess by Frances Hodgson Burnett, Hold Still by Nina LaCour
What's the best writing advice you ever received?
Be an honest writer. I found my voice once I stopped worrying what people would think of me for writing dark books about complicated topics.
What's your best writing advice to give?
If people say there's no room on the shelves for the books you write, keep at it until someone makes room for you. Don't give up.
What is your writing routine?
I am completely without routine, but I've always done my best writing late at night, and when I have large chunks of time to devote to it.
What gets you jazzed to write?
I'm inspired by good writing and storytelling, so: discovering new books/TV/film, my critique partners' work, rereading old favorites.
Do you have a writing soundtrack? Care to share a bit?
I love music, but don't write to it! In the rare instance I do, I tend to go with groups like Zero 7, Daft Punk, and Thievery Corporation.
More gritty YA contemp about black girls. I'm working on two projects that I'm unbelievably excited about, but they're under wraps for now.
Favorite ice cream?
Only the tough questions! Tie between Ben & Jerry's AmeriCone Dream, Häagen-Dazs Dulche de Leche, and Trader Joe's Golden Caramel Swirl.
Would you like the chance to win Pointe? We're giving away two finished copies. Fill out the form below. We'll pull winners at the end of the month.