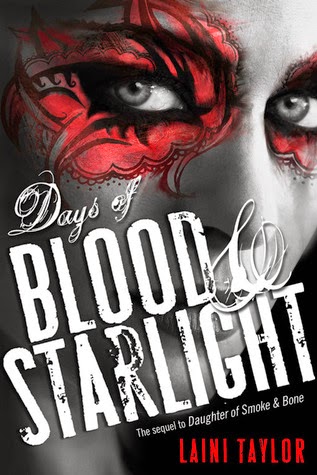 I've had this book for a while, but it took me a long time to actually get around to reading it. It's not because I didn't think I'd enjoy it. On the contrary, I enjoyed it quite a lot. I just loved the first book so much, and it ended so painfully for its characters, I knew the second installment would do cruel things to my heart. Despite my love for dystopias, I don't have a huge capacity for reading about awful things happening to fictional people. Often I'll have to repeat in my head over and over "These people are not real. This did not really happen."
Needless to say, I had to tell myself that often while reading Days of Blood and Starlight.
It feels like a "middle of the series" book. Often that's a negative thing, but Taylor's writing is so good, I doubt many readers will mind. There's not a whole lot of plot movement initially. Much of the novel focuses on Karou and Akiva coming to terms with what happened in Daughter of Smoke and Bone – namely, the rekindling of the war between the chimaera and the angels. The chimaera have been defeated, for all intents and purposes, but they've mounted a small resistance that is growing, thanks to the efforts of Thiago, the brutal son of the legendary chimaera warlord, and Karou, the chimaera's new resurrectionist. Meanwhile, Akiva tries to (secretly) mitigate the effects of the angels' actions upon chimaera civilians, to mixed results. They act separately and independently with very little knowledge of the other, but when they do meet on rare occasions, it's painful – and I mean that in a good way.
So there's a lot of misery going on here. Taylor does bring a bit of lightness with the arrival of Zuzana and Mik, who get to interact with a whole host of chimaera. Their presence is dangerous but funny at the same time. Their visit doesn't serve much purpose other than bringing some levity to the story, but the levity is much needed and prevents the story from seeming to wallow in misery. Things do really start to move in the second half, where we go beyond the (admittedly well-written) scenes of skirmishes and slaughters. The ending sets up the third book nicely, setting the stage for a potentially much larger conflict, which is exciting to think about.
Days of Blood and Starlight focuses a lot on the awfulness of war, which isn't exactly revelatory. But it goes beyond that rather obvious theme to ruminate on questions like: How do two groups who don't even remember why they started fighting end the violence? What is justice and what is revenge, and does the distinction matter? Is forgiving people who have done awful things possible? How much can a person compromise herself to achieve a good end before the ends are not good anymore?
Where the first book was a story about transformation and discovering one's true self, this book is a full-on war novel. Sometimes it's exhausting, but it's always well-executed.
I actually finally hunkered down and read this book since Laini Taylor was visiting my area. I wanted to have the book done so I could get it signed and attend the event without worrying about someone spilling the beans about its contents. Again, I find myself holding off on reading the third book because I know Taylor will put her characters through even more misery. I need to be in a particular mood to read a book that will devastate me. Don't worry – I'll be sure and review it many months after everyone else has already read it, just like this one.
Personal copy.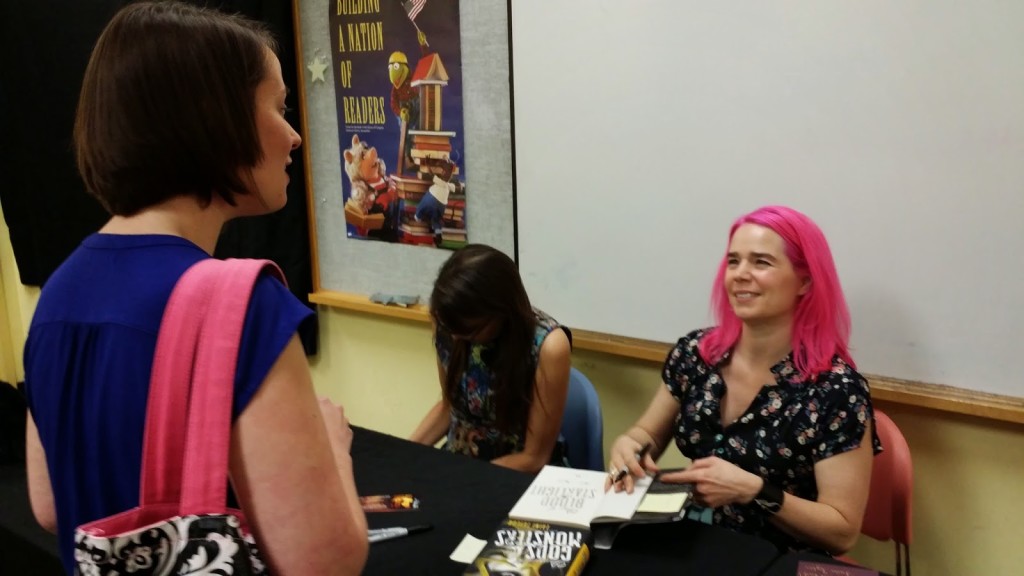 Laini Taylor and I are having a Very Important Discussion. Also, bonus top of Margaret Stohl's head.