I haven't done a cover double post in quite a while, but here's one. Let me start at the beginning because this cover has had a journey to it.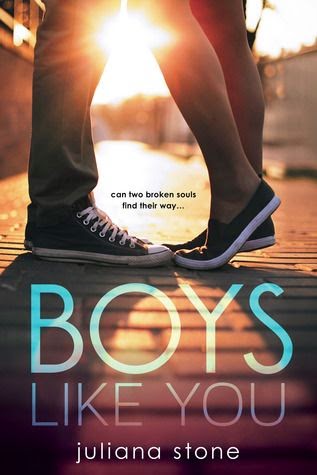 Sourcebooks unveiled this as the cover for Juliana Stone's Boys Like You at the end of last year or beginning of this year. It's cute, but it's not necessarily remarkable. It looks like a light romance title. But that cover didn't last long, and instead, Sourcebooks took it in a new direction: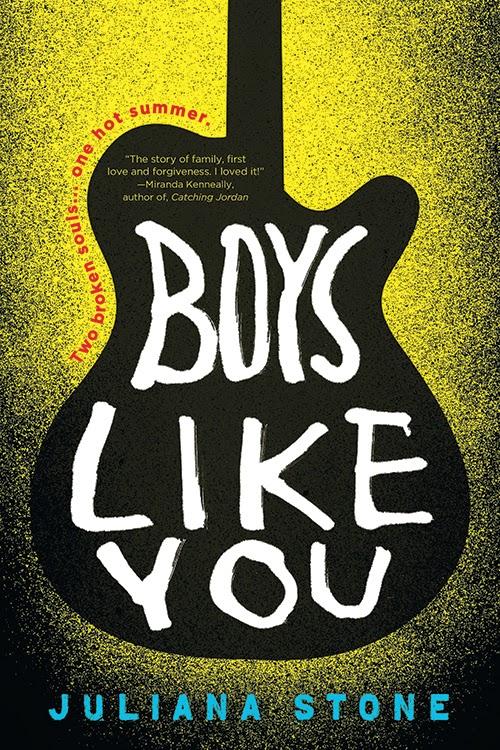 This cover tells an entirely different story. It might still be a romance, but it doesn't look as light as the previous cover. The redesign definitely fits into the trend of text and image driven covers that are becoming the new dominant look in YA (almost to the point those all look the same too).
The book's description (via WorldCat): When Monroe Blackwell, who is spending the summer at her grandmother's Louisiana bed-and-breakfast, meets Nathan Everets, who has a court-appointed job there, they share, and begin to recover from, their respective feelings of loss and guilt.
I don't think either cover quite nails it via description alone. The tag line, which changed a little bit between cover redesigns, does a pretty good job capturing it, but I'm not sure where the guitar fits in in the new look and for the old one, it might just look too lighthearted.
Stone's book comes out May 6.
Let's return to that first cover iteration, though. That stock image is going to get quite a bit of play elsewhere, even though it didn't end up being used for Boys Like You.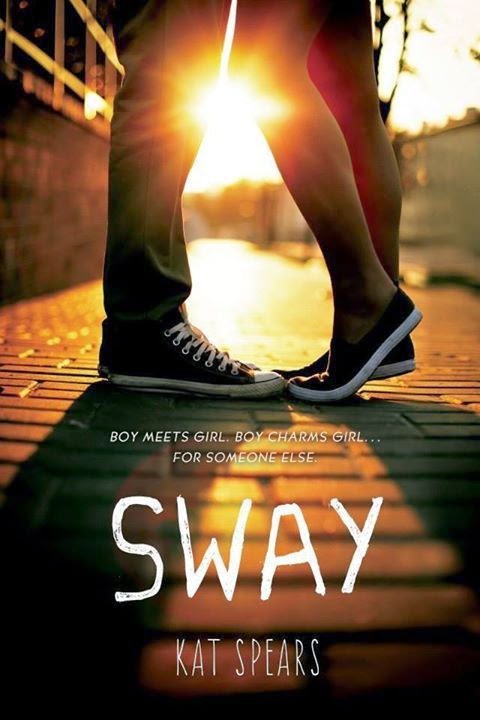 Kat Spears's debut novel Sway will get the stock image. The title and the author placement are exactly the same as they were in Stone's book, too. Again, there's the feeling of a lighthearted romance here, despite the fact the tagline conveys something different.
Because Sway doesn't come out until September 16, there's not yet a description up in WorldCat, but here's the lengthier one from Goodreads:
High school senior Jesse Alderman, or Sway as he's known, could sell hell to a bishop. He also specializes in getting things people want—term papers, a date with the prom queen, fake IDs. It's all business with Jesse. He has few close friends and he never lets emotions get in the way.

But when Ken, captain of the football team, leading candidate for homecoming king, and all around jerk, hires Jesse to help him win the heart of the angelic Bridget Smalley, Jesse finds himself feeling all sorts of things. While following Bridget and learning the intimate details of her life, he falls helplessly in love for the very first time. He also finds himself in an accidental friendship with Bridget's younger brother who's belligerent and self-pitying after spending a lifetime dealing with cerebral palsy. Suddenly Jesse is visiting old folks at a nursing home in order to run into Bridget, and offering his time to help the less fortunate, all the while developing a bond with this young man who idolizes him. The tinman really does have a heart after all.

A Cyrano De Bergerac story with a modern twist, Sway is told from Jesse's point of view with unapologetic truth and biting humor. His observations about the world around him are untempered by empathy or compassion–until Bridget's presence in his life forces him to confront his quiet devastation over a life changing event a year earlier and maybe, just maybe, feel SOMEthing, again.
It's a male point of view, though from the cover, I'd never quite get that. I like that my expectations are bucked like that, but I wonder how much the cover image conveys what the story looks to be about. It's a fairly generic image that suggests light romance, and I'm not sure if that's what the book is about.
While I do not think that books have gender and wouldn't hesitate to hand a boy a book like this, I think it's the kind of cover that could be difficult for boys to pick up on their own from the shelf. Romance fans, though, would definitely gravitate toward this, regardless of gender.
When Spears's cover was revealed a couple of weeks ago, another cover was revealed from Entangled Teen that looked pretty familiar.
The same stock image is the base for Shannon Alexander's Love and Other Unknown Variables, which will come out October 7. While it isn't the same exact treatment, it's clearly the same stock picture. What's interesting about this cover is that the side elements are completely different, as they've been done up with flowers (to the point where it looks like the plants are rubbing against the girl's leg in a weird and uncomfortable way) and the color has been completely stripped, save for the pops of red. The placement of the title and the author are completely different than in the Spears cover, which almost makes it not look like the same image.
Here's the description from Goodreads:


Charlie Hanson has a clear vision of his future. A senior at Brighton School of Mathematics and Science, he knows he'll graduate, go to MIT, and inevitably discover the solutions to the universe's greatest unanswerable problems. He'sthat smart.

The future has never seemed very kind to Charlotte Finch, so she's counting on the present. She would rather sketch with charcoal pencils, sing in her pitch-perfect voice, or read her favorite book than fill out a college application.

Charlie's future blurs the moment he meets Charlotte. She's not impressed by the strange boy until she learns he's a student at Brighton where her sister has just taken a job. At Charlotte's request, Charlie orchestrates the biggest prank campaign in Brighton history. But by the time Charlie learns Charlotte is ill and that the pranks were a way to distract her sister from Charlotte's illness, Charlotte's gravitational pull on him is too great to overcome. Soon he must choose between the familiar formulas he's always relied on or the girl he's falling for (at far more than 32 feet per second).


I can't get a clear read, but it seems to me that this book is told from more than one point of view, both Charlie's and Charlotte's. Like with Spears's cover, though, I think this has more appeal to female readers from the shelf perspective, particularly those who like romance.
I'm not sure I love the way this cover looks, changed from the original stock image. I feel more pulled toward Spears's, and perhaps it's because of the color and the way that the title and author's name are less obscuring of the image.
But wait! There's another cover out featuring this image.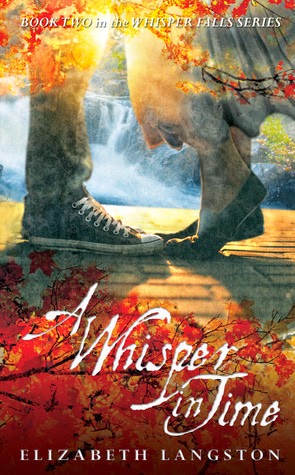 Elizabeth Langston's A Whisper in Time is available now, having been published April 6 by Spencer Hill Press. It features the same stock image, but it's been dressed up a bit. Rather than the girl not having anything covering her legs, there's been a skirt added. Rather than just the sun in the background, there's been a water scene added. Rather than sticking with the side images in the original, there's been some fall foliage to give the cover an even warmer feel. While I don't love how it looks — I think it looks far too tinkered with — I do like the feel of it, especially compared to the Alexander cover treatment.
Here's the description from WorldCat: Rescued from a life of servitude by the boy she loves, Susanna Marsh escapes across two centuries, only to be plunged into a world she's ill-prepared to face. Unable to work or go to school, Susanna finds herself dependent on others to survive. Immersed in the fun and demands of his senior year of high school, Mark Lewis longs to share his world with the girl who's captured his heart. But first he must tackle government bureaucracy to prove Susanna's identity.Overwhelmed by her new home, Susanna seeks refuge in history and in news of the people she left behind. But when she learns that danger stalks her sister, Susanna must weigh whether to risk her own future in order to save Phoebe's happiness.
What makes this cover work for this title is that it does feel historical. The girl having a skirt, rather than a bare leg, gives that suggestion, as does the color treatment. It doesn't feel entirely modern.
It's interesting to me that when there are so many potential cover options, that four books in the same year could use the same stock image. One got changed, but the other three remain the same (as of now, at least). It's not a bad image, and all of the designs have worked to make them distinct enough. But it makes me wonder why they can't be distinct without having to use the same picture. I'd like to see far more cover diversity on my shelves in terms of design. While text and image driven covers have really taken off in the last couple of years — we can definitely thank The Fault in Our Stars and Eleanor & Park for that — even when that keeps emerging again and again, it gets boring and waters down what covers can look like.
When you think of covers that stand out and are memorable, they're not ones that look like every other cover. They're ones that do something different — think Winger for example or this year, Rebel Belle.
This matters because it does impact who these books reach on the most basic level. Covers are the book's biggest marketing tool. It sells the story to the reader. It is what compels a reader to look at the flap copy and see if it's something that interests them. If we rely on the same looks over and over, we can only ever reach the same exact readers over and over. A lot of this has to do with fear, of course. If a cover is different, will it sell? Will Barnes and Noble stock it? The publishing world is exceptionally conservative when it comes to risk taking.
Which leads me to ask a few things: what are some of your favorite and most memorable YA covers in the last couple of years and why? What made those covers stand out? What haven't you seen on covers that you would like to see?