Last week, when I got to the airport to fly home from ALA in Philadelphia, I got some really good news. I can't quite share it yet, but I'm hoping to some time this month.
When I got home, I got even more good news. I can share that. And it's probably only exciting to me, but I'm so excited I am sharing it anyway.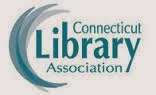 Last fall, I was contacted by a blog reader asking whether I'd consider putting in a proposal to present at the annual Connecticut Library Association Conference on contemporary YA fiction. I thought it over for about half a second before saying I would be.
Then she asked if I'd be interested in proposing TWO sessions.
And I thought it over about half a second before saying I would be.
I'm pleased to say both presentations were accepted and now that I've signed the contracts, I can share I'll be presenting April 28. I'll be doing an 85 minute long morning session all about contemporary YA fiction (do you have any idea how exciting the thought of 85 minutes to talk solely about contemporary YA fiction is?) and I'll be doing a 55 minute session in the afternoon about creative reader's advisory for teens, which I am also thrilled about.
If you're a Connecticut librarian, I hope to see you. And I am so, so thrilled and honored to have been asked and given the opportunity. I'm so looking forward to these presentations.