Over the holidays — right before them, actually — a review for A. S. King's Reality Boy hit the New York Times, written by John Green. The review itself wasn't necessarily noteworthy, but a line in that review struck a chord with me and it's one I've been thinking about for the past few weeks, trying to figure out exactly what was meant by it.
King's obsession with reality makes the novel drag in places, but it's nice to see someone subtly parody the over-the-top young adult adventure stories that dominate so-called contemporary realistic Y.A.
The review continues on, without elaborating nor explaining what's meant by this line.
I've pointed out a few times where Green's been used as a yardstick for YA fiction. Last year, a review of Andrew Smith's Winger was noted as being a part of the "Green Lit" trend. That was published in The New York Times and reduced Smith's unique story to being a part of a trend, rather than a story that stood wholly on its own. Rather than suggesting the book was a read alike to Green, the review credits Green as the standard for quality YA, especially of the realistic variety. It's the reductive approach to YA.
A review of Matt de la Pena's The Living, published in Entertainment Weekly a couple months ago, suggested that the characters in his book were "worthy of a John Green novel." I'm linking to the discussion about this as it played out on tumblr because I think it offered even more insight into the context of the review.
Article after article from publishing insiders talk about how contemporary realistic fiction is on the rise. That it's the next trend to really hit YA fiction. While I disagree that it's the next trend — it's always been a staple of YA fiction as much as being a teenager has been a staple of being between the ages of 13 and 19 — I think the actual trend is the rise in YA fiction that reads like or can be sold as being a John Green alike.
Here's a short list of 2014 titles being pitched as Green alikes:
Love and Other Four Letter Words by Erin McCahan
Say What You Will by Cammie McGovern
Maybe One Day by Melissa Kantor
Side Effects May Vary by Julie Murphy
The Vigilante Poets of Selwyn Academy by Kate Hattemer
Starbird Murphy and The World Outside by Karen Finneyfrock (this isn't a pitch but a bookseller's quote, which reads as suggesting the book for "teen fans of John Green" — emphasis mine)
Even non-contemporary YA books are being pitched as in the vein of or for fans of John Green:
The Drowned Forest by Kristopher Reisz notes that it blends Looking for Alaska's theme of friendship with Stephen King's sense of small-town horror.
Everyday Angel, a middle grade series by Victoria Schwab, is being pitched as John Green for middle grade, with a touch of magic.
I've noted before and will repeat over and over: John Green writes good books. His stories resonate with teen readers as much as they resonate with adult readers. I don't think it's necessary to talk about his contributions to the greater landscape of YA because when we talk about books and about the book world, we're talking about the words on a page. Marketing certainly plays a part in success, and there's no doubt that Green's been successful at getting his name out there. But even when all of that is stripped away, at the end of the day, he writes great books. Looking for Alaska is and will remain one of the first books that really got me into YA and it's one that I'll always hold as one of those special books to me as a reader.
The problem though is that John Green's name has become a tool of power and force in the YA world. When mainstream writers talk about YA, his name is held with affection and as an ideal to which others should aspire. Forget Stephenie Meyer and her vampires. That's laughable, and it remains a means of degrading the entire category of fiction. John Green, though — he's helped save and revive YA fiction from being a crumbling cesspool of . . . whatever a crumbling cesspool of an entire category of fiction can be.
It's clearly not just undereducated and unfamiliar media that does this though.
I noted all of those John Green alikes above because it's clearly become a means of getting books attention. But it does precisely what I noted last year: it creates a reductive approach to YA fiction. Good books — ones you should read — are classified as Green alikes, regardless of whether or not they're
really
read alikes to his work. What does it even mean that a book is "in the tradition of
The Fault In Our Stars
?" Plenty of books tackled the very topics Green does in that book prior to its publication and plenty will cover them after. But I think because Green's name carries power — and I don't need to get into the gender dynamics associated with it (I covered much of that that
here
and
here
) — he's unfairly seen as the savior of YA, as well as the spokesperson
for
YA.
Fair or not, when you get the opportunity to review your fellow YA writers in the New York Times, you have a platform and a voice that makes you a spokesperson. Fair or not, when your books are seen as the standards to which others should aspire, that makes you a spokesperson.
Let me be clear in saying that I don't think Green abuses this power in the least. And I think that's not only admirable, but I think it speaks to his character and his passion for YA more broadly. That said, his defenses about his success and his popularity are hard for me to take as seriously understanding the problems people have when he is considered the voice for and savior of YA. Jennifer Lynn Barnes knocked out it of the park in this post, where she talks about the factors that have helped — rather than hurt — him as an author. And I think it's interesting, too, that he has denied having played a large role in the outstanding success of Rainbow Rowell's Eleanor & Park — even the editor of the New York Times Book Review notes that his powerful, passionate, and enthusiastic review helped that book do as well as it did (and she links to one of the aforementioned articles about the trend in contemporary YA fiction).


Green was outspoken in the wake of Veronica Roth's Allegiant that readers have an obligation to be generous in their reading: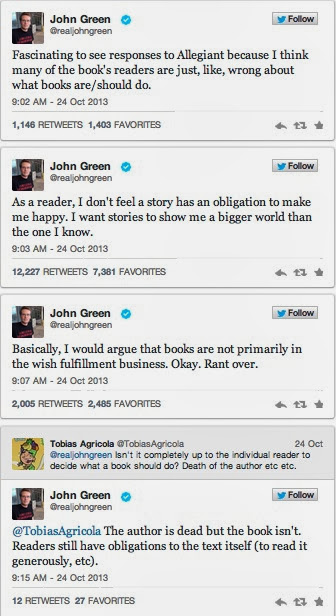 Screen cap via dearauthor.com
Note that Green says that readers "are just, like, wrong about what books are/should do." So what is it that a book is or what a book should do? And more than that, why does the reader owe generosity toward a book? He doesn't offer a suggestion here, but rather a platitude that doesn't dig deeper into the implications of what being a generous reader means.
So with that all in place, let's go back to that review of Reality Boy and more specifically, that line. Let me share it again:
King's obsession with reality makes the novel drag in places, but it's nice to see someone subtly parody the over-the-top young adult adventure stories that dominate so-called contemporary realistic Y.A.


In this statement, Green is being a really generous reader. He notes that while King's obsession with reality makes the novel's pacing slow down, it does a great job of doing something else — it manages to parody "over-the-top" YA adventures stories that are "dominating" contemporary realistic fiction.
But wait a minute — what is he talking about here? What are these "over-the-top young adult adventure stories" that "dominate" the "so-called contemporary realistic Y.A." world? As the review continues, Green offers no insight into the types of books he's referring to. He's not telling us any titles nor is he telling us anything further about how King's book parodies these stories.
He sets up an argument in the same manner he does when he suggests readers need to be generous.
Perhaps it was a throwaway line, one that needed more consideration or nuanced thinking or a stronger editorial eye to challenge and expand upon it, but as someone who loves and champions for "so-called contemporary realistic Y.A." because I find the stories to be worth championing and absolutely worth getting into the hands of teenagers who are living these types of "over-the-top adventure stories" every single day, this made me scratch my head. Green's stories and Green's name itself dominate contemporary-realistic YA fiction. He's seen as the person who is bringing it back, bit by bit, and his name is being slapped onto books as fast as it can be, so those books stand a fighting chance at being seen or recognized as worth reading.
If I remember right, there's a scene or two in The Fault in Our Stars where two teenagers manage to get out of the country and go searching for a reclusive novelist. Is that not an over-the-top adventure story? Is Green critiquing his own work in light of King's parody or is he giving that critique to other books — perhaps ones that are much more grounded in the gritty, less intelligent, less lauded work that also resonates with readers but doesn't benefit from the same sorts of privileges his own work has? Does he prefer teen characters to be of one ilk and one type? Is one type more palatable and more realistic than another? I think about this question and I consider audience specifically: is there a kind of teen or teen story in contemporary realistic that's more "real" for adult readers, as opposed to teen readers?
Without offering any insight into what books he's talking about — and it's his right not to name names, seeing that this is a business and those people are indeed his colleagues — he sets up an argument which can't be toppled. He suggests there is one set of books that are real realistic and there are another set of books which are over the top and "so-called" contemporary realistic YA. That there's a type of YA fiction that can parody that realistic fiction and do so subtly, in a manner that grants generosity to parts of a story which don't necessarily work. There's a yardstick for what is good and what is not, but what that yardstick is remains a mystery.
Contemporary realistic fiction is meant to be fiction based on some character's reality. Every single one of these stories is over-the-top in some capacity simply because none of these stories are non-fiction. It's fantasy. It's creative storytelling that renders characters in a world that is our world and pits them in situations that happen every single day somewhere in our world. Can it be extreme? Sure. But to deny that extreme reality doesn't happen somewhere is to deny the existence of over-the-top stuff happening to teens every single day. It's to deny that their stories are worthwhile. It suggests whatever's happening to them, whether daily or periodically or once or never (but they want to know and be informed in the event it's happening to someone they know or might know), is "over-the-top."
Isn't adolescence itself "over-the-top?"
YA's audience is all over the place, but these are stories about teenagers, and within the context of contemporary realistic fiction, the bulk of the characters in YA are themselves teenagers. Teens want to read stories about those who are like them, and this is particularly true in contemporary/realistic fiction. To suggest that what they may experience or may want to read within this subset of YA is "over the top" and can be parodied says a lot about the generosity he extends to readers, who so often are looking for an anchor or connection to these very stories.
As someone with such power in the industry, with a voice that can certainly help others gain traction and one which is so frequently cited as the golden standard within YA, this line and suggestion and the implications around it are disappointing to read.
The comment Green makes denies generosity to the reader.


What is easily dismissed as "over-the-top" to an adult reader says more about the adult reader than it does about the story, the teen in the story, or the teens who need the story.