This is part two of this year's "best of YA" list breakdown. Make sure you read yesterday's post, or at least the introduction of it, to understand why and how this works. To summarize the key points and to make sense of today's data, I'll repeat some of the important details: none of the data presented here is meant to "prove" anything. It's presented in order to offer some discussion points, to explore trends and themes within the books deemed as the "best" of this year's YA fiction, and any errors in data tabulation are mine and mine alone (and hopefully, there are few, if none!).
All data is based on 55 book titles, 55 authors, and in situations where discussion turns to main characters in a book, there are 62 identified main characters. All of the data is pulled from five "best of" lists: School Library Journal, Kirkus, Horn Book, Library Journal's "YA for Adults," and Publishers Weekly.
I thought it would be interesting to break down the lists into less "big picture" stuff and into smaller picture stuff. Where yesterday looked at things like presence of books featuring POC or LGBTQ characters, as well as gender breakdowns of both authors and main characters, today I wanted to look at more granular list data.
All of my raw data can be accessed here
. It's not necessarily pretty, but I'm happy if people want to use it to draw additional connections between and among "best of" titles. Some of the information I included on the chart did not make my blog posts (there was too little to talk about in terms of print run, genre, and gender, especially compared to last year) and some of it will appear in tomorrow's comparison post between 2012 "best of" lists and this year's "best of" lists.
So with that, let's dig in.
Month of Publication
Were books published earlier in the year more likely than those published later in the year to make the "best of" lists? Or, because their newness and shininess wore off prior to decision-making time, were they less likely to make the lists?
When it came to books published in the first half of the year (January – June) against those which published in the second half of the year (July – December), here's the breakdown: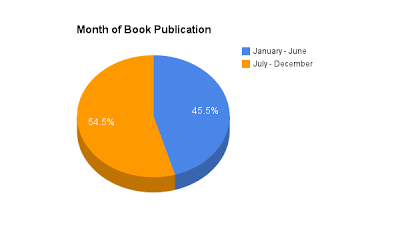 "Best of" books published between January and June came to 25 total titles, while those published between July and December equalled 30. There's not a major difference between representation of titles in the first half of the year and those in the second half.
What about breaking it down more? Is there a month where more "best of" books were published? The answer to this one is yes.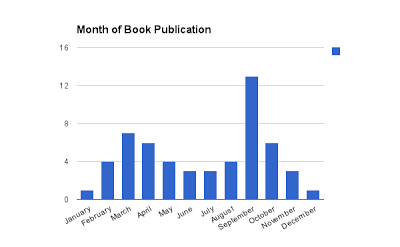 The leader of the pack this year is September — thirteen of the books on this year's "best of" lists were published that month. March had the second highest number of books on the lists, with 7, followed by October and April with six each.
Worth noting in this data is something I'm trying to better understand. On Kirkus's list, one of the books listed (Nowhere to Run by Claire Griffin) appeared to have numerous publication dates, according to Amazon's various listings. It was difficult to parse out whether this book was actually published this year or was published last year, since I saw a November 2012 date, as well as a March 2013 date. Kirkus made a handful of choices this year which didn't make perfect sense to me, and I can't help wonder if maybe that 2012 publication date was accurate. Either way, I operated as though the book was published in March of this year.
What about the month of publication for those debut authors? Was there a better month to be a debut author and end up on the "best of" lists?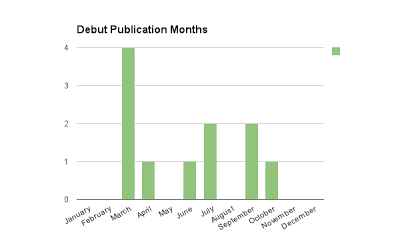 There were four debut novels on the "best of" list published in March, followed by two in July and September. April, June, and October had one each.
Publication Format
I'm always curious whether hardcovers or paperback originals do better on the "best of" lists. There seem to be fewer paperback originals published in YA than hardcovers, but it's a category I still like looking at. If there is data on this at all, I would love to know about it.
One thing I wanted to point out in this data was something that interested me with the Kirkus list. One of their titles, Outcast Oracle, appears not to be for sale in a non-e-book format in the general market. I checked both Amazon and Barnes and Noble and it's only available for purchase as a Kindle or Nook book. I went to the publisher's website to see if there was indeed a print run at all, and it appears you can buy a paperback copy from the publisher directly. I also hopped onto Baker & Taylor, which is where my library purchases its books (and where a large percentage of public libraries make their purchases) and the book is not available on there in any format.
Which makes me wonder a little bit about how valuable that title being on the list is, since getting access to it is such a hurdle. You either need an ereader OR you need to purchase direct from the publisher. Will having it on this list give it a bump in sales or encourage an easy way to purchase it? I'll talk a little bit more about this tomorrow, since it's fascinating to me what including this particular title might suggest.
But back to the category at hand: I looked at hardcover books, paperback originals (which is where I stuck the title above), and those books which feature a split run, where both a hardcover and a paperback are published simultaneously.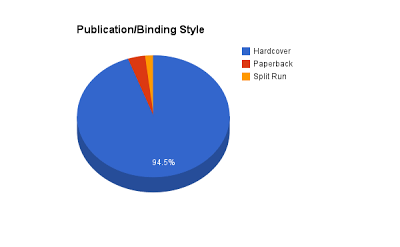 There's no question that hardcover format dominated the "best of" lists, with 52 of the titles published as hardcover. Two books were published as paperback originals, which included both the title noted above, as well as Kelsey Sutton's Some Quiet Place. One book appeared to be a split run, which was the previously noted Nowhere to Run by Claire Griffin.
Were there fewer paperback originals published this year? Fewer split runs? Of course, some publishers only do paperback originals (like Flux) and some publishers make it clear their "bigger" titles are hardcover. I've yet to figure out what it means when a book is published as split, if anything (this year, a few books that were published split run but weren't on the "best of" lists include Jody Casella's The Thin Space, Sarah McCarry's All Our Pretty Songs, and Hannah Moskowitz's Teeth).
Publisher Representation on the "Best Of" Lists
Are there publishers which tend to do better on the "best of" lists? I've always had it in my mind that some publishers work on books that are less mainstream, a little riskier, and that those books do tend to be noticed on the end-of-year lists for those things. Candlewick is perhaps the one which stands out most in my mind for this, as well as Lerner/Carolrhoda LAB.
I've flattened all of the imprints into their respective publishers for simplicity's sake (so, St. Martin's titles are under Macmillan), and because I wanted it to be readable, I broke it into two charts. Here's a look at how the various publishers did on the "best of" lists: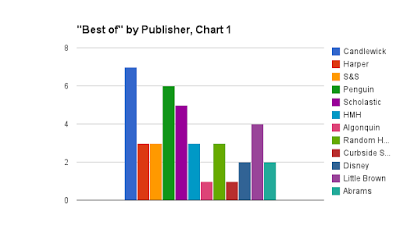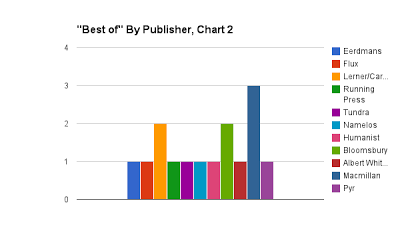 I purposefully didn't do it in a decline since that would mess up the scaling on the charts themselves and I wanted these to be as close to the same scale as possible. But as you can see, Candlewick led the publishers with the most books on the "best of" lists, with a total of 7 titles. Penguin had 6, with 5 titles from Scholastic, 4 from Little, Brown, and 3 each from Harper, Macmillan, Simon & Schuster, and Houghton Mifflin.
As should be clear, there are a lot of titles on the "best of" list not published by a Big 6/5 publisher (so, not a book published by Harper, Little, Brown, Simon & Schuster, Macmillan, Penguin/Random House). Comparatively, mid/small/indie presses had more titles on these lists: 33 of the books on the "best of" list came from non-Big 6/5 publishers, while 22 did.
I think this is pretty impressive, especially with Candlewick's large presence. Carolrhoda LAB had two titles, which is also impressive given how small their seasonal lists are.
"Best of" Lists and Starred Reviews Earned
Since we know the "best of" books now, is it fair to assume that books which appeared more frequently on the lists tended to have more starred reviews in the six major review journals?
I pulled the starred reviews from ShelfTalker's round up of "
The Stars So Far
" in November. I looked at stars earned from the following publications: BCCB, Booklist, Kirkus, SLJ, PW, and Horn Book. Of course, there's a lot of leeway and error that can happen here. Not all journals will review all books. Not all journals review the books in a timely fashion, and so there's a possibility that some of these books will earn stars later.
Not a single one of the YA novels I looked at had earned stars from all six of those publications, either.
Among the "best of" books, here's how the starred reviews broke down:
Seven books earned 5 starred reviews
Four Books earned 4 starred reviews
Thirteen books earned 3 starred reviews
Fourteen books earned 2 starred reviews
Sixteen books earned 1 starred review
The breakdown doesn't surprise me a whole lot, especially because the majority of the books on the "best of" lists came from Kirkus's list, and they tended to have earned a star from Kirkus. In other words, a lot of single-starred books were the books Kirkus selected as "best" (though certainly not all).
So what about starred review frequency against the frequency to which books appeared on "best of" lists? Here's the chart:
| | | | | | |
| --- | --- | --- | --- | --- | --- |
| List Appearances vs. Star Earnings | 5 lists | 4 lists | 3 lists | 2 lists | 1 list |
| | | | | | |
| 6 stars | 0 | 0 | 0 | 0 | 0 |
| 5 stars | 0 | 1 | 2 | 3 | 1 |
| 4 stars | 0 | 0 | 1 | 4 | 0 |
| 3 stars | 0 | 0 | 1 | 2 | 10 |
| 2 stars | 0 | 0 | 1 | 2 | 11 |
| 1 star | 0 | 0 | 0 | 0 | 16 |
Again, no books made all five lists, and the bulk of the books fell into the category of landing on one list and earning one, two, or three stars.

Eleanor & Park, the book with the most placements on the "best of" lists this year, earned five starred reviews.
Series vs. Stand Alone Titles on the "Best of" Lists
To wrap up the data, let's look at a simple but worthwhile aspect: do series books do better or worse than stand alone titles on the "best of" lists? This is, I think, impacted pretty significantly by genre of the "best of" books this year, since realistic fiction tends to produce fewer series books than other genres.
In this data, I included companion and prequels as "series" books (so Rose Under Fire and Invasion were rolled into that data).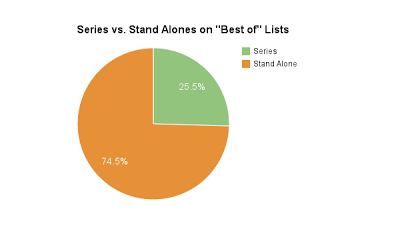 Roughly one quarter of the "best of" lists were series books, while three-quarters were stand alone titles. Of those books which were part of a series, there were:
two prequels
one companion
six were the first in a series
three were the second book in a series
two that were third books.
Some Concluding Thoughts on the 2013 Data
While I've commented throughout on what I think the takeaways or questions are about the data and "best of" lists this year, I did have a couple of other thoughts to share, and I would love if anyone wanted to weigh in on what they've seen. I have one final post coming tomorrow that will compare this year's data with last year's, which I think will spark some interesting conversation.
First, it's worth noting that Kirkus's list is the lengthiest again this year, and it's also the most strange. I'm confused by their inclusion of a novel that has been categorized in numerous places,
including the publisher's own catalog
, as "middle grade." That's
Fireborn
by Toby Forward. Because Amazon listed the age range as 12 and older, I did include it all of the data, but since it's a book not published until after the "best of" appeared, I'll be curious what readers and other critics say is the true age range. To me, it even looks middle grade.
Likewise, Kirkus included more indie press titles (note self-published, but actual indie press) than other publications did. This led me to some of the questions above about Outcast Oracle and it makes me question who their list might be intended for. Any reader who spent time with their list likewise probably noticed it was difficult to parse out their picks from the paid-for advertising of books between their selections, too. If there are more and more titles being selected as "best of" that are difficult to acquire for, say, purchasers at institutions, it makes me wonder how much value the list itself has for users like myself, a librarian who does sometimes supplement collections with titles I may have missed. If it's a book I cannot get without jumping through hoops, though, why bother?
On the other hand, the more esoteric choices make me wonder how many gems slip through the cracks each year because they are from smaller presses. Right now, I think we might have a dark horse for YALSA awards, as well as an under-sung gem Chris L. Terry's Zero Fade.
Overall, this year's list had a much smaller range of titles than I thought. Is it because this is a weaker year for YA overall or do the lists have an unintentional (or intentional) impact on one another? Horn Book, for example, only had 5 YA titles included in their "best of," and LJ's "YA for Adults" only had three by the criteria I used.
There's nothing that can be said conclusively, of course. But what makes "best of" lists interesting to look at as data, rather than as something more subjective, is that it lets you consider the year in a snapshot. This might have been a weaker YA year. It may have been the year that male main characters were stronger than female. It may have continued a trend of featuring a small number of LGBTQ characters. It's also interesting to consider what this "best of" snapshot will indicate in the future, too. Will we have more books of a certain ilk because they're more likely to perform better?
Stick around for tomorrow's thoughts and comparisons between this year's list and last year's. Although again it won't make any hard conclusions, it can shed some insight into some of these questions.