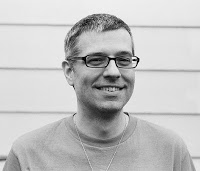 We're really excited to have debut author of Engines of the Broken World here at STACKED as part of our monthly Twitterview series. Bot Kimberly and I dug this book, and so we were excited to collaborate on interview questions for Jason — who offered some excellent answers.
We're also offering up a finished copy of Engines for one reader at the end.


Without further ado, Jason:





What inspired Engines of the Broken World?
The image: a snowbound house, a dead mother, a young girl;came to me all at once at the start of Nanowrimo '09 and went from there
Talk a little bit about the Minister. What inspired him/her/it?
It grew in the telling. Started as a homey sort of helper, but depth came very quickly. Didn't know what it really was till near the end.
We imagine the religious plot elements may be touchy for some readers. What feedback have you gotten about these aspects in particular?
That it's too religious, which is funny, as I'm an atheist. But religion is very important to very many people, so one should write well.
The story is ambitious, but is told on a smaller scale than most YA fantasy (few characters, single setting). Was this a conscious decision?
Absolutely. I wanted claustrophobic. I wanted intimate. I wanted an intensely enclosed narrative.
The ending is ambiguous (which we love). In your own mind, do you know Merciful's fate?
I know what the story tells me her fate is, and I know what I personally would hope her fate is, and the two aren't the same.
There's a lot of genre-blending going on in the book. How would you describe its genre to readers?
That's a really hard one. Apocalyptic dark fantasy pastoral horror with a religious bent?
What, if anything, should readers walk away with from Engines of the Broken World?
Oddly, I would say hope. That it's possible for one very ordinary, not special person to change the world.
If you had to give a "______" meets "_________" pitch for your book, what would you say are the 2, 3, or 4 titles it's a combination of?
The Shining meets Evil Dead meets Little House on the Prairie, I guess?
Engines is pretty classic horror. What sort of horror inspires your writing?
I like horror that sets a mood, lets your own mind craft the terror. Don't show me the monster, let me think its worse than you can describe
Favorite horror novel and favorite horror movies?
Lovecraft's stories; early Stephen King; John Carpenter's The Thing; Alien; The Ring; last three minutes of Blair Witch Project.
What gets you jazzed to write?
A new idea; finding something from years before I never finished; reading a book I know I could do better than.
Who or what do you write for?
My dad was a writer and that started it; now it's for my own satisfaction; for the joy of finishing; and for my husband who loves my books.
Why YA? Was it your intended readership?
I intended YA with this, yes, because that fit with the book. Right from the start, even as grim as it gets, Engines was going to be YA
What scares you the most about writing or the writing process?
Rejection and failure, which are common fears for writers. It's tough because every book could fail. Could be terrible. You never know.
This is your first novel — talk about what this experience has been like? Best part? Toughest Part?
Best: selling it. Seeing the cover. Knowing the release date. Worst: Waiting. It's a two year process, roughly. But it's almost done.
Who are your top three writing influences?
Tough one. So many. Maybe Stephen King, his books and his writing guide. My dad, as inspiration only. I read so much I take from everyone.
What was your most influential read as a teenager?
LotR. I read it once or twice a year for a decade or so. There's a whole lot to learn there even with shallow characters and slow pace.
Who do you believe is breaking ground in YA right now?
On the diversity front: Alaya Dawn Johnson, The Summer Prince. Represents everyone, and also a good read.
What's the best writing advice you ever received?
To never believe it's as polished as I imagine it is. But also, from me: never think it's as bad as you dread either.
What's your best writing advice to give?
Always be reading. Everything. YA, mysteries, magazines, blogs, everything. And always be writing, at least a little. It takes practice.
Do you have a writing soundtrack? Care to share some of it?
I get too distracted by music. General noise or talking isn't a problem, but music and I can't write.
What's next for you?
Working on a YA trilogy about powers dark and divine, beings made of words, and a boy with headaches he can't get rid of.
Favorite ice cream?
In Seattle there's a big ice cream boom here right now, all sorts of great interesting stuff, but I like a rich French Vanilla best.