Since October is horror month and we like to get at least a post a week up featuring something horror-related, I wanted to share a few horror-related things I've read about lately that didn't make it into the wrap-up of my SLJ piece but that I think would be of interest.
Did you know that Scholastic used to have a horror imprint called Point Horror? It started out back in 1991 and it was where some of the better-known scary books for teens were published back in the day, including books by R. L. Stine, Caroline B. Cooney, and Christophe Pike. When the books were doing well, they were doing well — Pike and Stine in particular published a ton of books through Point Horror. I'm pretty sure I read a boat load of them when I was a teen, which makes sense since the imprint itself was aimed at teen girls like me.
The imprint died out between 2004 and 2005.
But Scholastic is rebooting their Point Horror series. To me it seems like it's aimed at exactly the same readership it was back in the 90s and early 00s, and there are three new titles out or coming out shortly to put on your radar. All of them are paperback originals and deal in some capacity with "the internet world."
All descriptions come from WorldCat.
Defriended by Ruth Baron: A friend request from beyond the grave … Jason has met the perfect girl. OK, so maybe he hasn't actually MET Lacey yet, but they talk online all the time. Yet despite spending most nights chatting, Lacey refuses to meet up in person. Suspicious, Jason starts googling, and his cyberstalking leads to a shocking discovery: According to multiple newspapers, Lacey died a year earlier. Soon, Jason finds himself enmeshed in a disturbing mystery. Has he found a way to iChat with the dead? Or is someone playing a dangerous trick? Either way, Jason has to discover the truth before it's too late. You can't put up away messages from beyond the grave.
I have seen both covers as being available, but I think the one on the right is the actual cover, since it fits the style of the others in this relaunch. I don't know about anyone else, but the one on the left is really speaking to me — it's perfectly teen scream. But I also really love the tag line for the cover on the right. Defriended is available now.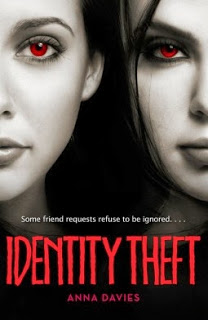 Identity Theft by Anna Davies: Someone claiming to be Hayley posts incriminating photographs of her online, jeopardizing her chance at a college scholarship, but when the photographs reveal dark secrets in her family's past, Hayley learns her very life is at stake.
The red eyes are creepy, and even though it's a pretty non-memorable cover otherwise, I think the blood-colored eyes make it stand out. There is probably also little question this is a scary book. Identity Theft is available now.
Wickedpedia by Chris Van Etten: Cole and Greg love playing practical jokes through Wikipedia. They edit key articles and watch their classmates crash and burn giving oral reports on historical figures like Genghis Khan, the first female astronaut on Jupiter. So after the star soccer player steals Cole's girlfriend, the boys take their revenge by creating a Wikipedia page for him, an entry full of outlandish information including details about his bizarre death on the soccer field. It's all in good fun, until the soccer player is killed in a freak accident . . . just as Cole and Greg predicted. The uneasy boys vow to leave Wikipedia alone but someone continues to edit articles about classmates dying in gruesome ways . . . and those entries start to come true as well. To his horror, Cole soon discovers that someone has created a Wikipedia page for him, and included a date of death. He has one week to figure out who's behind the murders, or else he's set to meet a pretty grisly end. (Description via Goodreads).
This was another Point Horror I found two covers for. Again, I'm pretty sure that the one on the right is the cover that will be available when Wickedpedia goes on sale next June, but the one on the left is too campy/awesome to not share. A bleeding laptop! But that tag line for the other cover is brilliant.
In addition to what Scholastic's doing for teen horror, Penguin is doing a couple of neat things for adult horror classics, many of which have excellent crossover appeal for teen readers.
First, they rereleased a number of older Shirley Jackson titles this year and have plans to release more. The rereleases have new and super appealing covers and are available as paperbacks, with introductions by well-known authors, including Francine Prose.
Hansaman by Shirley Jackson: Seventeen-year-old Natalie Waite longs to escape home for college. Her father is a domineering and egotistical writer who keeps a tight rein on Natalie and her long-suffering mother. When Natalie finally does get away, however, college life doesn't bring the happiness she expected. Little by little, Natalie is no longer certain of anything–even where reality ends and her dark imaginings begin. Chilling and suspenseful, Hangsaman is loosely based on the real-life disappearance of a Bennington College sophomore in 1946.
The Road Through the Wall by Shirley Jackson: Pepper Street is a really nice, safe California neighborhood. The houses are tidy and the lawns are neatly mowed. Of course, the country club is close by, and lots of pleasant folks live there. The only problem is they knocked down the wall at the end of the street to make way for a road to a new housing development. Now, that's not good, it's just not good at all. Satirically exploring what happens when a smug suburban neighborhood is breached by awful, unavoidable truths, The Road Through the Wall is the tale that launched Shirley Jackson's heralded career.
The Bird's Nest by Shirley Jackson: Elizabeth is a demure twenty-three-year-old wiling her life away at a dull museum job, living with her neurotic aunt, and subsisting off her dead mother's inheritance. When Elizabeth begins to suffer terrible migraines and backaches, her aunt takes her to the doctor, then to a psychiatrist. But slowly, and with Jackson's characteristic chill, we learn that Elizabeth is not just one girl—but four separate, self-destructive personalities. The Bird's Nest, Jackson's third novel, develops hallmarks of the horror master's most unsettling work: tormented heroines, riveting familial mysteries, and a disquieting vision inside the human mind.
The Sundial by Shirley Jackson: Aunt Fanny has always been somewhat peculiar. No one is surprised that while the Halloran clan gathers at the crumbling old mansion for a funeral she wanders off to the secret garden. But when she reports the vision she had there, the family is engulfed in fear, violence, and madness. For Aunt Fanny's long-dead father has given her the precise date of the final cataclysm.
Both The Bird's Nest and The Sundial will be available in January.
Penguin also worked with horror master Guillermo del Toro to chose six classic horror novels that were made into gorgeous deluxe hardcover editions. Del Toro wrote the introductions to each of these new editions as well.
American Supernatural Tales edited by S. T. Joshi
Frankenstein by Mary Shelley
Haunted Castles by Ray Russell
The Haunting of Hill House by Shirley Jackson
The Thing on the Doorstep by H. P. Lovecraft
The Raven by Edgar Allan Poe
I know I wouldn't mind having all of those on my shelves because they're equal parts gorgeous and haunting, as they should be. I think maybe the Jackson cover might edge out the others as my favorite one (the eye through the castle!).
Any other horror reboots or recovers you've seen in the last year or so? I'd love to know of more if there are others.