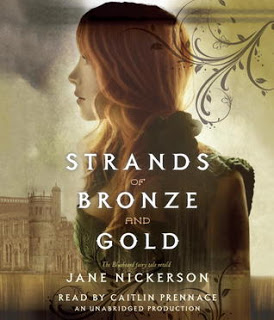 Strands of Bronze and Gold is the story of Bluebeard set on a plantation in the antebellum South. I feel like that sentence perfectly sums up everything you need to know plot-wise, but in case you want a little more: Sophie is an orphan, a member of a family that is now what we may call "impoverished gentility." When her godfather, Monsieur Bernard de Cressac, who had quite an admiration for her mother, invites Sophie to live with him, she is happy to accept. His plantation home is opulent and he treats her like a precious jewel. She admires him deeply, even finding him attractive, despite his age (he is portrayed as perhaps a man in his 40s).
And then things change, slowly. de Cressac begins to exhibit worrisome behavior, like being upset with her befriending a stray cat. Sophie learns that his moods are changeable and she never knows what will set him off. Worst, though, is that she senses he has romantic feelings for her, which makes her own childish affections for him disappear entirely. By this point, she's a prisoner in all practical ways, though he doesn't lock her in a room and bar the windows. And then, of course, there are the former wives. Four of them, all who met tragic ends. Accidental, of course…
Nickerson does some things very well. I really liked the slow pace of the story. It gave time for adequate, un-rushed development of de Cressac, as well as for Sophie's slow realization of his awfulness. It also enhances just how creepy de Cressac really is. As readers, we are expected to be familiar with the Bluebeard story. The fact that de Cressac is a murderer and creep is not news to us. But the way Nickerson allows his character – and Sophie's discovery of it – to unfold, slowly, deliberately, is quite excellent. I felt my skin crawl multiple times before there was any hint of violence.
Nickerson also does some things quite poorly. There's a subplot involving the slaves at M. Bernard's home and Sophie's desire to help them run to freedom that is so tone-deaf, it was almost painful to listen to. She also meets a free black woman in the woods named Anarchy who teaches her Important Lessons About Life. Frankly, I could have done without this entire storyline. I didn't find any part of it redeemable. (Delia Sherman is much more successful in writing about a white girl among black slaves in the antebellum South in The Freedom Maze.)
Some readers will likely find themselves frustrated at Sophie's naivete. It's necessary for the story to work, but I also found it refreshing to read about a girl who isn't already worldly and tough as nails. It seems perfectly reasonable to me that a girl in Sophie's circumstances would be innocent. In many ways, this story is about the loss of that innocence (and how easy it is for a predator to take advantage of it). While many teen protagonists seem much more like adults, Sophie is clearly still a child.
I'm of two minds about the narration, done by Caitlin Prennace. Prennace is very good at portraying Sophie's innocence. She doesn't know much about the world and is easily scandalized, so Prennace's voicing has a lot of gasps and shocked intonations. Sometimes it seems a little affected, though, and Prennace never quite sounds like a teenager. It's not the greatest narration, but it's more than passable.
Frankly, that's a good summation of the book as a whole – not great, but passable. It's an enjoyable listen and I don't feel like I wasted my time, but I'm not sure I'm rush to recommend it. Ultimately, it wasn't as atmospheric or creative as I think it could have been. It will be a good match for readers who like retold fairy tales, though I doubt it will be among their favorites. It also has a bit of a Southern gothic feel to it and should find a welcome home among those readers as well.
Review copy received from the publisher. Strands of Bronze and Gold is available now.