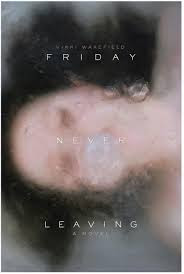 Friday Never Leaving by Vikki Wakefield came out in the US September 10, but it came out last year in Australia as Friday Brown. While I read the Australian version, from what I've figured out, little about the book has changed in the process — except the title, some of the words (I'm assuming words like "pram" were Americanized), and the cover. While it looks like a drowning girl on the cover of the US version on the left, it's actually a perfectly fitting cover to some of the content in the story. But I think I do have a slight preference for the Australian cover, shown below. It, too, is a moment from the book and perhaps sums up the feeling of the story in a way that the US one doesn't quite capture.
Friday Brown has always lived her life moving from place to place. Her and mother Vivienne didn't stay long anywhere. They ran from their pasts, from the family curse of death by water, to new places with new hopes. But when Vivienne dies — the first woman in the family to not be taken out by the curse, not quite — Friday is living with her grandfather and she feels unsettled. Being in one place, that stasis, doesn't fit with her soul. And she certainly can't wrap her mind around her losses.

So she leaves.

Friday takes up residence with a group of other homeless teenagers after running into a homeless boy named Silence at the train station. He saved her and brought her back to the squatter house, where she quickly finds herself entranced with Arden. Arden entranced me too; she was powerful, she had a mystique about her, and she was captivating. She's the kind of girl who catches and captures attention.

And Arden knows this. She abuses it.
She is a woman with power.

When the squatters move on to the Outback, to a place where no one else is around them, Arden truly asserts her power and dominance. It doesn't sit well with Friday nor most of the others in the crew, but it is Friday who challenges her. And it is Friday who pays the consequences for it.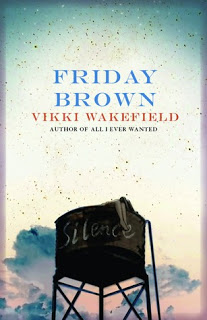 But when Friday sees her life nearing an end, after losing a friend, can she figure out how to find the place she truly needs to be? Is there such thing as stability? How do you pick yourself up again when everything you once knew is turned on its head? When the mother you thought you knew wasn't truly the person you thought she was? When moving doesn't mean freedom but instead means imprisonment? When finally you allow yourself the opportunity to grieve your losses and pick up the pieces for yourself?

Is it possible to be whole again and what does that look like?
Wakefield does an incredible job of exploring at the complexities of people. While the relationships she creates between these people is equally complex, they never quite got to the level I'd hoped for. Arden is intriguing, but we never see her power exerted until the very end. We know of it — Friday tells us about it — but I wanted more. In ways it's that not seeing which makes it scary, but to experience the full intensity, I wanted to see the full Arden.
I loved the relationship that emerged between Friday and Silence, though; she listened to him and she GOT him. She got his insistence that love and memory mattered, that someone is never really gone, ever, if you keep them in your mind and your heart. That learning people aren't always what they seem on the surface is hard, but it doesn't change the fact that love is something you have the right to choose to give; it's not automatic.
Wakefield's writing in Friday Never Leaving is exquisite and literary. Friday is quiet and she's observant about the world around her, particularly when it comes to Silence. The way she lovingly describes and engages in her world is easy to fall into, even if it's not pretty — and it's not. The losses she's suffered in her life, and the life she led with mom that was never about stability or ease are not pretty things. The curse in her family, which almost gets her as well, doesn't offer us a reason for Friday to maintain the sort of optimism about her future and the world around her, and yet she does.

I think there is serious potential for this to be talked about for the Printz this year. It's challenging, multi-layered, and the writing is just damn good. I wanted to mark page after page for some of the thoughts that Friday shared and the truths she discovered. It's an achey read, not a feel-good read, and I suspect that even though I liked-not-loved it, the story and Friday's voice will remain with me for quite a while.



It's hard to put a finger on exactly what this book reads like, but I think it's a bit of a combination of Kirsten Hubbard's Like Mandarin in terms of relationships and power wielding within them, with a bit of Holly Cupala's Don't Breathe a Word, when it comes to choosing life as a homeless teen. Pass this one along to readers who want a contemporary title that's literary, that explores relationships, and that really tackles more questions than it offers answers — and perhaps that's why this is a book that lingers and has a slower burn. There's more to wonder than there is to know.
Friday Never Leaving is an excellent title, too, for those readers who want books set abroad. Perhaps pair this one with Simmone Howell's Everything Beautiful or Melina Marchetta's realistic novels. I'm really eager to dive into some more Australian contemporary. While I've read a little bit, I think Wakefield's novel might be the one that encourages me to wade even deeper into these waters.
Friday Never Leaving is available now from Simon and Schuster. My copy was sent to me from Adele, along with a pile of other Aussie novels I am eager to read.