I don't think it's necessarily a trend in young adult fiction, but I've noticed recently more traditional novels are featuring graphic novel elements to them. Interspersed within the text are illustrations that either help tell the story or add an additional element to the storytelling (and sometimes both at once). Since getting new readers into graphic novels can be challenging, these illustrated/hybrid novels might be a way to encourage trying another method of storytelling. Likewise, these can be great books for those readers who are the opposite — adding the graphic element to a traditional novel can persuade those who are heavy graphic novel readers to try more "traditional" novels.
Maybe most importantly, though, these books are fun. They offer new ways into stories, and work toward building and enhancing curiosity. Why did this particular scene get an illustration? What significance does this particular image mean? Is it telling the reader something visually that cannot possibly be expressed through written words? Is the character telling the story an artist him or herself and the graphic elements are "their" creations and not the work of the author/illustrator?
Here is a handful of these hybrid novels, including a couple that aren't out yet but will be coming out soon. If you know of other books that fit this category, we'd love to know about them in the comments. There's no restriction on when the books came out because this is a smaller range of books than most. As long as it's young adult and traditionally published, we want to know about them. Note that these books feature illustrations, too — they aren't books including photographs, letters, or other ephemeral items (which is why books like Miss Peregrine's Home for Peculiar Children are not included).
All descriptions come from WorldCat unless otherwise noted.
The Absolutely True Diary of a Part-Time Indian by Sherman Alexie, with illustrations by Ellen Forney: Budding cartoonist Junior leaves his troubled school on the Spokane Indian Reservation to attend an all-white farm town school where the only other Indian is the school mascot.
Year of the Beasts by Cecil Castellucci and Nate Powell: Fifteen-year-old Tessa tries to be happy when her crush, Charlie, falls for her younger sister, Lulu, and it becomes easier after she begins a secret relationship with Jasper, a social outcast who lives next door to Tessa's best friend.
Wanderlove by Kirsten Hubbard (illustrations by Hubbard): Bria, an aspiring artist just graduated from high school, takes off for Central America's La Ruta Maya, rediscovering her talents and finding love.
Winger by Andrew Smith (illustrations by Smith): Two years younger than his classmates at a prestigious boarding school, fourteen-year-old Ryan Dean West grapples with living in the dorm for troublemakers, falling for his female best friend who thinks of him as just a kid, and playing wing on the Varsity rugby team with some of his frightening new dorm-mates.
A Monster Calls by Patrick Ness: Thirteen-year-old Conor awakens one night to find a monster outside his bedroom window, but not the one from the recurring nightmare that began when his mother became ill–an ancient, wild creature that wants him to face truth and loss.
Leviathan by Scott Westerfeld, illustrated by Keith Thompson: In an alternate 1914 Europe, fifteen-year-old Austrian Prince Alek, on the run from the Clanker Powers who are attempting to take over the globe using mechanical machinery, forms an uneasy alliance with Deryn who, disguised as a boy to join the British Air Service, is learning to fly genetically engineered beasts.


Lips Touch Three Times by Laini Taylor, with illustrations by Jim Di Bartolo: Three short stories about kissing, featuring elements of the supernatural.
Maggot Moon by Sally Gardner, with illustrations by Julian Crouch: An unlikely teenager risks all to expose the truth about a heralded moon landing. What if the football hadn't gone over the wall. On the other side of the wall there is a dark secret. And the devil. And the Moon Man. And the Motherland doesn't want anyone to know. But Standish Treadwell–who has different-colored eyes, who can't read, can't write, Standish Treadwell isn't bright–sees things differently than the rest of the "train-track thinkers." So when Standish and his only friend and neighbor, Hector, make their way to the other side of the wall, they see what the Motherland has been hiding. And it's big.
Broken by Elizabeth Pulford, with illustrations by Angus Gomes (available August 27): Zara has one immediate and urgent goal, and it is to find her brother, Jem. She faces a few complications, though, not the least of which is searching for him in her subconscious while she is in a coma. Zara's coma has pulled her into the world of Jem's favorite comic-book hero. But no matter how quickly Zara literally draws her own escape, she is taunted deeper into the fantastical darkness by the comic's villain, Morven. All the while she is caught between the present with visits from friends and family in the hospital and the past by flashbacks of a traumatic event long ago forgotten.
The search for her brother may help Zara see the light, but in order to find him, she must face her innermost secrets first. (Description via Goodreads).
Chasing Shadows by Swati Avasthi, with illustrations by Craig Phillips (available September 24): Before: Corey, Holly, and Savitri are one unit—fast, strong, inseparable. Together they turn Chicago concrete and asphalt into a freerunner's jungle gym, ricocheting off walls, scaling buildings, leaping from rooftops to rooftop. But acting like a superhero doesn't make you bulletproof. After: Holly and Savitri are coming unglued. Holly says she's chasing Corey's killer, chasing revenge. Savitri fears Holly's just running wild—and leaving her behind. Friends should stand by each other in times of crisis. But can you hold on too tight? Too long? In this intense novel, Swati Avasthi creates a gripping portrait of two girls teetering on the edge of grief and insanity. Two girls who will find out just how many ways there are to lose a friend…and how many ways to be lost. (Description via Goodreads).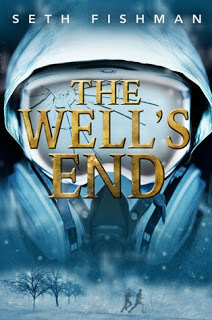 The Well's End by Seth Fishman, illustrated by Kate Beaton (February 25, 2014): Mia Kish is afraid of the dark. And for good reason. When she was a toddler she fell deep into her backyard well only to be rescued to great fanfare and celebrity. In fact, she is small-town Fenton,Colorado's walking claim to fame. Not like that helps her status at Westbrook Academy, the nearby uber-ritzy boarding school she attends. A townie is a townie. Being nationally ranked as a swimmer doesn't matter a lick. But even the rarefied world of Westbrook is threated when emergency sirens start blaring and the school is put on lockdown, quarantined and surrounded by soldiers who seem to shoot first and ask questions later. Only when confronted by a frightening virus that ages its victims to death in a manner of hours does Mia realize she may only just be beginning to discover what makes Fenton special. The answer is behind the walls of the Cave, aka Fenton Electronics. Mia's dad, the director of Fenton Electronics, has always been secretive about his work. But unless Mia is willing to let her classmates succumb to the strange illness, she and her friends have got to break quarantine, escape the school grounds, and outsmart armed soldiers to uncover the truth about where the virus comes from and what happened down that well. The answers they find just might be more impossible than the virus they are fleeing.
A few middle grade authors to have in your back pocket who have done these sorts of books include Neil Gaiman (though Coraline and The Graveyard Book), Philip Reeve (Larklight), Brian Selznick (Wonderstruck), and Tony DiTerlizzi (The Search for WondLa).