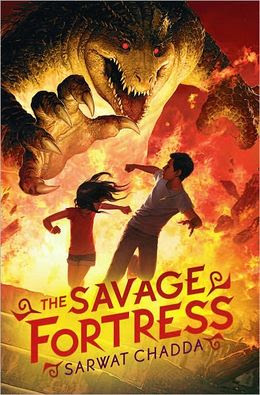 Thirteen year old Ash Mistry, along with his little sister Lucky, is visiting his aunt and uncle in India for the summer. Though he's of Indian descent, he doesn't feel much of a connection to the place, having grown up in England. Actually, he kind of wishes he were back in England anyway, since the heat in India is killing him and there's nothing much exciting going on.
And then his uncle is summoned to the home of Lord Savage, a very wealthy and powerful man with connections to Indian antiquities. Savage offers his uncle – an archaeologist – a job, but the uncle is wary and ultimately refuses, despite the promised huge paycheck. Ash, who had been wandering the fortress, is unlucky enough to stumble upon Savage's secret – he has rakshasas (demons) in his employ, and Savage's offer of employment to Ash's uncle is not what it seems. Savage's actual aim is to release Ravana, an ancient demon king, who he hopes will grant him immortality.
Ash's discovery sets Savage and his rakshasas after him, and what follows is an action-packed adventure as Ash, Lucky, and a band of allies – including a rakshasa named Parvati who has her own vendetta against Ravana – fight to stay one step ahead of Savage. Ash – a chubby nerd – finds he has hidden powers, both in terms of character as well as magic.
Aside from the inclusion of Indian mythology, which is refreshing, the story itself is fairly generic. I found myself disengaging quite a lot once the first portion of the story had passed, and I can't really blame narrator Bruce Mann, who does a fine job. I suppose I've just read this story all too often – the loner kid discovers he has hidden powers and is able to avert the end of the world through magic and a few plucky friends. It's well told and exciting enough, but doesn't have the oomph that would propel it to an above average read for me.
All that said, for kids who haven't yet lived enough years to grow weary of these stories (after all, they're the audience, not adult me), The Savage Fortress is a solid choice. I liked it about as well as I did the Percy Jackson stories, to which it's a natural readalike. Hand this to the kids who can't get enough of mythology and have already read all of Riordan's books. (Loki's Wolves by Marr and Armstrong is another likely readalike, though I've yet to read it. Surprisingly, I haven't seen a huge crop of middle grade mythology novels aside from Riordan's, and it makes me wonder if Riordan has cornered the market on it.)
Audiobook provided by the publisher.