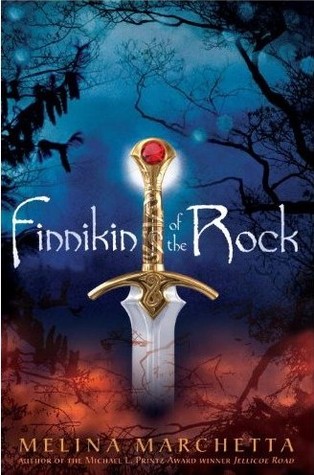 I read Melina Marchetta's lovely Finnikin of the Rock this past weekend. I thoroughly enjoyed it – it's exciting, plotted well, and full of thorny, complex characters. It has magic and adventure and love and revenge and kingdoms and threats of war and all that other good stuff I look for in a rousing high fantasy read.
As I always do, I read a lot of reviews of the book. I'm a review-reader. I read reviews before I read the book, while I'm reading the book, and after I'm done reading it. I noticed that many readers had come to Finnikin of the Rock and its sequels via Marchetta's other titles, which are acclaimed and award-winning and, most importantly, realistic novels.
Most of these readers who came to her fantasy books via her non-fantasy ones really enjoyed Finnikin. I love to see this. I love that fantasy can gain new fans this way, even if those readers are reluctant to pick up other fantasy titles. It's how I come to read a lot of non-genre (out of my own comfort zone) works, too.
The problem arises when I see a review that claims that a book like Finnikin is "not really a fantasy novel." I see this sort of thing in a lot of reviews of acclaimed genre titles, particularly if those titles are by authors who don't usually write genre fiction. With Finnikin, I see it in almost every single one of the reviews where the reviewer states they don't normally read fantasy. It's a strange statement to make for a book like Finnikin – that it's "not really fantasy" – since Finnikin is high fantasy and therefore the most obvious kind of fantasy – set in a completely different world, with strange names and magic to boot.
When I read the reviews further, though, it became apparent that the reason these readers don't feel that Finnikin is truly fantasy is because it is "really" about things that humans in the Real World can relate to: identity, loss, family. That it's about the characters and how they cope with these things, how they relate to each other, how they explore their situation and rise above it (or don't).
But Finnikin is not at all unusual in this regard, because these things are what all good fantasy books are about. I promise. That's what makes them good books. If they're not about these things, they're just bad books – and you can find bad books in any genre. There are plenty of realistic books that place plot (or setting) on a pedestal and sacrifice character (or theme) at its altar. To say that fantasy does this more than other genres is just wrong – and insulting.
I was raised on fantasy novels. They're what I've read since I knew how to read. They're layered with meaning, full of substance. They've taught me more about myself and the people around me than I can explain. I love how creative they can be, how empowering, how beautiful their language, how intricate their plots. I love that they can create people and things so fantastical, so completely strange, but also make me feel like I know those unbelievable things and people like I do my own self. When a person claims that a great fantasy book isn't "really" fantasy because it has depth, because it has meaning, because it says true things about life, I object strongly. I know it to be false, and it seems like an unwarranted slight against a genre that still endures critical ridicule despite its current popularity.
Here are just a few examples of some high fantasy YA novels I've read recently that all incorporate very human themes (read: that are all good books). Sarah Beth Durst's Vessel is about a girl whose family had tremendous expectations for her, and she disappointed them completely. Now she's lost, abandoned by the ones she loves, desperately seeking a new home and an identity in a world that has rejected her. Jennifer Nielsen's The False Prince features a boy without a family who is also trying to find a place for himself, trying to regain the honor he felt he lost by a decision that was forced upon him years ago. Anything written by Shannon Hale – check out The Goose Girl for a prime example – is sure to include lovely, evocative writing and well-meaning but flawed characters.
If you read the descriptions above, without the titles, you wouldn't know they belonged to fantasy books. At their hearts, all good books are about how people (or other sentient beings) grow and change. They're always about us.
I think a lot of this sort of misconception springs from ignorance. If someone has only read one kind of fantasy book before – and let's be honest, it's probably The Lord of the Rings – she or he may have assumed other fantasy novels are just like it. But equating one fantasy novel with another is just like equating one realistic book with another. It would be ridiculous if someone said "Oh, I didn't like To Kill a Mockingbird, so I don't think realistic books are for me. If I like another realistic book, it must be because it's not really realistic."
As I thought about this more, I tried to get to the heart of what the critics were saying. They love Finnikin, but don't care for fantasy usually. Why, then, does Finnikin speak to them so strongly while other fantasy novels don't? If this were any other book, I'd assume that the fantasy elements were light and easily overlooked, but that's not the case here. Finnikin is steeped in traditional high fantasy tropes. Its religion, cultures, quests, kingdoms, magic, and themes – particularly the search for identity and a lost homeland – are all trademarks of high fantasy. In fact, I'd say that Finnikin treads no new ground at all in any of these areas. For all its excellent writing, it's not a very creative book.
Which leads me to my conclusion – Marchetta is a fantastic writer, and that's why people love this book. It's perfectly legitimate to not enjoy fantasy elements. I get that completely. Magic isn't for everyone. But when the writing is just so darn good, sometimes it's hard not to like a book in spite of the magic. That's what happened to me with A. S. King. I'll read everything she writes – which is almost always realistic – simply because her writing is just that good.
There may be other reasons, of course. The world-building is pretty standard, and not incredibly detailed or varied, so it's easier for people who don't normally read fantasy to follow it, I think. For many readers, elements like that are a distraction (whereas for mega fantasy fans, they're enhancements). You get a lot of readers who can't stand The Lord of the Rings because of this. But to claim that the fantasy elements somehow prevent real, deep meaning or substance from existing in all but a treasured few is disingenuous. (And for all its endless detail and pointless digressions, Lord of the Rings has an incredible amount of substance.)
I'd like to encourage readers who don't normally read fantasy to think more broadly about the genre. Most fantasy has magic, yes, but the magic isn't the entirety of the book. In any good fantasy, the magic (you can insert whatever traditional fantasy element you like instead of "magic") will be a vehicle for the characters and their growth, in much the same way that the plot elements of a realistic novel are the vehicle for its characters.
Finnikin of the Rock is a fantasy. If you liked it, you like fantasy. Maybe not all of it, maybe not even most of it, but you do like some of it. Rather than denying it by saying you don't normally read fantasy, be proud of it. This is a great book. It's worthy of your love – and it's worthy because it's a fantasy, not because it's not.