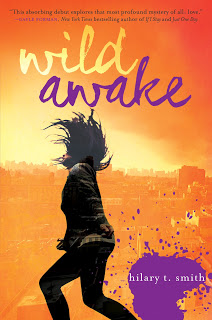 This summer, Kiri's parents are on an extended vacation, leaving her to her own devices at home. She's poised to spend it hanging out with best friend/bandmate/crush Lukas making music and competing in battle of the bands. She's also made plans to practice piano because she's quiet accomplished and only wants to get better and better. Really, not that awful a summer.

But it's a phone call from a stranger who changes everything. He says he has some of her dead sister's things.

The sister who died years ago. From an accident. But it wasn't an accident like Kiri was told it was. Sukey died under more mysterious circumstances.

When Kiri goes out of her way to pick up those things, she learns it's not about the things her sister left behind. It's about the people who she runs into on the trip to pick up those things and the people who help her work through the grief she thought she'd packed away so many years ago.

Wild Awake, Smith's debut novel is fresh, alive, and has a helluva voice. Though at heart this is an exploration of grief, it never once falls into feeling like a "grief novel" (arguably nothing does, but I use this phrase to suggest this isn't a sad story). Kiri is a little bit off kilter, driven not only by wild hormones, but she's driven by freedom. Together, she tries things and acts in odd, erratic, but completely believable ways. She's consistently inconsistent, as anyone grieving would be. She dabbles with drugs and alcohol, which helps her remove herself from her time and place as it is. When she's had the rug pulled out from under her, it's the way she can best cope. All the years of thinking she's processed her sister's death are now up for questioning. Was she lied to? Was her sister hiding something deeper? Why did her parents shield the truth?
Moreover, Kiri suffers from mania — it's impossible to diagnose her mental illness because she doesn't diagnose it herself, but she goes through periods of intense highs with intermittent lows, though they're not low lows. The drugs aid in leveling her in many ways, too.

Even though she believes it to be the case at the beginning of summer, it's not Lukas who ends up capturing Kiri's heart. It's Skunk, the guy who fixed Kiri's bike on that first trip downtown to collect Sukey's things. When she thinks nothing of him then, it's through getting to know him better she discovers he has depths to him that speak to her deeply. He's passionate, he's into music, and he's mentally unstable. The love and acceptance Kiri has for someone like him, who could break at any moment, speaks volumes not only about Kiri and Skunk, but also about the importance of relationships and the things that keep them growing and thriving. Even though the two of them don't bond over their mental states, there is a connection between them relating to this anyway. And maybe that connection is less than the two of them each suffers, but instead, that everyone in the world suffers from something — for Kiri, it's both grief and it's her mania. Skunk suffers through his illness, in addition to other things.
In other words, this book is about how there's no singular element that can define and thereby reduce a person into a thing.
Of course, this relates right back to Sukey and what happened to her, as well as what happened to the things that made her who she was when she was alive.

There is a real beat and infusion of sound to this novel. It's pulsing and bright and alive. This isn't a mystery and it's not a story with great Depth and Seriousness. But because it's none of those things, it speaks volumes about the human experience, about living and loving, and about being present in the moment. In many ways, Kiri reminded me of Felton Reinstein of Stupid Fast — they've both been thrown for a big loop, they're both navigating change without ever being a Lesson in the values of Change, and they're both alive and active by bike, at night, and through their respective talents. And at the end of the day, both are also about the importance of relationships, whatever way they come.

I usually don't share quotes from books, but this one had me marking a number of them because they were so good, and they speak to the story:

"Every disaster, every whim, every seemingly random decision came together to make this night happen. There are no mistakes — just detours whose significance only become clear when you see the whole picture at once."

"It's amazing how well you can get to know a person if you actually pay attention. People are like cities: we all have alleys and gardens and secret rooftops and places where daisies sprout between the sidewalk cracks, but most of the time all we let each other see is a postcard glimpse of a skyline or a polished square. Love lets you find those hidden places in another person, even the ones they didn't know were there, even the ones they wouldn't have thought to call beautiful themselves."

"The universe, I realize, is full of little torches. Sometimes, for some reason, it's your turn to carry one out of the fire — because the world needed it, or your family needed it, or you needed it to keep your soul from twisting into a shape that's entirely wrong."
Wild Awake tackles so much and does so while maintaining a real voice and perspective that feels new and exciting. When I finished the book, I felt refreshed and happy. Sure, there's heavy stuff here, but Kiri's likable, even if it's imperfect. In fact, I'd argue her imperfections and her willingness to work with those imperfections are what make her so likable. The romance here is sweet and doesn't feel shoehorned in. While there are elements of the story that require suspension of disbelief — like Kiri's family leaving her alone for the summer when they know she's not entirely stable — it's okay. There is far more to enjoy here than to nit pick, and Smith's writing stands on its own.
In terms of voice and style, Kiri reminded me a lot of Juno from the movie Juno, and I think readers will see many similarities with Jandy Nelson's The Sky is Everywhere as the stories pertain to grief — though Smith's novel is a bit lighter in tone. Wild Awake is contemporary, but it contains elements of mystery, with a strong elements about music, about sibling relationships, mental illness, and what can happen over the course of a single summer in a teen's life.
Review copy received from the publisher, via the editor. Wild Awake is available today.