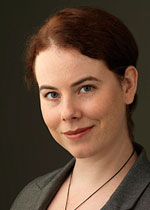 Karen Healey is the author of the 2010 Morris finalist Guardian of the Dead, the 2011 Cybils finalist The Shattering, and the recently-released When We Wake, which I reviewed here. She joins us for a Twitterview this month, where she discusses her fictional future in When We Wake, writing advice, favorite dystopian reads, and upcoming projects.
We've also got a finished copy to give away to one lucky reader, courtesy of Little, Brown.
Pitch When We Wake in 140 characters or fewer.
Girl dies on best day of her life; wakes up 100 years later. Then everything gets worse.
What inspired you to write the book?
I wanted to write a Sleeping Beauty story! A sci-fi version that deals with climate change and politics worked for me.
How would you describe Tegan?
Passionate, persistent, honest, and so stubborn that she'd batter down stone walls with her head.
How would you describe the future world Tegan finds herself in?
Complicated! Much like our own, really – but with new ethical and environmental issues to face.
How realistic do you think that future is?
Well, the general social tolerance is realistic! But as for the worst aspects, I'm really hoping it's not realistic at all.
The future setting is full of interesting details. What research did you do to determine what 2127 would be like?
I must admit the truth – I'm secretly a time traveller.
Would you volunteer to be cryonically frozen?
Volunteer, yes! Pay for it, never – it's a terribly expensive process, with very little hope of success.
Tegan is a big Beatles fan, and you thank them in your acknowledgments. What's your favorite Beatles song?
I rather like "Revolution", "Here Comes The Sun" and "Blackbird".
The end of the book seems purposely open-ended. Is there more to Tegan's story waiting to be told, or do you feel it's complete now?
There's a sequel on its way! While We Run should come out next year. But Tegan won't be telling that story – Abdi will.
When We Wake comes amid a YA dystopia craze. What do you think sets it apart from other books with a similar concept?
It's actually a pre-dystopia! The world hasn't collapsed yet – but it's certainly on its way.
What are your three favorite dystopian reads?
I love Winter of Fire by Sherryl Jordan, Taronga by Victor Kelleher, and George Orwell's 1984.
[Kimberly's note: I loved Winter of Fire too, and am so glad I am reminded of it now. I highly recommend it, if you can find a copy.]
What was the most fun part of writing the book?
Definitely all the free running research! I got to sit there and watch these parkour vids and be super impressed.
Your first book, Guardian of the Dead, was a Morris finalist. How has that impacted your writing career?
It's certainly helped get my work to librarians, and from there to readers, which is terrific!
Who do you think is breaking ground in YA right now?
Sarah Rees Brennan – she has a massive range, and an excellent take on familiar tropes.
What did you like to read as a teenager?
Masses of big map fantasy, and anything by Sherryl Jordan, Gaelyn Gordon, and Margaret Mahy.
Describe your writing process.
Let an idea sit at the back of my head and have tons of idea babies. When the idea family is too big for the space, get it out in words!
What's the best writing advice you ever received?
Keep writing – Gaelyn Gordon said that of an early thing she read of mine. And I did.
What's your best writing advice to give?
Keep writing! It's the only way you'll ever produce and improve your work!
Outside of writing, what do you do with your free time?
I've heard of free time. It's a mythical beast, right, like a unicorn?
Tell us a little about your next project.
While We Run takes place six months after When We Wake. Abdi has a lot of things to say.