This week's guest post comes to us from author Michael Northrop, and he's going to lay down where to start when it comes to contemporary YA.





Michael Northrop's first young adult novel, Gentlemen, earned a Publishers Weekly Flying Start citation, and his second, Trapped, was named to YALSA's Readers' Choice, Quick Picks, and Popular Paperbacks lists. His third YA novel, Rotten, is out today—Quelle coïncidence! It is about a tough teen named JD and a rescued Rottweiler named Johnny Rotten. His Twitter handle is @mdnorthrop.






Depending on whom you ask, YA is either a marketing label, an age range, or something else entirely. One thing it's not is one thing. The genres contain subgenres, the categories contain subcategories and no one really agrees on what those terms mean anyway. Here are my recommendations for just one genre—or is it a category?—contemporary/realistic fiction. If you've never read YA before—or if you've read tons of it, but none of it realistic—here are half a dozen excellent books to start with.
Contemp(t)
Some Girls Are by Courtney Summers.
This seems like a good place to start. "Problem novels" have come a long way. When I was a teen, they were pretty reliably ham-fisted. Not this one. There are plenty of problems—boy, howdy—but it's never didactic. Instead, Summers' portrayal of high school social dynamics is relentless and searing.

Old-School
The Outsiders by S.E. Hinton.
This is sort of the roots of the tree when it comes to YA, but in addition to the history lesson it's also a brilliant novel. (Ponyboy! Sodapop! Aah, so good!) I reread it recently, and nearly 50 years after it was written (by a 16-year-old!) it still feels fresh and vital.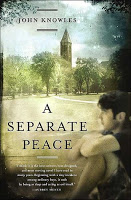 Old and at a School
A Separate Peace by John Knowles.
The granddaddy of all prep school novels, it's elegant, powerful, and perfectly constructed. John Knowles, making the rest of us look bad since 1959.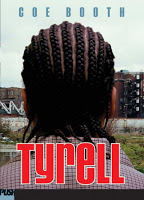 Meanwhile, in the City
Tyrell by Coe Booth.
Pitch-perfect from the opening sentence, which is, not incidentally: "When I pick Novisha up from school, she actin' all weird and shit."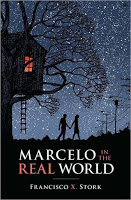 Have a Heart
Marcelo in the Real World by Francisco X. Stork.
Good contemporary YA doesn't have to be nasty, dark, or mean. It just, you know, tends to be. There are plenty of big-hearted books out there, though. This story of an autistic 17-year-old navigating the "real world" of a summer internship is one of the best I've read.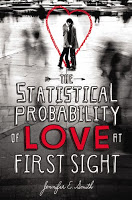 Romance
The Statistical Probability of Love at First Sight by Jennifer E. Smith.
And speaking of hearts—romance! I've been told there are a lot of YA books about it. The statistical probability of me reading many of them is pretty low, though, so I'm sticking with a safe pick here. TSPoLaFS is extremely clever and very sweet and has twice as many words in its title as my first four books combined.
Extra Credit: This probably isn't the right book to start with—a lot of readers might never go back—but it's worth checking out once you've gotten a feel for contemporary YA.
The Outer Limits
The Children and the Wolves by Adam Rapp.
This one shows how far realistic YA can go. (At least) one of the main characters is a full-blown psychopath, and another is a kidnapped three-year-old girl. (Oh, Frog, you poor thing.) It's a very short book, so it's like taking a quick walk along the outer edge of the YA property.