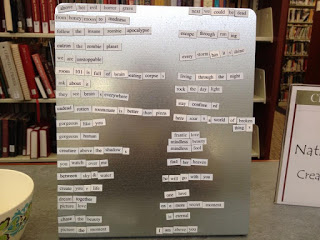 Becky Canovan, librarian at University of Dubuque, put out magnetic poetry as a passive program for her college students in the library. This awesome zombie poem is one of the resulting creations.
This is a very short roundup this week — I think partially because it's been quieter in the book world and partially because I've been working on a number of things that have limited some of my own time in blog/news reading. If you've seen something worthwhile in the last two weeks, I'd love to see it.
Over at the Quirk Books blog, there's a nice piece about the way that YA fiction depicts tragedy. It hits on a lot of things I think about and believe in that YA fiction is a safe space for exploring these topics and they are almost always authentic to the range of experiences teens have.
I think it's important not to stop talking about Steubenville or sexual assault, rape or awareness thereof. There's a nice piece on Bookriot about how YA books — can help. Which leads me to wanting to post this picture, sent to me by librarian Danielle Fortin about a display she made in her library on the topic. I LOVE this: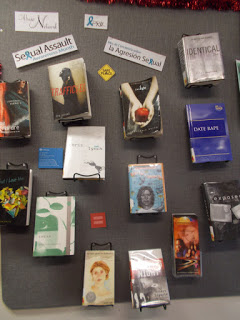 Brian Herzog does a post every week he calls the reference question of the week. The question from last week is one of my favorites I think because I would have never figured it out. Can you? Obviously, now I want to try this on everyone I know.
Malinda Lo has done another excellent, well-researched post on representation of LGBTQ teens, and this time, she's looking at covers and their relationship depictions in light of David Levithan's Two Boys Kissing. This is GREAT stuff.
Jen Hubert channeled a lot of thoughts I had about knowledge and experience earlier this week into a post she wrote for Library Lost & Found titled "Give it All Away." I agree completely.
It's been a really rough week, and even though I don't want to necessarily end on that note, I think it's necessary because I have read a few outstanding pieces that I want to share. First and most important — this particular post resonated with me deeply because I've come to discover my approach to tragedy is this: it's okay to look away. I think because we can access so much information so quickly, we feel like we MUST see it all or that we MUST share it all. But for me? I personally need to just walk away. I can't process when bombarded with information. I prefer to go inward rather than outward. That said, two first-hand accounts of the Marathon bombing are worth reading because they convey a lot of what needs to be said and they say it well: Carrie Jones's Boston Marathon and Tiffany Schmidt's Boston Love.