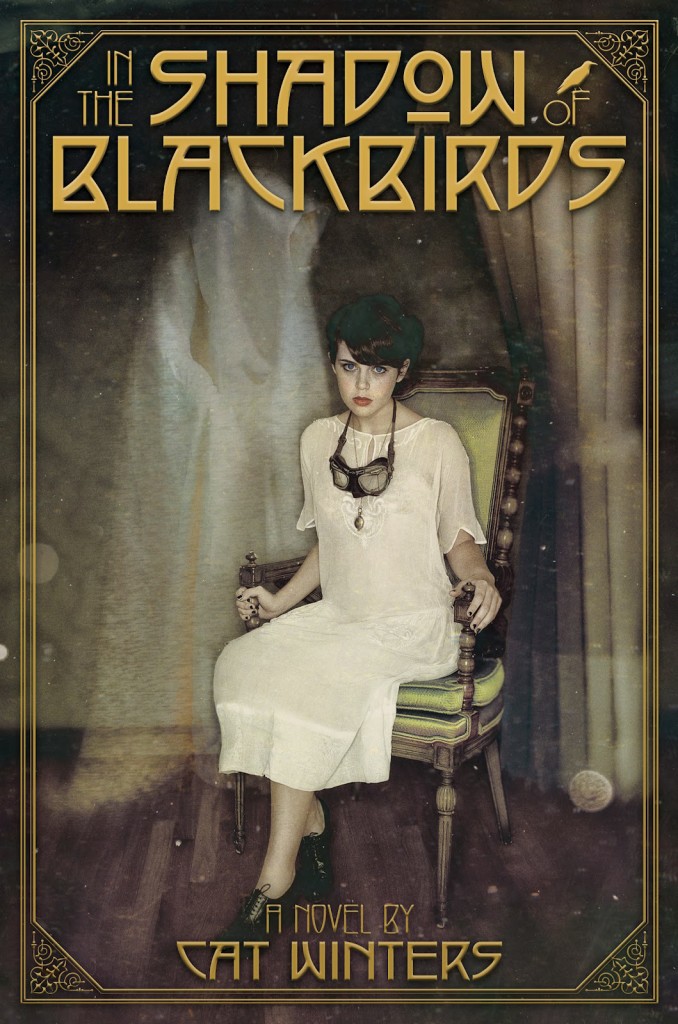 By now, I've learned I don't particularly care for ghost stories, but I keep trying them, usually when I read a glowing review.
In the Shadow of Blackbirds
by Cat Winters was my latest experiment, and it wasn't much of a success.
It's 1918, and Mary Shelley Black (a name I never warmed to – it seemed just too much for this type of story) saw her childhood friend and sweetheart Stephen go off to fight in World War I. She worries for him, fighting in France, but she's also facing a horror at home: the Spanish flu, which has swept the globe, killing most people it affects. Though she and her aunt (whom she is living with, her mother dead and her father in prison for protesting the war) have not yet been afflicted, they live in terror of it.
Because of the war and the flu, spiritualism flourishes. (Winters mentions in her author note that the average life expectancy dropped to below 40 during this time.) People are desperate to connect with loved ones who have passed on, leading to a rise in spirit photography, where convincing charlatans photograph bereaved people and then present a photo with the loved one's "spirit" standing near them.
Stephen's older brother Julius is one of these photographers, and he claims Mary Shelley is his muse. He convinces her to sit for him, and presents a photo of her with Stephen's ghost hovering near her. Immediately after, Mary Shelley learns that Stephen has died on the battlefield. She is so stricken with grief, she goes out in the middle of a storm and is struck by lightning. She is dead for several seconds, and when she is resuscitated, she finds she is…changed. Previously a skeptic, she can now see Stephen's ghost, and he is tormented. He claims he's being tortured by murderous blackbirds, and Mary Shelley soon realizes that the accounts of his death aren't quite right. She sets out to determine what happened to Stephen and allow him to rest.
The setup is intriguing, and Mary Shelley's haunting look on the cover drew me in. But ultimately, I found the book disappointing. The first misstep was the inclusion of the flashback right at the beginning, which threw the timeline off for me for a bit. This flashback is important, since it establishes Mary Shelley's and Stephen's relationship, as well as Stephen's relationship with Julius, but I'm just not a fan of flashbacks in general.
Yes, it's a fairly atmospheric story (thanks in large part to the period photos sprinkled throughout), with some interesting historical details. Yes, the romance is nicely sensual for a change (as opposed to many historical teen novels where holding hands is the farthest either party wants to go). And yes, it does get quite creepy at moments. But the main plotline involving Stephen's ghost never completely grabbed me. I feel like most ghost stories rely on the ghost either being unwilling or unable to reveal what's distressing it, and that's the case here, too. How compelling of a mystery can it be if it can be solved by the ghost just letting go of its stubborness and sharing the information it has? I understand that Stephen's ghost was not necessarily able to share, but it seems like a cheat.
This is not a situation particular to In the Shadow of Blackbirds, and to be fair, many people enjoy this aspect of the ghost story, where the ghost is so tortured it simply cannot act rationally. Alas, I am not one of those people. This is a case of "It's not you, it's me." In addition, I found the mystery fairly easy to solve (there was not a large pool of suspects), though I have to admit, Winters surprised me with some of it.
I did enjoy reading about how the flu affected the population. That era is not one I've studied much, so I was surprised to learn how large the death toll was (larger than the death toll from the war), and it was fascinating to read about the home remedies desperate people resorted to (onion soup and garlic).
For established fans of ghost stories, this should fit the bill, but I'm not sure it will convert the uninitiated. (Since, you know, it didn't convert me.) For a different take on this book, check out
Lenore's
and
Christina's
dual reviews (and, incidentally, the place where I got the review copy).