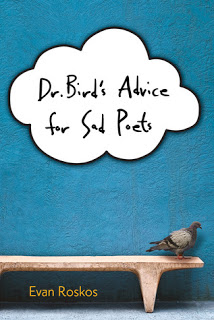 James's sister Jorie got kicked out of their house by his parents. She'd been expelled from school and that was the last straw. She didn't get another chance.
Now, he has no way to get in touch with her and he wants nothing more than to be able to read Jorie. She gets him. She gets what's going on in his mind.
More than that, she gets why he needs the help he needs. She gets their parents.
Evan Roskos's debut Dr. Bird's Advice for Sad Poets starts with what seems like a mystery, but it's not a mystery at all. This is a story about mental illness and about what it takes to survive in a family that's anything but stable. More than that, though, this is a story about loving despite the challenges, and it's a story that incorporates all of these themes through the voice of an authentically funny and insightful male main character, James.
Also, this is a book full of the wisdom of my favorite American poet, Walt Whitman. We're talking Leaves of Grass here. Where Emily Dickinson gets her fair play in YA fiction, it was refreshing to read about a teen obsessed — utterly obsessed — with Whitman.
So how we get from the starting point of Jorie's being kicked out to James ultimately coming to terms with the fact he suffers from depression and anxiety is what makes this story great. It's not obvious. It begins with James getting in an accident as he's imagining what it would be like to date the girl he's always had a crush on, Beth. But rather than laugh at him or shrug him off, Beth asks James for a little help. Jorie had been a hell of a poet, and Beth was wondering if it was possible for James to track down any more of her work, now that Jorie was unable to submit it herself. Obviously wanting to impress Beth, James decides to sneak into his sister's now-abandoned bedroom and look for something.
But he finds much more than her poetry.
Fast forward a bit. James heads out with friends one night, and he runs into his sister at a diner. They reconnect. It's good for him not only because he can address what it is he found in her room, but it's good for him because James has hit critical levels in terms of the thoughts that won't escape his head.
Enter Dr. Bird.
Dr. Bird is the imaginary pigeon James believes acts as his therapist. Because, see, pigeons and the way they bow and crane their necks are much the same way that someone who is truly listening to you does. It's through the imaginary Dr. Bird that James has shared his innermost thoughts and fears, but now Dr. Bird isn't helping. In fact, Dr. Bird — James — realizes that these thoughts he's having are not normal and they are not going to go away. And with Jorie gone, James is taking the brunt of his parents' arguments and abusive behaviors. But being a teen and being unable to access money easily and certainly unwilling to ask his parents for the cash, James takes on a part-time job in order to save up and see a therapist. On his own.
This is more than a story about the depression and the anxiety. It's more than a story about abusive family situations or the power of sibling relationships. Dr. Bird's Advice for Sad Poets is really a story about relationships and connections in a much broader sense. Just as Whitman saw the common man as beautiful, as worthy, as capable, James sees the same thing. Despite the fact he's had crap handed to him over and over, and despite the fact he has little to be positive about, he is. He sees the beauty in the world around him and in the people around him. Even when he realizes that he can't have Beth in the way he wants to (and for a bit feels used by her), he loves the fact he can have that relationship and have it on the level he's having it. He loves the way he's able to have a relationship with himself, even if it's through the image of Dr. Bird. He comes to realize that art and nature are full of beauty and wonder and that to appreciate them, he has to love himself and accept himself first and foremost.
And James is entirely capable of that now that he's admitted — and accepted — his weaknesses.
Dr. Bird's Advice for Sad Poets is a mix of the humor and insight of Jesse Andrews's Me & Earl & The Dying Girl, along with the heart and optimism of Matthew Quick's Sorta Like a Rock Star and Boy21, with a hearty dash of Felton Reinstein from Geoff Herbach's Stupid Fast series (I thought this especially true when it came to the sweet relationships developing between the male lead and their female romantic interest — even though Felton's connection with Aleah plays out differently than James's with Beth). This book will appeal to readers who loved any or all of those books, without doubt. The pacing is spot-on, and because James doesn't fixate on his issues but instead fights against them in order to see and raise the good in other people, the plot itself is a ride. I didn't know when I would see James face his own monsters, and I didn't know if or when I'd see James confront those in his life who were the source of these monsters. It is impossible not to root for him all along the way.
Roskos's debut has great appeal to male and female readers looking for a strong contemporary title. I'd list it as one of my favorites of the year to date because of James's memorable, witty, and positive voice and his utter passion for art, for new experiences, for relationships, and for himself.
Dr. Bird's Advice for Sad Poets is available now. Review copy received from the publisher.