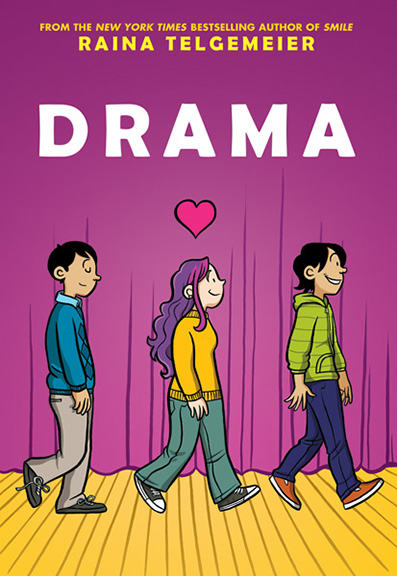 Drama
by Raina Telgemeier
I love Telgemeier's style – her art is so bright and colorful, it's immediately attention-grabbing. Each of her characters is distinct, with easily understood (and frequently funny) facial expressions.
Drama explores the lives of a group of middle school kids putting on a production of Moon Over Mississippi, focusing on Callie, the set designer. The book touches on a lot of topics aside from the issues that come with putting on a show, which I think broadens its accessibility beyond drama geeks: crushes, sexuality, friendship. And of course, it's nice to see the focus placed on the behind-the-scenes crew (who are refreshingly diverse) rather than the actors.
What makes the book really shine is its treatment of homosexuality. While Callie herself is sure she likes boys, at least one of her friends is proudly interested in members of the same sex – and one other is struggling more quietly. The situation is complicated by Callie's own crush on one of these boys.
I've read many reviews by people who believe this topic is too mature for its audience, but I couldn't disagree more. Middle school is just the time when many kids are learning what it is they like (and some learn years earlier). Telgemeier presents Callie's and her friends' situations with sensitivity and understanding. I think kids will see themselves in the characters.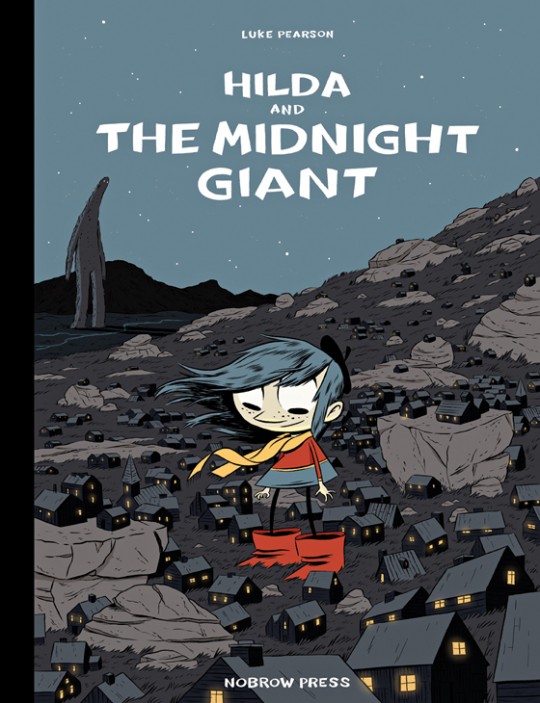 Hilda and the Midnight Giant
by Luke Pearson
Hilda and her mother are being plagued by elves. These elves live in tiny, invisible houses in the same area where Hilda does, and they claim they were there first. Moreover, they say that Hilda and her mother are always stepping on their houses, which is a great annoyance. The elves demand that Hilda and her mother leave, or they will take action.
Hilda thinks this is ridiculous and sets out to talk to the elf in charge in hopes of convincing him they can live together peacefully. On her journey, she meets a giant with his own story to tell, and she decides to help him out as best she can.
This is a weird one (the word "quirky" could have been coined to describe it), but I liked it. It's a larger book, allowing for some nice full-page landscapes highlighting the contrasts between the tiny elves, medium-sized Hilda, and the giant. The colors are mostly muted, nothing at all like the bright and cheery ones you find in Drama. It sets a nice mood, enhancing the feel that maybe this story is not taking place in our world at all.
The story is more than a little strange, and the ending – which is abrupt and arrives with no foreshadowing – may turn some readers off. But it's certainly in keeping with the book's whimsical feel, and I appreciated reading something a little different.